GE Vs. Maytag Front Load Laundry (Reviews / Prices / Ratings)
A trip through a washer section in an appliance store or online will reveal many similar-looking machines.
Front-load washers, in fact, look the same.
There are also fewer brands now than at any time in my 34 years at Yale. You can choose a Korean brand like Samsung or LG.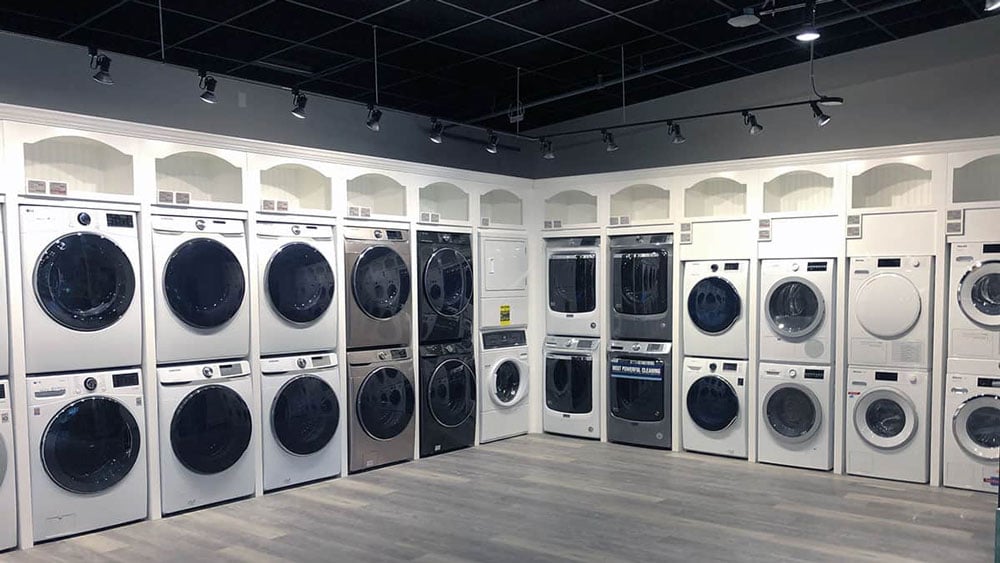 Front Load Washers at Yale Appliance in Hanover
GE is not GE anymore. It was sold to the Chinese brand Haier a few years ago. Whirlpool manufactures its brand and Maytag.
All five should be considered, especially GE and Maytag. Both have interesting new features at different prices.
In this article, you will learn all the features of both brands as well as their reliability based on real service data.
Maytag was built on its first commercial with "Ol' Lonely," the repairman 40 years ago who never had to fix their washer or dryer. Let's see if that is still true.
GE Laundry
After years of languishing at the bottom of General Electrics' portfolio, Haier bought GE's appliance division. Haier is exclusively an appliance company.
It has revitalized GE and especially these washers, as you will see.
GE washers are made in China, and the dryers are made in Kentucky.
Let's take a look at their washer and dryer.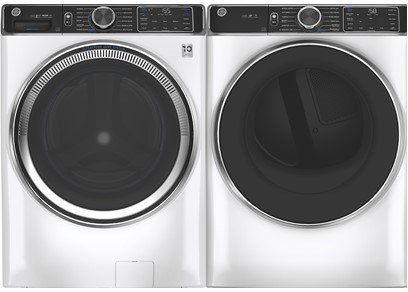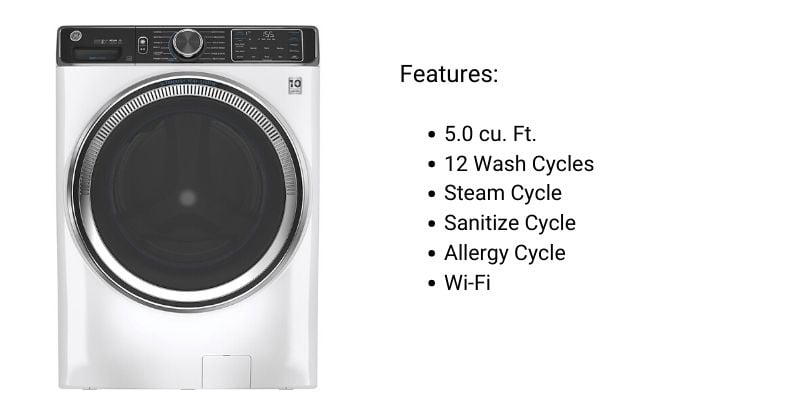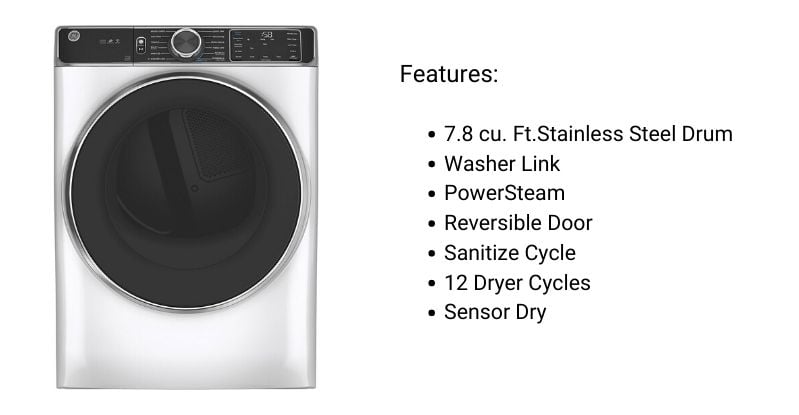 GE Laundry Feature Highlights:
GE's front-load washer is brand new, with all the best laundry features from every manufacturer.
Then they added one that the other brands do not have - the ability to remove mold, mildew, and odors before they start.
The GFW850SSNWW has Wi-Fi, Microban antimicrobial technology, an overnight wash and dry cycle, a 32 load dispenser, and a reversible door.
Should You Buy GE's Smart Front Load Laundry? [VIDEO]
Maytag Laundry
If GE is not GE, then Maytag hasn't been Maytag since 2006. Whirlpool acquired them for a relatively small 1.7 billion dollars for such a large company.
At one time, Maytag was the most reliable product ever sold. Then they ran into product problems due to a flaw in their iconic washer. The mold was able to grow in a gap between the drum and frame. They never could recover.
Now they are the upscale laundry division of Whirlpool.
Maytag is made in the US.
Let's take a look at their washer and dryer.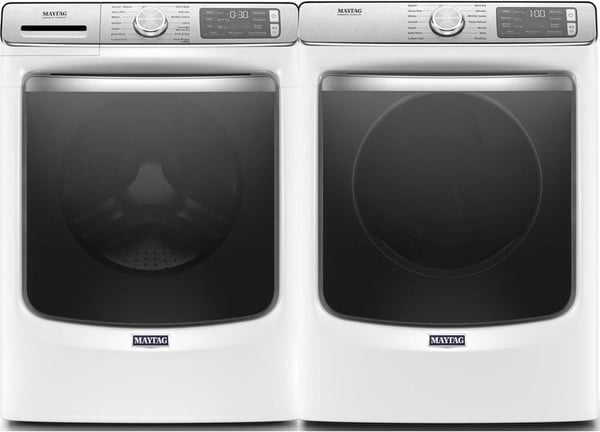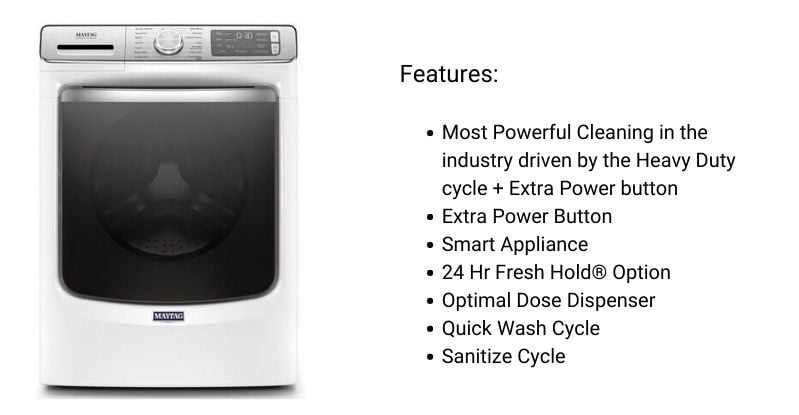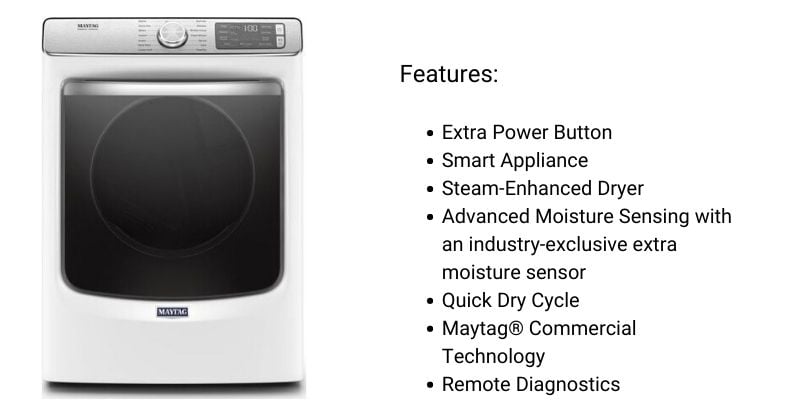 Maytag Laundry Feature Highlights:
Maytag has a 24Hr Fresh Hold, an overnight cycle, and can hold up to 8 loads of detergent.
Also, Maytag has the convenience of Wi-Fi, so you do not have to loiter around your washer for the end of the cycle.
Should You Buy Maytag Front Load Laundry? [VIDEO]
GE Vs. Maytag Front Load Laundry

What Does GE And Maytag Front Load Washers Have In Common?
Size: Both are 5.0 cubic feet and bigger than the 4.5 average cubic foot of front-loads sold at Yale.
Five cubic feet is the biggest you should buy for a larger front load washer with a difference of 1 Cu. Ft. you'd pay almost double.
You have to be careful because they can be deeper than your current washer, and it may affect your installation.
Cycles: You have probably read many times on the blog about washers 30 years ago with three cycles and three temperatures.

Maytag Front Load Washer Controls & Cycles

GE Front Load Washer Controls & Cycles

Both have five temperatures. GE advertises 12 cycles. Maytag advertises 14 cycles. Both have plenty.
Steam: Steam powers out stains. It used to be an upgraded feature. Now it's more standard. Both offer steam cycles.
Wi-Fi: Wi-Fi may be a good feature for laundry. You can see the time remaining instead of climbing stairs or descending to your basement.
The GE washer also "talks" to the dryer setting the right cycle for the washed load - that's kind of cool.
RPM Speeds: Higher RPM spins pre-dry the clothes for less time in the dryer. GE is technically faster at 1300 RPM versus 1160 for the Maytag. Both are faster than the average at 1000 RPM.
One Step Washing and Drying: Do you have an outfit or some gym clothes you want to wear tomorrow? Both have a cycle to wash, rinse, and spin your clothes dry and ready for the next day.
Speed Cycle: Maytag is at 15 minutes, with GE being 20 minutes for small loads.
GE and Maytag Front Load Washer Differences
Maytag Advantages:
Stain Removal: Maytag has the new Extra Power Button. According to Maytag, some stains wash better in the cold, others in hot. Extra Power starts in a cold wash and gradually warms the load.
You can now wash multiple different clothes in one load. It's interesting. Typically you wash whites in hot and colors in the cold to avoid shrinking and bleeding.
With Extra Power, you won't have to separate your loads.
Fresh Hold Option: This option will periodically tumble the clothes in the washer after the cycle has finished.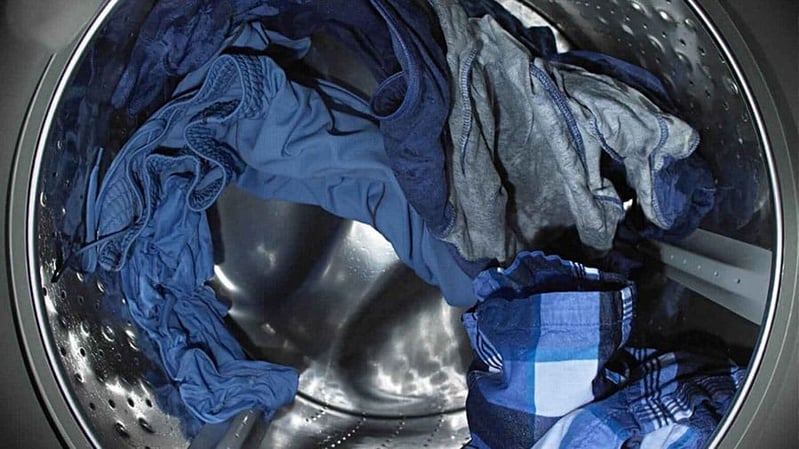 Maytag Front Load Washer Fresh Hold Option
This will keep your clothes from getting wrinkled and keeps them smelling fresh in the event you forget to switch them out.
GE's Tumble Care cycle is currently 8 hours.
GE Front Load Washer Advantages: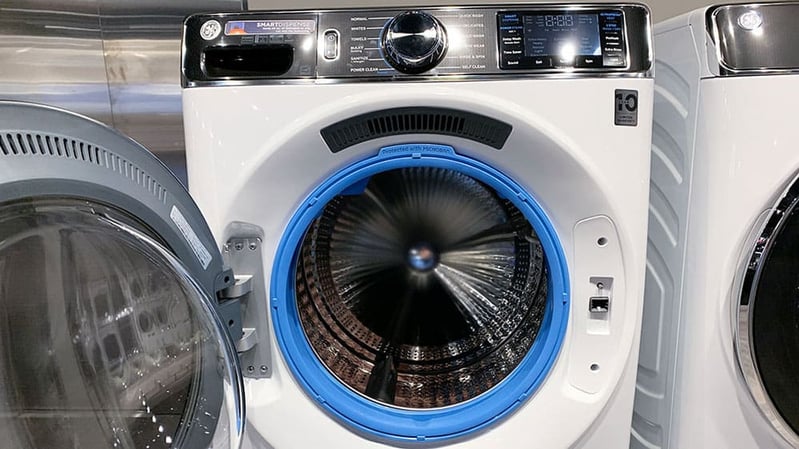 GE Smart Front Load Laundry with Microban Technology at Yale Appliance in Hanover
Mold Prevention: Mold and mildew prevention is a key part of GE's value proposition. Mold is a byproduct of standing water.
Mold can develop on the gasket and towards the back of the machine. For my front load washer, we keep the door open and dry the gasket and the back of the machine after each load.
GE coats all the parts touching the water with the antimicrobial Microban technology, such as the gasket, dispenser, and hoses.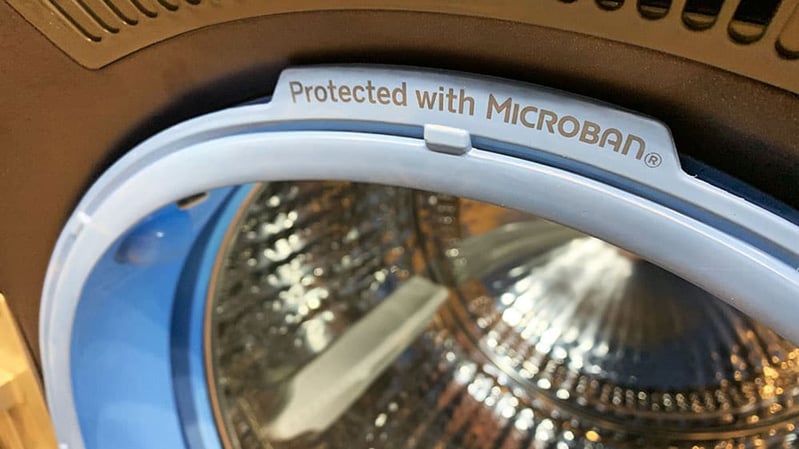 GE Smart Front Load Washer with Microban Technology for Mold Prevention shown at Yale Appliance
OdorBlock is another component of reducing mold and mildew by activating a fan to reduce moisture throughout the washer.
Reversible Door: You would think most companies have reversible doors so you can load the dryer from the washer more easily. Only GE and Electrolux offer a reversible door in their washers.
How They Dispense Detergent: Automatic dispensers are a good innovation. Typically, you may be tempted to add a ton of detergent to a big load of laundry.
That's a bad idea. Front loads do not need much detergent. Also too much detergent causes over sudsing. Those suds will eventually eat away at the bearings of your washer for an incredibly expensive repair.
Maytag's dispenser will hold eight loads of detergent or 14.3 ounces.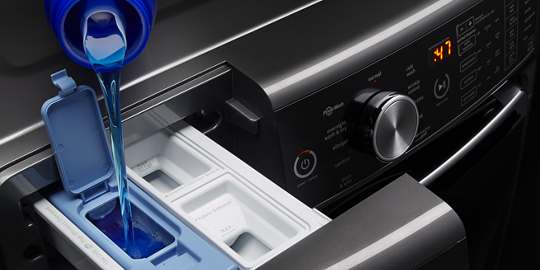 Maytag Washer Optimal Dose Dispenser
GE holds more at 50 ounces.
But the location of the dispenser is more important.
Maytag is next to the detergent on the top, whereas GE is similar to Whirlpools at the bottom of the gasket.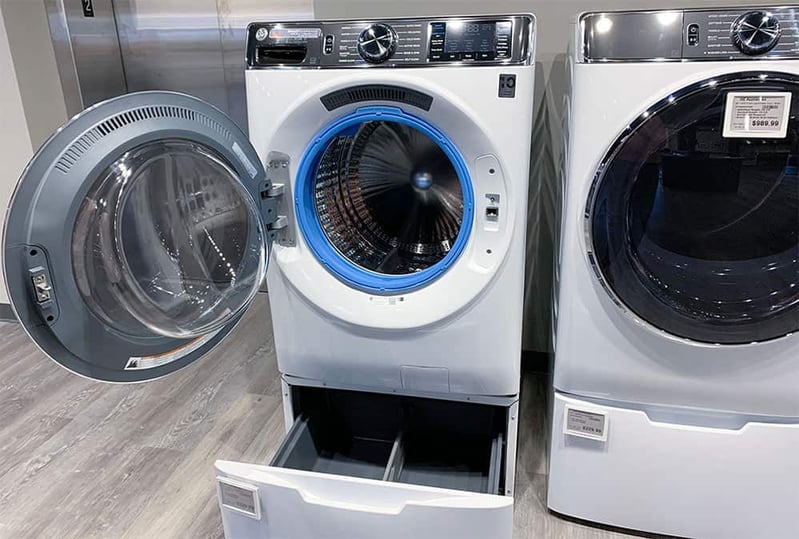 GE Smart Front Load Washer With 50-Load Detergent Dispenser Drawer at Yale Appliance in Hanover
Mold can accumulate in the top, whereas it hasn't been reported at the bottom, as you can see in the next paragraph.
Maytag Vs. GE Front Load Washer Reliability
Front Load Washer Reliability July 2019 to June 2020
| | | | |
| --- | --- | --- | --- |
| | Service Qty | Shipped Qty | Service Ratio |
| Maytag | 177 | 558 | 31.72% |
| LG Electronics | 164 | 1909 | 8.59% |
| Miele | 28 | 428 | 6.54% |
| Samsung | 37 | 658 | 5.62% |
| Whirlpool | 14 | 300 | 4.67% |
| GE Appliances | 19 | 424 | 4.48% |
| Grand Total | 448 | 4285 | 10.45% |
We haven't sold GE for a full-year yet, but it looks pretty good in terms of reliability. Maytag's problems stem from their dispenser. It's not a big deal.
You must remember to clean it out, so it does not accumulate mold. The Whirlpool dispenser or a machine similar to Maytag also has a low repair rate.
GE Vs. Maytag Front Load Washers: Key Takeaways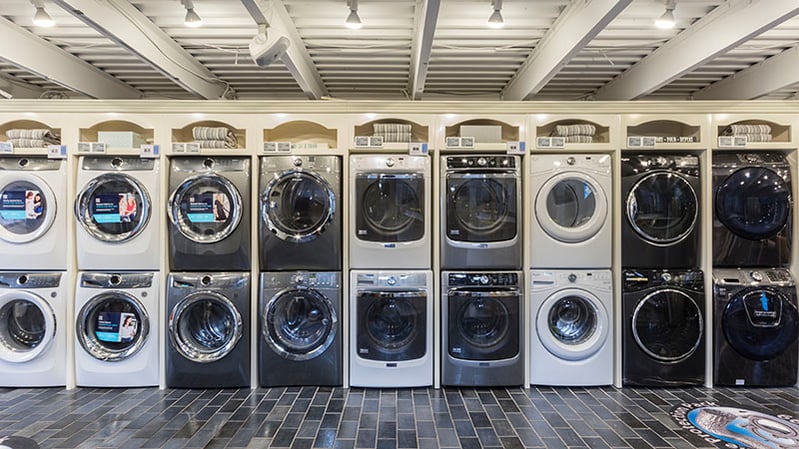 Both are good machines. You should consider both along with LG, Samsung, and Whirlpool. Pricing is fluid on appliances. Your best bet is to buy around promotional holidays for the best price.
Maytag has an interesting story with their Extra Power button. You can mix loads without damaging either whites or colors.
That will save you time and the occasional pink sock or underwear.
GE was smart with their new laundry.
They combined many of the best features from existing washers like Whirlpools' dispenser, Maytags' One Touch Wash and Dry, the reversible door from Electrolux. They added their own antimicrobial story with Microban and OdorBlock in one machine.
In the end, it depends on the value you place on both.
Additional Resources
Download our Yale Washer Buying Guide with all the features, terms and brands of laundry. Over 820,000 people have already found answers in a Yale guide.
Related Articles
Why Should You Trust Us?
It seems that every appliance review has nothing but glowing comments about almost every product, yet you read customer reviews and they are almost universally bad.
We are here to fill in the disconnect. We'll give you the best features, and the drawbacks as well, including reliability based on over 37,000 calls performed by our service team just last year. Our goal is to give you ALL the information so you know what's right for you.
Please consider subscribing or adding to the conversation in the comments below. We appreciate you stopping by.
A Note About Pricing
Pricing on this blog is for reference only and may include time sensitive rebates. We make every attempt to provide accurate pricing at time of publishing. Please call the stores for most accurate price.