If you read reviews, delivery is the second biggest problem you face when buying major appliances after service.
It can be a major, time-consuming hassle unless you know exactly how to shop your delivery like you would for your appliance quote.
You will learn the best way to sidestep all of the delivery issues.
At the end of this article is a delivery checklist to help you compare delivery policies at every store.
What Free Delivery Actually Means
Yale has been around for 95 years. For 85 years, we had free delivery. By that, I mean truly free.
You received free delivery, free removal, free hook up of refrigerators, electric stoves, washers, and dryers as well as removing all boxes and packaging.
What you see advertised is not this type of free delivery. It is important to understand the differences before you buy.
But let's look at a seemingly unusual delivery that is more common than you think.
Look very closely at this picture: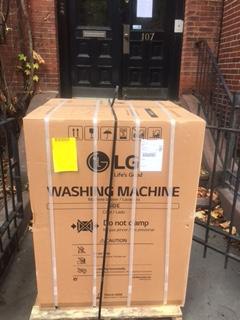 This is an LG washer dropped off by FedEx to a house in Boston two blocks from where I live. Nobody is around, and it was left without a signature.
How would you be able to prove it was not damaged or not a lemon?
These are hard questions to answer for a website in New Jersey shipping to the middle of Boston.
However, if you think I will rant about choosing free delivery from internet appliance dealers, then you are wrong. Sometimes it makes sense.
There are well-advertised advantages. However, there are less than transparent problems as well.
These problems can and often will cost you a ton of money and time.
What are the advantages of free delivery?
Free delivery is well….free. So it is an immediate savings of the $79 or more charge.
If you are a contractor who has his own guys or just placing a fridge in the garage, it makes sense.
What are common problems with free delivery?
Free delivery is only free to your curb, not in your house.
It is one guy with a small box truck. It is cheap to do because there is less damage, insurance, and workman's comp liability than bringing it into your home.
You will have to haul this in your home, install it, and then remove the existing unit and packaging.
Washers seem the easiest, but here is what you would need to do:
The washer is bigger and deeper than the existing washer, so delivery into a brownstone will not be easy for someone untrained. Measure the space and the existing hallways first.
You own the liability of connecting water. Water leaks are an insurance nightmare, so it has to be installed perfectly. Put some sheets of paper in front of the washer. If they are wet, you have a leak.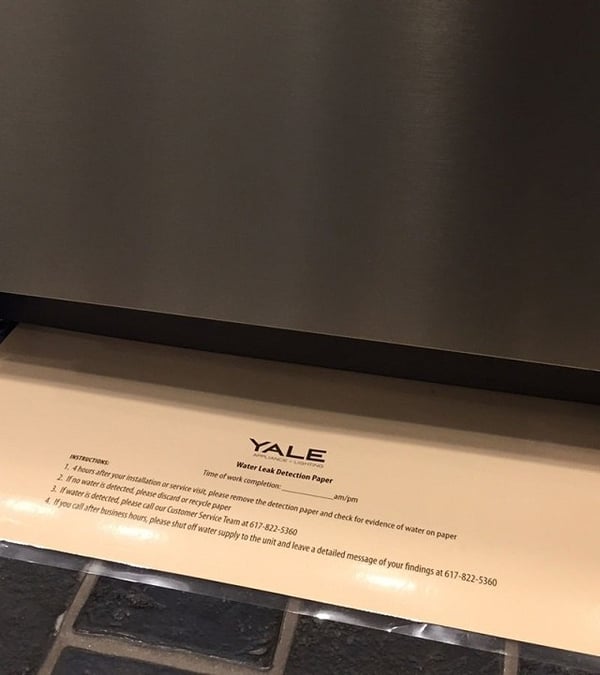 Appliances are more complex to install. LG has a washer pedestal called the Sidekick. It has 34 different installation steps.
Moving the old unit upstairs can be just as hard. Trash day in Boston is Tuesday and Friday.
Short on time? Get our free Appliance Buying Guide
What are the problems of "White Glove" and "Titanium Added" delivery, and is it worth it?
You would think so, but unfortunately, these delivery methods cause more headaches than solve the issues. For instance, many of these services will not include climbing stairs. They will not uncrate or remove the old product.
A simple connection is also not the norm, and many cases you will pay much more for White Glove type services in terms of forced tips and gratuities.
What appliance delivery should look like in your home
It was a tough decision but we stopped free delivery 10 years ago for good reason.
We were delivering heavier appliances like Sub-Zero refrigerators and professional ranges on softer, easier to damage designer floors. Our best advice for you is to place heavier appliances on melemine so they will not indent your floors before installation.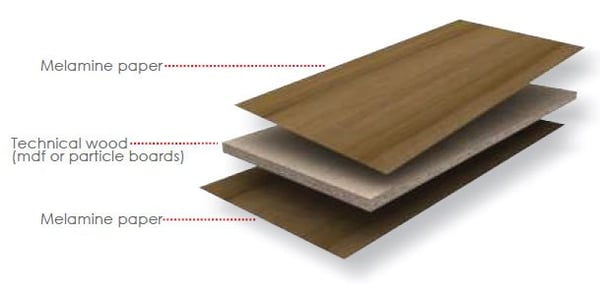 Even that LG washer now frequently goes upstairs in a bedroom closet which can be as difficult to install in a tight closet.
We needed a well-paid, professional mover who could deliver without water leaks, electrical issues or damage to your property and your appliances.
We had to charge for a better experience with a better type of delivery.
That team should be able to deliver, perform basic installation, and remove your existing, old unit as well as the trash.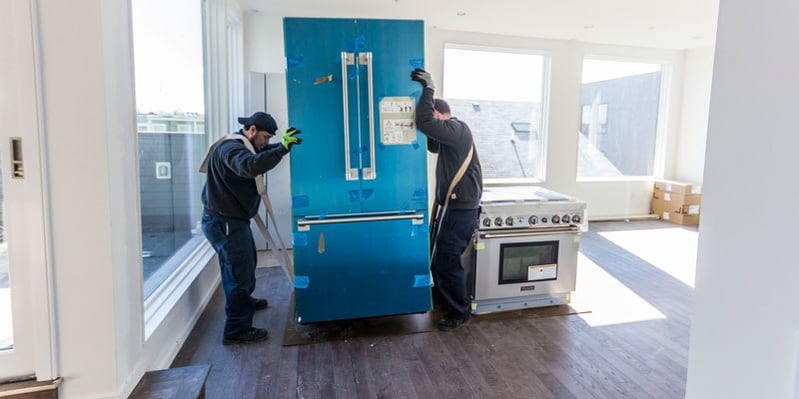 Refrigerator Delivery with Yale Appliance
That is a complete delivery often with two or three highly trained (and compensated) people.
Also, you should be provided with a better delivery experience for that charge.
Better delivery people can deliver within 2-hour windows, so you do not wait around all day.
We can also provide you with tracking software, so you can trace the truck within 20 minutes of your delivery.
How to protect yourself from delivery issues
You must vet the entire process. How is it scheduled? How much time will you have to spend waiting? What are the notifications beforehand?
A delivery is uncrating, bringing up the stairs, removing the old appliances, and reconnecting the new. You have to ask what the above includes and make sure it is placed on the invoice.
Here is an important tip: Never, ever sign for anything without completely inspecting the products for damage. When you sign, you will free the carrier and store of all liability.
You should also protect yourself by checking the store on Google Reviews, Yelp, and the Better Business Bureau (BBB) for complaints, especially on the delivery side.
Final Thoughts
If you want to save money and time, then you have to shop the delivery like your appliance quotation.
Ask all the questions and get every promise on your slip for easy reference.
For details like scheduling, protecting your house from water leaks and damage, download our delivery checklist.
Take it to every store to compare prices and policies. It is the only way you will know how your appliances will truly be delivered.
Additional Resources
Get our free Delivery Checklist for tips on the best service. Over 355,000 people have already found answers in a Yale guide.

Related Articles:
Steve Sheinkopf
My goal has always been simple: I want Yale to be the best retail experience anywhere. I have tried to create a compelling environment for customers and employees alike.
A Note About Pricing
Pricing on this blog is for reference only and may include time sensitive rebates. We make every attempt to provide accurate pricing at time of publishing. Please call the stores for most accurate price.