Which Professional Gas Ranges Have Induction? (Reviews)
You could always buy induction on the French made La Cornue. Then again, it is customized for gas, wok, grill, griddle or induction to suit any particular tastes.
However, Thermador and SKS also have incorporated induction into their pro gas ranges.
In this article, you will learn if the combination of induction and pro-gas is right for you. First, let's take a look at the best professional gas ranges with induction.
The Best Professional Gas Ranges with Induction
La Cornue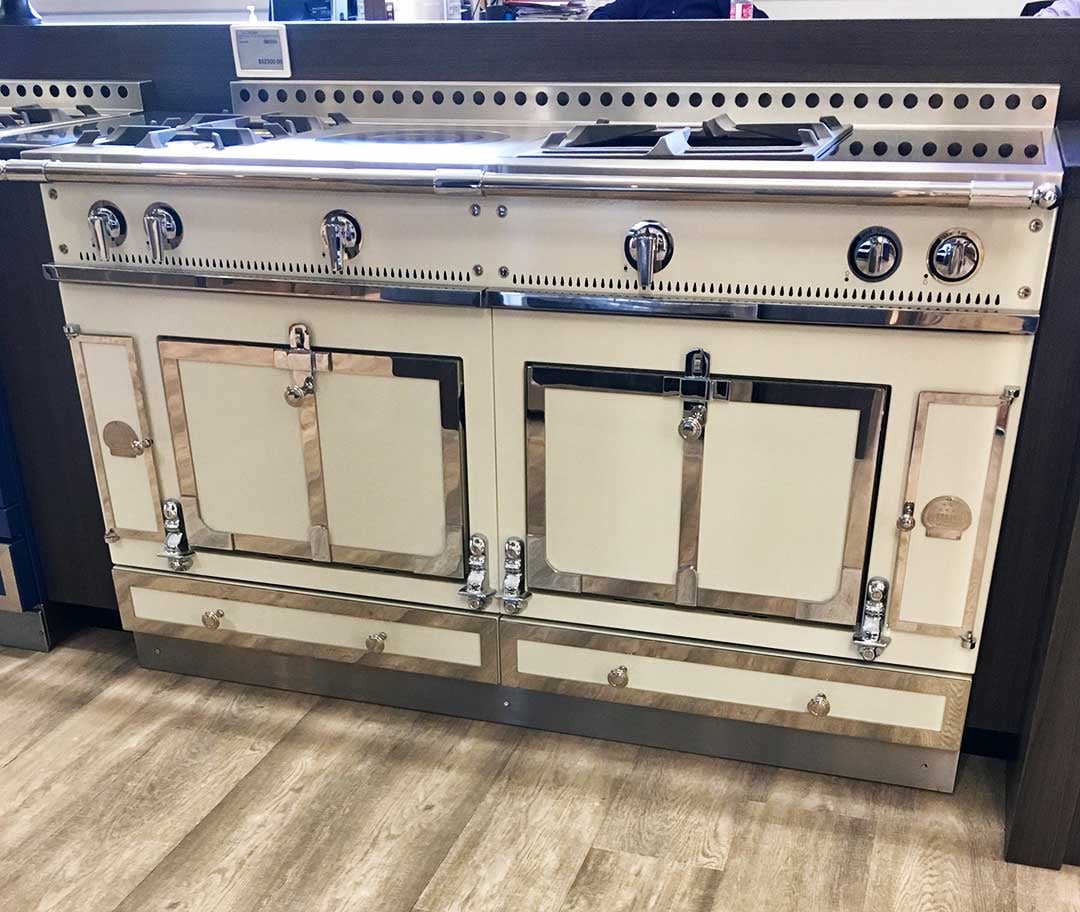 La Cornue would be your best option absent of price. Every piece of it is customizable from size to top configuration to color. It starts at $20,000.
SKS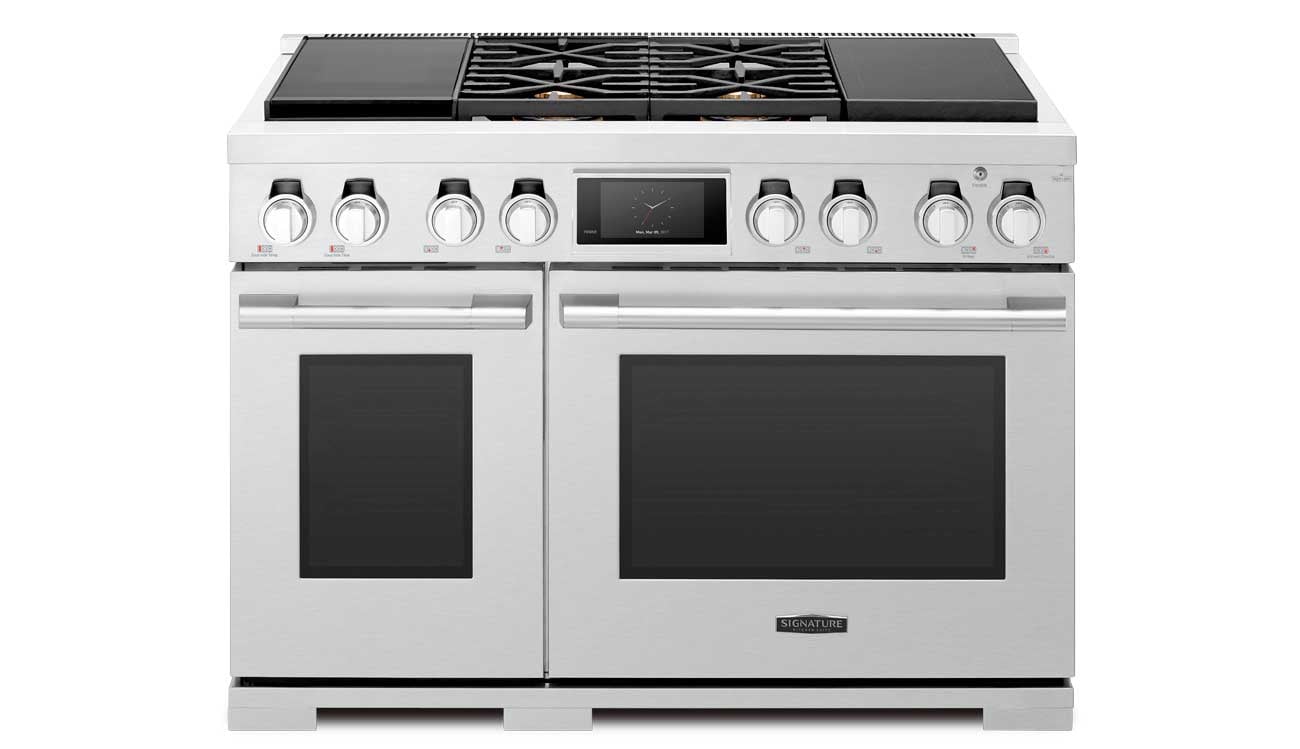 SKS is a division of the giant Korean LG. The induction/pro gas combo is only available in 48 inches. It also is the first company with Sous Vide or precision cooking through water immersion. SKS is interesting, yet new, just recently debuting.
Short on time? Get our free Pro Cooking Buying Guide
Thermador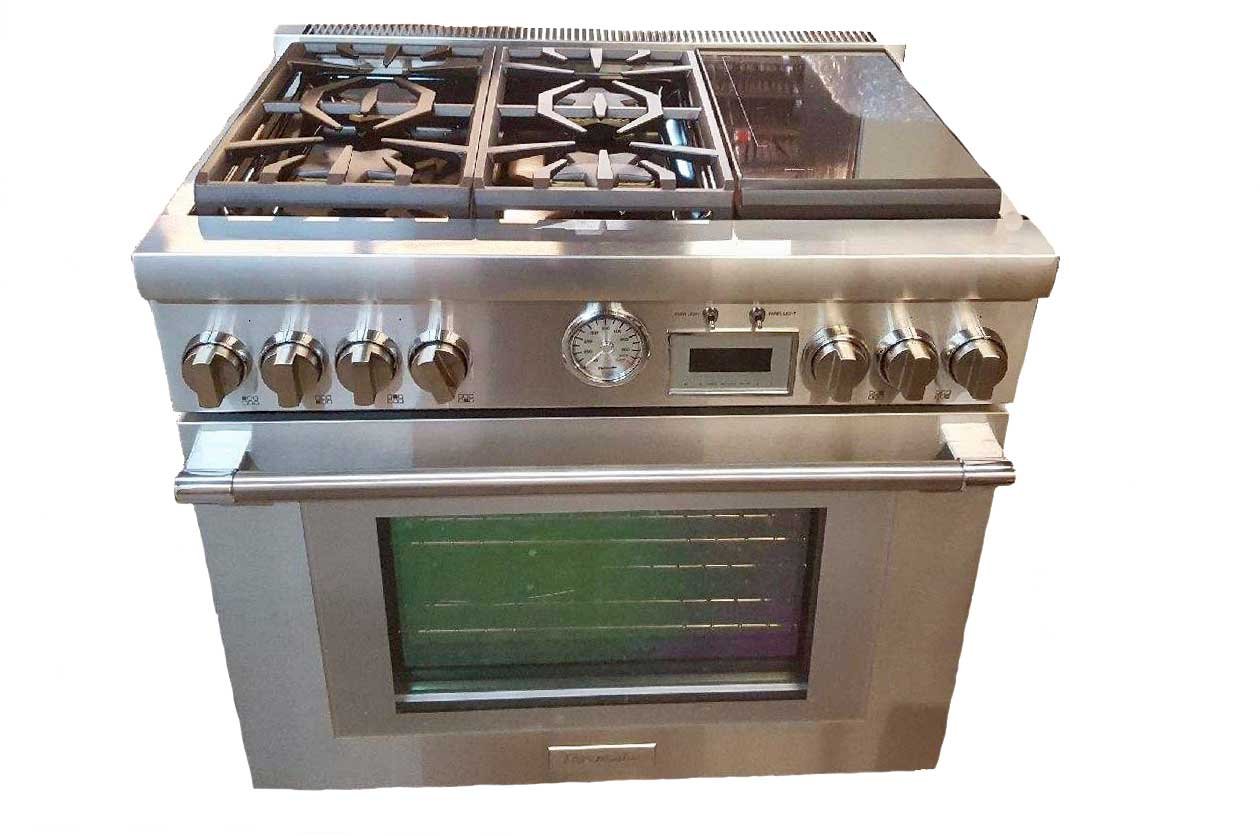 Thermador just introduced induction/pro in their 36 inches with 4 burners and induction available in 2019. Thermador has decent power and the best simmer in gas. With induction, Thermador is the best all-around range without a grill and griddle.
What is Induction Cooking?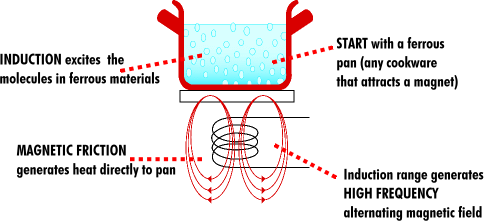 Induction is a magnetic heat and completely different from electric. The magnets in the cooktops excite the metal molecules in your pan. The pan acts as the circuit and cooks your food.
Induction is the most child safe because you need metal to activate the burner. It is also the easiest to clean. The glass does not heat directly, so spills cannot be "cooked" and hardened.
The fastest burner is also induction. Faster than pro gas with more range as well as a better simmer.
So induction is a far better burner than gas, but there are some disadvantages.
(Read all about the Science of Induction Cooking)
Power Sharing
Induction is equipped with different cooking zones. Please see the image below of an Electrolux 30 and 36-inch cooktop.
When you power share, you have the capability of taking some of the power from an adjacent zone or burner. This makes one of the burners even more powerful. This is great for searing or bringing a big pot of water to a boil quickly.

However the burner you stole the power from will cycle down to a lower temperature. The previous illustration shows which zones are connected. This can vary depending on the cooktop.
Another method of sharing power is called the power boost. This method is used by Bosch, Gaggenau, and Thermador. The major difference between the two is with power-sharing you still have some power in the shared zone.
With power boost, all the power is removed from the adjacent zone. This will give you even more power in one zone however the other zone would have to be off.
Below is an image of a Thermador cooktop showing the different zones. In this image 1 could boost 2, 4 could boost 5 or vice versa. Zone 3 would get a boost from 6 and 7.
With either Power Boost or Power Sharing, you are sacrificing power in the adjacent units. In other words, you will have that power burner for the big pot, but the other units may be slower.
For that reason, induction is good to cook on 2 or 3 burners. It will be considerably slower after that.
Is Induction Better Than Pro Gas Cooking?
You can always choose this Wolf all Induction Pro 36 as a decent option. However, if you are cooking more than 2-3 items at once, you will see a power drop in induction.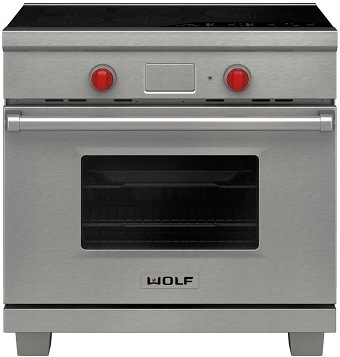 It also depends on how you like to cook. Gas and induction have different advantages, so following is a breakdown of gas and induction cooking depending on how you cook.
Advantages of Professional Gas over Induction Cooking
Grill
You can grill with Pro gas. Some of the Pro gas grills are decent with Wolf and Miele offering infrared gas elements. Infrared is similar to the sear burner on the better grills. It is also easier to clean because the intense heat burns the drippings.
Wolf GR486GLP
Griddle
Griddles are the most versatile. Although you can technically griddle on induction, you have an integrated griddle for more even temperatures in gas.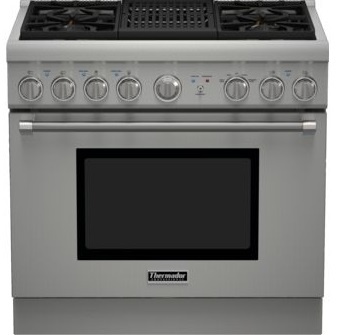 Power
While induction is still the most powerful single burner, there is no sharing with gas. You can cook at the max output with all the burners. You cannot with induction, so if you cook on more than 3 burners, gas will be faster.
Pro Gas vs. Regular Gas
Pro gas ranges have a higher output than regular gas (although gas is becoming more powerful). An upscale 30-inch gas range will typically have a burner of 17-19,000 BTU, a 15,000 BTU, one or two 12,000 and a simmer burner at 5,000.
The Pro Gas range can have BTU up to 25,000. This Thermador will have four 18,000 BTU burners for example.
Should You Buy Pro Gas Range with Induction?
It depends. If you cook with burners only and many items at once, it is a good choice. However, this is a new style. You will not have the selection of different brands just yet.
You also have to determine what you will use first. For a grill or griddle, a regular pro range may be better.
Still, induction with pro gas is a valid consideration.
Additional Resources:
Want to learn more about the latest gas ranges and technology? Read the Yale Pro Cooking Buying Guide with features, specs and detailed profiles of every major brand. Well over 370,000 people have downloaded a Yale Guide.

Related Articles:
Steve Sheinkopf
My goal has always been simple: I want Yale to be the best retail experience anywhere. I have tried to create a compelling environment for customers and employees alike.
A Note About Pricing
Pricing on this blog is for reference only and may include time sensitive rebates. We make every attempt to provide accurate pricing at time of publishing. Please call the stores for most accurate price.