You are buying a new kitchen and do not want it looking like your neighbors. Perhaps you are sick of the stainless steel look or are looking for the next trend.
Guess what? You will still be probably be buying stainless. Let me tell you why.
(By the way, I originally wrote this in 2012. Let's see if I was correct or whether I owe you an apology.)
Popular Alternatives to Stainless Steel
Thanks for reporting a problem. We'll attach technical data about this session to help us figure out the issue. Which of these best describes the problem?
Any other details or context?
message
New Colors
About 11 years ago, the Wall Street Journal called us and asked: "Is stainless steel out for kitchen appliances?". 11 years later, the question has resurfaced and for good reason. The largest and most respected manufacturers are now heavily marketing alternatives to stainless steel. Let's look:
Whirlpool "Ice"

GE "Slate"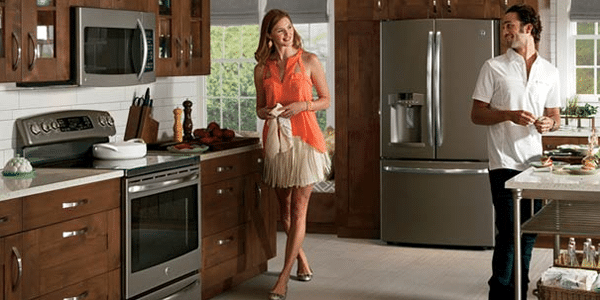 Miele "Truffle Brown"
Miele has now introduced truffle brown. The only precedence to a similar finish is oiled bronze by Jenn-Air. Oiled bronze was another attempt to introduce an alternative to stainless steel. It lasted about 5 years.
I like the Truffle Brown with dark cabinets, but not as a suite of appliances. Buy the wall oven in the cabinet. All the other appliances should be stainless.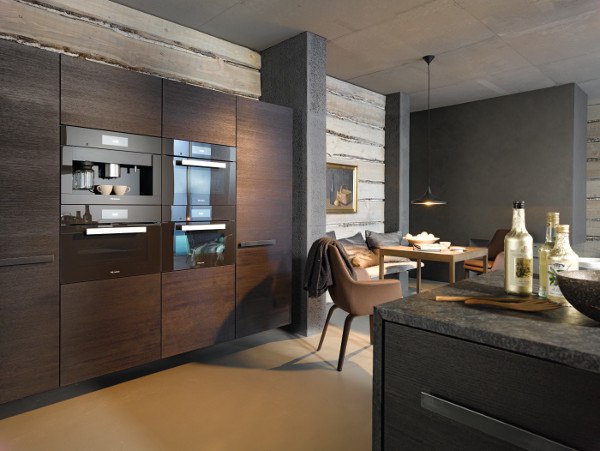 Miele "Brilliant White"
Miele also has a new Brilliant White line. Back when I started in 1986, white on white was the premium finish until stainless first dominated.
I actually really like this finish, but in contemporary white kitchens only.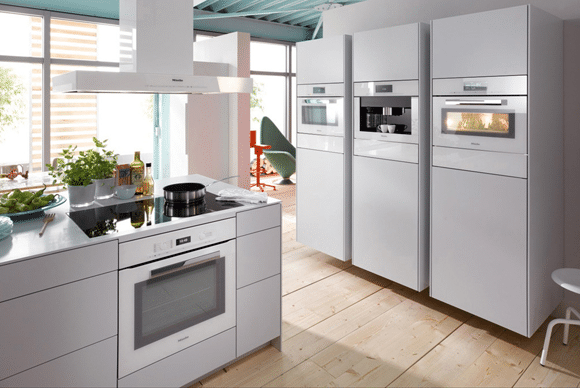 Short on time? Get our free Appliance Buying Guide for current trends, design tips and more »
Stainless Steel is Better
My answer 10 years ago is the same as it is today. Stainless steel is not going away, and here's why:
Both finishes have been tried before. Frigidaire discontinued a white and stainless combination (I really like it, btw) 15 years ago because of poor sales. The response to Jenn-Air's "floating glass", which is a similar finish to Ice has been tepid at best.

Slate is very similar to Wolf's cobalt and Viking's graphite finishes. Both of which have been dropped from their respective lines.

GE and Whirlpool are both high-volume manufacturers and depend on replacement business, not just kitchen packages. Unfortunately, people are not going to replace one item with a designer finish. So the volume is never going to be large. What happens in 7-10 years when you have to replace one item....will that finish still be available?

Colors and specialty finishes don't sell. They just don't. Viking has tried for years with very limited success.

You like stainless steel. It matches every wood tone and finish. Dark wood, light wood and white cabinets all look good with stainless steel.

Price and selection. You can buy a stainless steel kitchen for $1,499. You can buy it in different configurations, sizes and options. Specialty finishes are typically only available in the one size and at a price premium.
Love the colors?
I still like color just not on every appliance. You can do a pop of color well as making a design statement especially on the range.
I like La Cornue particularly for color, but Bertazzoni has a colorful range as does the somewhat diminished Viking Corporation.
Here are a few examples:
Final Thoughts
Well, stainless steel will still dominate as the predominant finish for the near future. I don't see any other finish on the horizon as a suitable alternative. Look to add color as a focal on a couple pieces.
You can always add a custom panel (except for cooking product) for a unique look throughout your kitchen.
Additional Resources
Get the free Yale Appliance Buying Guide. You will like this guide. It has features, specs and inside tips to all the brands like Sub-Zero, Thermador, Bosch and Miele. It covers built-ins, counter depth, freestanding vs. slide-in and much more (plus a ton of good product shots as well). Well over 100,000 people have read a Yale Guide
Related Articles