Should You Buy a La Cornue CornuFé Range?
You walk down the aisle of any appliance store and you see a row of stainless steel ranges shimmering away all looking the same.
Most kitchens will look similar to all the others with white cabinets, gray granite, white subway tile, and of course stainless-steel appliances.
La Cornue offers a colorful alternative.
La Cornue's ranges are a completely different range with the ability to customize colors, trims, and even the rangetop configuration.
The CornuFé is a unique range. It's different from other range manufacturers as well as its own more expensive Château series.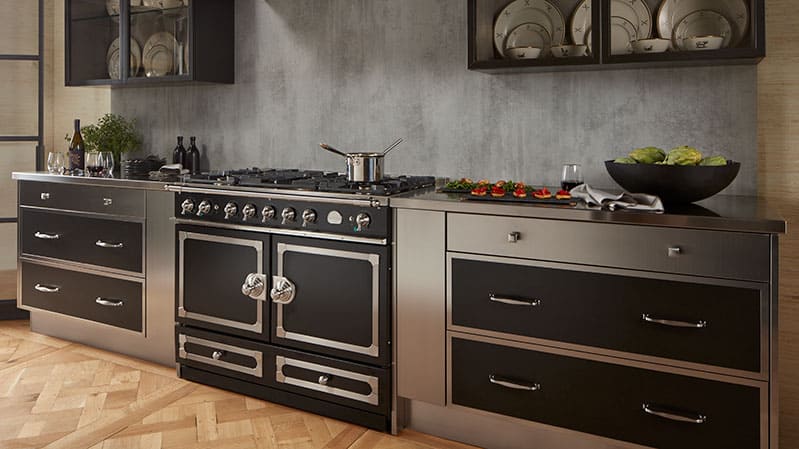 La Cornue CornuFé 110 Series Range
In this article, you will learn about the CornuFé series ranges, the benefits of considering a La Cornue range, and an explanation of the seven cooking modes from our chef.
While this is an impressive range and company, La Cornue isn't for everyone. We'll also cover possible drawbacks and compare it to other brands.
First, let's answer the question, who is La Cornue?
Narrow down Pro Range options with our free tool
Who is La Cornue?
La Cornue was started in 1908 by Albert Dupuy. He was passionate about finding ways to cook better.
In the early 1900s, most foods were cooked over a flame.
Albert is credited with manufacturing the first convection oven. Legend has it he followed the gas lines being installed in Paris at the time.
La Cornue CornuFé Series Ranges
The CornuFé is French engineered but manufactured in England in an AGA Rangemaster factory.
AGA is another sophisticated range line. You may have seen an AGA range in a magazine or online.
La Cornue CornuFé Color Customizations, Sizes, and Prices
The CornuFé offers 12 colors and your choice of 3 trims.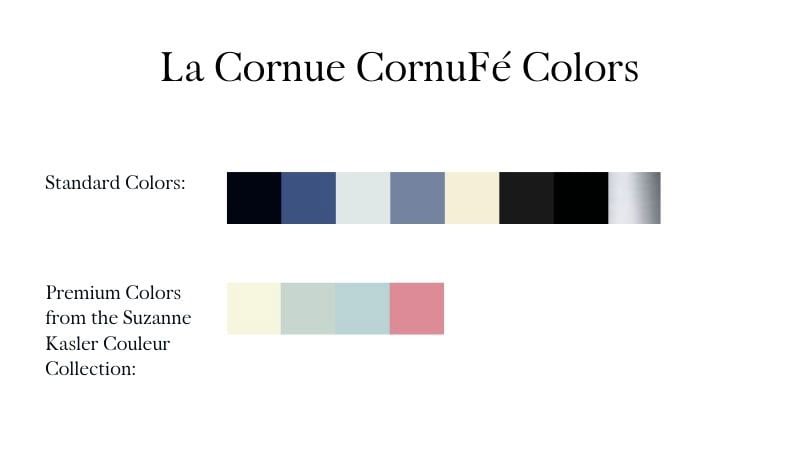 There are two sizes.
The CornuFé 90 Albertine is 35.4 inches wide and starts at $8,475 in duel Fuel and $9,500 in induction.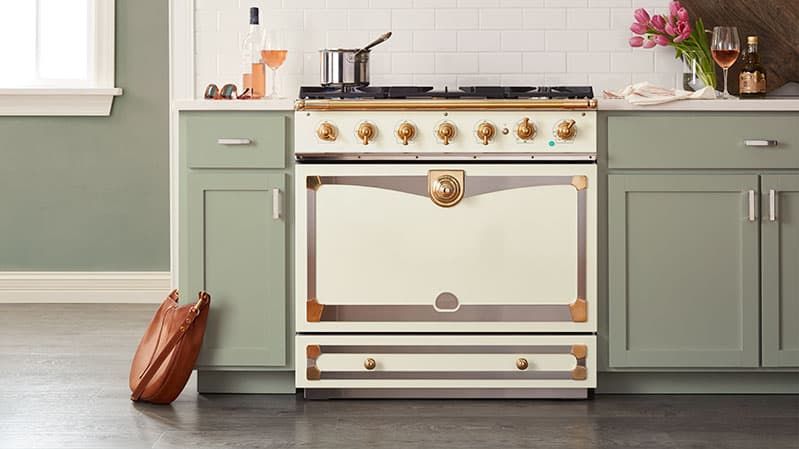 CornuFé 90 Albertine Range
The CornuFé 110 is 43 inches at $10,450 in gas and $11,700 in induction.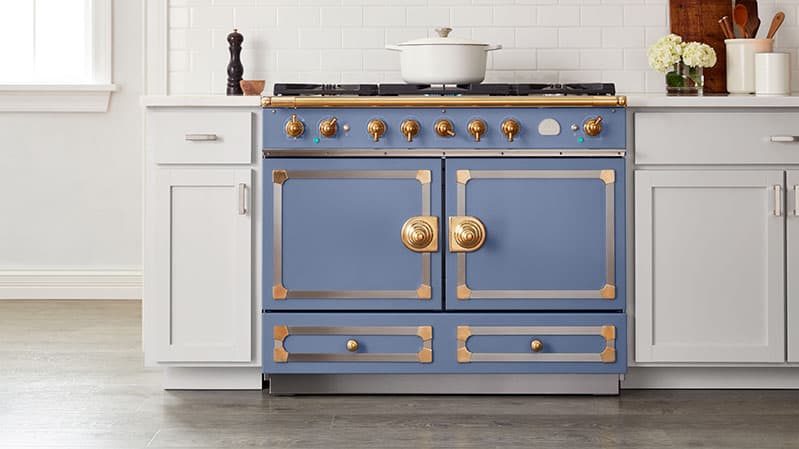 CornuFé 110 Range
Both have the same top either 5 gas burners with a 17,000 BTU max burner or a 5-zone induction top.
The 43 inch is a double oven whereas the 35.4 is single.
Internal Dimensions
I measured with tape from the bottom rack to the broiler. The depth was measured from the fan as a true measure of usable capacity.
I measured on both a CornuFé range and a Wolf 36-inch range for reference.
CornuFé 90 Albertine - 30 wide 14 high 14 deep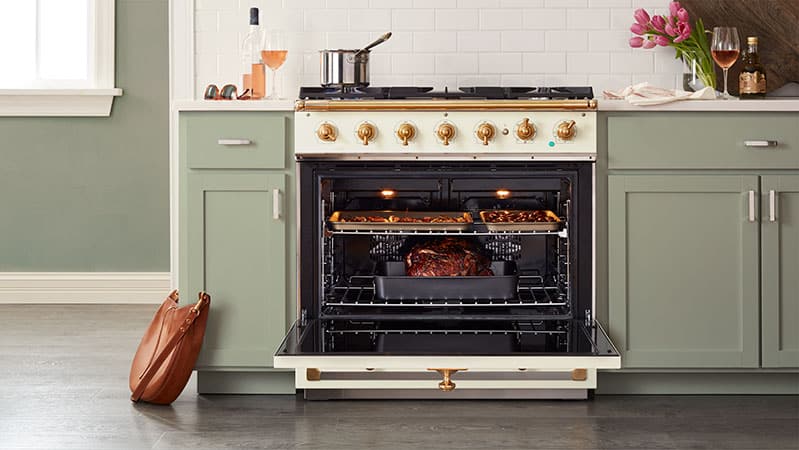 CornuFé 90 Albertine Oven Size
Wolf 36-Inch Pro Range GR366 - 30 Wide 16 high 14 deep
CornuFé 110 - Left Oven 17 wide 12 high 14 deep, right Oven 17 wide 12 high 14 deep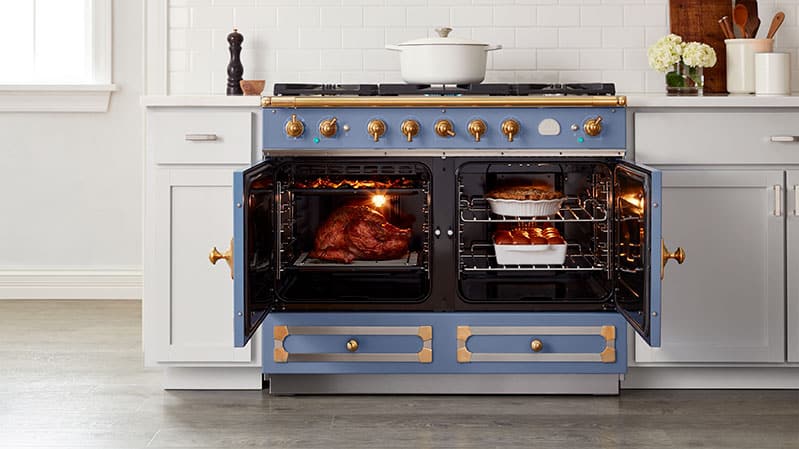 CornuFé 110 Oven
Both have storage drawers at the bottom of the range.
CornuFé Oven Cooking Modes
Both ovens are electric convection with 7 different cooking modes designed for any type of cooking.
The 7 cooking modes are Thaw and Serve, Convection, Convection Broiling, Convection Assist, Conventional, Browning, and Warming.
The following is a description of each cooking mode and how you would use it.
1. Thaw and Serve
Thaw and Service mode circulates cold air into the oven to speed up the defrosting process. It's ideal for defrosting desserts, cakes, and smaller cuts of meat and poultry.
Chef's Tip: You don't want to defrost your food with heat because it induces bacteria growth.
2. Convection
Convection mode used fan-forced heat for more even baking and multi-rack cooking. La Cornue uses pure convection with the heating element behind the fan.
Chef's Tip: When you're converting a recipe to convection, always use the 25/25 rule. Set convection at 25 fewer degrees for 25% less cooking time.
3. Convection Broil
Convection Broil adds utilizes the fan along with the broiling element great for denser meats and larger cuts of fish. Convection Broil distributes heat better and caramelizes your food without intense heat.
Chef's Tip: When using any broiling mode, use a grill pan to eliminate flareups and place your food on the bottom rack.
4. Convection Assist
Convection Assist uses top and bottom heat with a fan disbursing it. This mode is not true convection with the element behind the fan. It's a cycle to use with longer cooking times because it does not dry out the food.
Chef's Tip: Ideally placing your food on the middle rack would be the best for this mode.
5. Conventional Oven
Conventional is a traditional thermal oven without a fan. It works with bread and other foods needing to rise like a soufflé.
6. Browning
Less intense than broiling used for melting cheese or toasting coconut flakes or nuts
7. Warming
You can keep food at a lower temperature because only the lower element is activated.
Chef's Tip: Want to crisp the bottom of a pizza? Try the warming mode.
CornuFé Range Accessories
There are three accessories.
The French Plaque or French Top spreads the heat out so you can cook different items at different temperatures.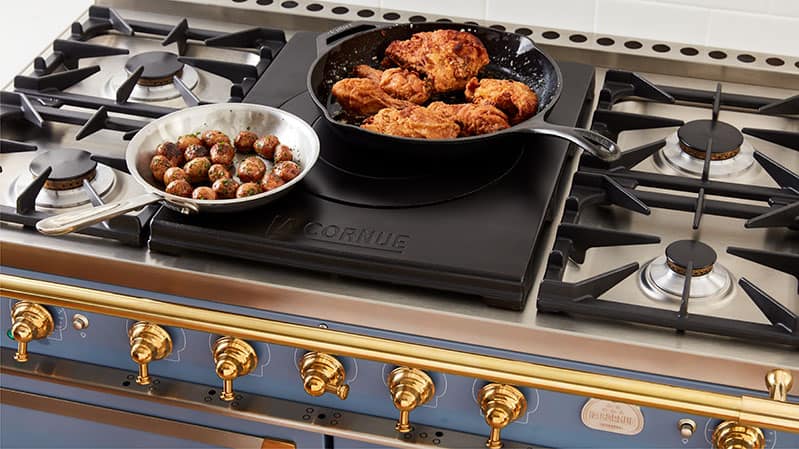 La Cornue CornuFé French Top Accessory
It provides a large, flat surface for indirect heat – perfect for simmering and slow cooking.
The cast aluminum accessory holds up to five pots and radiates heat from the center resulting in multiple heat zones.
You are familiar with a griddle. It's consistent heat or the opposite of a French Plaque.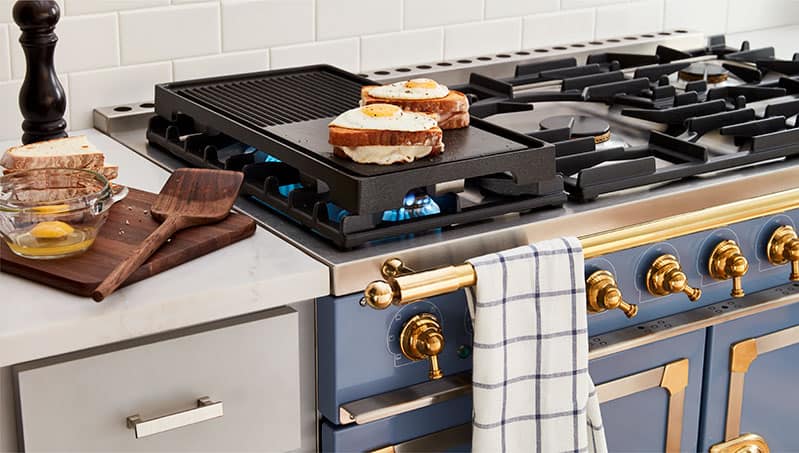 La Cornue CornuFé Griddle Accessory
The reversible grill and griddle accessory is made of coated cast aluminum and features half grill and half griddle.
It's perfect for quick indoor grilling and fits snug over the two left burners of the CornuFé 110 and 90 dual fuel ranges.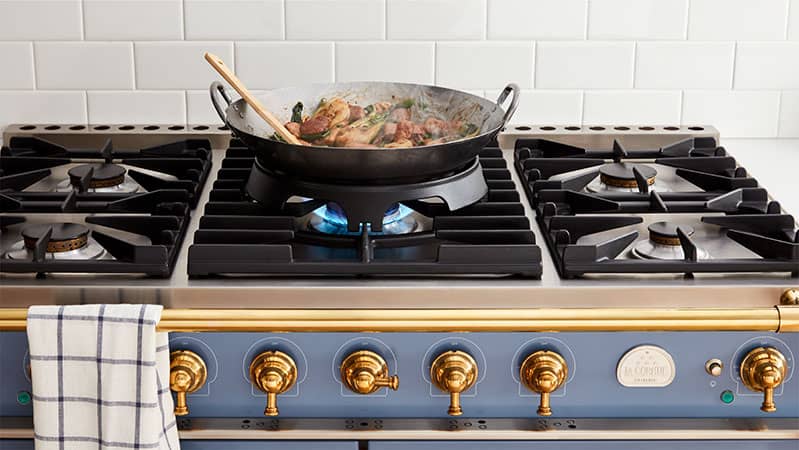 La Cornue CornuFé Wok Accessory
You also have a Wok ring accessory for holding a wok.
La Cornue CornuFé Frequently Asked Questions
1. Does the CornuFé Have a Window?
No, the CornuFé does not have a window.
You just open the door. The temperature will still stay constant, as part of the design.
Most users are active cooks and would open the door and stick the knife in to determine doneness.
Also, you don't need a service call to clean the fog inside the windows.
2. Does the CornuFé Have a Clock and Timer?
No, although most French ranges do not, some ranges like BlueStar and some Vikings do not either.
You will adjust to not having a clock and timer plus your phone can provide that feature
3. Are the 110 Ovens Too Small?
The user reviews suggest otherwise. They appreciate the versatility of having two distinct ovens to cook different foods.
You can fit a 9 * 13 pan easily as well
However, it cannot fit a 16-inch diameter pizza dish. Then again, most ranges can't either
4. Does the CornuFé Have Self Cleaning?
No and neither does the $27-$116,000 Château. High heat self-cleaning will over time compromise the inside of the oven liner.
La Cornue Château vs. CornuFé Series Ranges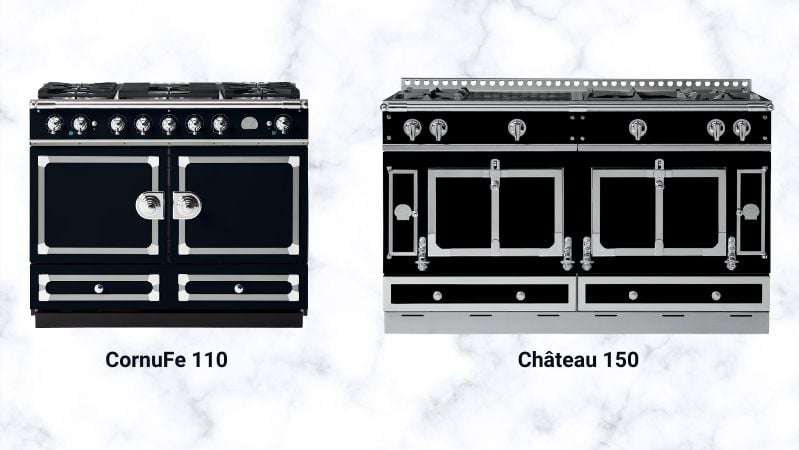 The CornuFé is the less expensive version of the French-made Château.
The Château has six sizes from 29.5-71 inches whereas the CornuFé has two at 35.4 and 43 inches.
The ovens of the Château are arched top with the air emanating from the bottom for natural convection.
The CornuFé is fan-driven electric convection.
You can customize every aspect of the Château from styles of burners to 48 colors and 18 trim packages versus 12 colors and 3 for the CornuFe.
You have either a dual fuel or induction option from the CornuFe.
The size, customization, and natural convection capability cost much more as well.
The Château starts at $27,500 for a 30 inch versus $8,475 for the CornuFé 35.4. It's more than twice as much.
In terms of how it compares to other ranges, no other range is quite like it.
Fisher & Paykel, and Bertazzoni are both stylish available in a few colors with no trim options.
Both ranges look good, but La Cornue looks more refined and is built better as well with more usable oven modes.
However, La Cornue is not for everyone.
If you are looking for high output from a professional range, La Cornue has average power with a max burner of 17,000 on one burner versus 18-25,000 on a pro range.
It does not have the robust controls of many modern ranges as well as steam functionality or WIFI connectivity of a JennAir, Miele, or Thermador range.
Should You Consider a La Cornue CornuFé Range?
The La Cornue CornuFé is an excellent range for your home. It will perform well with plenty of modes as any French engineered range should.
The colors and style make it exceptional and worth considering especially if you want a unique range.
Additional Resources
Get our free Pro Cooking Buying Guide with tips, trends and reviews of all the best brands. Over 820,000 people have already found answers in a Yale guide.
Related Articles:
Why Should You Trust Us?
It seems that every appliance review has nothing but glowing comments about almost every product, yet you read customer reviews and they are almost universally bad.
We are here to fill in the disconnect. We'll give you the best features, and the drawbacks as well, including reliability based on over 37,000 calls performed by our service team just last year. Our goal is to give you ALL the information so you know what's right for you.
Please consider subscribing or adding to the conversation in the comments below. We appreciate you stopping by.
A Note About Pricing
Pricing on this blog is for reference only and may include time sensitive rebates. We make every attempt to provide accurate pricing at time of publishing. Please call the stores for most accurate price.