Is The Thermador PRG304WH Professional Gas Range Worth It? (Reviews / Prices/ Ratings)
Thermador changed nearly everything about its popular professional range PRG304 from burner output to its general look.
In some cases, changes aren't always for the best.
In this article, you will learn about what Thermador changed and what they should have changed.
We'll also cover every consideration from reliability and features to how it compares to other popular professional ranges, so you will know if this pro range is right for you.
Let's get started.
All Gas Vs. Dual Fuel
Before considering any range, you should know the difference between all gas and dual fuel because Thermador has both. They look the same but perform differently.
Most people assume dual fuel is better than all gas - a bad assumption.
Dual fuel ranges are better for baking because of their drier, more precise heat.
Some brands, like Wolf and Miele, upgrade other features with their dual fuel ranges. Wolf's dual fuel pro range has higher BTU output and Miele's offers steam in their dual fuel range.
An all gas range has a moist heat and better for roasting. The infrared broiler in an all gas range is the best on any range. Infrared is similar to the sear element on a pro grill. It is fast direct heat.
Best Features Of Thermador Ranges
In the range, Thermador features an infrared broiler, not a gas tube broiler.
Thermador still has the best simmer on a gas range at 100 BTU with its intermittent simmer.
The Star burner is unique. There are claims of a better spread of flame for more even boiling. I think the heat hits the pan, and the pan boils the food.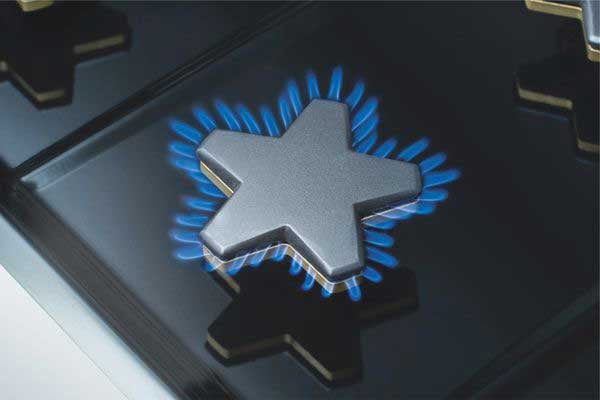 Thermador Professional Range Star Burner
However, the burner is raised from the range and is the easiest to clean on the market.
Thermador is affordable. I will talk about the price in the next paragraph because it's new. However, their promotion and packages are still competitive.
Short on time? Get our free Pro Cooking Buying Guide
Thermador Professional Range Review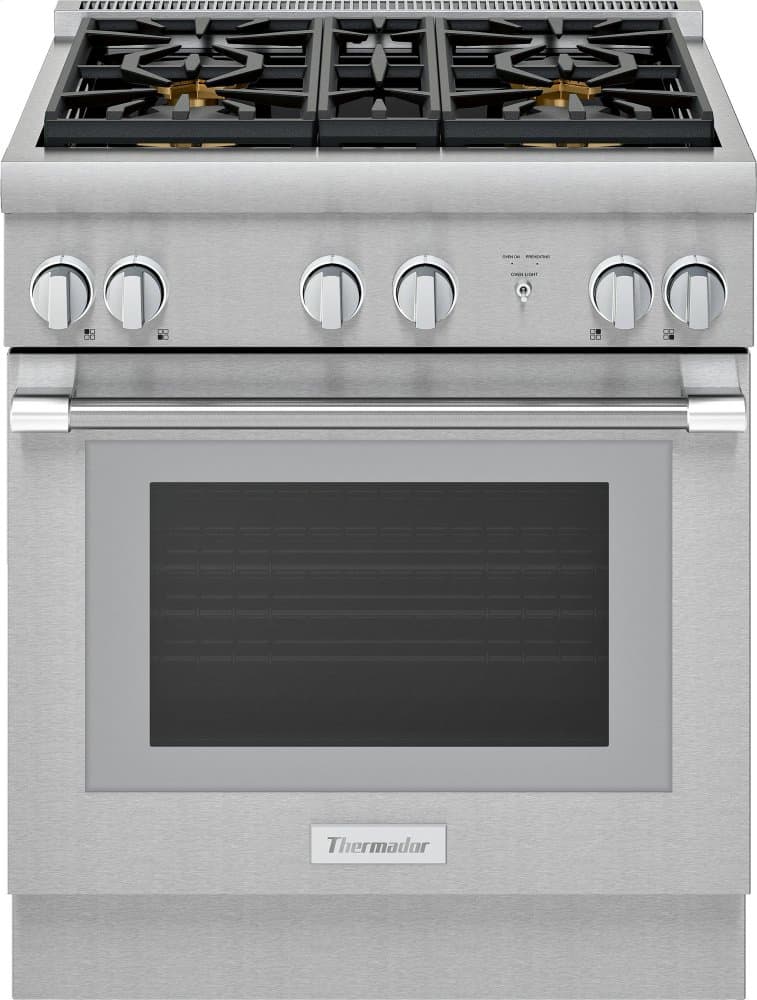 Features:
QuickClean Base® designed for easy surface cleaning
ExtraLow®, the widest simmer temperature control as low as 100°F
Exclusive, Star® Burner-most even heating, unsurpassed flame coverage
2 ExtraLow® burners for simmering, melting, or holding long durations
Convection Bake offers precise multi-level baking results
New Features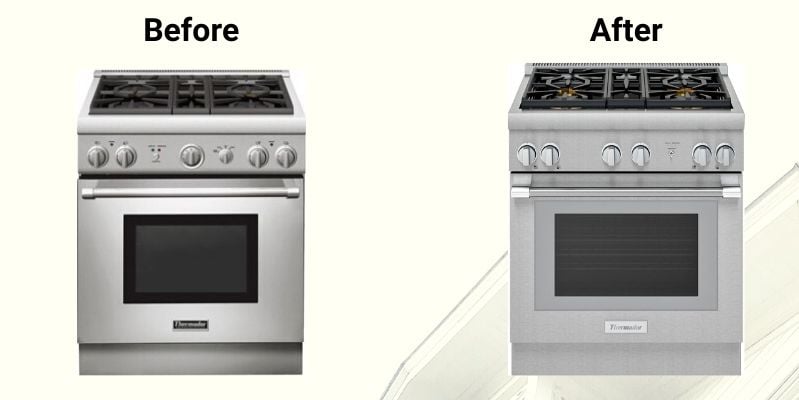 They changed the look from straight commercial to a softer, more European design.
The price increased from $4,149 to $4,849. That wasn't so surprising. Tariffs on steel have increased pricing for every brand. Thermador was low at $4,149.
The free dishwasher promotion with this range is still intact, so the range is still affordable for this category.
However, the burner output dropped from four 18,000 BTU burners to two 18,000 BTU burners and two 15,000 BTU burners. It's still enough, especially at 15,000 BTU.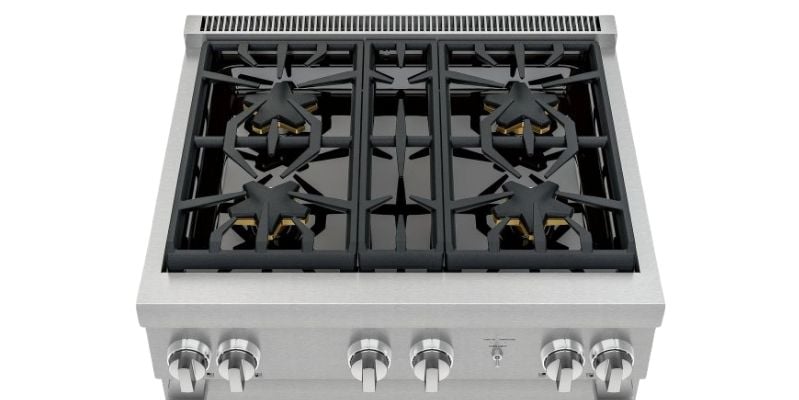 Their Home Connect Wi-Fi works. You have access to recipes and can control the range remotely. They could have included it for this range as well.
So, it's a price increase of $700, however, warranted for a loss in burner output.
What Thermador Should Have Changed
This range is still not self-cleaning. You would expect a self-cleaning range at this price, even though half of pro range brands like Wolf and BlueStar don't offer it either.
There are no clock and timer controls. Again, many pro ranges do not, but adding a clock could have been considered.
It's still single convection when many ranges are twin convection. It's not a huge deal in a 30-inch range, but still, it could have been updated.
With that said, is Thermador's latest 30-inch pro range still competitive?
How Does Thermador's Pro Range Compare To Other Brands' Pro Ranges?
Let's look at Thermador compared to other brands' professional ranges starting with reliability.
Reliability
From a reliability standpoint, Thermador has been good. Pro ranges need more service because of igniter issues, not product fails.
Most Reliable Professional All Gas Ranges For 2020
| | | | |
| --- | --- | --- | --- |
| | Units Serviced | Units Sold | Service Ratio |
| La Cornue | 0 | 2 | 0.00 % |
| Samsung Chef Collection | 9 | 61 | 14.75 % |
| Thermador | 131 | 432 | 30.32 % |
| Bertazzoni | 1 | 3 | 33.33 % |
| Jenn-Air | 36 | 104 | 34.62 % |
| Wolf | 137 | 315 | 43.49 % |
| BlueStar | 29 | 45 | 64.44 % |
| Miele | 15 | 20 | 75.00 % |
| Grand Total | 362 | 1017 | 35.59 % |
Typically the igniters need to be replaced. Most people cook on 2-3 anyway. It's an easy repair.
Thermador PRG304WH Vs. BlueStar BSP304BNG Gas Pro Ranges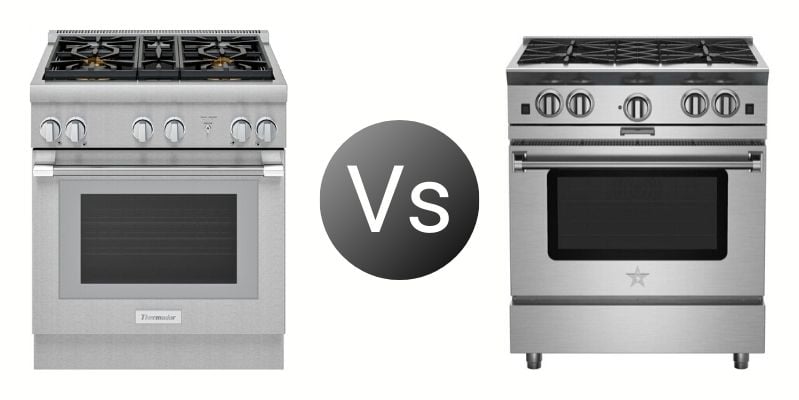 BlueStar has four different models from $3,300-$6,475, but their Platinum is their best-selling range.
BlueStar and Thermador are two different ranges.
BlueStar is the most powerful gas pro on the market with 25, 22, and 18,000 BTU burners.
However, it is an open, not sealed burner like Thermador.
Thermador will be easier to clean and has a better simmer.
Both have the infrared, but BlueStar is the hottest, reaching 1850 degrees. At least that's the claim. Thermador has a hotter broiler at 20,000 BTU vs. 15,000 for the BlueStar.
BlueStar's oven is a bit more powerful at 25 Vs. 23,500 for the Thermador.
BlueStar is the only range on this list available in color. In fact, BlueStar has 750 colors with eight trim packages.
Thermador is less expensive plus has a free dishwasher.
Thermador PRG304WH Vs Miele HR1124G Gas Pro Ranges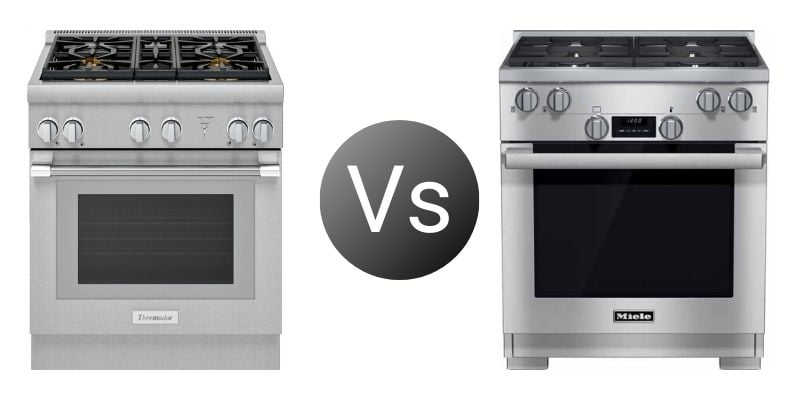 Miele is one of the new ranges with better output at three 19,000 and one 12,000.
Thermador has a better simmer and is more cleanable as well.
Miele has the clock and timer as well as self-cleaning in the oven. Miele is the most cleanable range on this list. You don't have to remove the racks for the self-cleaning cycle.
Miele is twin vs. single convection for the Thermador.
Thermador is less expensive with free dishwasher promotion by about $2,000.
Click here to learn more about Miele's 30-Inch All Gas Professional Range HR1124G.
Thermador PRG304WH Vs Wolf GR304 Gas Pro Ranges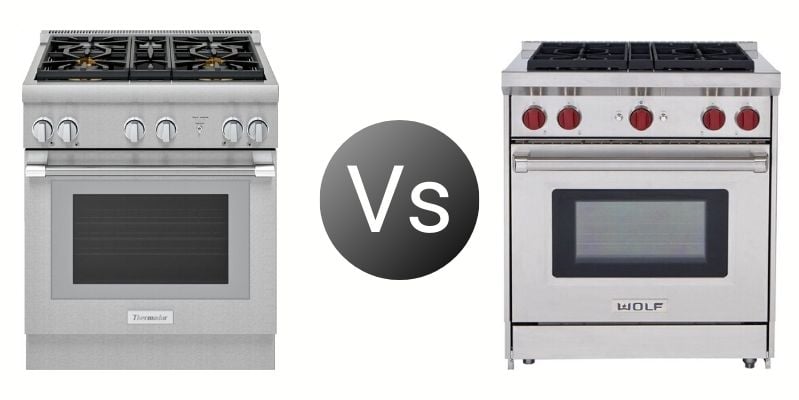 Thermador has greater output than the Wolf with three 15,000 BTU burners.
Wolf may have a better simmer. Their three-stage burner can simmer at 500 BTU on every burner consistently Vs. two intermittent simmers on the Thermador.
However, Wolf has a powerful bake element at 30,000 Vs 23,500 for the Thermador. The infrareds are similar at 20,000 Vs. Wolfs 18,000.
Thermador is still cheaper with a free dishwasher as well.
Click here to learn more about Wolf's 30-Inch All Gas Professional Range.
Thermador PRG304WH Vs Jenn-Air JGRP430HL Gas Pro Ranges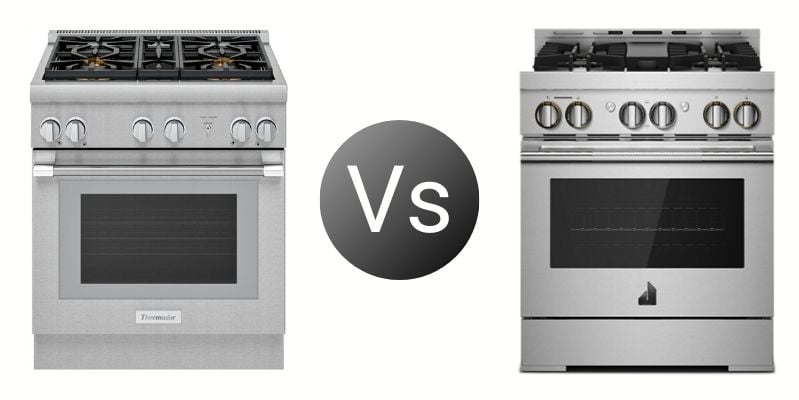 Thermador's main competition is Jenn-Air. These ranges couldn't be more different.
Jenn-Air has better output with two 20,000 and one 18,000 BTU burners. Thermador does have a better simmer.
Jenn-Air has twin convection and is self-cleaning. Thermador has an infrared broiler and is almost two times the output at 20,000 Vs. 11,000 for the Jenn-Air.
Jenn-Air is Wi-Fi enabled, and every function can be controlled from your phone. It has an integration with Yummly, so you can program recipes and upgrade your cooking experience.
Click here to learn more about Jenn-Air's 30-inch professional range.
Is The Thermador PRG304WH Professional Gas Range Worth It?
It depends on how you cook and what you value.
They could have upgraded the range a bit more. It lacks much of the functionality of Miele and Jenn-Air or the power of BlueStar and Wolf.
Still, no range has every desired feature.
Thermador is decent all around and a good value for the price.
It should be considered along with a few others.
Additional Resources
Get our free Pro Cooking Buying Guide with tips, trends, and reviews of all the best brands. Over 620,000 people have already found answers in a Yale guide.
Related Articles
Editor's Note: This article was originally published on September 2, 2015 and has been updated for accuracy, freshness, and comprehensiveness.
Why Should You Trust Us?
It seems that every appliance review has nothing but glowing comments about almost every product, yet you read customer reviews and they are almost universally bad.
We are here to fill in the disconnect. We'll give you the best features, and the drawbacks as well, including reliability based on over 37,000 calls performed by our service team just last year. Our goal is to give you ALL the information so you know what's right for you.
Please consider subscribing or adding to the conversation in the comments below. We appreciate you stopping by.
A Note About Pricing
Pricing on this blog is for reference only and may include time sensitive rebates. We make every attempt to provide accurate pricing at time of publishing. Please call the stores for most accurate price.