10 Best Holiday Side Dishes Using a Convection Range
Menu planning for the holidays can be overwhelming.
With so many sides to choose from, it's challenging to narrow down your options.
If you can delegate anything, that will help take some of the responsibility off your shoulders.
For everything else, it's best to have a balance of flavors, colors, and textures on the table, which will be equally as good on your plate. Try to do as much as you can ahead of time.
The less time you are in the kitchen, the more time you'll have with your family and friends.
Below are the best side dishes for your holiday meal. These recipes are based on a range with a convection oven, but you can use any oven or stovetop.
If you don't have convection modes available for your oven, these recipes are easy to follow without convection. You only need to adjust your timing.
Short on time? Get our free Gas Cooking Buying Guide
10 Best Holiday Side Dishes Using a Convection Range
Let's start with some of the classics.
1. Green Bean Casserole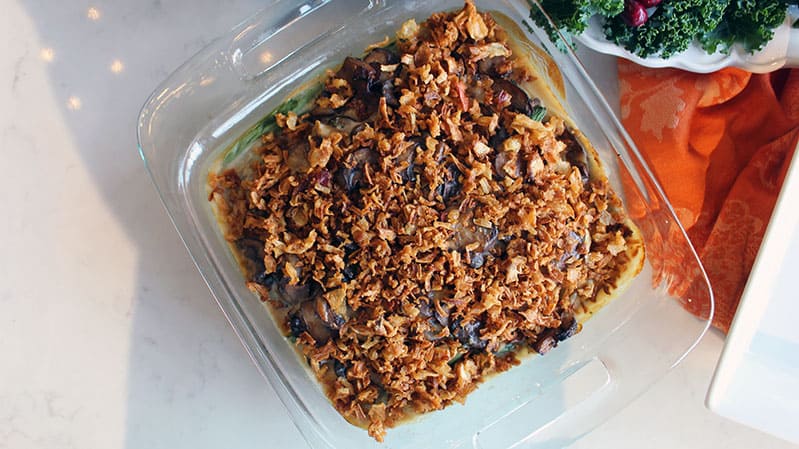 Green Bean Casserole
This casserole is a classic at my house. We've come a long way from making it with canned green beans and cream of mushroom soup when I was growing up.
The flavor and crunch of the fresh green beans, along with a homemade mushroom cream sauce and fried onion strings, will take this dish to the next level.
Here's my method: First, blanch or steam the green beans with salt to season them all the way through and then transfer them to a casserole dish.
Next, saute the mushrooms with some butter, olive oil, and fresh thyme. Deglaze the pan with white wine, then finish it with salt and pepper to taste.
Transfer the mushrooms to the casserole dish with the green beans.
In the same pan the mushrooms were cooked in, start making the cream sauce by starting with a roux (butter and flour) followed by milk. Whisk all the ingredients until it's thickened, then season it to taste with salt, pepper, and a little nutmeg.
Pour the sauce on top of the mushrooms and green beans. This can be made ahead of time until this point.
The next step is to pop it into the oven for roughly 30 minutes at 375 F on convection roast mode. Just before serving, top with store-bought fried onions for an optimal crunch.
Click here for Chef Saba's Green Bean Casserole recipe.
2. Mac and Cheese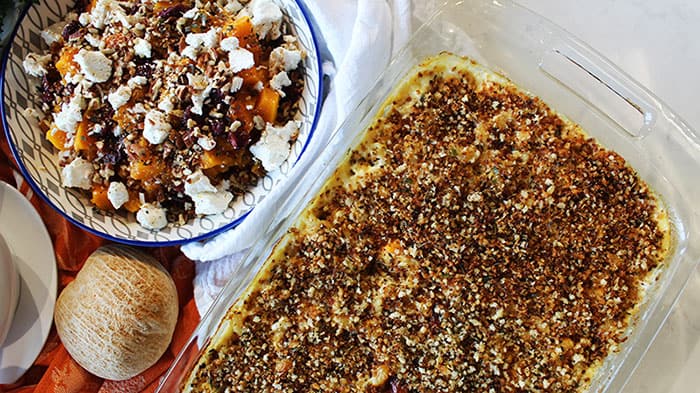 No-Boil Mac and Cheese
This has recently become another family favorite for the holidays. Yes, it's an additional carb-loaded dish, but it's fun to indulge a little since it's the holidays.
There are a couple of ways to approach a good-baked mac and cheese. My favorite go-to recipe is the "No-Boil" mac and cheese made in our combi-steam.
You cook it in your steam oven at 375 F on combi-steam mode for around 25 minutes, stirring once halfway through.
If you don't have a combi-steam oven, the traditional method also works.
Cook the macaroni according to package directions on your stovetop, drain and set aside.
Next, assemble a roux, then the bechamel is finished with your favorite medley of cheese. At least four different cheeses are ideal. I recommend cheddar, Monterey jack, gruyere, and gouda.
Once your cheese sauce is complete, combine the macaroni with the cheese sauce and transfer it to a baking dish.
Top it with bread crumbs, and place in the oven to bake for at least 30 minutes on convection bake 325 F.
Click here for Chef Saba's Mac and Cheese recipe.
3. Stuffing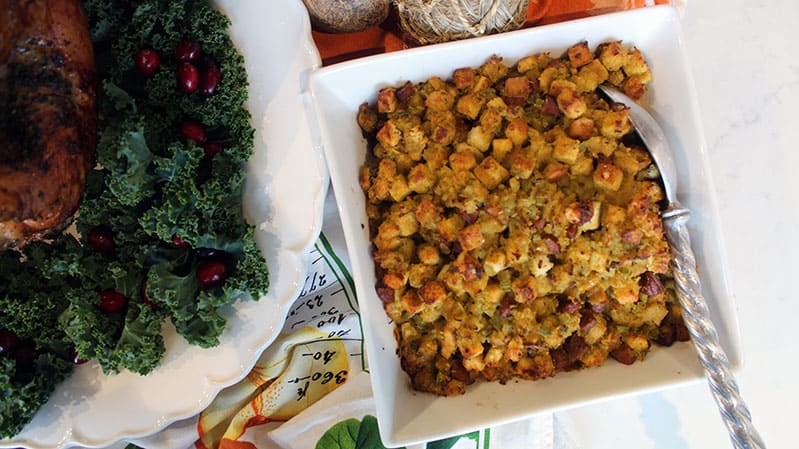 Cornbread Stuffing
My favorite kind of stuffing is made with cornbread. There is a lot more depth of flavor, and the texture is superb. I also like additional texture in the cornbread, so something is breaking up the monotony.
Here's how to make the best stuffing: First, saute chicken andouille sausage (or your sausage of choice) in butter with celery, onions, herbs, and a little salt and pepper.
Once the vegetables have slightly softened and the sausage has browned, add in the turkey stock and bring it to a boil. Then turn the heat off and mix in the cornbread croutons.
Once the cornbread has absorbed all the liquid, transfer everything to a greased baking dish. Bake it for roughly 30 minutes on convection roast mode at 375 F.
Click here for Chef Saba's Cornbread and Sausage Stuffing recipe.
4. Maple Bacon Brussels Sprouts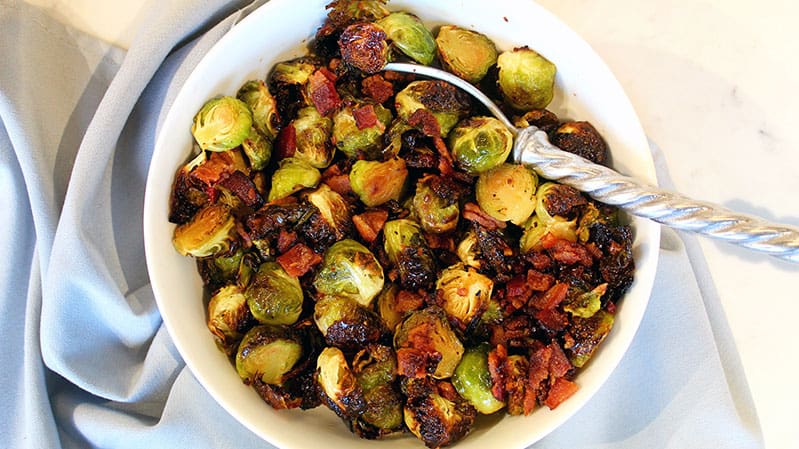 Maple Bacon Brussels Sprouts
This has to be my favorite preparation for this quintessential holiday vegetable.
Here's my method: Render sliced bacon on your stovetop at a low and slow temperature, then remove the bacon pieces with a slotted spoon and set them aside.
Now combine two tablespoons of the bacon fat with 2-3 tablespoons of a good quality maple syrup and one tablespoon of olive oil, then toss the halved Brussels sprouts with this mixture along with some salt and pepper.
Roast in a preheated oven set at convection roast 375 F for around 30-40 minutes (depending on the Brussels sprouts' size), stirring about halfway through.
Remove from the oven, season to taste, then transfer to a serving bowl and top with the crispy bacon.
Click here for Chef Saba's Maple Bacon Brussels Sprouts recipe.
5. Mashed Potatoes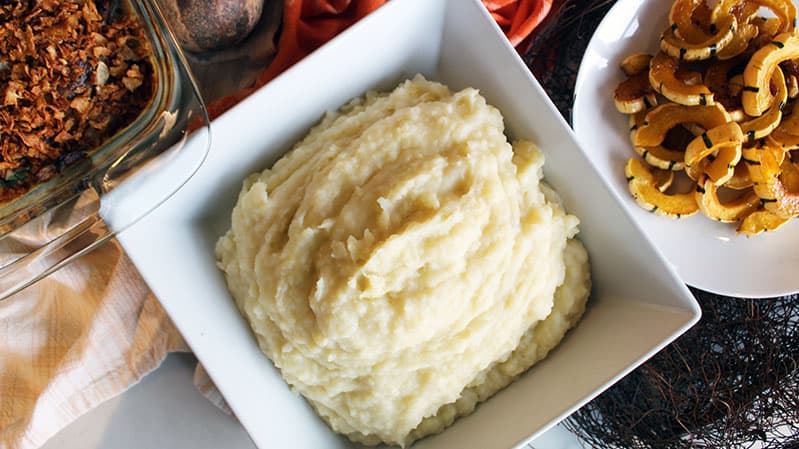 Mashed Potatoes
Mashed potatoes are a classic and pair nicely with roasted meats. They are straightforward to make and relatively inexpensive.
After boiling your potatoes, mix in warmed milk and butter gradually until you have the perfect buttery and creamy consistency.
This process will prevent the potatoes from getting gummy and will help the flavors meld together more cohesively.
I recommend Russet potatoes for a classic mash. If you want to try something different, a nicely roasted Yukon gold potato will also work, or any roasted potato of your choice.
Pro Tip: The key to getting a creamy and smooth consistency for your mashed potatoes is to use a potato ricer or a food mill to process the potatoes after they've been boiled.
6. Sweet Potatoes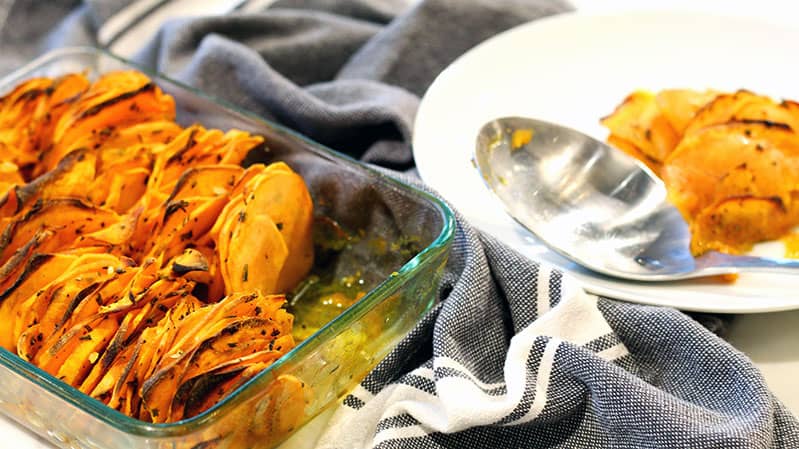 Sweet Potato Slices
This recipe couldn't be easier, and it aligns with the rest of the menu in terms of roasting times and temperatures.
For this recipe, simply peel the sweet potatoes and then slice them thin with a mandolin. Toss them in a large bowl with a generous amount of butter, shallots, garlic, salt, pepper, and herbs.
Then, stack the slices vertically, pack them tightly into a baking dish, cover them, and place them in the oven on convection roast mode at 375 F for about 45 minutes.
After 45 minutes, remove the foil, crank the heat to convection roast 425 F and continue roasting for another 10-15 minutes to brown the top.
Click here for Chef Saba's Roasted Sweet Potato Recipe.
7. Squash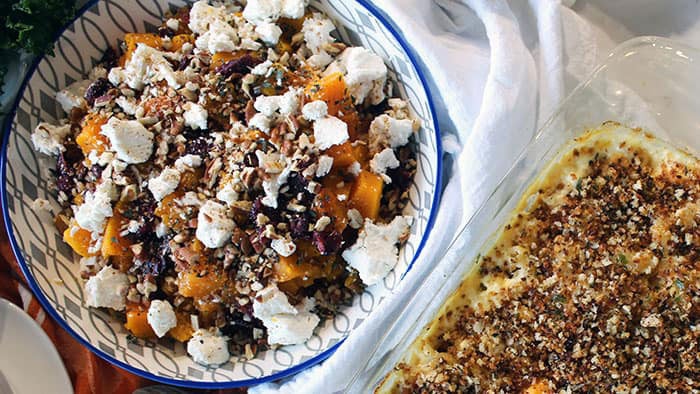 Squash Serviced With Pecans, Cranberries, and Goat Cheese
Squash is one of the most versatile ingredients you can make for the holidays because it can be roasted, steamed, sauteed, or pureed. It could also be served as a soup if you are offering it as a first course.
My favorite preparation is to either roast or steams the squash, then pair it with cranberries, pecans, goat cheese, and fresh herbs.
It could also be served as a salad on top of mixed greens with a sweet and spicy vinaigrette or on its own, as pictured below.
Click here for Chef Saba's Autumn Harvest Squash recipe.
I also made a honey-glazed Delicata squash for additional color, texture, and flavor for the table. The preparation for this is effortless.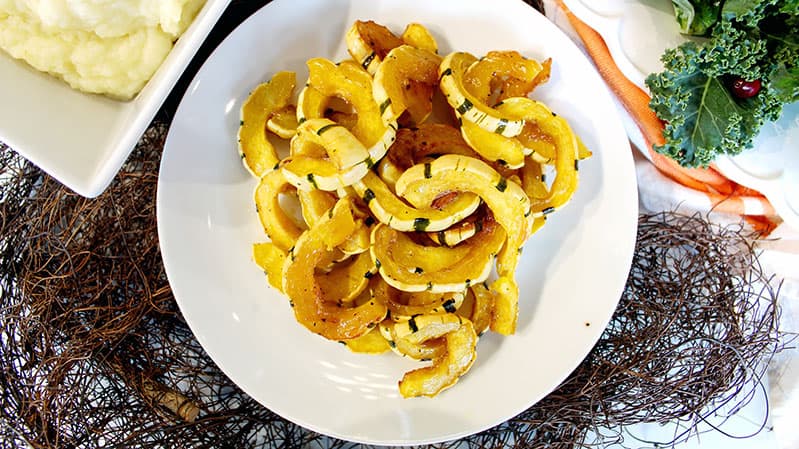 Delicata Squash
The squash is simply seeded and sliced (no need to peel the skin, it's edible!). Toss it with honey, crushed red chili flakes, olive oil, salt, and pepper, then roast it on convection roast mode at 375 F for around 20 minutes.
Simple, easy, and tasty, this is an excellent alternative to the classic butternut squash.
8. Bread Rolls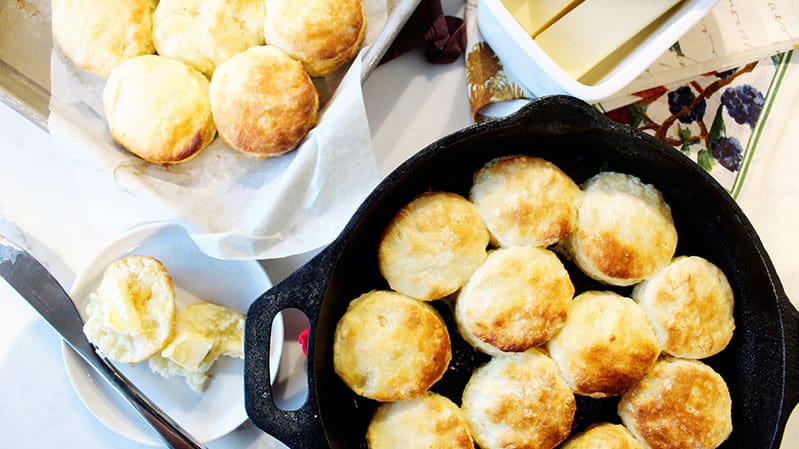 Parker House Rolls
There are several ways to go when it comes to bread on the table with your meal.
A classic roll is a crowd-pleaser, but if you're looking to take things to the next level, you can't beat parker house rolls or buttermilk biscuits.
The parker house rolls can be prepared, assembled, proofed, refrigerated ahead of time, and then baked off before mealtime.
If you're going the biscuit route, then measure and combine all the dry ingredients. Keep them refrigerated until you're ready to combine them with the wet ingredients.
When you're ready to bake the biscuits, combine your dry ingredients with your wet ingredients.
Then roll, cut, and place in either a cast iron pan (for more dramatic presentation) or a sheet tray and bake them on convection/convection bake at 325 F for about 20 minutes.
Alternatively, you could make a quick bread and cornbread or pumpkin loaf, slathered with some whipped honey butter.
9. Cranberry Sauce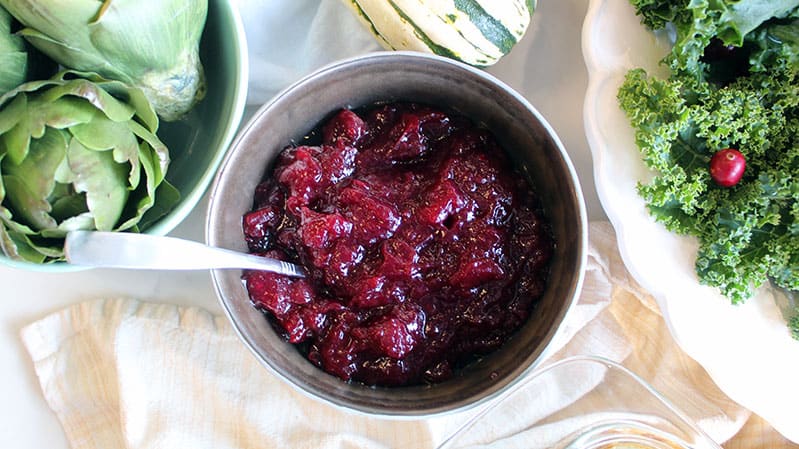 Tangy and Sweet Cranberry Sauce
This tangy and sweet sauce is an absolute must in your Thanksgiving spread! Whether you are making it from scratch or straight from the jar, this side should not be skipped.
Not only does it add beautiful color to your table, but the flavors are very refreshing when eaten, along with the rich, creamy, buttery foods that dominate the table.
Making cranberry sauce from scratch couldn't be easier.
Just combine your fresh cranberries with water, sugar, seasoning, and some aromatics like cinnamon and citrus zest, then simmer on you're stove top until all the ingredients have melded and the sauce has thickened.
If you want to stick with a premade or store-bought sauce, Trader Joe's makes a lovely jarred cranberry sauce that will almost taste homemade, a big step up from the canned type.
10. Gravy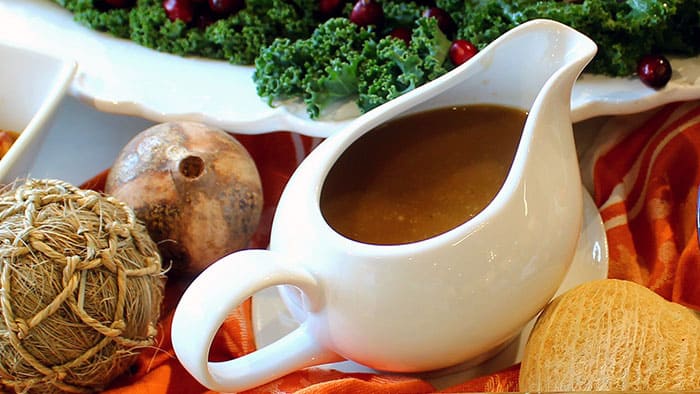 Perfect Homemade Gravy
Nothing beats homemade gravy, and the best way to make sure you get it done on time is to roast off a separate batch of turkey wings apart from the bird that's roasting in the oven.
Also, take the turkey neck (and giblets if you like) to create a stock with water, herbs, bay leaf, and a mirepoix. Simmer for about 2 hours to develop the richest flavor, then strain and set aside.
After the wings are roasted and the fat has rendered off, make the roux. Combine the roux with the strained turkey stock for a rich and flavorful gravy.
Pro Tip: Add the pan drippings from the turkey into your gravy for a little extra depth of flavor.
Key Takeaways
The holidays are all about the sides, so you always want to make sure you're offering a nice variety of classics and favorites.
Try to prepare as much as you can ahead of time, and the rest will fall into place.
Mastering how to multi-rack cook in your convection oven might be tricky, but many of the items listed above can cook together.
All you have to do is a factor in the times and temperature, and you will have a seamless holiday meal.
Additional Resources
Confused about Wall Ovens? Get the Yale Wall Oven Buying Guide with updated features, specs, and detailed profiles of the best brands like Miele, Wolf, Viking, Bosch, Thermador, and more. Over 1 million people have read a Yale Guide.
Related Articles:
Why Should You Trust Us?
It seems that every appliance review has nothing but glowing comments about almost every product, yet you read customer reviews and they are almost universally bad.
We are here to fill in the disconnect. We'll give you the best features, and the drawbacks as well, including reliability based on over 37,000 calls performed by our service team just last year. Our goal is to give you ALL the information so you know what's right for you.
Please consider subscribing or adding to the conversation in the comments below. We appreciate you stopping by.
Saba Wahid
Saba is the resident Chef at Yale. She will teach you how to use your new oven, cooktop, or range. She is skilled in every new feature, including steam, induction, convection of all types, air frying, and sous vide. Saba is also the reigning Chopped Grand Champion crowned by Martha Stewart herself. Saba is incredibly versatile with all different types of cuisine. After just one session with her, you will be a better chef.

Saba has also been featured in numerous publications such as Mashed, Eater Boston, the Boston Herald, and the Framingham SOURCE.
A Note About Pricing
Pricing on this blog is for reference only and may include time sensitive rebates. We make every attempt to provide accurate pricing at time of publishing. Please call the stores for most accurate price.