I have always been fond of technology for assisting you in your kitchen. It has not always worked out. About 15 years ago, I was sure Whirlpool had a great new range. The Polera had the ability to refrigerate, defrost and cook your food.
I imagined legions of people throwing that frozen steak in the oven and having it perfectly cooked when they returned home. It was not meant to be. We sold one. It was the display piece at 50% off.
Then 10 years ago, LG produced what I thought was the ultimate refrigerator. It had a TV, camera, jukebox and was internet ready. After many markdowns, the refrigerator finally found a home…in our warehouse.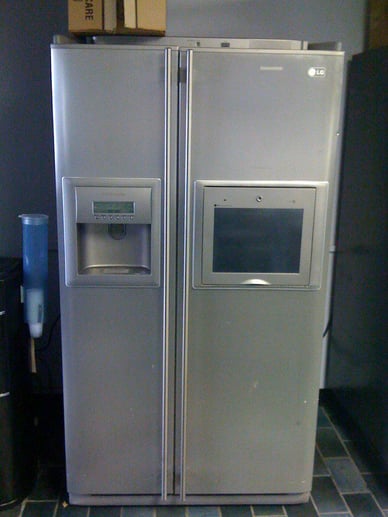 LG All Refrigerator
Now, Samsung is eerily producing the same piece with some key differences. So, we'll look at Samsung and this refrigerator. Then you can decide whether it is right for your home.
Samsung
You know Samsung from their Android smartphones, but it's a huge company. In fact, appliances are the smallest division within the company.
However, technology and design has always been their focus. It shows in their very forward-thinking appliances. Samsung's stated goal is to be the number one appliance brand in the U.S this year.
Now let's look at the Family Hub refrigerator.
Samsung Family Hub Refrigerator - Coming Spring 2016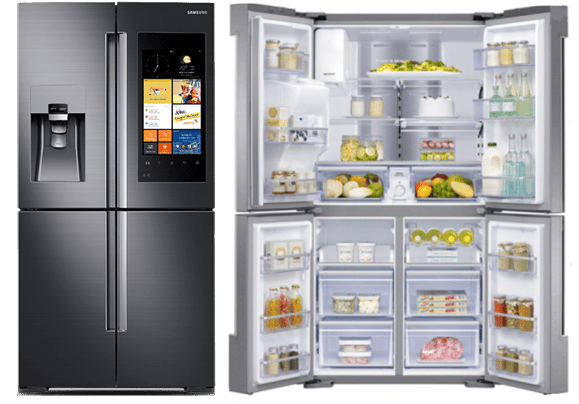 Features:
4 Door Flex™ Refrigerator w/Family Hub
Samsung-exclusive FlexZone transforms from fridge to freezer
Wi-Fi-enabled 21.5" LED touchscreen
Stream your favorite music with apps
Mirror video content from your Samsung TV
Three built-in cameras to view whats in your refrigerator, remotely
Triple and Metal Cooling system
Should You Buy This Refrigerator?
In some ways, I am haunted by my LG refrigerator experience. This Samsung has similar features to its predecessor. You can watch TV, stream music or listen to Pandora on this refrigerator. It is Wi-Fi enabled as well.
However, it's evolved and so have you. As a society, we can monitor our house for temperature, security and safety in ways we couldn't years ago. It's become a routine.
Accordingly, there are three cameras inside the refrigerator, so you can see what's in your refrigerator or freezer from your smartphone. You can share calendars, display photos and order your groceries from the touchscreen.
Kind of cool, but none of the above will sell this refrigerator except to the tech savvy.
The Real Reasons to Consider This Refrigerator
This technology laden refrigerator should sell fairly well, because of decidedly low tech reasons. You may laugh, but there are three reasons to consider this refrigerator unlike the earlier LG.
The FlexZone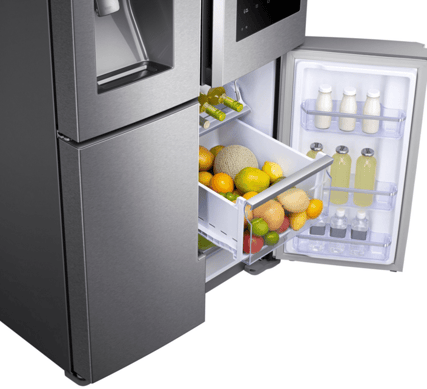 This refrigerator has 4 doors, unlike the LG side by side refrigerator I was referring to earlier. You have the wider French door refrigerator, and the right side of the freezer can also convert to a refrigerator. It's smart if you store more fresh food and use the freezer less.
Stainless Steel
It's available in Stainless Steel and their new Black Stainless Steel. LG was only available in titanium, a fancy word for gray. The rest of your appliances are probably stainless and titanium won't match. The Samsung will.
Price
At about $6,000, which is not cheap at all, but that's 33% less than the LG at $9,000.
The Cons
You will probably think I would say service, but the Family Hub is similar to Samsung's other refrigerators. Depth is the issue. At 34.25 deep, this will protrude almost 11 inches past your cabinets.
In my experience, most people will only pay for counter depth refrigerators, not regular depth. In other words, Sub-Zero has great features at $9,000, but sells primarily because it is counter depth.
Final Thoughts
Really cool technology. However, you can figure out when to buy mustard or grapes without looking at your cell phone. It's very interesting, but compelling? I'm not certain.
Additional Resources
Download the Yale Counter Depth Refrigerator Buying Guide with features, specs and inside buying tips to regular, pro and integrated counter depth refrigerators. Well over 155,000 people have read a Yale Guide.
Related Articles