New Jenn-Air Vs. BlueStar Professional Ranges (Reviews / Prices)
October 3rd, 2019 | 7 min. read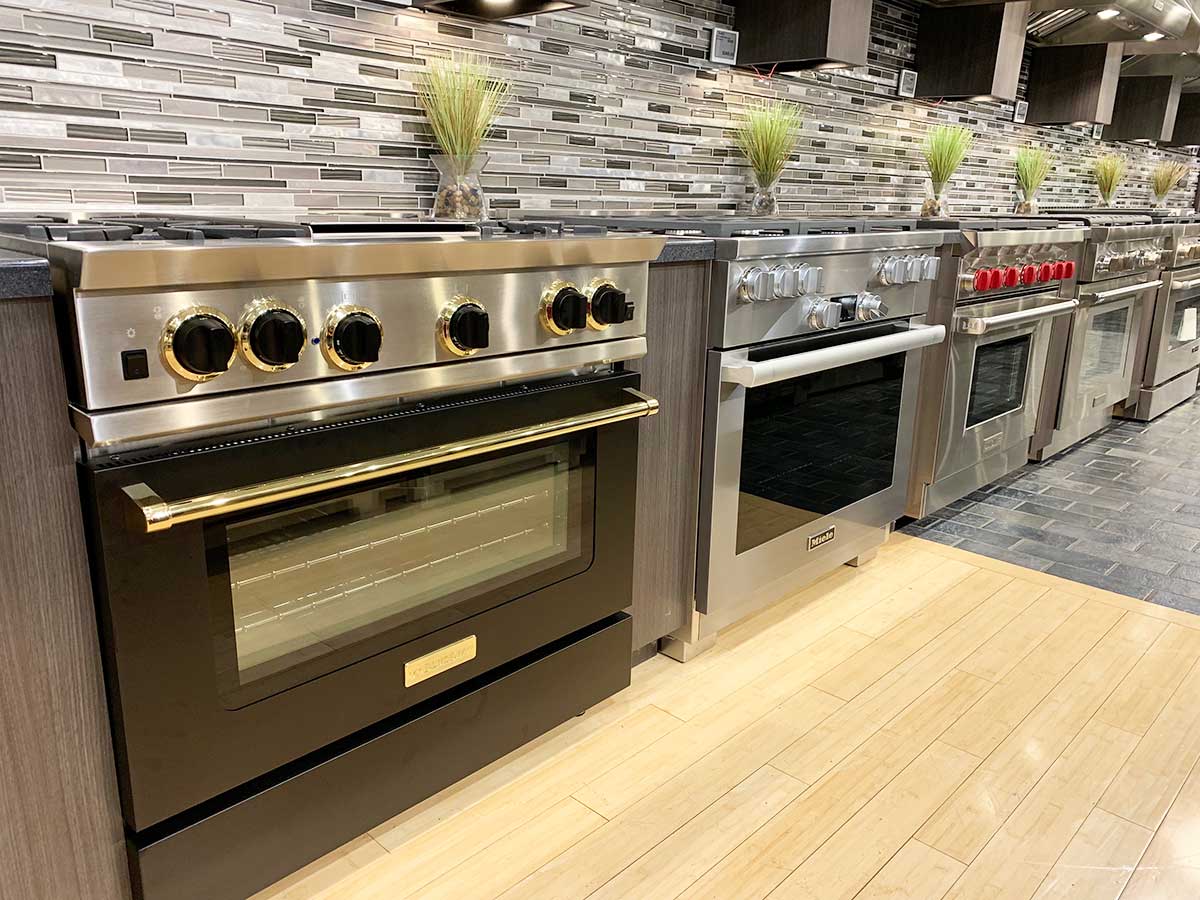 When deciding on a range, one of the most important factors to always consider is cookies.
I'm only half-joking.
The half that is joking knows that much more matters in a range. But the half of me that isn't kidding really loves cookies.
On the weekends in the Yale showrooms, there are always fresh baked cookies. Occasionally a cookie or two may end up at my desk. So I am very aware of how well our ovens can cook them, and how many they can cook. (I'm helping with quality control).
Seriously, BlueStar and Jenn-Air are on the polar extremes of what is available for professional ranges. You can customize BlueStar with over 750 colors choices, but you cannot with Jenn-Air. One is connected and offers self-cleaning, and the other does not.
In this article, you will learn about both companies, their professional ranges, and then we'll compare them.
The Brands: Jenn-Air And BlueStar
First, we'll take a brief look at the companies' histories and backgrounds.
In 1880 in Pennsylvania, Prizer-Painter Stove Works Inc. was founded. They started out making handcrafted coal ranges.
Over the years, they made some different styles and innovations, and by 2002 they began making restaurant-quality residential ranges under the BlueStar name.
In 2006 they added the customization and color options that have become one of the major features of the BlueStar brand.
BlueStar Professional Ranges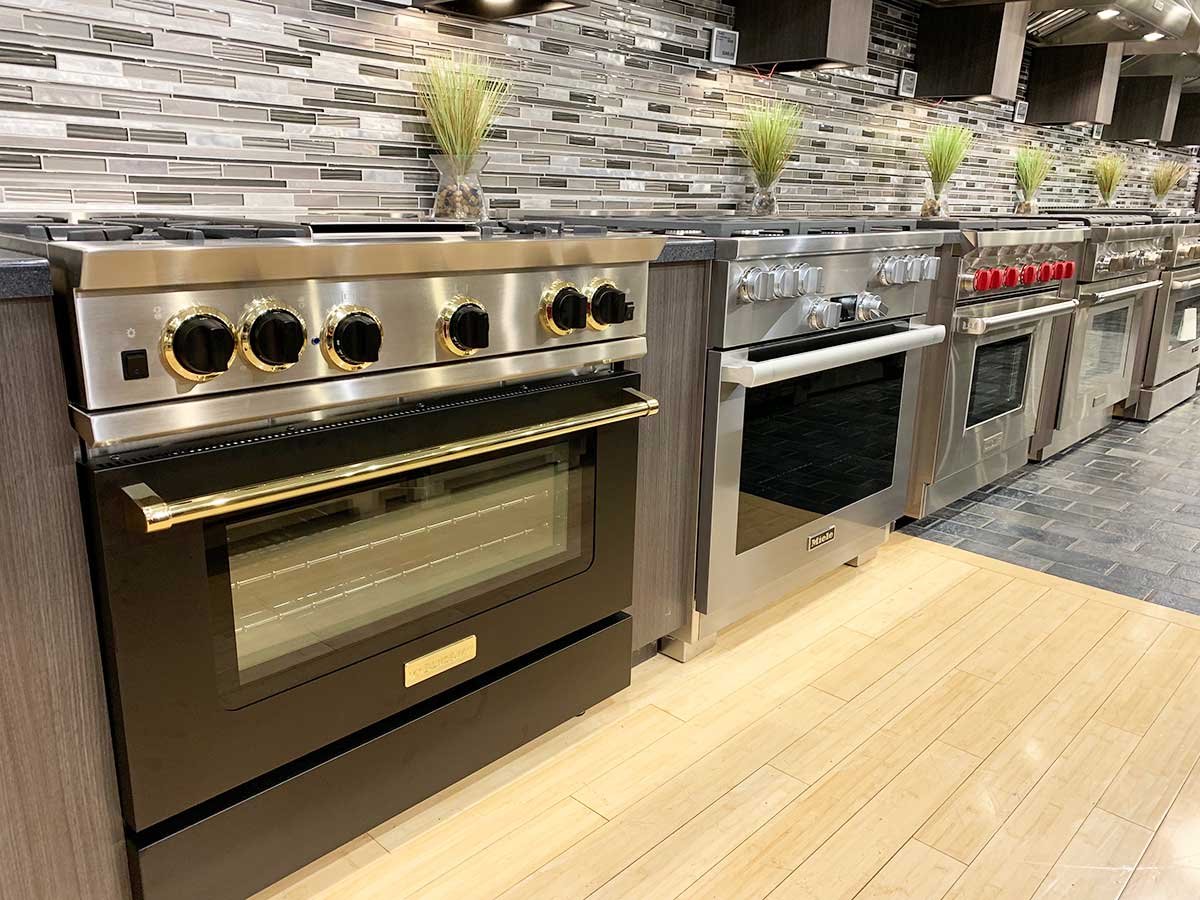 One of the toughest parts of choosing a BlueStar professional range is navigating through the five series, so let's look briefly.
First, they all have their 1850 degree infrared broiler, large capacity oven, and similar 130-degree simmer. They all have integrated wok capability except for their basic sealed burner unit.
Platinum: Their best unit with 25,000 BTU output. The Platinum is burners only and can be purchased in 8 or 10 burner capability and has its bigger convection fan. You have an interchangeable grill and griddle with the Platinum range.
RNB: You have the built-in grill and/or griddle with the RNB series. Built-in is more precise than the Platinum freestanding version. The RNB burners max out at 22,000 BTUs.
Precious Metals: This series is available in 30 and 36 inches and has French doors instead of the regular pull down like a restaurant range. It allows for easy access to your foods.
RCS: RCS is their basic open burner range with 15,000 BTU capability. It is available in 30 and 36-inch sizes.
RMB: RMB is their basic sealed burner range with 18,000 BTU output. You can buy this in 24 inches as well as 30 and 36 as well. It does not have integrated wok capability.
To learn more about the different features of professional ranges, check out our Pro Cooking Buying Guide.
BlueStar 30-Inch RCS Professional Range RCS304BV2 - $3,895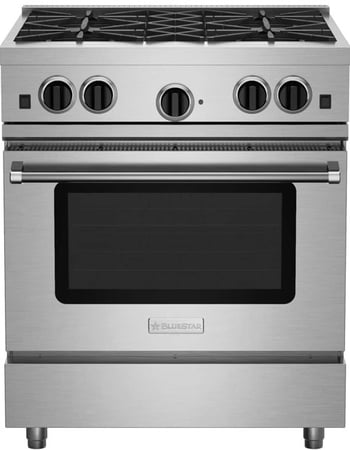 BlueStar 48-Inch Platinum Professional Range BSP488B - $12,295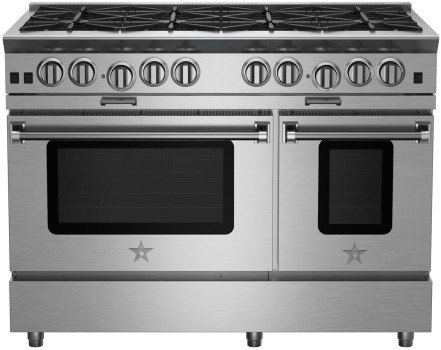 Jenn-Air Professional Ranges
In 1947 Louis Jenn began making industrial fans, which is where the name "Jenn-Air" came from. Jenn-Air was first with downdraft ranges and modular cooktops.
Along with Thermador, they wee the first American company with convection and wall ovens.
In 1982 Maytag bought Jenn-Air, which was subsequently bought by Whirlpool Corporation in 2000. However, Jenn-Air continued to operate under its brand with a 300 million dollar investment.
Last year, Jenn-Air won best of show at the Architectural Digest Design Show with two new professional range series, the Rise and Noir.
Unlike BlueStar, they are just aesthetically different.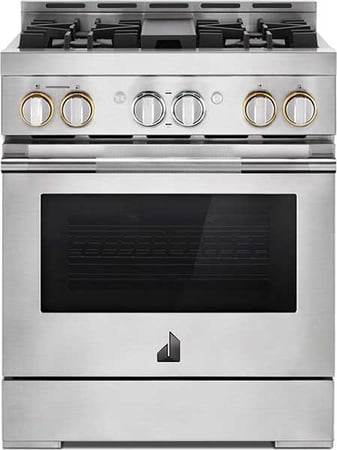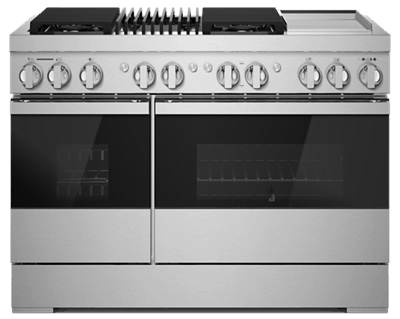 New Jenn-Air Vs. BlueStar Professional Ranges
Let's compare a few different models and then talk about the features.
BlueStar Vs. Jenn-Air 30-Inch Professional Ranges
| | | |
| --- | --- | --- |
| | Jenn-Air 30" Rise (all gas) | BlueStar 30" RCS |
| Max BTU Burner | 20K | 15K (sealed) 20K (open burner) |
| Low Simmer | As low as 1000 BTU | 130 degrees |
| Griddle Option | no | no |
| Grill Option | no | no |
| Wok Option | no | Integrated |
| Broiler | gas | infrared |
| Burner Style | Sealed | Sealed or Open |
| Color Options | none | none |
| Convection | TRUE | TRUE |
| Full Size Sheet Pan | no | yes |
| Glide Racks | 3 | 1 |
| Culinary Center | yes | no |
| Remote Access | yes | no |
| Temperature Probe | yes | no |
| Auto Reignition | yes | yes |
| Backlit control knobs | yes | no |
| Oven light | yes | yes |
| Dishwasher safe grates | yes | no |
| Timer | yes | no |
| Self-Clean Oven | yes | no |
BlueStar Vs. Jenn-Air 48-Inch Professional Ranges
| | | |
| --- | --- | --- |
| | Jenn-Air 48" Noir (all gas) | BlueStar 48" Platinum |
| Max BTU Burner | 20,000 | 25,000 |
| Low Simmer | As low as 1000 BTU | 130 degrees |
| Griddle Option | optional, chrome infused | Interchangeable |
| Grill Option | optional | Interchangeable |
| Wok Option | no | Integrated |
| Broiler | gas | infrared |
| Burner Style | Sealed burner | Open |
| Color Options | None | 750 |
| Convection | TRUE | TRUE |
| Full Size Sheet Pan | no | yes |
| Glide Racks | 3 (large oven) | 1 |
| Culinary Center | yes | no |
| Remote Access | yes | no |
| Temperature Probe | Large oven only | no |
| Auto Reignition | yes | yes |
| Backlit control knobs | yes | no |
| Oven light | yes | yes |
| Dishwasher safe grates | yes | no |
| Timer | yes | no |
| Self-Clean Oven | yes | no |
Let's break down some of the individual features and see how they match up.
Color Options
While Jenn-Air has some cool designs between their two styles of Rise and Noir, they are the only two designs. BlueStar has several different series of ranges with different customization options.
The most basic, the RCS (or Culinary) series, does not have this option. You get stainless steel. But their other series have 750 color options plus custom knob and trim options.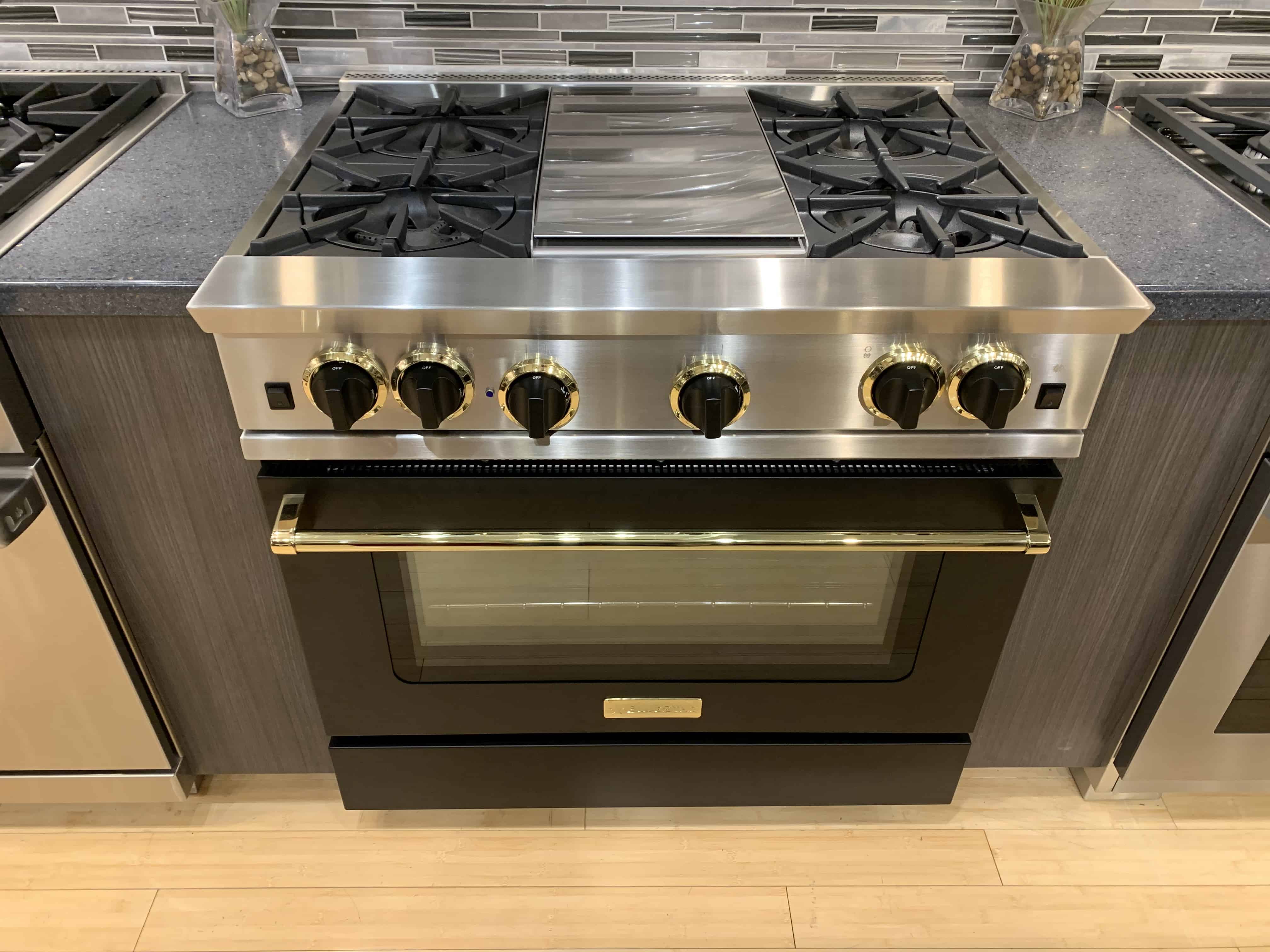 BlueStar 30-Inch Range With Custom Color Black Finish At Yale Appliance In Boston
And if BlueStar doesn't have the color you want; send them a sample of the color, and they will create it just for you.
This makes your BlueStar range truly your own. Over 80% of the BlueStar ranges sold at Yale are customized.
Winner: BlueStar
Burners
Both ranges have a lot of power. The Jenn-Air ranges go up to 20,000 BTU and the Platinum series BlueStar goes up to 25,000 with an open burner design.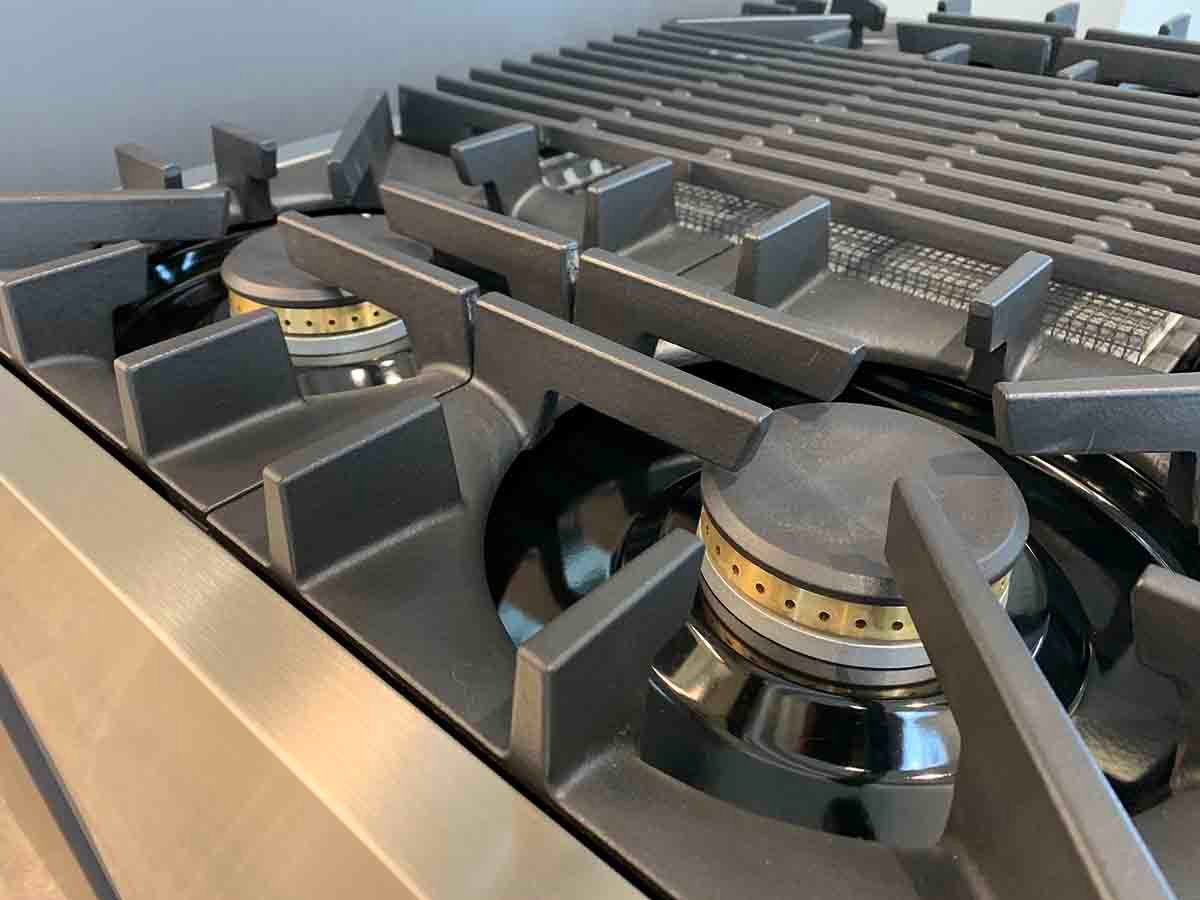 Jenn-Air Pro Range Sealed Burner At Yale Appliance
Most of us don't like cleaning, and that is why many brands have switched to the sealed burner; it's much easier to clean.
However, an open burner can be removed and cleaned at the sink rather than scrubbed at the range.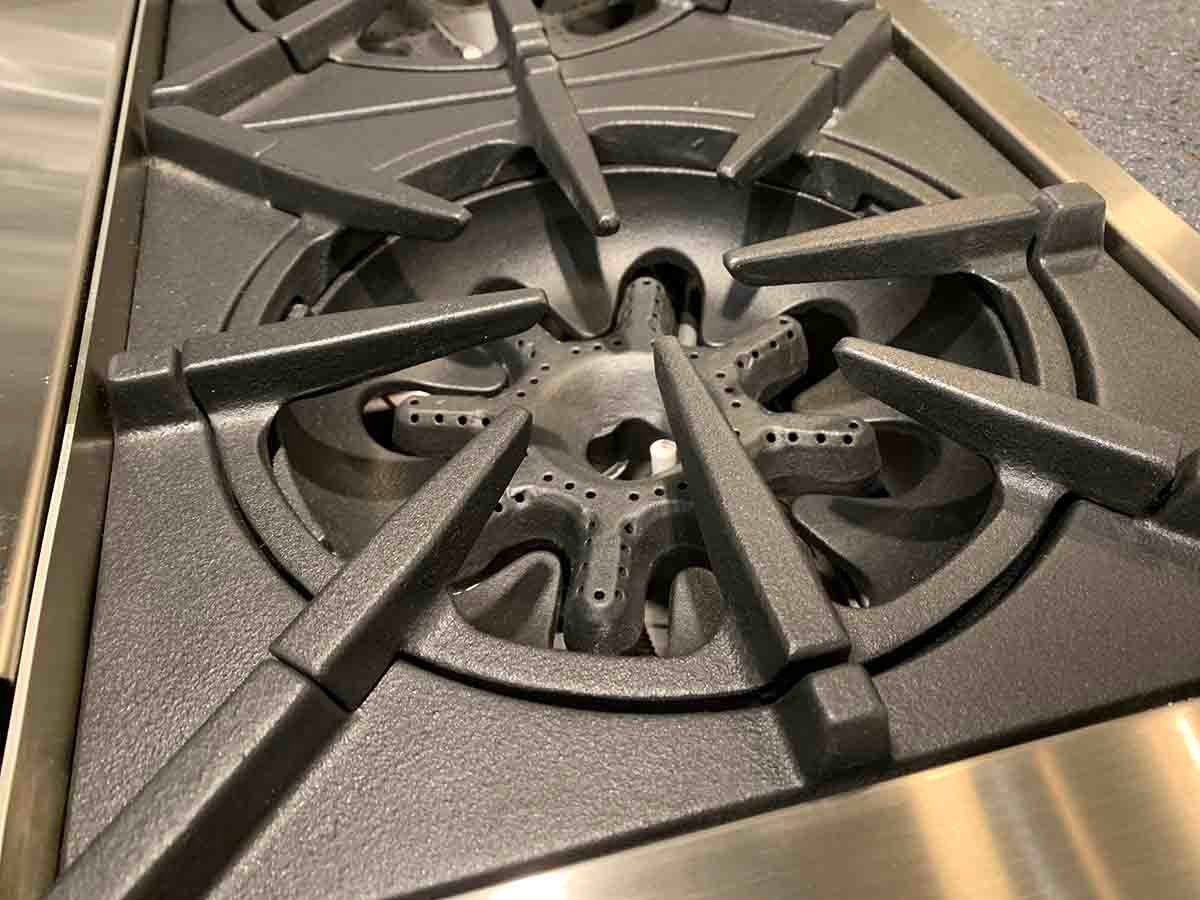 BlueStar Pro Range Open Burner At Yale Appliance
But the design of the BlueStar burner allows more consistent flame coverage of the cooking vessel giving an even temperature and less heat escape.
Both will have a good simmer option, but for power and consistency, the BlueStar is a better burner.
Winner: BlueStar for power, Jenn-Air for cleanability
For all the most powerful professional ranges, click here for our Pro Cooking Buying Guide featuring the BTU outputs of each major manufacturer.
Grill/Griddle
This category isn't as easy to determine a winner. For the 30" range, it's a draw. Neither range (as listed above) has the option. But when you go to the larger size, it's a little more complicated.
If you're looking at just the griddle, then the Jenn-Air will win. It has a chrome infused griddle for much easier cleaning.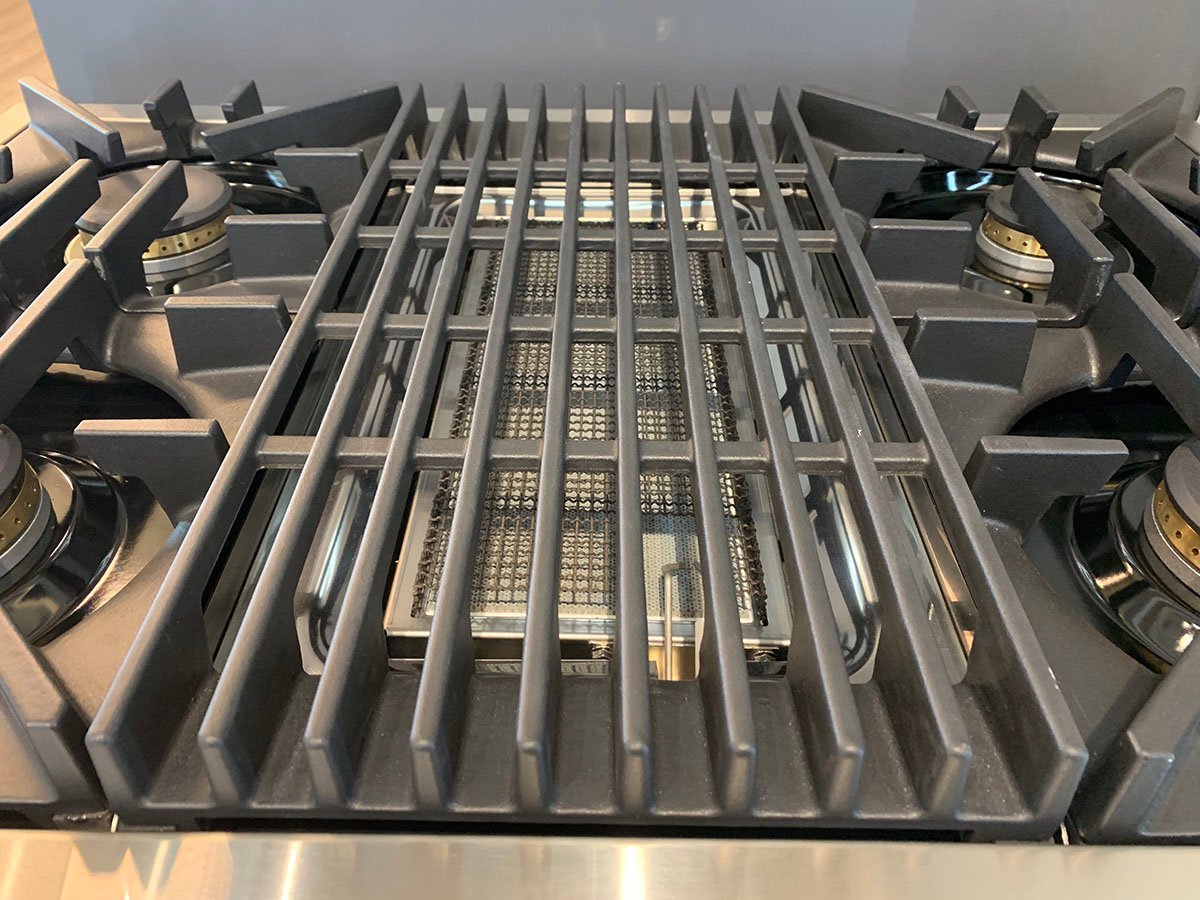 Jenn-Air Pro Range Infrared Grill At Yale Appliance
Jenn-Air uses an infrared grill, whereas BlueStar has the regular gas grill in their RNB series. Infrared is intense direct heat and is better for searing. It also evaporates the grease for easier cleaning. A gas grill would be better at lower temperatures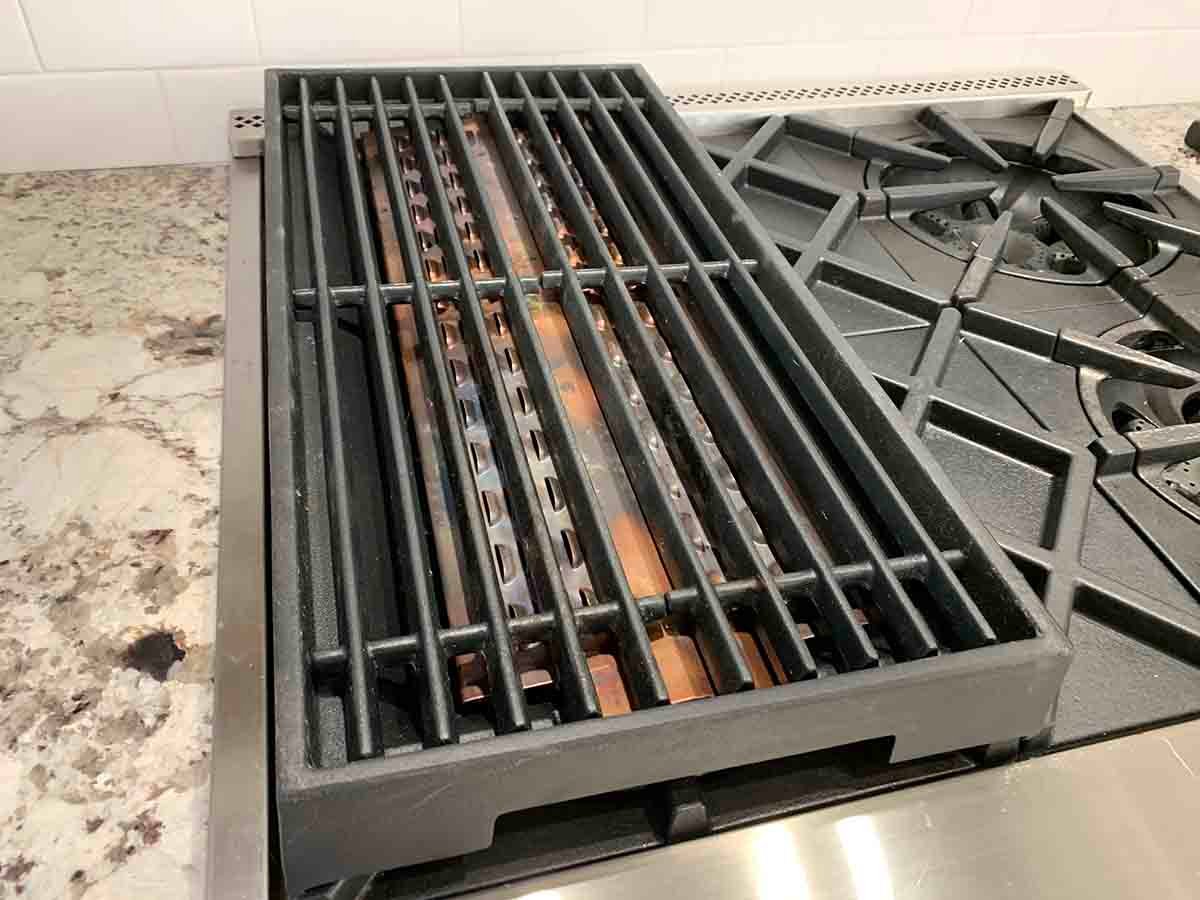 BlueStar Platinum Pro Range Interchangeable Grill At Yale Appliance
The Platinum uses an interchangeable grill and griddle cartridge. You can place it over the 25,000 BTU burners, so there is plenty of heat, but it is not integrated and easy to control for temperature
The only downside to this versatility is that it is very heavy. Your grandmother will not be making your pancakes on the charbroiler unless you help her swap out the burner plates.
Winner: Jenn-Air (for pancakes), grilling, cleaning, BlueStar (for versatility and weight training)
Oven
Both Jenn-Air and BlueStar use True Convection for great temperature consistency (think back to my cookies, some in the front of the oven and the others in the back. They all should come out the same!).
The broiler on the BlueStar is infrared for better heat, versus a gas broiler on all gas Jenn-Air models (note: Jenn-Air does make duel fuel ranges which have infrared broilers. BlueStar does not make dual fuel models).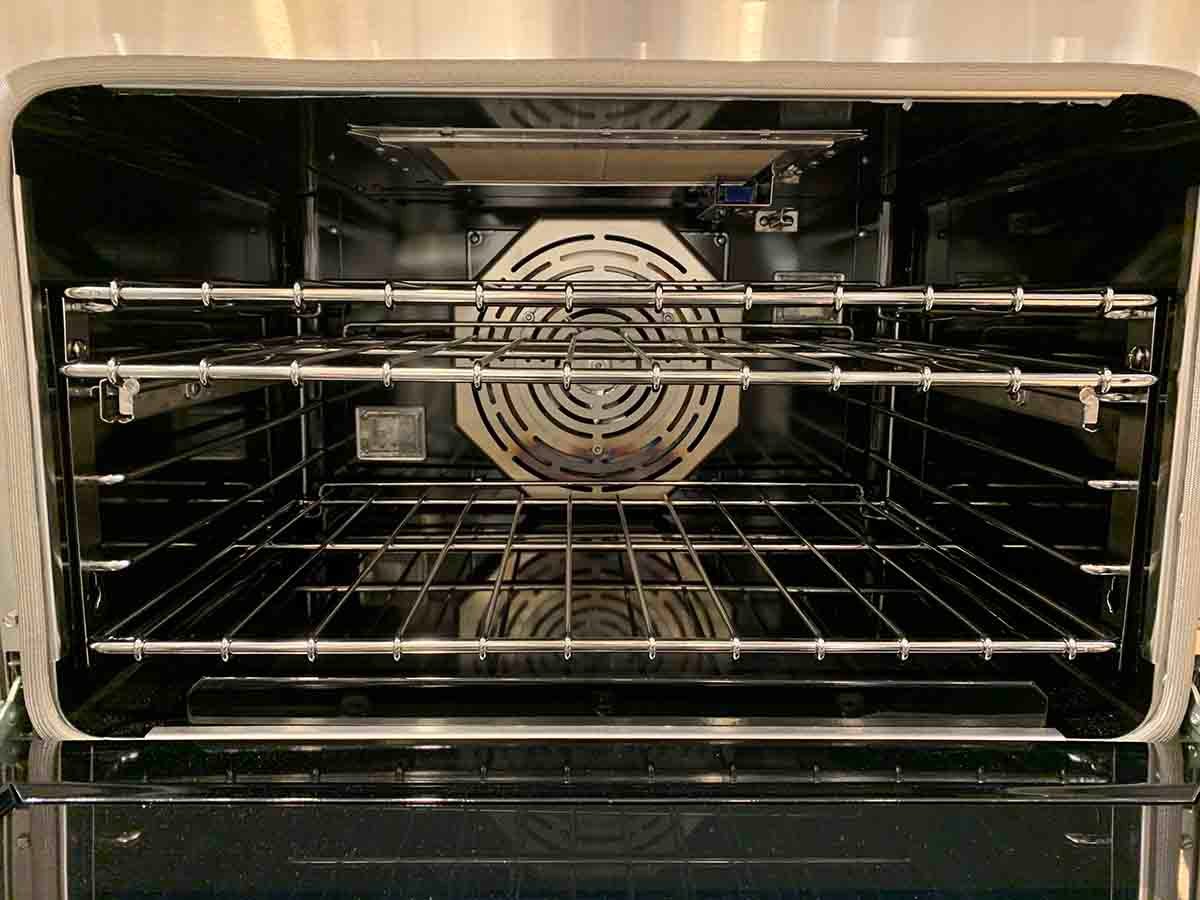 BlueStar Platinum Pro Range Oven At Yale Appliance
The BlueStar oven, even on the 30" models, can fit a full-size baking sheet tray (lots more cookies). Only the Jenn-Air 36" can fit this size pan.
Even on their 48" models, the larger oven is not wide enough to accommodate this size pan.
The glide racks on the Jenn-Air are much nicer than the BlueStar. The BlueStar has just one glide rack, and the rest are all standard. Jenn-Air has all glide racks (in double ovens, only the larger oven has glide racks).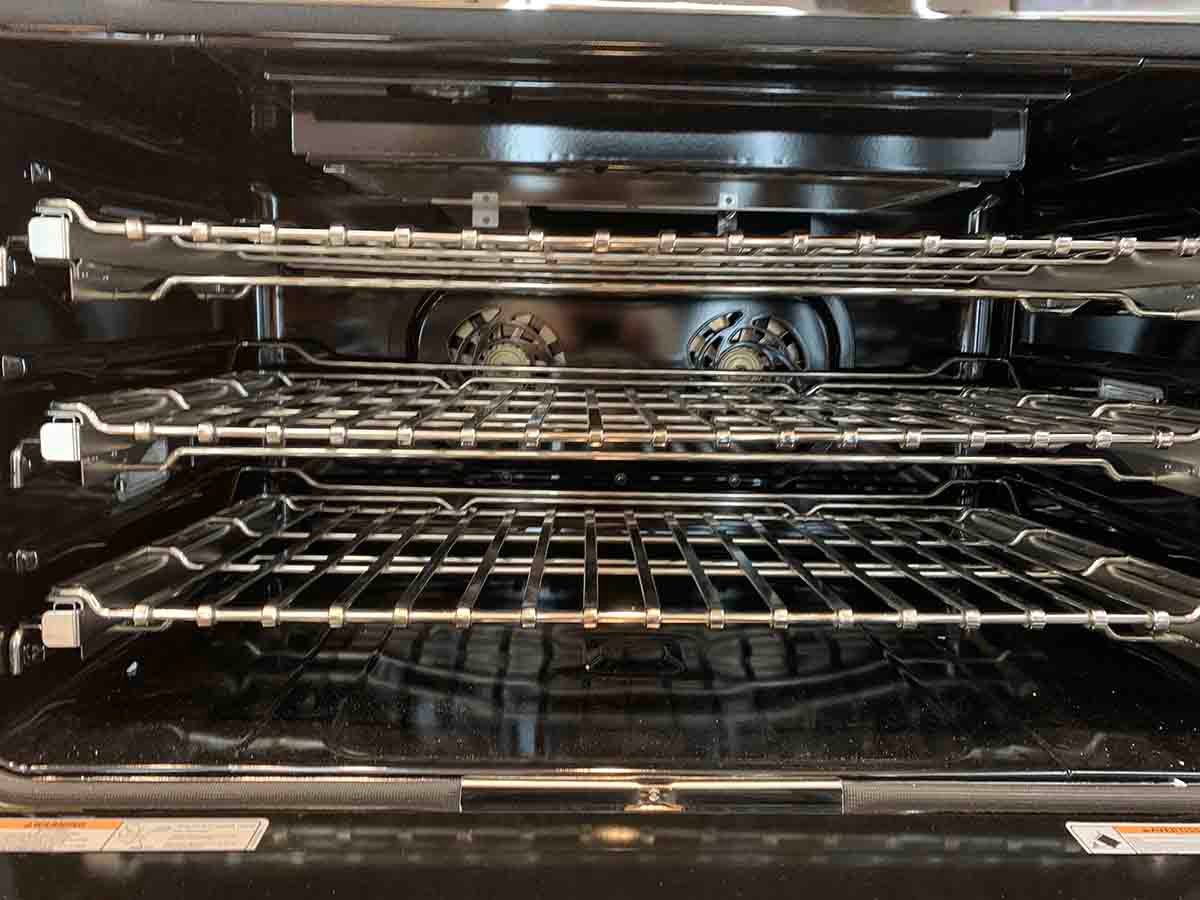 Jenn-Air Pro Range Oven At Yale Appliance
Plus, Jenn-Air racks are flattened rather than the traditional round style. They are more durable than you might expect and can hold a lot of weight. They have a great look and feel to them.
The Jenn-Air oven does have a few other options that the BlueStar does not. The Jenn-Air has a temperature probe and an oven timer.
The caveat with these features is you can't use them alone on the oven. You need to connect with your mobile device to use these features with your range (more on that in the next category).
Jenn-Air is self-cleaning, whereas BlueStar is manual cleaning.
Winner: Draw
Connectivity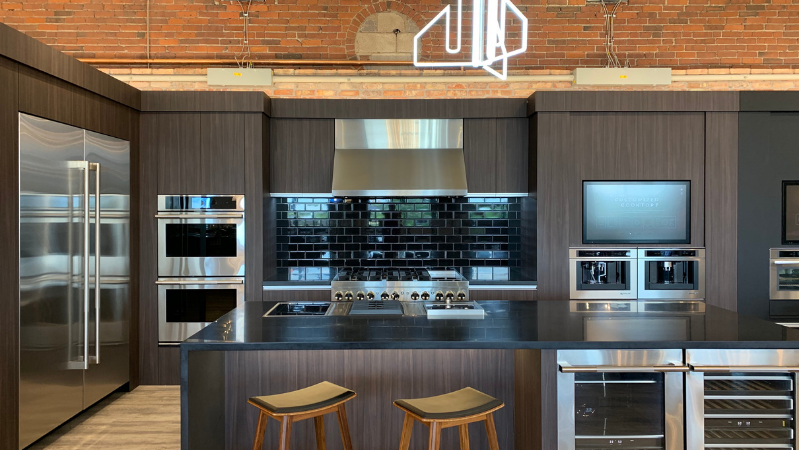 Picking the winner in this category is easier than the others as there is only one participant - Jenn-Air. With their rebranding and redesign, Jenn-Air has taken a bold leap into the future of technology.
You don't simply get to control your oven through your phone, you can tell your oven what to cook, and it will do the work for you.
Through their culinary center (you need an app on your smartphone to use this), you can find your recipe, select it, and then let the oven do the cooking.
It will adjust the temperature as needed, use the appropriate cooking setting, and tell you when it's done. Cooking for dummies (that would be me) in a nutshell.
You can control most aspects of the range with the app. The only downside for this feature is you need your phone to use many features on the range. The temperature probe, oven timer, and culinary centers all require the app to use.
So if you're not comfortable with this level of connectivity, this won't be anything useful for you.
Most companies are introducing connectivity into their products. You can monitor some basic functions or do diagnostics… simple things that people don't care about. The basics that you're used to having haven't changed much at all.
But Jenn-Air decided the future is connected, and they've made their products less featured without this connectivity.
You may love this, and you may hate it, or be somewhere between like I am. I think it's cool, but it's also a big change from what we've known for so long. It's new and relatively untested.
Will it be reliable?
We don't know yet. Regardless, Jenn-Air is the first company to take this leap, and I think you'll start to see other brands trying to follow their lead.
Winner: Jenn-Air
Which Professional Range Should You Buy?
These ranges and these companies in some ways are night and day.
BlueStar has a solid history of consistent cooking with great results. It is the most powerful range by far. You can also customize it and match with whatever matching color.
You also have the best-infrared broiler at 1850 degrees.
Jenn-Air is trying to change the way cooking will be done going forward with more technology and connectivity. It has the better grill, griddle as well as self-cleaning.
There is no way I could make a judgment on which of these is better. They're so different and both appeal to different types of people.
Ultimately the most important question you should be asking is: How do you cook?
Do you grill, griddle, broil, and how much power do you need?
Additional Resources
Get our freePro Range Buying Guide packed with tips, specs, and recommendations on all the best brands. Over 600,000 people have already found answers in a Yale guide.
Related Articles:
Why Should You Trust Us?
It seems that every appliance review has nothing but glowing comments about almost every product, yet you read customer reviews and they are almost universally bad.
We are here to fill in the disconnect. We'll give you the best features, and the drawbacks as well, including reliability based on over 37,000 calls performed by our service team just last year. Our goal is to give you ALL the information so you know what's right for you.
Please consider subscribing or adding to the conversation in the comments below. We appreciate you stopping by.
Craig Marcotte is the Sales Trainer at Yale Appliance. He has been with Yale for five years. Before working at Yale, Craig was a corporate trainer and later spent several years managing restaurants in Boston. A New Hampshire boy at heart, you can often find Craig on a mountain or running a Spartan race when he isn't helping customers upgrade their homes.
A Note About Pricing
Pricing on this blog is for reference only and may include time sensitive rebates. We make every attempt to provide accurate pricing at time of publishing. Please call the stores for most accurate price.