10 Coolest Appliances, Lighting, And Plumbing for Boston
If you are building or renovating a home, the following is a list of unique products you should consider so your white cabinet, gray granite kitchen will look different with more functionality then your neighbors.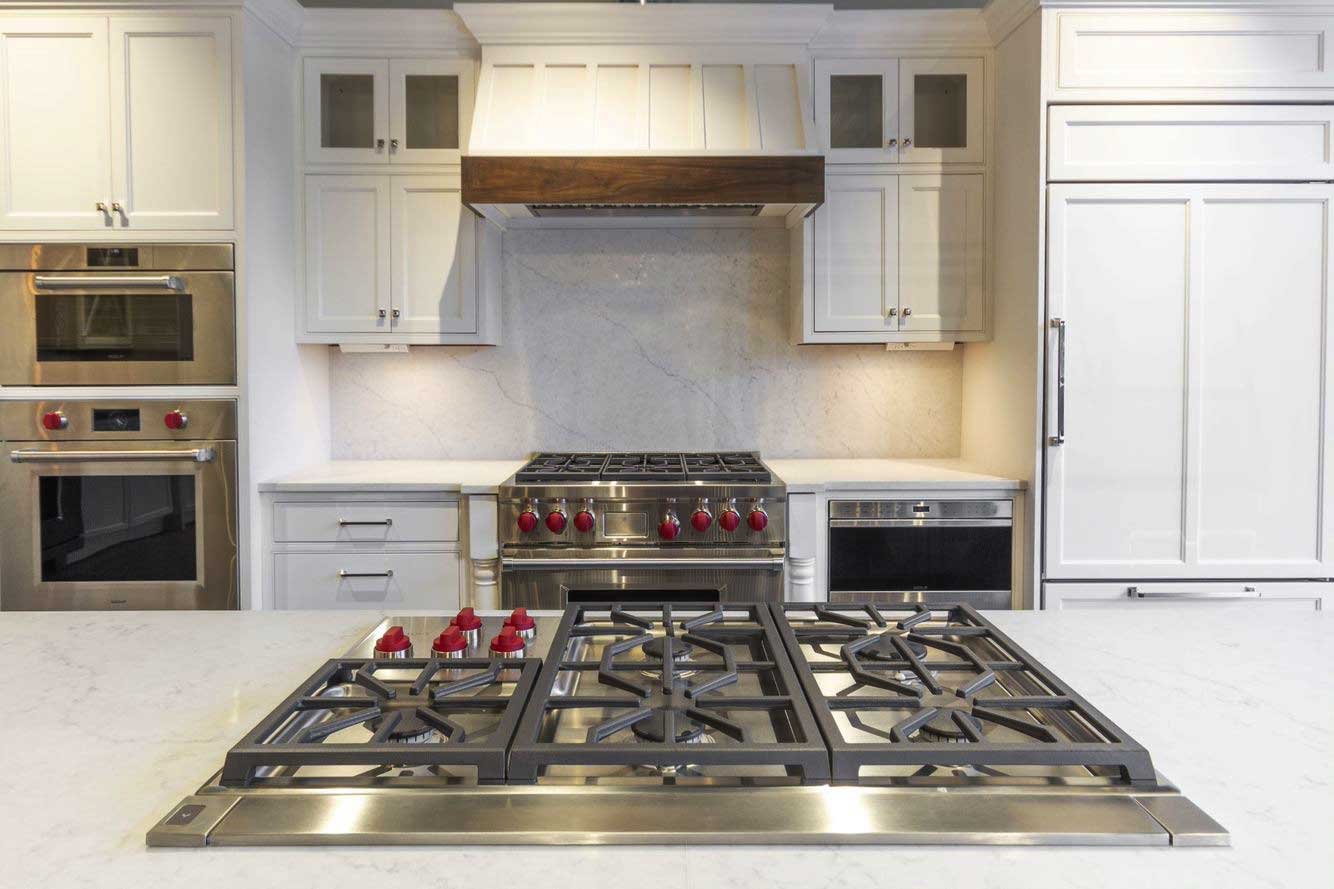 Sub-Zero And Wolf Kitchen At Yale Appliance In Framingham
I know what you are thinking. They will all be unaffordable, expensive appliances, lighting, and plumbing.
Not true. Most of these products are affordable luxury and not expensive for their product type (although a couple like the Waterstone faucets are higher in price than average).
What Is New On Our List This Year
Wi-Fi
When we wrote this in 2016, Wi-Fi was just a novelty, but now you are starting to see more options for Smart functionality in appliances. On this list, every product has Wi-Fi capability except the Miele steam oven (ironic, because it's the most advanced).
Wi-Fi is not the reason to buy appliances...yet. Connection and speed are not there. Plus there is not one platform for all your appliances as Google, Apple, Amazon, Samsung, and others are fighting for a spot in your home.
Custom Colors
I get it that many people want anything but a stainless steel finish. We have some colorful appliances on the list for that reason.
You do run the risk of having that green range look dated. That manufacture may also discontinue that green finish, leaving you in a quandary in 8-12 years when replacing a piece or two.
10 Coolest Appliances, Lighting, And Plumbing For 2019-2020
Let's look at some exciting products to consider for your renovation.
Honorable Mentions:
Bosch's Black Steel Finish
Most black steel appliances are just a coating and will peel easily. Bosch bakes the black coating in the process, so it wears way better than any other Black Steel manufacturer.
Samsung and Bosch were the only companies surviving our scratch tests.
Samsung's Family Hub Refrigerator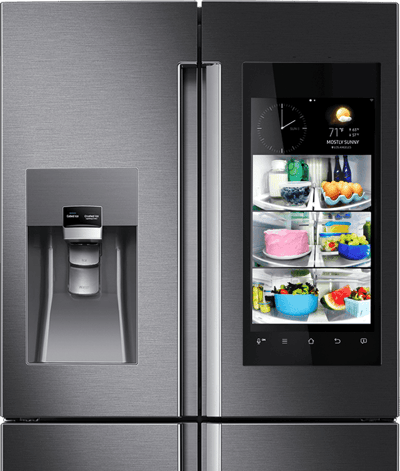 Samsung Family Hub Refrigerator
The Samsung Family Hub refrigerator will allow you all internet access as well as see inside the refrigerator. It was new and fresh on our list in 2016, so it can't be in 2019. Still, it's way ahead in terms of technology versus its competitors, and the price is lower than three years ago.
Fisher & Paykel Ranges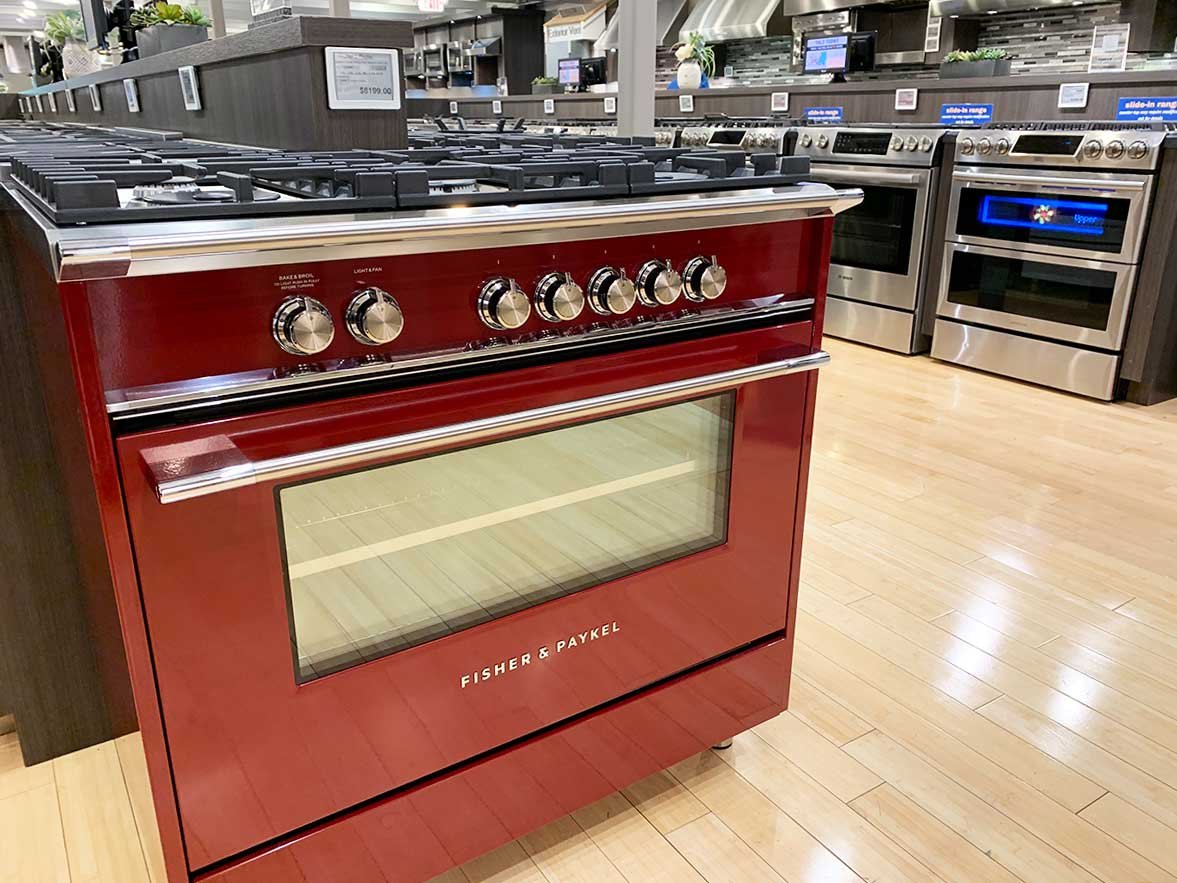 Fisher & Paykel Range At Yale Appliance In Boston
You have professional (pro) ranges with high output. You can also buy professional-looking ranges with less output for far less money. Fisher & Paykel is the best of this less expensive bunch, and you can buy them in several different finishes.
In my opinion, a splash of color is a focal point and less of a problem when replacing your appliances in the future.
10. Visual Comfort

Visual Comfort Display At Yale Appliance In Boston
They have made this list every year (although with different lights, which is why they can) because they design stunning lighting, especially their Kate Spade and Ralph Lauren collections. However, they are on the expensive side - worth it for an upscale renovation.
9. Waterstone Faucets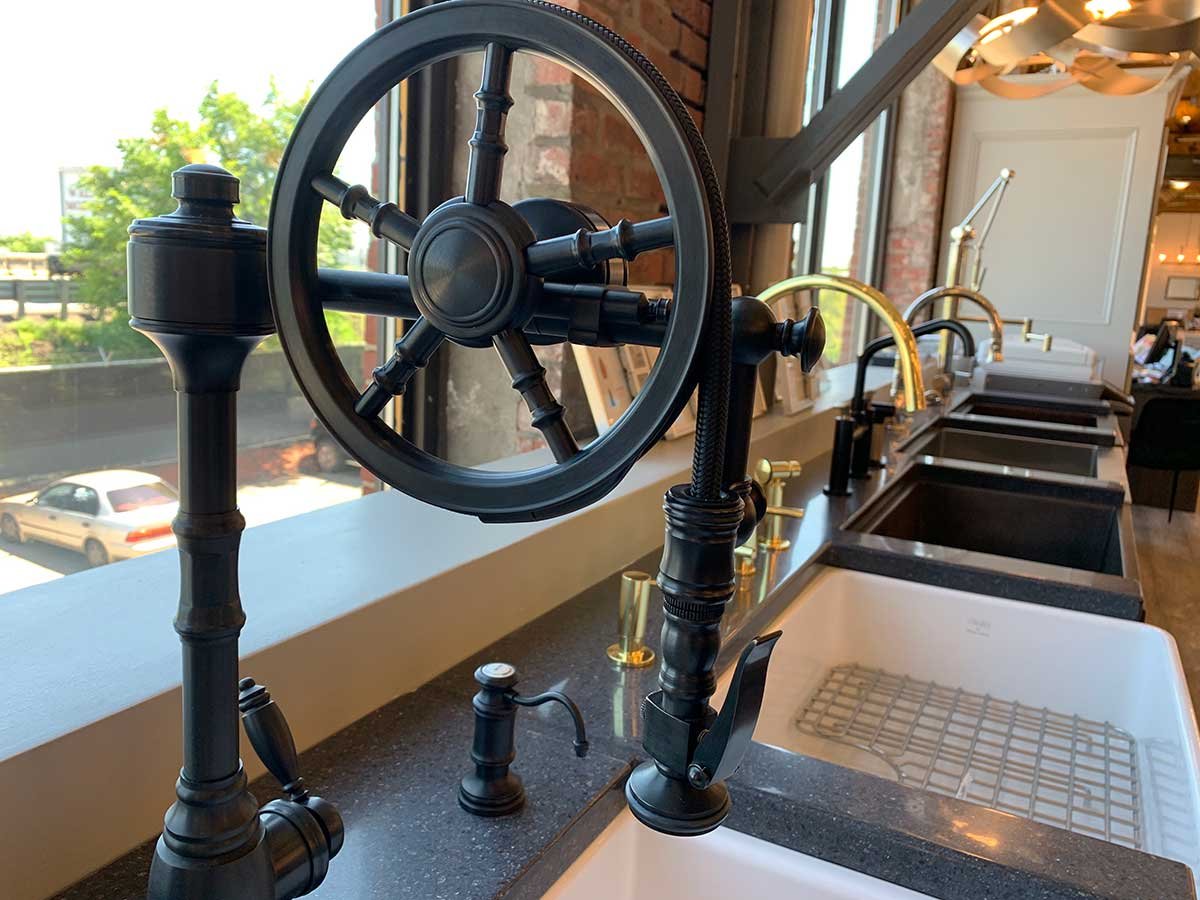 Waterstone Wheel In Bronze Faucet At Yale Appliance In Boston
These are made one at a time in California in a ton of designer colors. The Wheel in Bronze is spectacular. The faucets are a work of art as well as being finished better. The magnets on the faucet head ensure it always stays in place.
8. Hubbardton Forge Lighting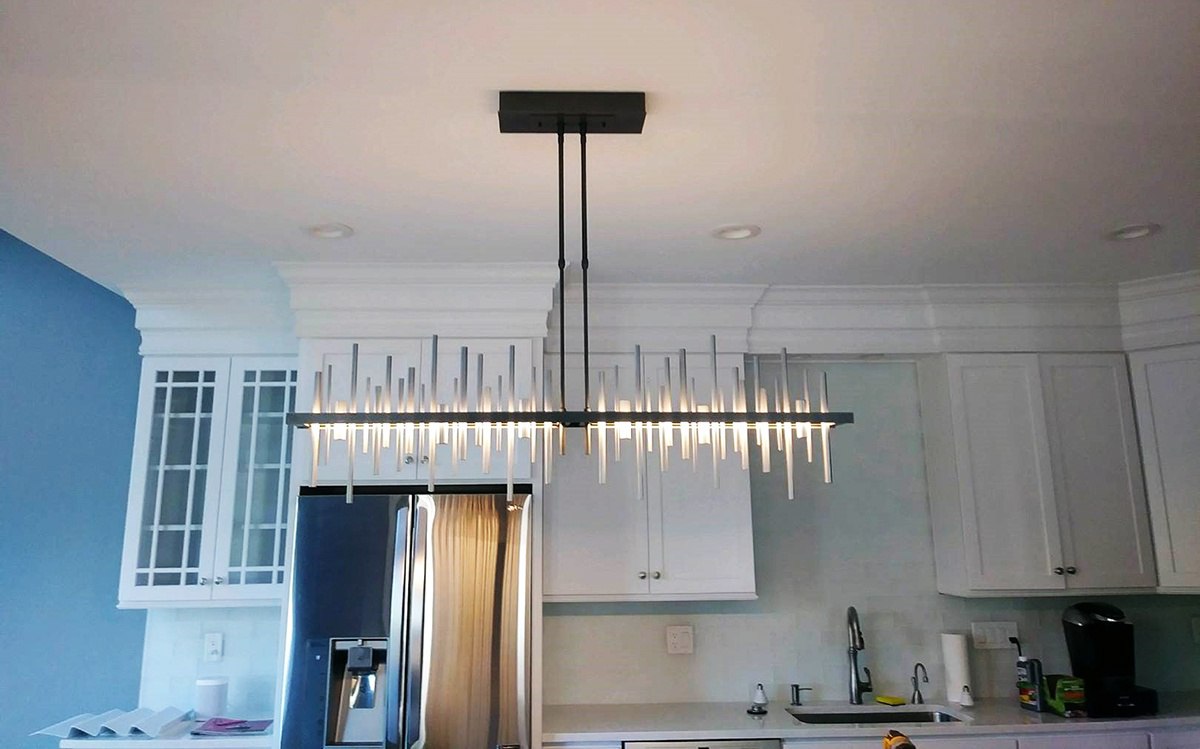 Yale Customer Photo Of A Visual Comfort Pendant
Like Visual Comfort, they design unique lighting. Since making our last list, they have found a way to modernize traditional wrought iron lights.
7. Samsung Black Matte Chef Collection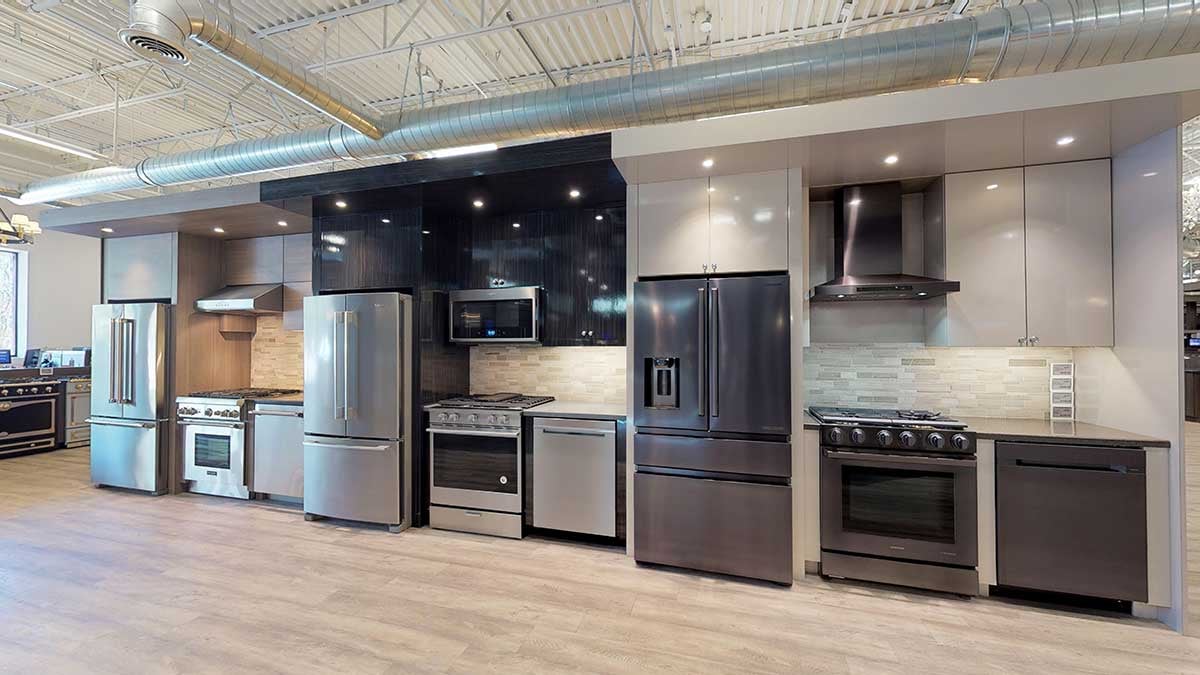 Samsung Appliance Package Display At Yale Appliance In Framingham
Black steel is a scratchable coating, as you know. Matte black is a more durable, scratch-resistant anodized finish similar to the Bosch (I tried scratching it with a fork).
It's a different shade of black as well.
The Samsung Chef Collection is also, well designed, all Wi-Fi enabled, and professional-type appliances for far less money.
6. BlueStar Platinum Range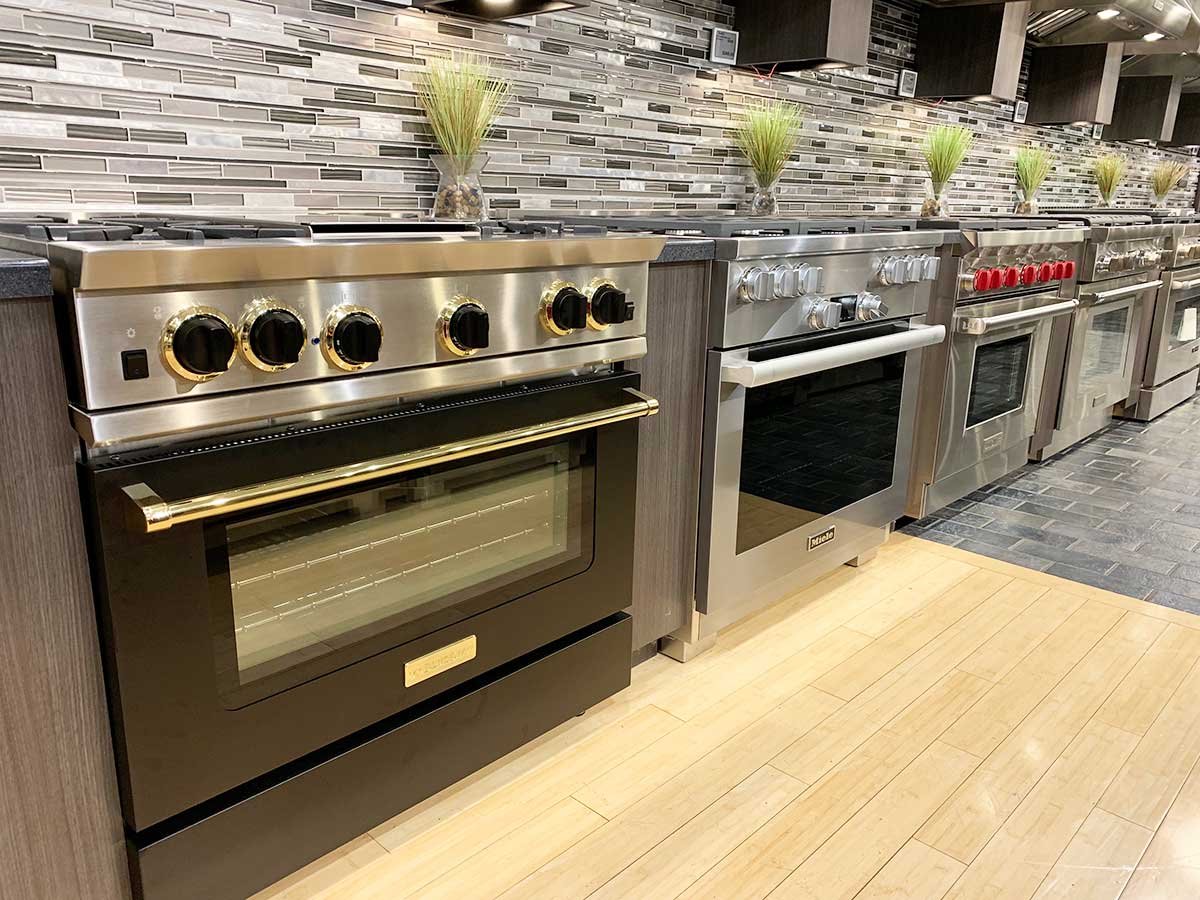 BlueStar Pro Ranges At Yale Appliance In Boston
BlueStar is a tank of a pro range with volcanic 25,000 BTU output burners. It is also available in 750 different colors and eight trim packages. Don't like any of the colors? Send them a sample, and they will customize
Click here to learn about professional cooking appliances, their different cooking modes, and the most reliable brands to consider for your home.
5. GE Café White and Copper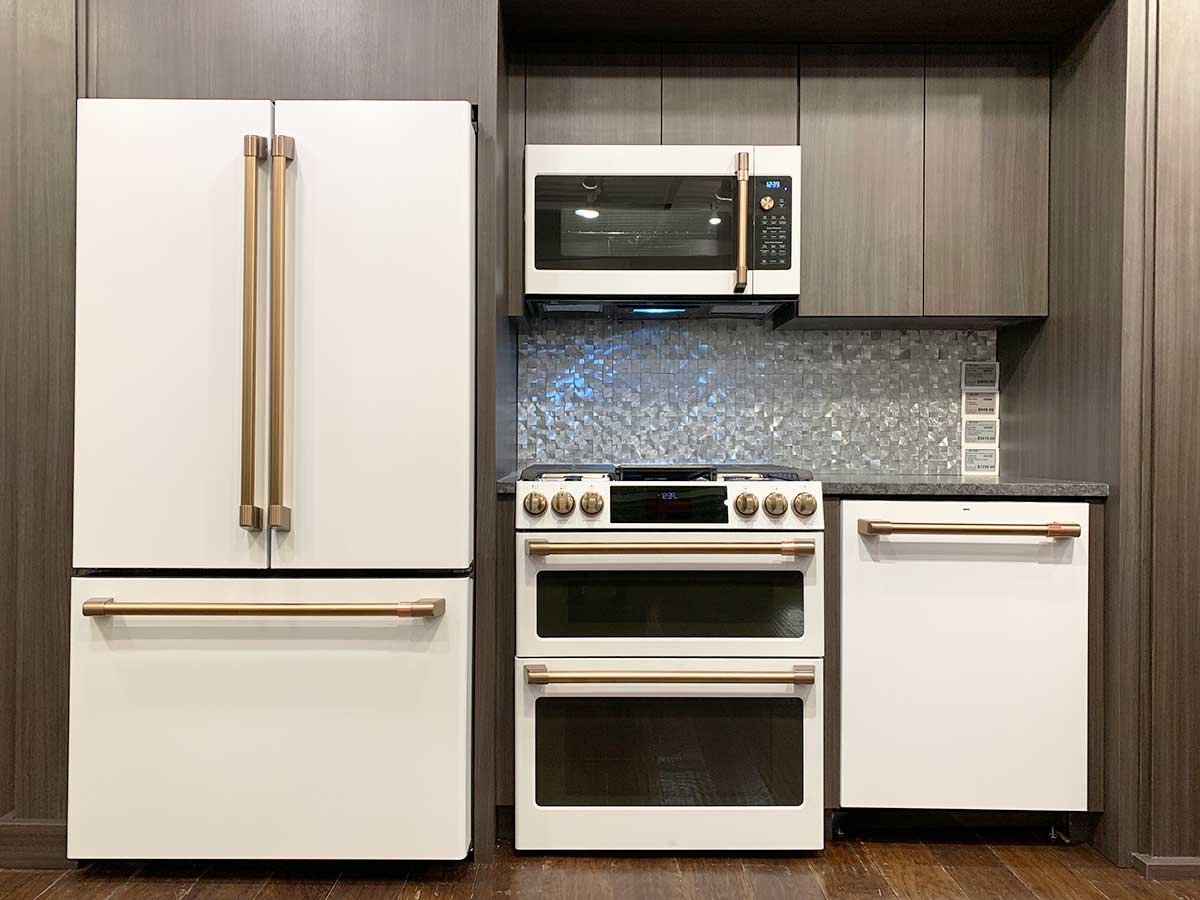 GE Café White And Copper Display At Yale Appliance In Boston
Don't like stainless, black stainless, slate? How about the original high-end finish - white. GE Café has a few new finishes and three handle styles to affordably customize your appliances.
4. Miele Steam Oven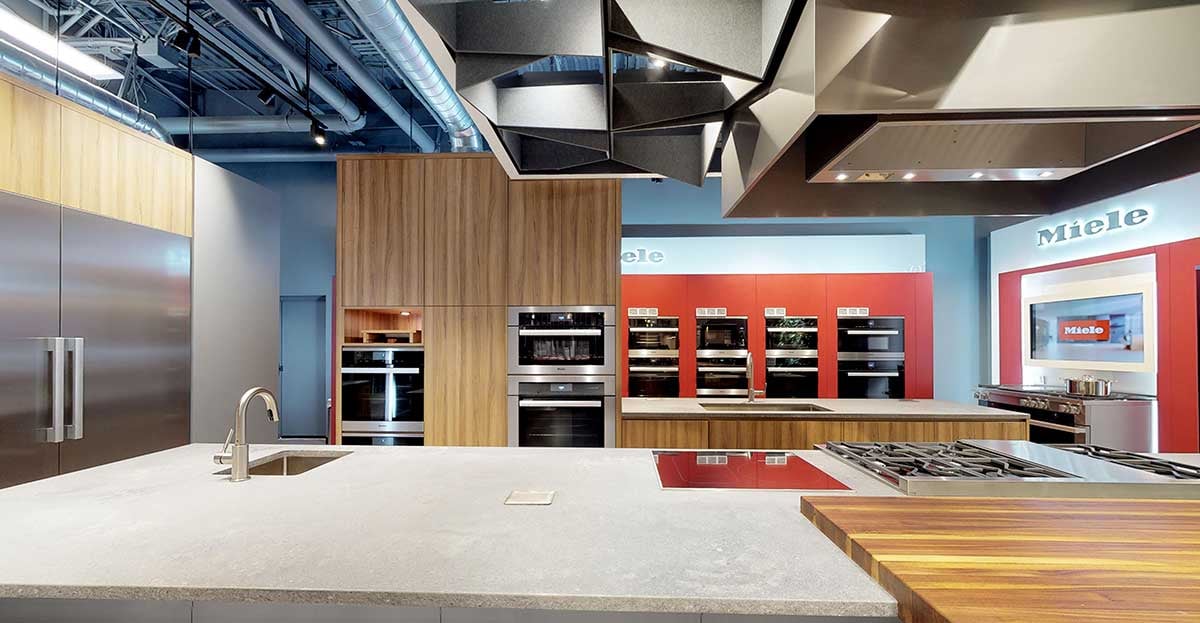 Miele Kitchen At Yale Appliance In Framingham
Miele made the list last time. They added a few models, but Miele makes steam cooking simple. You press the food type, and the oven does the rest.
We offer FREE steam cooking classes. Sign up here.
3. Thermador Star Sapphire Dishwasher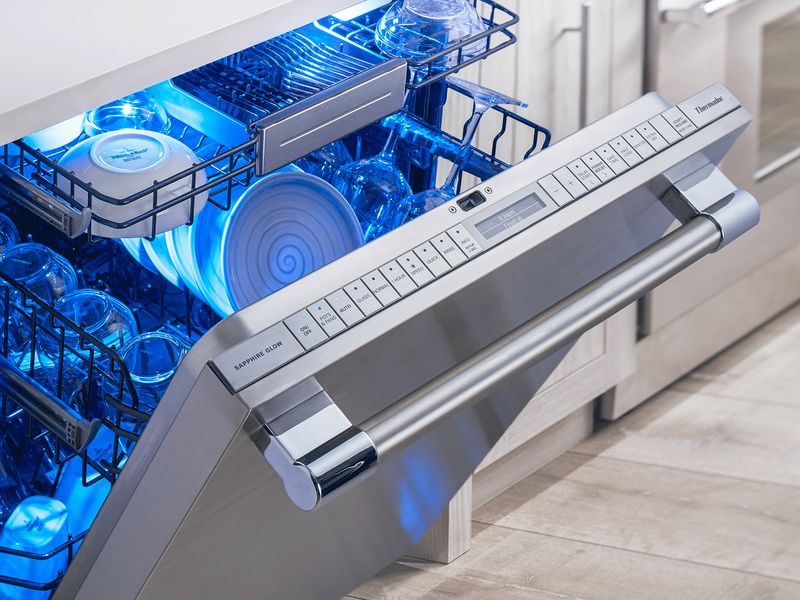 Thermador Star Sapphire Dishwasher
Zeolite is an element from volcanic ash. It absorbs moisture and emits heat. When packed in a dishwasher, it can wash and dry in 20 minutes. Dishwashers typically do not make this list.
But Zeolite works. We are surprised when anything new ever works as advertised, and this may work better.
Pro Tip: Buy the Thermador range or cooktop and wall oven to save $1,399.
Click here to check out our free Dishwasher Buying Guide.
2. Jenn-Air Pro Range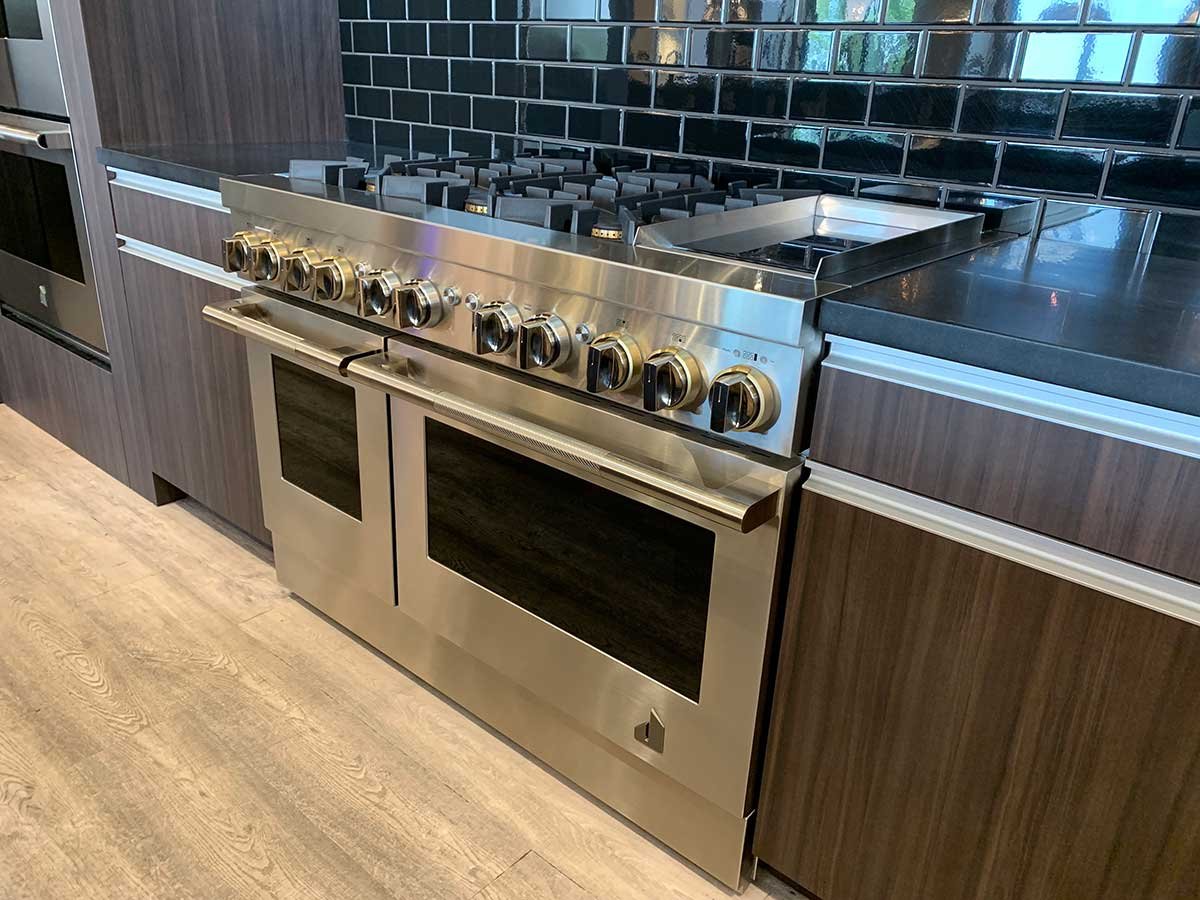 Jenn-Air Range At Yale Appliance In Boston
Features, outputs, and an infrared grill have been added. But this range has no clock. Your phone is your clock and timer. You can also access thousands of recipes through Yummly and receive alerts about the time remaining.
You can also turn on and off remotely. This is a bold new product in terms of styling and concept.
Click here to read about the new Jenn-Air professional ranges.
1. Miele 110-Volt Heat Pump Compact Washer & Dryer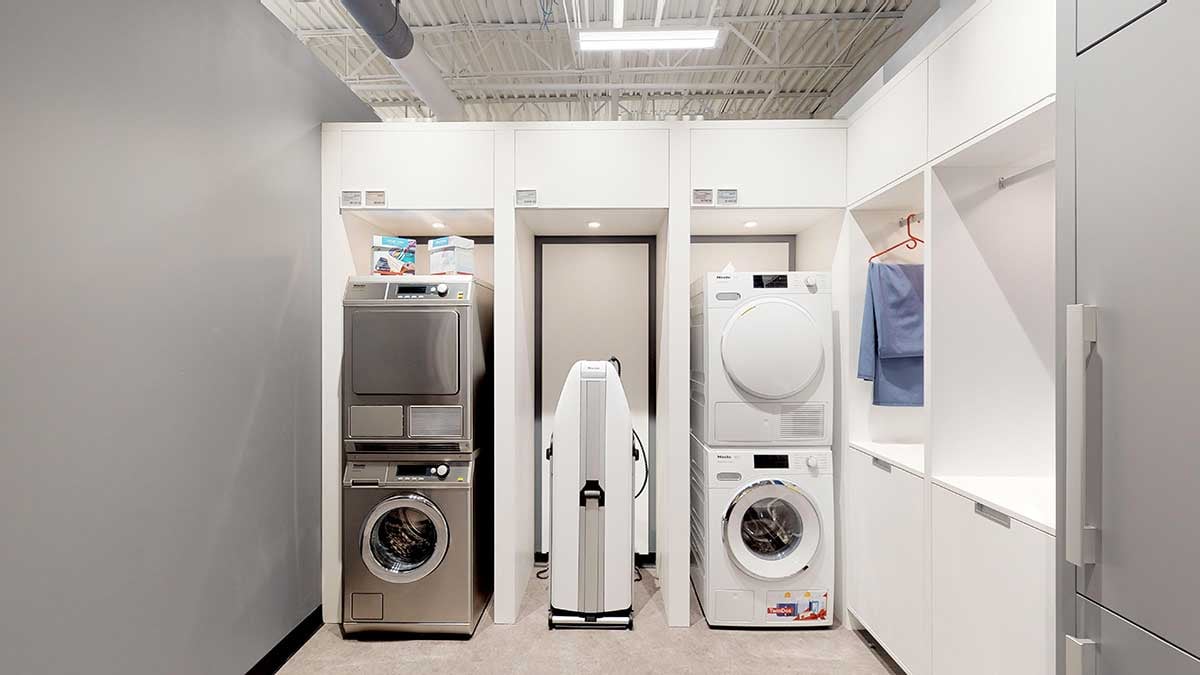 Miele Compact Laundry Pairs At Yale Appliance In Framingham
Miele has designed the best laundry in any category. The washer has the automatic dispensing capability as well as the ability to take pods.
It has the best spin speed and is the gentlest on fabrics.
You do not have to vent this dryer. It is the most efficient and does not emit heat into the room like other ventless dryers.
Pro Tip: You can buy the basic Miele without the dispensing and a few cycles for about the same price as a Bosch 500 series. It still has the heat pump and ability wash with pods.
Click here to learn more about the best dryers, the different kinds, and their best features.
Final Thoughts
These are our top 10 coolest lighting, plumbing, and appliances for Bostonians. In the future, you will see more Wi-Fi technology and functionality as manufacturers figure out how technology can help you in the kitchen.
Heat pump dryers will be the standard soon.
And yes, despite the many options, your kitchen appliances will probably still be stainless steel.
Additional Resources
Read the Yale Appliance Buying Guide with features, specs, and answers to the 10 most asked questions when buying appliances. The guide includes pictures and full descriptions. Well over 560,000 people have read a Yale Guide.
Related Articles:
Why Should You Trust Us?
It seems that every appliance review has nothing but glowing comments about almost every product, yet you read customer reviews and they are almost universally bad.
We are here to fill in the disconnect. We'll give you the best features, and the drawbacks as well, including reliability based on over 37,000 calls performed by our service team just last year. Our goal is to give you ALL the information so you know what's right for you.
Please consider subscribing or adding to the conversation in the comments below. We appreciate you stopping by.
A Note About Pricing
Pricing on this blog is for reference only and may include time sensitive rebates. We make every attempt to provide accurate pricing at time of publishing. Please call the stores for most accurate price.