Best Custom Color Ranges (Reviews/Trends)
There has been a huge push in the appliance industry for designing appliances that appeal to clients' and designers' aesthetic preferences. One of the ways to accomplish this is to offer a product in a wide variety of colors.
Tdday, 99% of the ranges sold on the market come in stainless steel, black, or white. However a handful of my customers want to design their kitchen around an appliance that really pops in the space. The most popular appliance people choose in a custom color is their range.
In this article, I will talk about the top 5 custom color ranges, and the pros and cons of going with a custom color appliance.
5. Bertazzoni-Italia
Bertazzoni is a family-owned appliance company in Italy. They are specified by many builders and designers. I would describe this range as "pretty" as it is really easy on the eyes. My friends in the design community like Bertazzoni ranges for the color-customization. Builders generally like to specify Bertazzoni for the price point.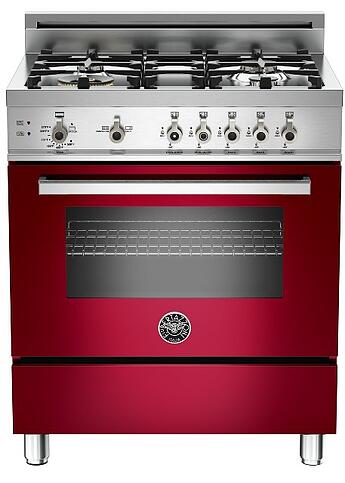 30'' Red Pro-Style gas range (comes in many other colors too)
4 sealed brass burners
6 cubic feet convection oven
Manual cleaning
Telescopic glide rack
Storage compartment below
4. Viking
Viking is one of the first companies to introduce a 30'' professional-style range to the appliance market. Viking is a family-owned company out of Mississippi. They have a line of ranges, ovens, cooktops, and integrated refrigeration.
Viking was recently acquired by the Middleby Corporation in an effort to turn the brand around. We currently do not sell any Viking products but we are hopeful that their service support will improve in the near future.
Viking VGCC5304BCB - $5,799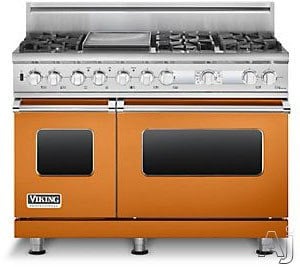 30'' Blue Pro-style gas range (comes in many other colors too)
4 sealed burners, including an 18,500 BTU dual-stacked burner
4 cubic feet Convection oven
Manual cleaning
Infrared broiler
3. Capital
Capital is an appliance brand widely known in the commercial cooking industry. Capital has a line of ranges intended for residential use. Capital is a popular brand among my customers who really like to cook and want a professional-style range.
Capital ranges give you high-power burners, a large oven, and great fit and finish. Their ranges come in a variety of colors.
Capital CSB304CC - $6,560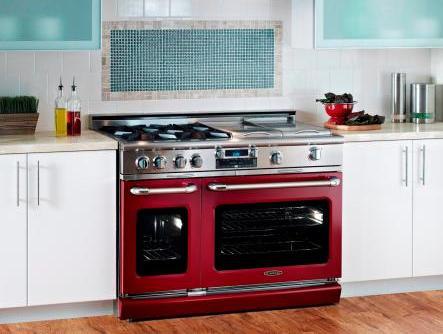 36'' professional-style dual-fuel range
Can come in a wide variety of custom colors
6 open burners
5 cubic ft. oven
Dual kitchen timers
Motorized rotisserie
Moist bake allows you to keep dishes from drying out
4. AGA
AGA cast-iron ranges originated in Sweden and were originally designed by a blind Nobel Prize-winning physicist in 1922. He wanted his range to look after itself and be capable of doing multiple types of cooking at the same time.
Today, AGA ranges are known for their unique design and functional cooking capability. The most popular AGA sold today is in the total control series.
AGA Total Control ATC3 - $14,950
Three cast-iron ovens for baking, roasting, and slow cooking
Cast iron ovens are gentle on food and lock in moisture, flavor, and texture
Cast iron ovens cook evenly from all sides to avoid hot spots in the oven
Two individually controlled hot plates on top to accommodate multiple pans
Controlled by a touch-panel for easy flexibility which is discreetly located behind the top left door
Note: We currently do not have AGA on display in our showrooms.
1. La Cornue
La Cornue is a family-owned company that manufactures the highest quality ranges in the appliance industry. When purchasing a La Cornue range you have the ultimate freedom to design a range that best fits your cooking and personal style.
You can choose several different cooktop configurations, colors, and trim options. La Cornue also offers a wide variety of cabinet options for you to extend the look of your La Cornue range in other areas of the kitchen.
La Cornue Chateau 150 Series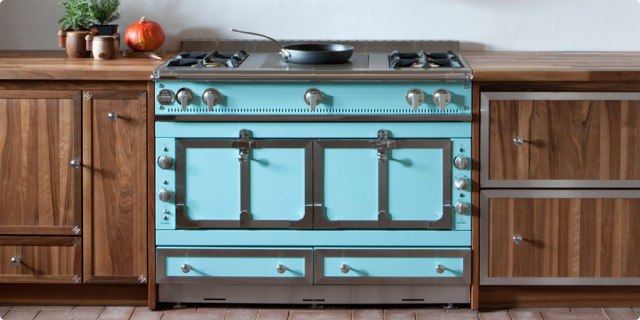 Top selling Chateau series range
Entirely hand-made
Choose from 11 different ways to design your cooking surface:

power brass burner 22,000 BTU
2 electric burners
Lava-rock grill
French-top
2 gas burners: 17,000 BTU and 12,500 BTU
Reversible griddle (flat side and grooved side)

Electric oven with dry consistent heat for baking
Gas oven with moist heat for roasting
Two soft closing storage drawers underneath each oven
Custom color, custom trim
Reasons to buy a custom-color range:
You can customize the appearance of your appliances to reflect your style and personality.
High-end ranges such as La Cornue and AGA are some of the best quality ranges you can buy, they are built to last.
Reasons NOT to buy a custom-color range:
There isn't a lot of demand for custom color ranges. Therefore they are special order products. If you need a range anytime soon do not order it in a custom-color. Colorful ranges can take months to arrive, if for some reason it arrives damaged you will have to wait even longer for the replacement to arrive.
You cannot return a custom-color range.
In the mid-price market, custom-color ranges are more expensive than the stainless version of the same range.
The average life of an appliance is 6 – 10 years. If you are designing your whole kitchen around one colorful appliance, you might be in a difficult position once this range needs to be replaced.
You are better off choosing a different piece in you r kitchen to express your style such as a lighting fixture, countertops, or decorative hardware.
Conclusion
In the "affordable-luxury" market ($4,000-$14,000) you are better off choosing a stainless range. Stainless-steel is timeless and will match many different cabinet, countertop, and light fixtures.
If you are going to spend $15,000 or more on a range you should choose a color. The expectation is that this range will last for many years.
La Cornue and AGA are two of the best ranges on the market today. AGA ranges come in several color options. La Cornue ranges are entirely custom-made; you can literally choose any color.
Related Articles
Additional Resources
Get the Yale Pro Cooking Buyers Guide with features, specs and inside tips to all the brands. Well over 80,000 people have read a Yale Guide.
Why Should You Trust Us?
It seems that every appliance review has nothing but glowing comments about almost every product, yet you read customer reviews and they are almost universally bad.
We are here to fill in the disconnect. We'll give you the best features, and the drawbacks as well, including reliability based on over 37,000 calls performed by our service team just last year. Our goal is to give you ALL the information so you know what's right for you.
Please consider subscribing or adding to the conversation in the comments below. We appreciate you stopping by.
A Note About Pricing
Pricing on this blog is for reference only and may include time sensitive rebates. We make every attempt to provide accurate pricing at time of publishing. Please call the stores for most accurate price.