LG'S SKS vs. Samsung Kitchen Appliance Packages (Reviews / Ratings / Prices)
LG and Samsung are the fastest growing appliance companies in the past 10 years. They are the forefront of smart technology and product design.
However, they both have very different product offerings. In this article, you will learn a bit about smart appliances, both companies, and their kitchen packages.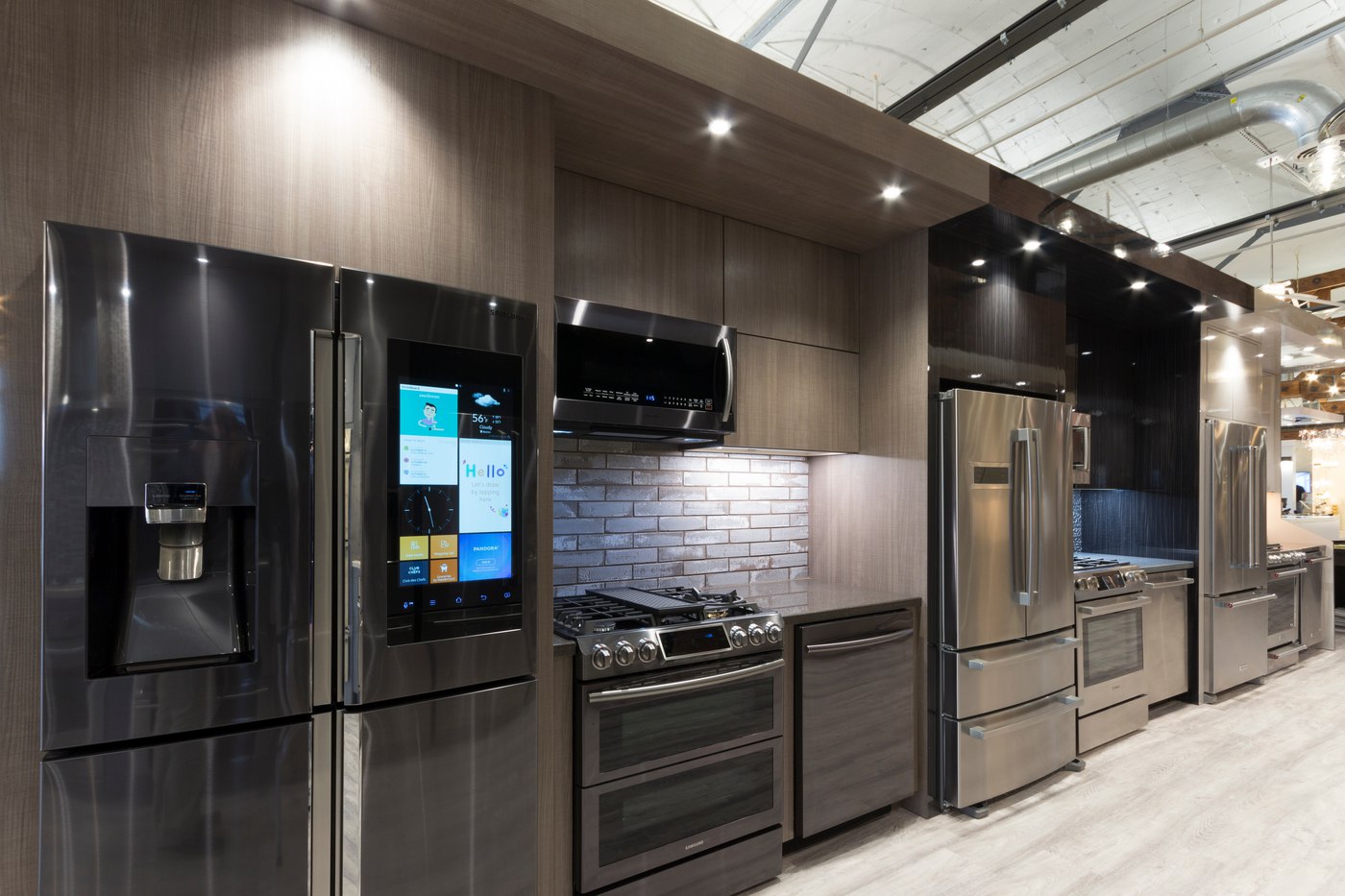 Smart Appliances
Smart appliances are the future. There will be a time when you will tell your oven what to cook. It will scan the refrigerator for the ingredients and then set your dishwasher to the right cycle.
We are not there yet.
All of SKS and most of Samsung's appliances are now Wi-Fi enabled.
The Apps do not always perform well and there is a question of platforms and your security through unsecured routers.
Smart, for now, is a novelty and not the reason to buy an appliance... yet.
Samsung 4-Piece Kitchen Package - $8,369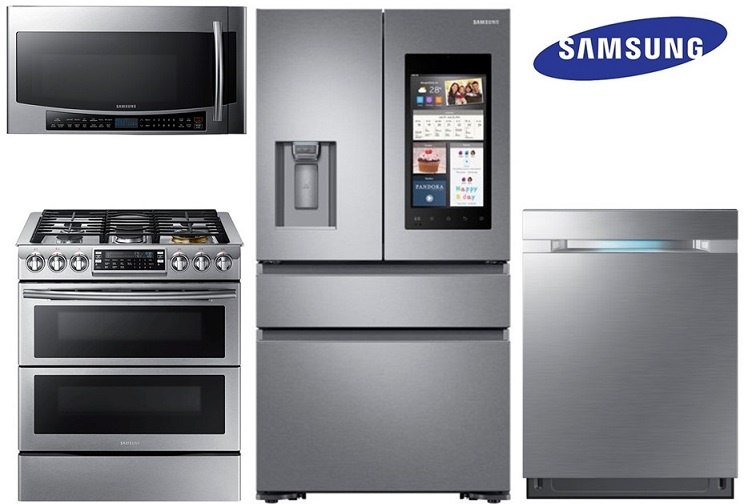 Samsung is a Korean based industrial company founded in 1938 by Byung-Chul Lee. They have been known for very innovative electronics such as televisions and cell phones.
Samsung is now one of the largest appliance manufacturers in the world and the number one brand in the US in a very short period.
Samsung manufactures appliances with excellent design and features.
This 4-piece package (below) is feature packed.
RF23M8570

SR
DW80M9550US
MC17J8000CS
NX58K9850SS
Let's start with the fridge. Samsung is known for having very innovative technology in their refrigeration.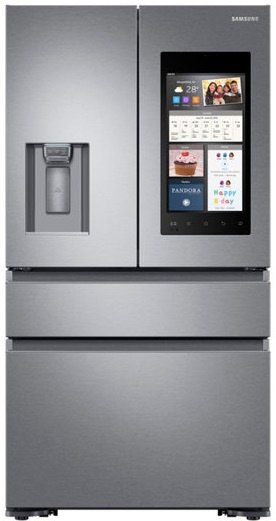 Features:
Family Hub

Metal cooling Flex-Zone Drawer

Twin Cooling Plus

External Ice

and Filtered Water Dispenser

Tempered Glass Shelving

1 Slide-in S

helf

1 Foldable Half Shelf

2 Fixed Shelves

1 Full-Width Metal Shelf on Crisper

Recessed

handles
With the new Family Hub, you can connect to the internet allowing you stream music and videos. You are also able to display digital photos, check the weather and leave personal notes.
You can also look into the refrigerator remotely from their app from the grocery store to check what is inside of your refrigerator.
Samsung refrigerators offer twin cooling for separate temperatures in the freezer and refrigerator. The drawer can be either refrigerator or freezer. You can alternate based on your needs. The drawer and right-hand door offer "metal cooling". Metal absorbs cold better, so your milk and juices stay colder.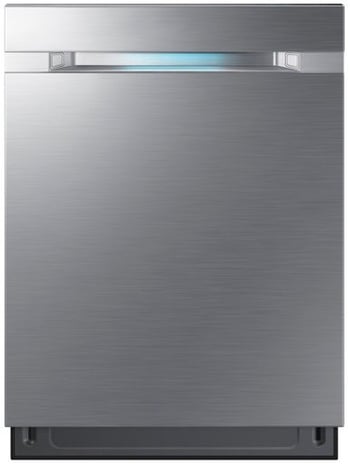 Features:
WaterWall

Technology

Auto R

eleaseDoor

Adjustable Top Rack

Zone Booster

Digital Leakage Sensor

15 Place settings

Silence Rating of 42 dBA

Child Lock
The dishwasher is unique with their new WaterWall Technology wash system. It is a sliding spray bar that moves back and forth to deliver a powerful clean. At least on paper, all dishwashers tend to clean dishes.
The auto-release door also allows for the best drying because it automatically opens after the cycle to let the steam out. Miele is the only other company with that feature.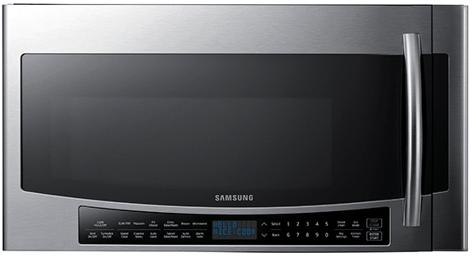 Features:
Convection Cooking

Ceramic Enamel interior

7 Cubic ft. Capacity

3 Speed 300 CFM Fan

Cooking Presets

Eco mode
The good thing about the microwave is that it is also convection, meaning you can bake in there. With this package, you are capable of baking 3 dishes at the same time!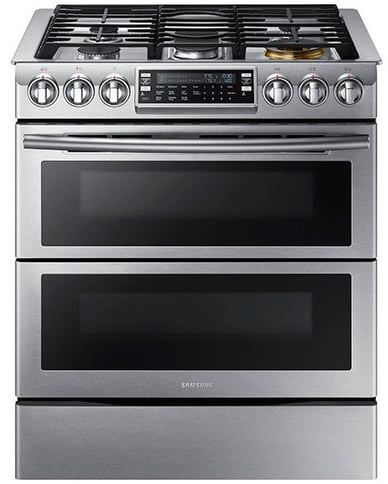 Features:
FlexDuoOven

Blue LED Illuminated Knobs

22k BTU True Dual Power Burner

Wi

-FiConnectivity

Slide-In Design

Soft Close Doors

Dual Convection Fans

5 Burners

8 Cu. Ft. Capacity

Cast Iron Griddle

Wok Grate

Warming Drawer
Their slide-in range is also feature driven. With the Flex Duo oven, it allows you to cook 2 different dishes at the same time as long as they are within 75 degrees of each other.
The oven also offers 2 convection fans so a lot more even roasting and baking. The oven is also Wi-Fi capable so you can monitor your cooking away from the kitchen. The 22,000 BTU burner is the highest output in a regular range. Only Capital, Viking, and BlueStar manufacture a hotter burner in pro ranges.
SKS Kitchen 4-Piece Package - $7,569
SKS is the premium line of LG. All their appliances are upscale with only one or two products per category.
LG is a multinational conglomerate and also the fourth largest industrial conglomerate in South Korea. They formed in 1947 as a plastic company and by 1958 established Goldstar as a consumer electronics company that we know today as LG Electronics.
Today, they are broken into three sectors LG Electronics, LG chemical industries, and LG telecommunications. LG was the first Korean company importing appliances into the United States, and at one-time manufactured products for GE.
UP

FXC2466S

UPDF9904ST

UPSG3014ST

UPMC3084ST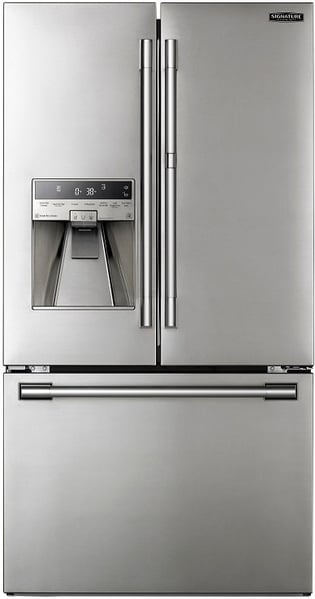 Features:
5 Cu. Ft.

Door in Door

Ice and Filtered Water

Dispenser

Smart Cooling Plus

7 Temperature Sensors

Wi

-FiCapable

Du

al Evaporators

4 Split Shelves

Folding

Shelf

Smart Space Freezer

Stainless Touch Control

3 Year Limited Parts and Labor Warranty
The counter depth refrigerator is well designed to gain as much capacity as possible. With their smart space system, the ice maker is built into the refrigerator door which allows more capacity in the interior of the fridge.
The stainless LED touch controls are very stylish. My favorite part of this refrigerator has to be the Door in Door.
You can open the panel of the door to have access to anything on the door bin without opening the rest of the refrigerator.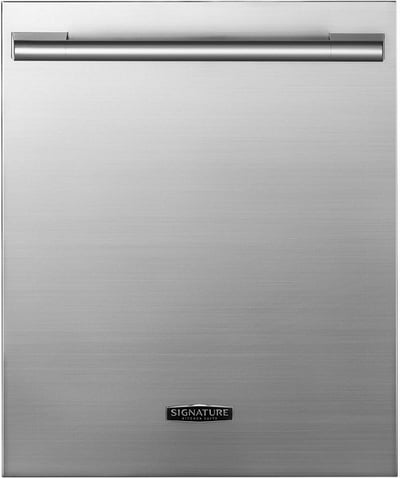 Features:
Wi

-Fi

Inverted Direct D

riveMotor

Power

Steam Cleaning

5 Year Warranty on Nylon rack

Third Rack

7 Wash Cycles

42 d

BA

3

-year Limited Parts and Labor Warranty
With steam technology, this dishwasher performs better than any ordinary wash systems. The PowerSteam, according to the specs, combines energy-efficient gentle care and unmatched toughness.
Like Samsung, this may be a bit overblown, because the by-product of hot water is steam.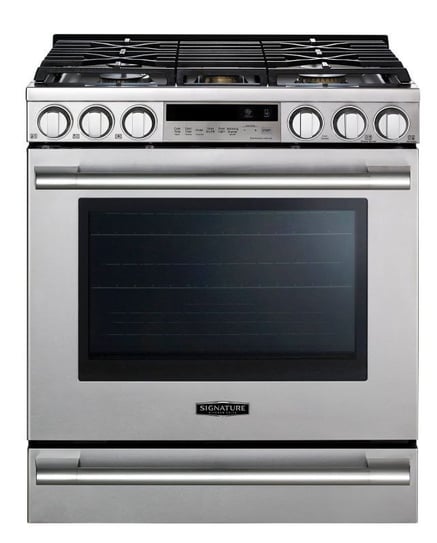 Features:
Wi

-FiCapable

Sealed Brass Burners

5 Burners

18,500 BTU Burner

3 Cu. Ft. Oven capacity

Self-Clean

& Speed Clean Oven

Easy Swivel Handle

Glide Shut Door

Convection Conversion

Pro Heat Convection System

7 Rack Positions

Oven Meat Probe

Warming Drawer

3

-year Limited Parts and Labor Warranty
The slide-in gas range is actually very different when it comes to their backing element layout. With the ProHeat Convection system, there is no baking element located at the bottom of the oven like most other brands.
The heating element is located on the back wall. with the use of a professional circulating fan, the heat in the oven is evenly distributed, so you are sure to have even cooking even when the oven is completely full.
This technology is similar to the convection capability found in professional-grade kitchens and in electric convection ovens.
BlueStar is the only other range offering pure gas convection.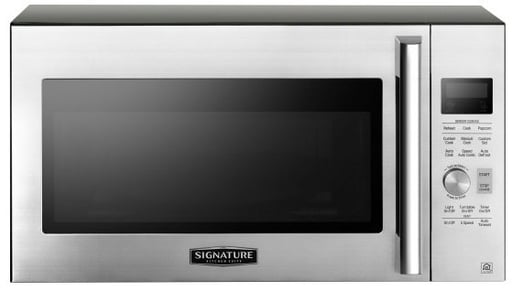 Features:
Wi-fi Capable

7 Cu. Ft

Stainless Steel interior

Convection

300 CFM

Exhaust Fan

5 Speed Levels

3

-year Limited Parts and Labor Warranty
This is the most stylish over the range microwave on the market. The stainless steel LED touch controls bring this to another level. The convection is controlled by a stainless knob.
Samsung vs. SKS Stainless Steel Packages
Before we compare, Samsung has many more products and package opportunities than the SKS brand. It has more than parent company, LG.
Let's compare the refrigerator and gas stove. The microwaves are similar as are the important features of the dishwasher.
Refrigerator
The SKS has the convenient Door In Door, but Samsung has the Smart capabilities, metal cooling, and the more versatile product. As we mentioned earlier, Samsung has a full array of refrigerators, some with Door In Door capabilities.
Stove
This is a much harder comparison. Samsung has the better cooktop output by far. SKS only has the one powerful burner, and the rest do not have much.
The Samsung Flex Duo oven will allow you to cook two separate items at different temperatures. However, SKS is the best convection system for gas. So it depends.
Finish
If you are sick of stainless and are leery of Black Stainless (yes it peels), then the lighter, more modern titanium SKS finish may be an excellent choice.
Reliability
Both are in our top 10 most reliable brands. LG is more laundry focused while Samsung is better in the kitchen.
Service
Both can be very good or not so good depending on where you live. Although there is nothing intrinsically different about repairing either brand, finding a technician can be a big problem
Final Words
Both are very good choices. Samsung is a complete kitchen line. You can customize your package based on your preferences probably for less money. SKS has the better oven and most unique finish in the industry. It is very different from the norm.
Additional Resources
We actually cover this and all things appliance in our Appliance Buying Guide. You can download it for free by clicking the link below. Over 240,000 people have read a Yale Guide for buying tips, the best features, and specs.
Related Articles
Why Should You Trust Us?
It seems that every appliance review has nothing but glowing comments about almost every product, yet you read customer reviews and they are almost universally bad.
We are here to fill in the disconnect. We'll give you the best features, and the drawbacks as well, including reliability based on over 37,000 calls performed by our service team just last year. Our goal is to give you ALL the information so you know what's right for you.
Please consider subscribing or adding to the conversation in the comments below. We appreciate you stopping by.
Chris Tavares
Chris Tavares is an Appliance Sales Associate at Yale Appliance and has been with Yale for over 17 years. When not helping clients, Chris is a huge Patriots fan and enjoys cooking.

Schedule a showroom visit with me
A Note About Pricing
Pricing on this blog is for reference only and may include time sensitive rebates. We make every attempt to provide accurate pricing at time of publishing. Please call the stores for most accurate price.