Should You Consider a Fisher & Paykel 36-Inch Induction Range? (Reviews / Ratings / Prices)
Fisher & Paykel has just introduced their induction range in a 36-inch size. Thirty-six-inch induction ranges didn't even exist until 3 years ago.
In this article, you will learn about the features, price, and how Fisher & Paykel's induction range compares to the existing Bertazzoni and Wolf 36-inch induction ranges.
If you are also wondering whether to buy an induction or a professional (pro) gas range, then you can read which may be better for you.
There are some benefits to buying the Fisher & Paykel 36-inch induction range. But you should be aware of some potential issues as well.
Fisher & Paykel 36-inch Induction Range Review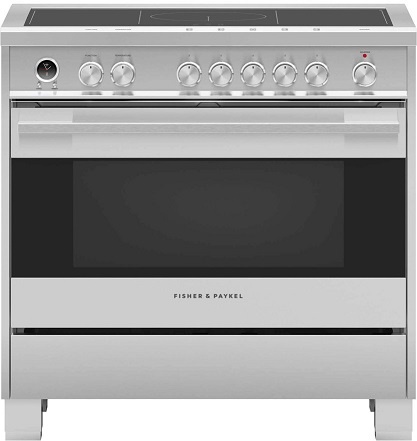 The Fisher & Paykel 36-inch induction range is a good range to consider. It's prime benefits we value the most are it's warming drawer capabilities, it's twin convection oven for even cooking, and it's 5-year warranty. Let's take a look at its key features.
Key Features
Burners
The cooktop configuration has 5 individual burners. When combined, you have 3 bridge zones for larger pans.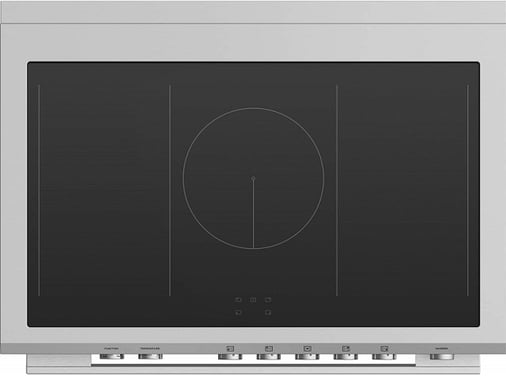 Oven
Like the better cooktops, the Fisher & Paykel can accommodate almost any style of cooking. As we mentioned earlier, it has twin convection for even cooking and features 9 different cooking modes including cycles for pizza and pastries. But you can cook by food type as well as bake, broil, and roast.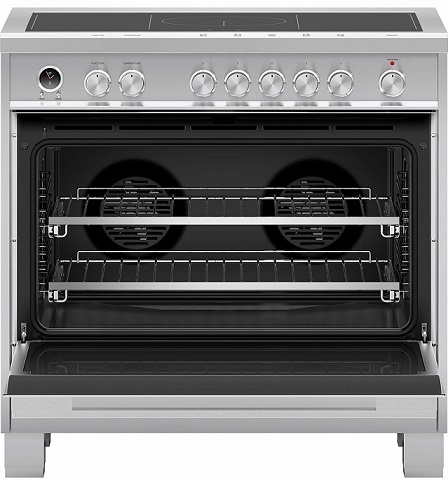 Warming Drawer
Fisher & Paykel is the only 36-inch induction range with a warming drawer. You can keep food warm for up to three hours in a drawer. It's great for working couples where meal time is not always set.
5-Year Warranty
You have a full 5-year warranty with Fisher & Paykel. Most ranges have a 1 or 2-year warranty. Like other brands, you have to find a competent service agent first.
Short on time? Get our free Induction Cooking Buying Guide
How does the Fisher & Paykel Compare to Other Similar (or popular) Ranges?

The most similar induction ranges compared to the Fisher & Paykel induction range are the Wolf and Bertazzoni 36-inch induction ranges.
These induction ranges have some similar features like twin convection and self-cleaning.
Wolf
Wolf has twin thermostats in the oven as well, so the convection fans operate independently for the best temperature control.
You can also join the 4 elements into one super element for a large pot. Wolf is also known to be a reliable product (more about that in a bit).
However, Wolf is over $9,000 versus $6,100 for the Fisher & Paykel.
Bertazzoni
Bertazzoni will have a bridge element with 7400 watts. That will be the most powerful of any induction range.
Fisher & Paykel has the warming drawer and a much better warranty for only $200 more than Bertazzoni.
What is the Most Reliable Induction Range?
| | | | |
| --- | --- | --- | --- |
| | Service Qty | Shipped Qty | Service Ratio |
| Bertazzoni | 2 | 2 | 100.00 % |
| Electrolux | 4 | 7 | 57.14 % |
| Kitchenaid | 6 | 25 | 24.00 % |
| Jenn-Air | 21 | 128 | 16.41 % |
| Bosch - Benchmark | 6 | 40 | 15.00 % |
| Wolf | 6 | 45 | 13.33 % |
| Miele | 1 | 8 | 12.50 % |
| Frigidaire Gallery | 1 | 10 | 10.00 % |
| Samsung | 2 | 25 | 8.00 % |
| Bosch Appliances | 1 | 21 | 4.76 % |
| Viking | 0 | 1 | 0.00 % |
| Blomberg | 0 | 3 | 0.00 % |
| Dacor | 2 | 0 | |
| Maytag | 0 | 1 | 0.00 % |
| Fisher & Paykel | 1 | 0 | |
| Grand Total | 53 | 316 | 16.77 % |
Induction ranges have a service rate of 16.77%. Wolf is better than the average with a repair rate of 13.33% within the first year.
There is no real statistical information on either the Bertazzoni or Fisher & Paykel because we sold so few last year.
Should I Buy a Gas Pro Range or the Fisher Paykel Induction 36 Inch Range?
It really depends on how you like to cook.
Induction is faster with a better simmer, less venting required and is easier to clean. It is also the most child safe because you need metal to activate the magnets of the induction burners.
Gas has more choice especially the top. You have a choice of grill or griddle built into the top versus just burners on an induction range.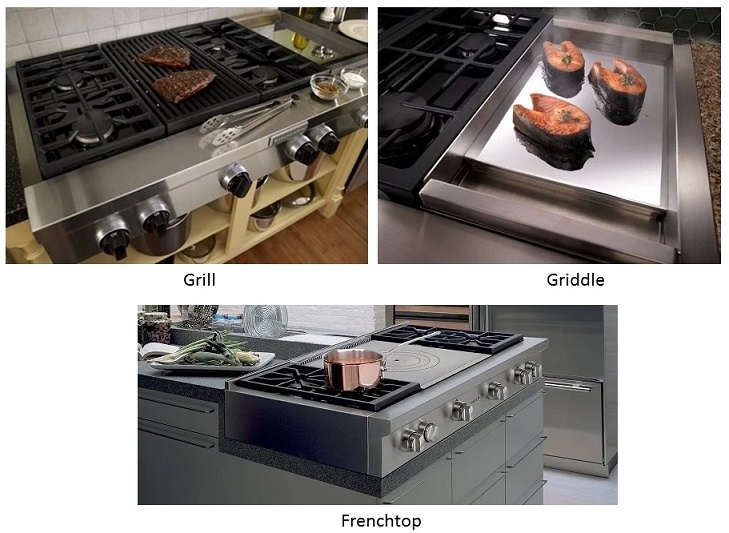 Induction can only work full power on three burners due to power-sharing between burners, whereas gas does not power share.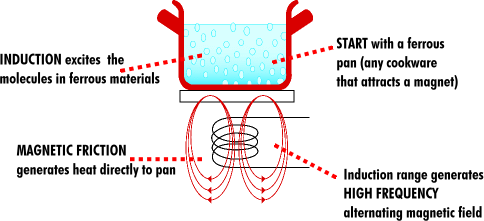 Oven (Depends on Dual Fuel or Regular Gas)
Gas is moister and better for roasting. Broiling is also much better in all gas especially with infrared types (Miele, Wolf, and BlueStar).
Electric is a drier heat, for more consistent temperature and is considered better for baking.
If you want a warming drawer, then Fisher & Paykel is your only choice for a gas or electric range.
Should You Buy a Fisher & Paykel Induction Range?
It is different with a warming drawer and a number of modes to cook. Fisher & Paykel also has matching appliances for a unique coordinated and less expensive suite than Wolf or another premium brand.
The range is more compelling than a Bertazzoni and is $3,000 less than a Wolf. You do also have a 5-year warranty.
However, Fisher & Paykel is a niche product. Finding qualified techs could be an issue. Inquire before you buy…or it could be a long 5 years.
Additional Resources
Download the Yale Induction Cooking Buying Guide with features, specs, and inside buying tips every induction cooktop and range from Wolf, Thermador, Frigidaire, Electrolux, Jenn-Air, Bosch, and more. Well over 355,000 people have read a Yale Guide.

Related Articles
Steve Sheinkopf
My goal has always been simple: I want Yale to be the best retail experience anywhere. I have tried to create a compelling environment for customers and employees alike.
A Note About Pricing
Pricing on this blog is for reference only and may include time sensitive rebates. We make every attempt to provide accurate pricing at time of publishing. Please call the stores for most accurate price.