The Worst Mistake You Can Make When Buying Appliances
Key Takeaway: Be extremely careful where you buy your appliances.
Over the years, our blog has covered a variety of appliances and trends that you should avoid for various reasons.
However, with the current state of the market, renovating or even purchasing a single appliance has become incredibly challenging.
Amidst these difficulties, there is one mistake that can try the patience of even the most composed individuals: buying appliances online.
Let me be clear, purchasing appliances online from certain stores will lead to numerous issues and headaches.
Box stores and local appliance retailers are fine, but others can leave you apoplectic.
Ultimately, you'll discover where to purchase appliances online while learning essential techniques to protect yourself, obtain a good deal, and save time.
Let's dive in.
Short on time? Get our free Appliance Buying Guide
Where to Never Buy Appliances Online: From Online-Only Retailers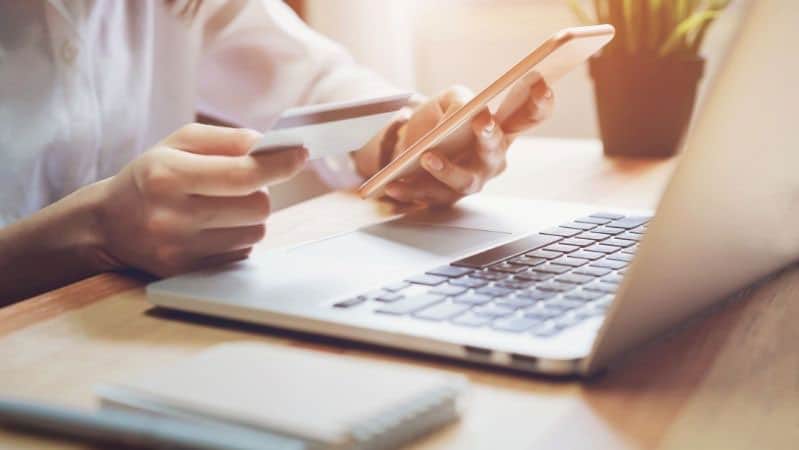 Shopping Online
Many of the biggest online appliance retailers are primarily online-only businesses, with only small showrooms to disguise this fact.
Unlike Amazon or box stores that operate out of numerous warehouses, these retailers usually operate out of a single warehouse.
While Amazon delivers out of local warehouses to ensure quick delivery and easy tracking, online appliance retailers cannot do the same.
This can be particularly problematic when delivering heavy, bulky items like professional ranges or refrigerators.
By the way, Amazon delivers through third-party local dealers. So they are ok for ordering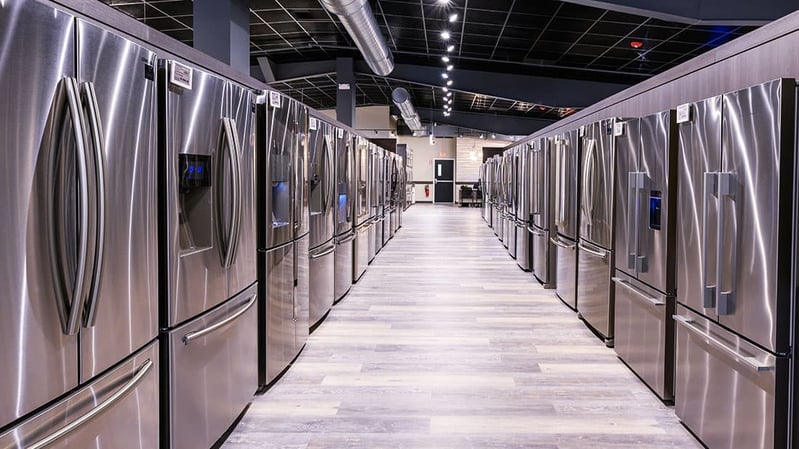 Large Refrigeration at Yale Appliance in Hanover
For instance, you buy a Samsung refrigerator while living in California, Missouri, or Texas.
You probably don't realize the refrigerator will be shipped across the country to a warehouse in New York, where most of these online stores are located.
The refrigerator will then be shipped on the least expensive common carrier, with multiple stops at various warehouses before it eventually reaches your house for delivery.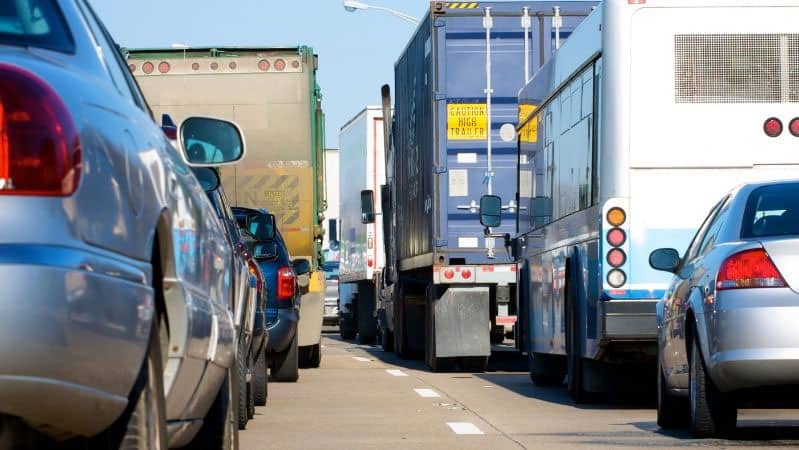 Long Distance Delivery
It's a recipe for almost certain damage occurring during transportation, even before the current labor shortages exacerbate the situation.
Installation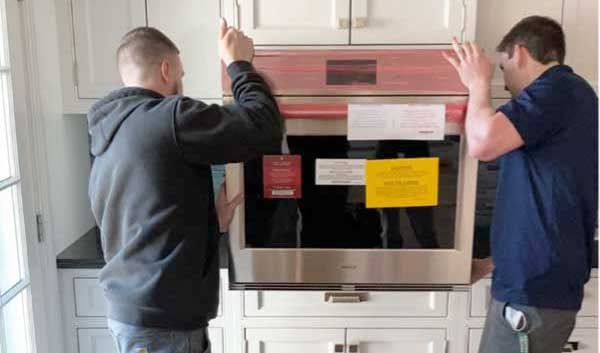 Yale Appliance Install Team Installing a Wall Oven
Installation is a real issue. We have 18 installation teams at Yale for the Boston area alone.
Most of these sites say they will refer locally. But local installers are frequently not available.
What Are Customers Saying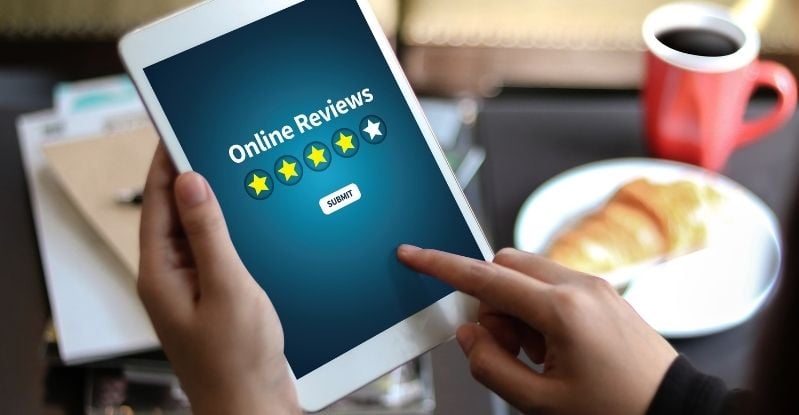 Read Online Reviews
The best way to check how you will be treated is to read about other people's experiences.
You asked your neighbors, friends, and families in the old days. Today you can look at everyone's neighbors on prominent review sites.
Stick to consumer-only sites like Google, Yelp, and the Better Business Bureau (BBB).
Nobody is perfect, but the overwhelming number of negative reviews is telling.
Author's Note: I no longer pay for BBB accreditation. It's too easy to grade well on this site by paying for a "membership."
Don't pay attention to the grade. Look at the number of complaints.
All these stores are about the same size as Yale. I will hide the names to be discreet, but you can find them easily enough with some basic research.
How to Rate Reviews
Many of the reseller site reviews are designed to protect the seller.
They have various names. I see them at trade shows. You should disregard most of these platforms.
So, stick with Yelp, Google, and the Better Business Bureau (BBB).
Yelp
Yelp is the toughest. People use Yelp to rate restaurants. Try to apply that to appliance stores where the process is longer.
Anything 3.5 stars and over is good. Always read the responses to the issues to see how the store handled them.
Google
Google is easier. People understand more on this platform. However, be wary of any score under 4.4.
At 4.3, you have a 14% chance of a bad experience, but most of these dealers are at an average of 4 or 20%.
That's a big number, so be careful.
BBB
Look at the complaints only and how they were handled. It's easy to game the system by being a member and responding to complaints for an A+ rating.
Online Retailer 1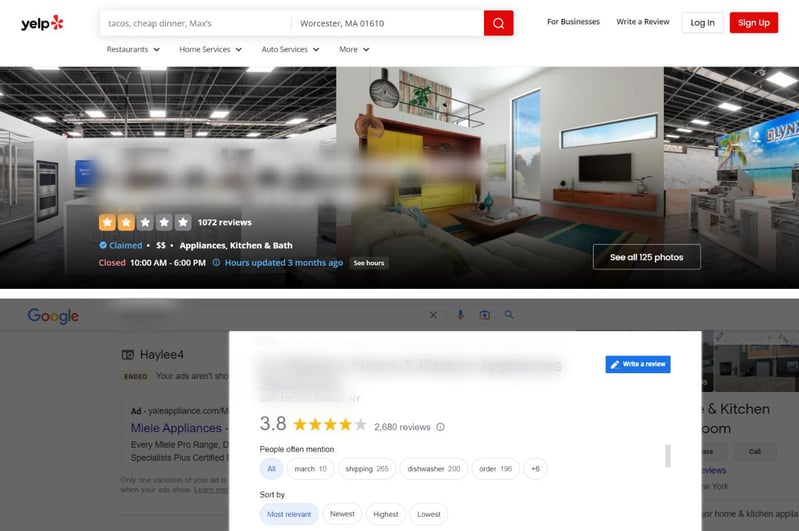 Yelp Score – 2 out of 5 stars with 1072 reviews
Google - 3.8 out of 5 stars
BBB 436 complaints over three years, 105 this year.
Online Retailer 2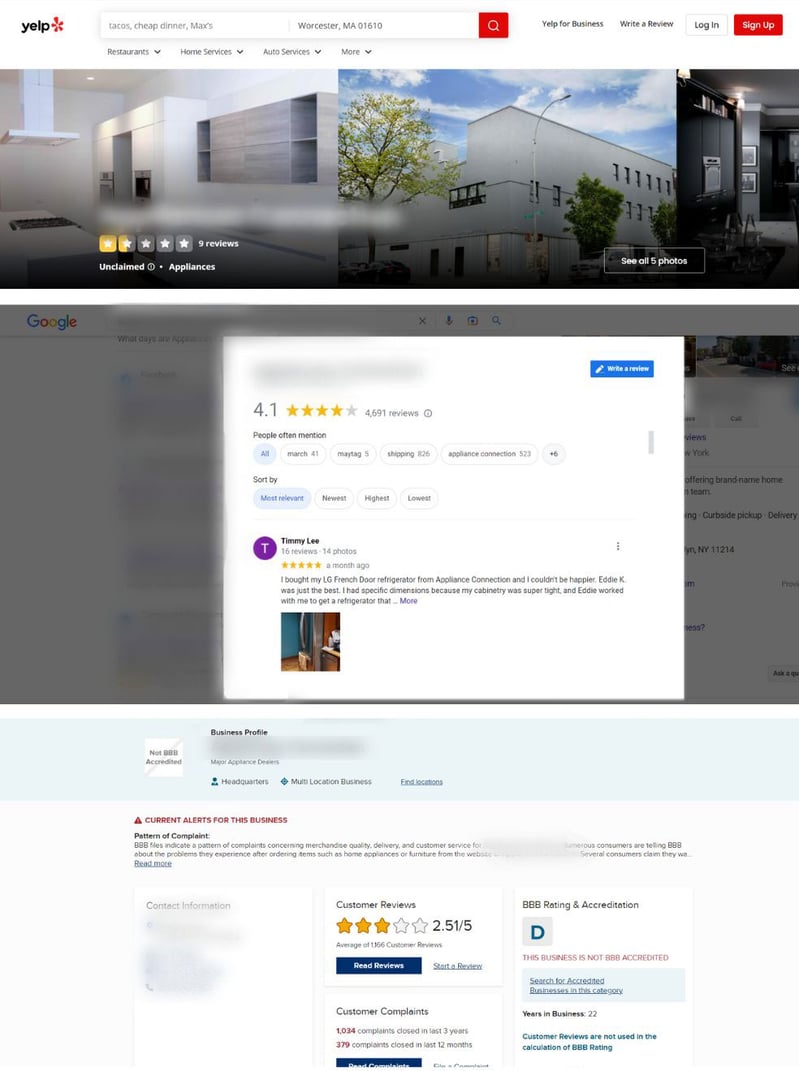 Yelp Score – 1.5 out of 5 stars with only 9 reviews
Google Score - 4.1 out of 5 stars
BBB - 2.51 out of 5 stars and 1,034 complaints over three years, with 379 just in the last year.
Online Retailer 3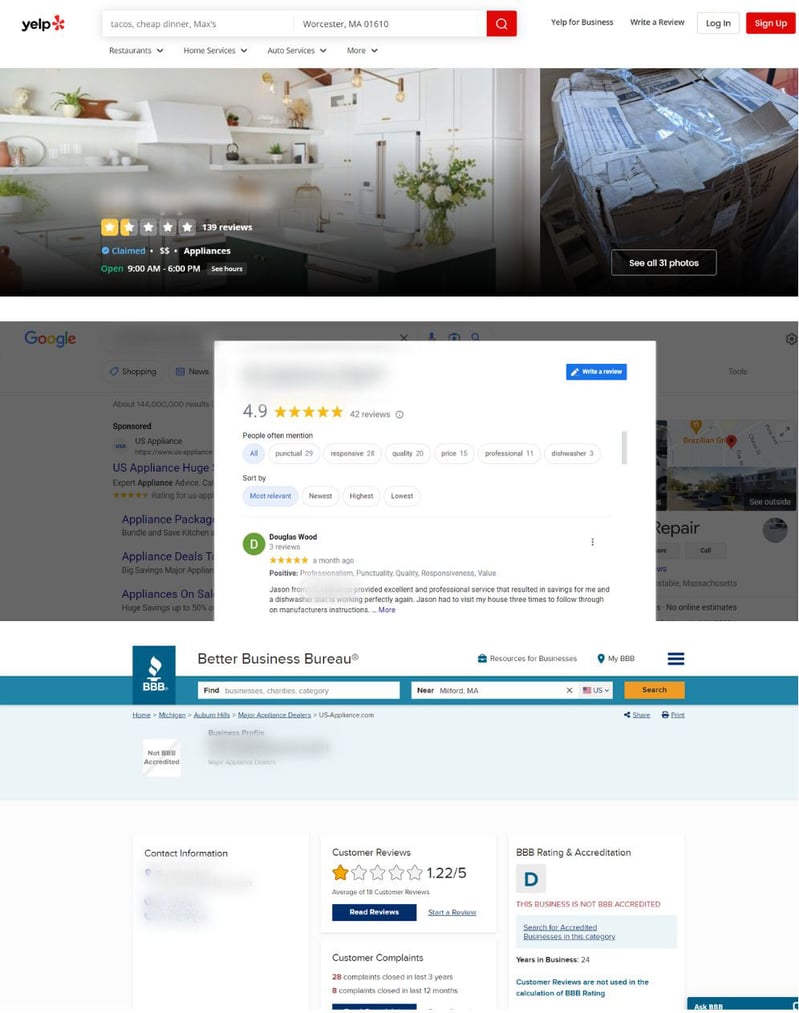 Yelp Score - 1.5 out of 5 stars on 139 reviews.
Google - 3.9 out of 5 stars on 533 Google reviews.
BBB - 1.22 out of 5 stars and 28 complaints over three years, eight in one year.
Where You Should Buy Your Appliances Online: Box Stores and Local Stores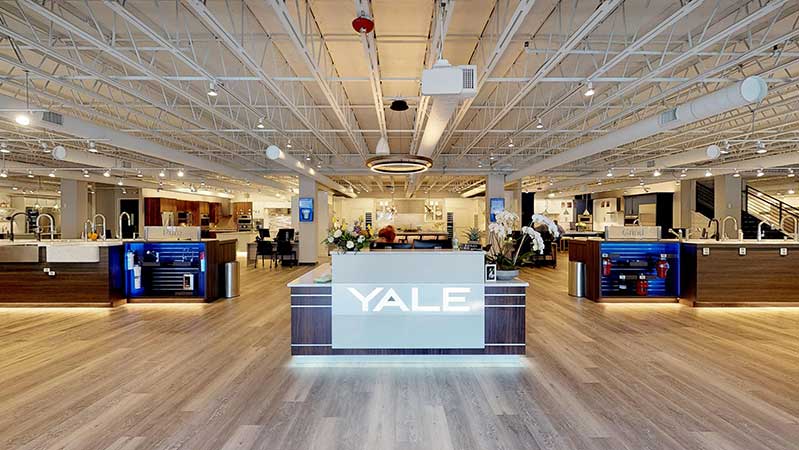 Yale Appliance Showroom Front Entrance
If you purchase your appliance from Lowe's, Best Buy, or Home Depot, you can expect it to be delivered from a nearby warehouse by local personnel.
Surprised?
This means that your product won't have to travel a great distance, minimizing the chances of damage during transportation.
While these box stores may not offer specialized assistance, they typically have a vast selection of products available at reasonable prices.
Be sure to review their delivery policies before making a purchase, and don't forget to check Google, Yelp, and the Better Business Bureau for customer feedback.
On the other hand, local appliance stores offer a more personalized experience, focusing more on customer service and follow-through.
While they may not have the same extensive selection as box stores, the overall experience is often better.
However, it's important to note that the quality of the experience can vary widely from store to store.
But What If You Do Buy From an Internet-Only Appliance Dealer
Maybe it's the appliance you couldn't get anywhere. They said it was in stock, or perhaps the deal was too good. More realistically, you have or will have a problem.
Here is what you do:
Pay by credit card. You can cancel when they don't deliver.
Get everything in writing. I mean everything. They always charge extra from the free delivery to your home to the removals and stairs.
NEVER sign for anything without a thorough inspection. This includes the product and your home. They will deny your claim otherwise.
Ensure the product is working, especially for washers and dishwashers. You don't want a flood on your hands.
Note any damage on the slip and call the store with the delivery agents at your house.
Once again, your key takeaway is: Be careful where you shop.
If you are having issues, please leave them in the comments below. I am happy to help.
Additional Resources
Download the Yale Appliance Buying Guide covering all topics of appliances. Over 1 million people have read a Yale Guide.
Related Articles:
Why Should You Trust Us?
It seems that every appliance review has nothing but glowing comments about almost every product, yet you read customer reviews and they are almost universally bad.
We are here to fill in the disconnect. We'll give you the best features, and the drawbacks as well, including reliability based on over 37,000 calls performed by our service team just last year. Our goal is to give you ALL the information so you know what's right for you.
Please consider subscribing or adding to the conversation in the comments below. We appreciate you stopping by.
A Note About Pricing
Pricing on this blog is for reference only and may include time sensitive rebates. We make every attempt to provide accurate pricing at time of publishing. Please call the stores for most accurate price.