Unitized vs. Two Piece Stack Washer & Dryer Laundry (Reviews / Ratings / Prices)
If you live in a smaller space (condo, townhome, etc) and have the opportunity for in-unit laundry, chances are you were faced with the decision of buying unitized or stackable laundry machines.
Over the last few years, your choices have increased considerably. In fact, unlike most of these comparisons, there is definitely better choices for you.
We will look at both the single piece/unitized and two piece laundry options.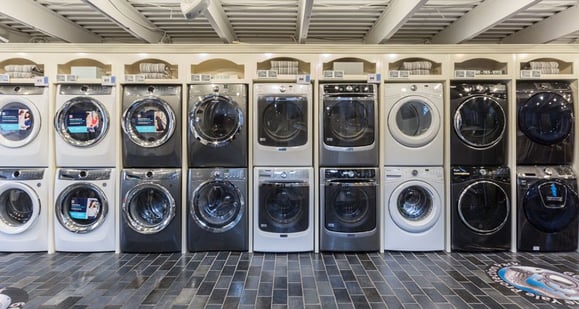 Replacement
First, many people buy 2 pieces with the logic of having to replace just a washer or dryer versus the whole unit. However, 2 piece units are attached by a stacking kit. More often than not, the older stacking kits do not fit the newer units, so you end up replacing both anyway.
Do not buy two pieces with the thought of cheaper replacement down the road.
Unitized Laundry Centers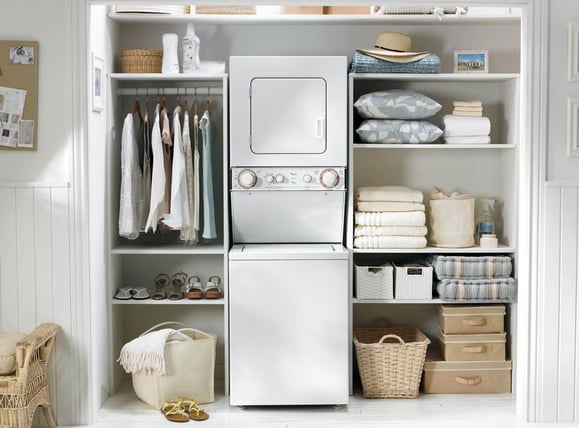 Unitized laundry, or a laundry center, is a single piece system where a dryer is attached to a top load washing machine like this older Maytag. 10-15 years ago, you would buy one of these, because you did not have much of a choice. Perhaps your parents had one.
They are available in 24" and 27" widths so it is easy to tuck in a smaller closet or even under stairwells. These units can also be purchased as both electric or gas models and need to be vented outside the living space.
(Short on time? Get our free Washing Machine Buying Guide with tips, trends and reviews of all the major brands)
The biggest drawback to unitized laundry is capacity and selection. These machines have not changed much and only Speed Queen, Whirlpool, and Frigidaire manufacture unitized laundry.
The smaller machines are 24 inches like this Whirlpool LTG5243DQ at $1,359.
That rules out being able to do larger items like comforters, pet beds, large/heavy loads, etc because the capacity is so small.
The machines are very basic in terms of features. Many of the advances you have probably become familiar with, like steam and other special cycles are lacking in a one-piece configuration.
The best unitized stacks at 27-inch are the Frigidaire FFLE4033QT at 3.8 cubic foot (minus the agitator) at $1,479 and the Speed Queen ATEE9AGP173TW01 has the front load with more capacity at 3.42 cubic.
The unit has commercial quality, a five-year warranty, but is $2,760.
Stackable Laundry
Front loading washers have made two piece stacks even more popular. Because of the design, the dryer could be mounted to the washer in ways top loads could not. Front loads are also evolving with features like steam, 2 pump designs, and even larger capacity.
Unlike unitized, there is tremendous selection at both full size 27-inch and 24-inch compact with LG, Samsung, Whirlpool, Maytag, Frigidaire, Asko, Miele, Blomberg and Electrolux all manufacturing stackable laundry.
Compact Laundry
Two piece 24-inch units are essentially a European specification with a number of advantages for smaller homes and apartments. Compacts have better capacity, more cycles, and better spin speed, so the clothes are much drier out of the washer. They are also more water and energy efficient.
You can also buy compact washers with condenser dryers, so you do not have to vent outside.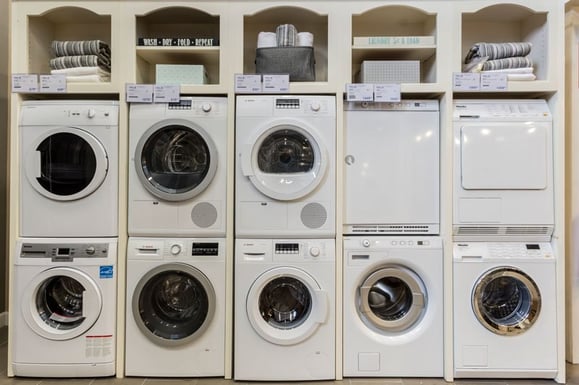 So now you can place laundry in any closet with power and water without having to worry about venting.
Vented models are actually harder to find with Blomberg, Asko, and Samsung being the most popular. This Blomberg pair is about $1,500 or about $150 more than Whirlpool.
Full Size
Full-size laundry is some of the most price competitive products in the industry. Prices have decreased while features have been added.
For example, you can buy a basic LG pair for $999 on Black Friday, President's day, Labor Day and Veteran's Day to have bigger capacity, better features and less water and energy consumption than any unitized unit.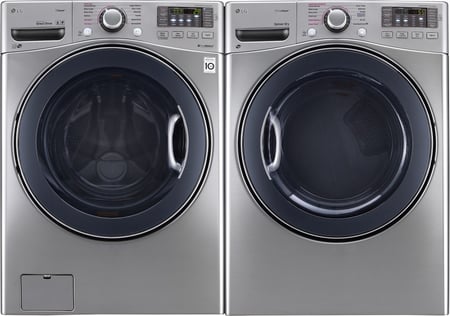 Electrolux will offer a fresh water rinse, their new SmartBoost for the right amount of detergent and water pumped in the middle of the wash for $1,599. Maytag will offer their front load pair with a wash and dry cycle for around the same price.
(See the best front load laundry available now. Updated monthly!)
Almost any two piece stack can be purchased with more features and capacity than a unitized piece for less money.
One Last Piece Of Advice
Two pieces are definitely the better way to buy a stackable unit for a number of reasons. However, laundry is tough to deliver and install in a closet. You want to measure the unit and make provisions for the plumbing and venting.
We have resorted to performing site checks in your home before delivery so we know they will be able to be delivered and installed properly. You should ask your appliance store to do the same.
Additional Resources
Get our free Washing Machine Buying Guide for tips, trends and reviews of all the major brands. Over 180,000 people have already found answers in a Yale guide.
Recommended Reads
Jonathan Beresford
Jonathan Beresford is an Appliance Sales Consultant at Yale Appliance + Lighting. Jonathan has over 12 years of sales experience and prides himself over his superior customer service. In his free time, he likes to spend time with his family and play golf.
A Note About Pricing
Pricing on this blog is for reference only and may include time sensitive rebates. We make every attempt to provide accurate pricing at time of publishing. Please call the stores for most accurate price.