Unitized One-Piece Stacked Laundry Vs. Two-Piece Stackable Laundry
September 16th, 2020 | 6 min. read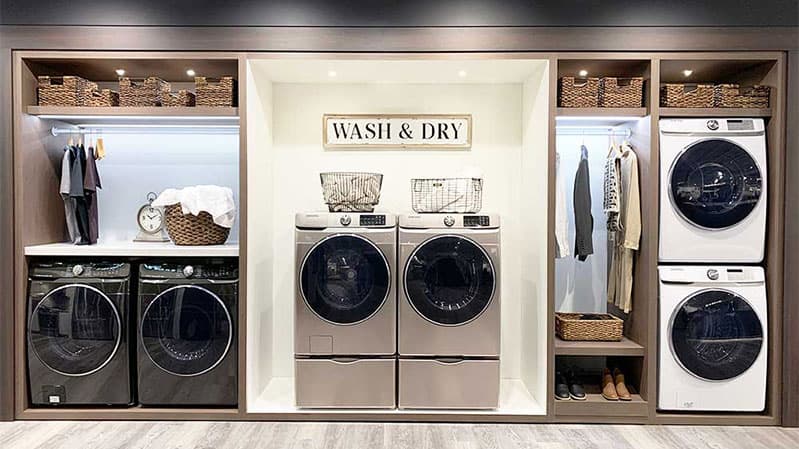 Let's say you want to change your college-bound child's closet into your new laundry room with a stacked washer and dryer.
It seems fitting.
You're turning your college-aged child's room, the one who causes most of your trips to the laundry room, into the new stacked laundry room.
You have two choices for stackable laundry.
You can buy a one-piece unitized stacked washer and dryer or buy them separately and then stack with a stacking kit.
In this article, you will learn the best brands for unitized and two-piece stackable washers and dryers in the popular 24 inch and 27-inch widths.
You will also learn a bit about venting. If your kid's closet is on an inside wall, you need a certain dryer type.
I will return to that new closet a few times, so you have some perspective on what to consider.
There will be plenty to absorb, so you can tab through what you want to read. There will also be some videos to help as well.
First, You will learn about the different washer types. Then the dryers, because stacked washers and dryers are just combinations of the different types.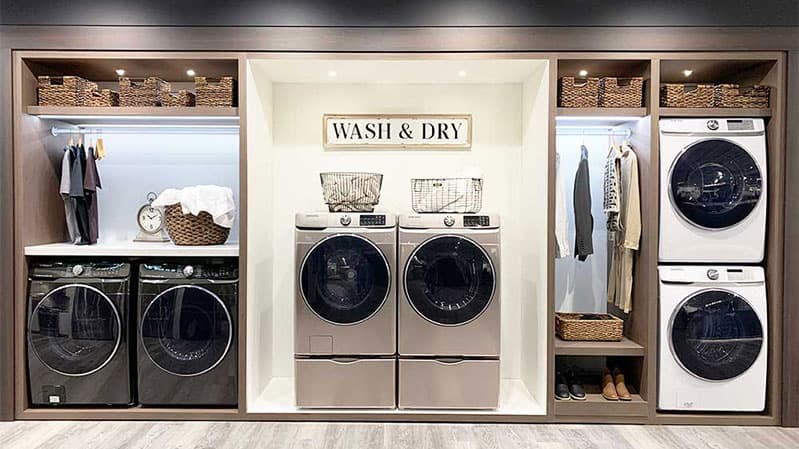 Laundry Display - Yale Hanover
Different Washer Types
We cover this in-depth in other articles (There will be a link below if you want to learn more.
There are three types of washers found in stacked laundry.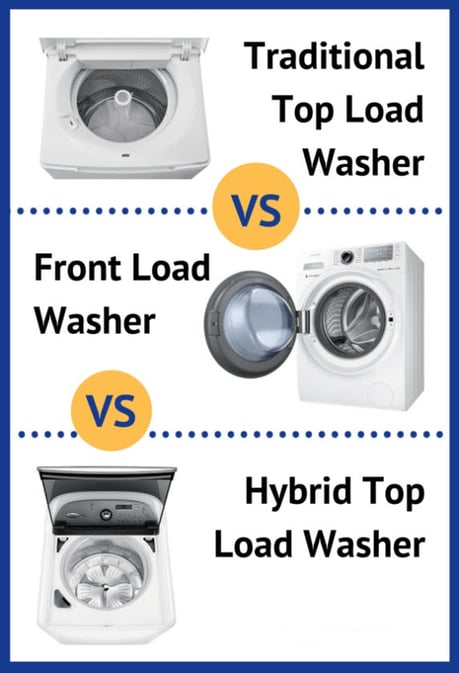 Top Load: Top loads are only in unitized 24 and 27-inch laundry. They are a smaller capacity to use more water and electricity but are less expensive to buy.
Hybrid Top Loads: Hybrids, also known as HE or high efficiency, are also found in unitized 24 and 27 inches stacked laundry. You cannot stack any top load washer independently.
Hybrids are larger than a regular top load because the agitator is smaller and sometimes removed depending on the manufacturer.
However, the agitator is part of a top-load design, so there have been complaints about clothes not being cleaned properly.
Hybrids use less water, have a greater capacity with better features than a regular top load.
3. Front Load Washers: Front loads are available in 24 and 27-inch stackable laundry.
Size, water, and electric efficiency, along with the best new features, hallmark a front load washer, but it is the most expensive washer type.
Dryers in Stacked Washer and Dryers
There are three types of laundry found in stacked dryers
Vented: The dryer vents the steam outside your house. For your child's closet, some manufacturers can vent up to 4 different ways, straight back, both sides, and down
Condensor: Ventless laundry using elements to dry, the condensers turns the steam into water.
Heat Pump: Heat pump dryers use compressors instead of elements to store and reuse heat. They are the most efficient and do not emit heat into the room like regular condenser laundry.
Almost every full-size unit and the unitized stack is vented, while most smaller two-piece, 24 inch, is ventless.
Let's begin.
Best One-piece Unitized Stacked Laundry for 24 Inches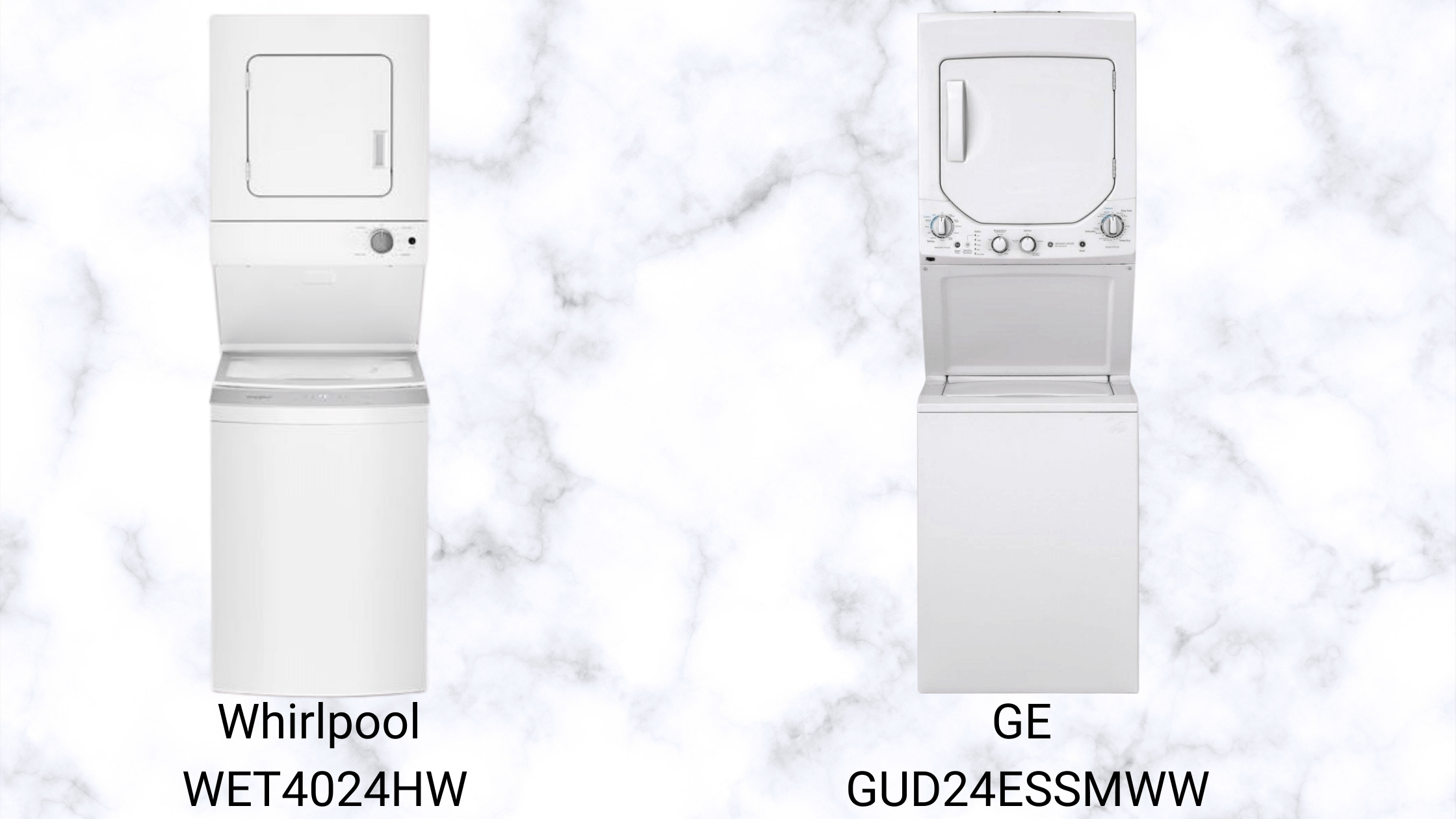 Whirlpool WET4024HW - $1,259 | GE GUD24ESSMWW - $1,259
Whirlpool has been around forever. Literally. It's the same machine from when I started in 1986.
GE has better capacity than the Whirlpool stackable at 2.3 to 1.5 cubic feet because you are comparing a hybrid to a regular top load washer
You have to factor the agitator's volume out of the measurement, so it's roughly 1.1 to about two cubic feet.
GE is a bit more updated with more cycles, better spin speeds to dry your clothes, and Wi-Fi.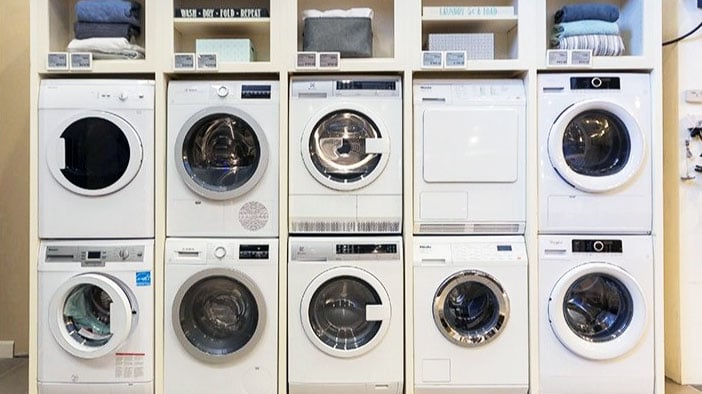 Compact Laundry Display - Yale Boston
3 Best Compact Stackable Washers and Dryers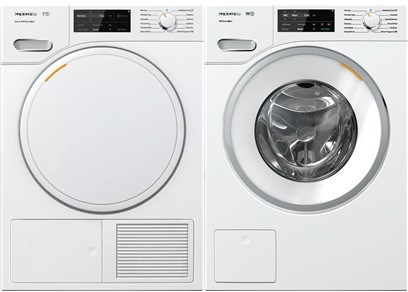 Miele has four washers and three dryers, ranging in price from $2199-3899. It has every feature from heat pump drying to a honeycomb drum designed to wash gentle fabrics along with automatic and pod dispensing, ability to add fragrances, and a ton of other options.
Miele Compact Laundry
Bosch Compact Laundry - $2,259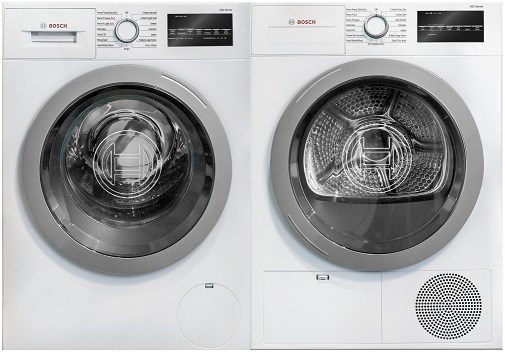 Bosch has the most reliable washers and dryers. All the dryers are non vented (you will learn about venting options shortly). You can wash by stain type in their best models.
Bosch Compact Laundry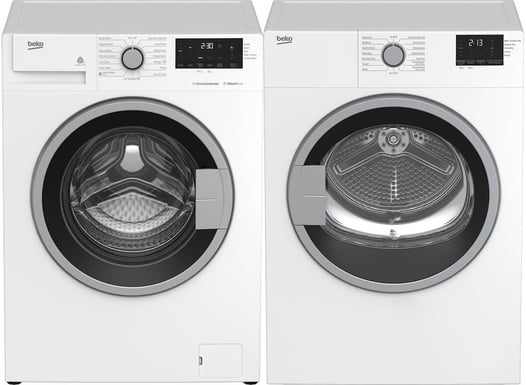 Beko is the most reliable this year and is one of the only vented compact washers and dryers on the market.
Beko Compact Laundry
Unitized One-piece Stacked Laundry vs. Two-piece Stackable Laundry: Key Differences
Capacity: Compact is 1.9 to 2.5 cubic feet without the agitator. It will be considerably larger than the top load one-piece units as well as more energy efficient for water and electricity
Price: Unitized is less expensive at $1099-1299 versus $1598 to $3899 for a compact stacked unit
Gas Options: All compact dryers are electric, whereas unitized can be electric or gas
Venting Options: Most compact dryers, except Samsung and Beko, are ventless.
Long Vent Option: This is interesting. GE manufacturers a long vent model of up to 200 feet in their one-piece stacked unit. Beko is still good at 92 feet.
However, effective length decreases with every elbow or turn in the duct, so try to run the duct as straight as possible.
Childs Closet for 24 Inches Stackable Laundry Scenario: Part 1
Venting Stacked 24-Inch Laundry
You have two options if that closet is on an inside wall.
You can run a long vent from GE through your house, or you can buy a ventless from almost every compact brand.
Electrical Requirements for 24 Inches Stacked Laundry
You would only need 110 power with a gas unitized stack in one outlet. In compact stacked laundry, you need 220 power.
With Miele, you only need 110 as well but with two outlets or one 220 volt.
Features:
Compacts have more features and are the most advanced appliances in your home, from automatic and pod dispensing to speed and steam cycles.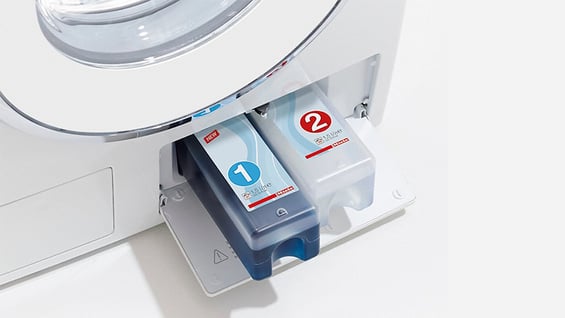 Miele CapDosing
GE is decent with its hybrid but nowhere as advanced as a compact washer.
Replacement of a Stacked Washer and dryer:
Both are hard. With the unitized stacked laundry, the whole machine has to be replaced.
Two-piece stacked washers and dryers are difficult as well.
A stacking kit joins the two pieces. You would have to use the same stacking kit for the new washer or dryer. They change frequently.
Do not buy a two-piece with the thought of cheaper replacement down the road.
Let's look at unitized versus two-piece stacked units in 27-inch widths
Best Unitized Stacked Washers and Dryers in 27 Inches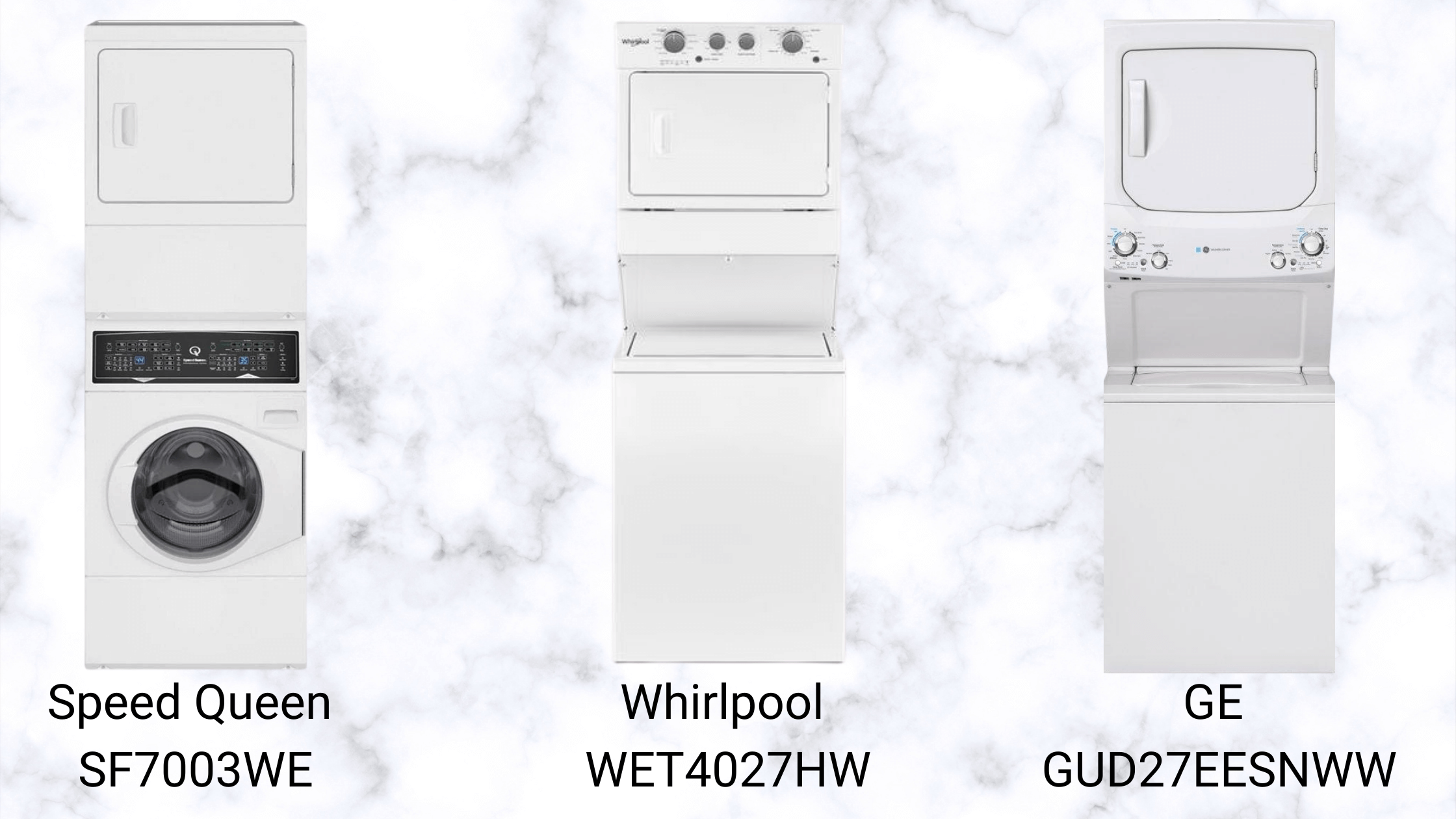 Speed Queen SF7003 - $3,099|Whirlpool WET4027HW - $1,259|GE GUD27EESNWW - $1,439
Whirlpool and GE are similar to 3.5 cubic feet in the washer and 5.9 cubic feet in the dryer. Both are hybrids
Speed Queen is a front-load stacked but relatively small at 3.5 cubic feet without the agitator.
They are the most well-built machine in the industry with a 5-year warranty. Then again, it is over $3,000.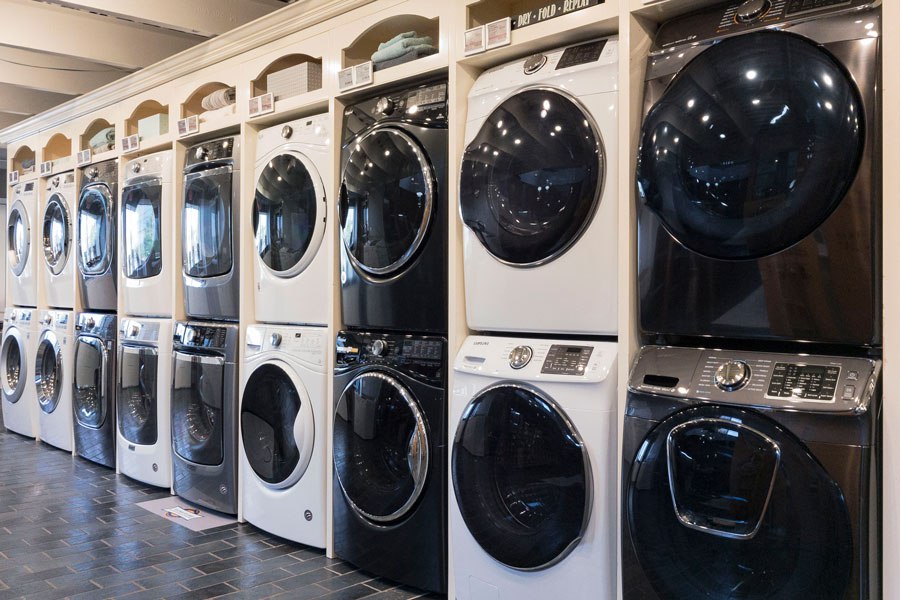 Front Load Laundry Display - Yale Boston
Best Front Load 2-Piece Stackable Laundry

Every front load, except for Speed Queen, can be stacked. Brands like GE, Maytag, Whirlpool, Samsung, LG, and Electrolux.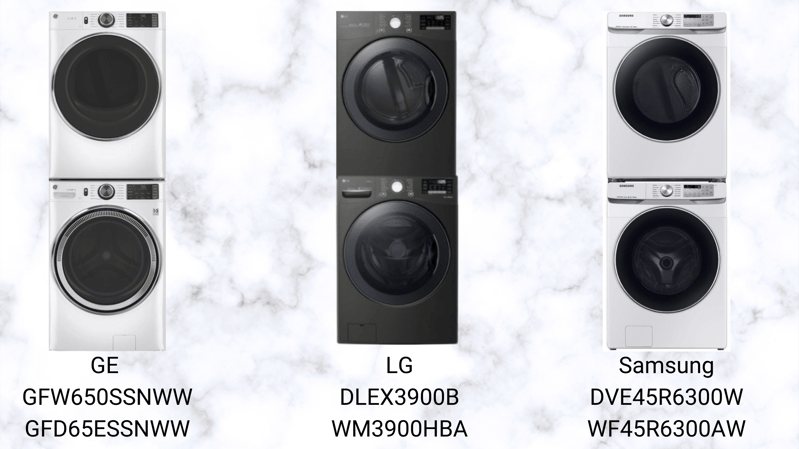 GE Laundry Package Electric - $1,799 | LG Laundry Package Electric - $2,159
If the compact laundry is the most advanced appliance, full-size stacked laundry is a close second.
GE
GFD65E: GE has Wi-Fi, Speed, steam, ten wash programs, and 11 options along with Wi-Fi. The washer sets the dryer cycle. GE also added anti-microbial Microban to the gasket, hoses, and dispenser. There is also a 32 load auto dispenser built into the machine.
GE Front Load Laundry
LG
WM3900: It's reliable with speed, steam, and Turbo360 designed to shorten any wash cycle.
LG WM3900HBA Washer
Samsung
WF45: Good basic machine with speed and steam cycles.
Samsung WF45 Washer
Childs Closet for 24 Inches Stackable Laundry Scenario: Part 2
You have less flexibility at 27 inches than in the 24 inches stacked scenario.
Venting: You still have the GE long vent in the one-piece stacked washer and dryer. However, there isn't a popular ventless full-size dryer.
LG and Whirlpool both have one, but neither is marketed (or any good), so you have a 90-foot duct length in a full-size dryer.
Electrical For Full Size Stackable Laundry:
Its the same 110 for gas and 220 for electrical. In the two-piece, 27-inch stacks, you can buy gas, but you will need a separate 110-volt line for the washer.
Unitized vs. 2 Piece Stacked Units at 27 Inches
Capacity: Big difference with front loads averaging 4.5-5.0 cubic feet versus 3.0-3.5 for the unitized.
You can buy front loads up to 5.8 cubic, but they are more reasonably priced at 4.5-5 cubic.
Price: Similar to the compact stacks with the two pice being more expensive but you can buy the Samsung and less expensive LGs at $1499 for a pair during promotions.
Gas: Both are available in gas
Features: Two-piece stacked to offer a greater array of cycles, including steam for powering out tough stains.
In the dryer, steam is used to refresh that favorite shirt before an evening out.
There are speed cycles and more options for washing different types of fabrics. You have automatic dispensing for up to 40 loads and pod dispensing available as well.
Key Takeaways
First, that closet can easily be a laundry center.
You have to plan the space by measurement first, then how you want to vent. Also, gas vs. electric is another consideration, plus how much power and outlets are needed.
One-piece stacked washer and dryers should be considered for price and long vented options.
You can vent these a long way. However, for venting, shorter without turns is always better.
There is also a gas option in a 24-inch configuration
One piece units are a bit thin on features.
2 Piece stacks are better for capacity as well as power and electrical efficiency.
You should save at least $100 a year with a front versus a top load in Boston.
Then there is an array of features and cycles on the two-piece like steam and speed cycles, plus some more specialty automatic dispensers and dispenser for detergent pods.
Unitized versus two-piece stackables is about price versus capacity, efficiency, and features.
And don't fret about your child returning from college. There will be plenty of room in the basement where the laundry used to be.
Additional Resources
Download our Yale Washer Buying Guide with all the features, terms, and brands of laundry. Over 820,000 people have already found answers in a Yale guide.
Related Articles
Why Should You Trust Us?
It seems that every appliance review has nothing but glowing comments about almost every product, yet you read customer reviews and they are almost universally bad.
We are here to fill in the disconnect. We'll give you the best features, and the drawbacks as well, including reliability based on over 37,000 calls performed by our service team just last year. Our goal is to give you ALL the information so you know what's right for you.
Please consider subscribing or adding to the conversation in the comments below. We appreciate you stopping by.
Steve Sheinkopf is the third-generation CEO of Yale Appliance and a lifelong Bostonian. He has over 38 years of experience in the appliance industry, and he is a trusted source of information for consumers on how to buy and repair appliances.

Steve has also been featured in numerous publications, including the New York Times, Consumer Reports, The Boston Globe, Bloomberg Radio, the New York Post, The Wall Street Journal, and Entrepreneur, for his knowledge of how to buy appliances and appliance repair.

Steve is passionate about helping consumers find the best appliances for their needs, and he is always happy to answer questions and provide advice. He is a valuable resource for consumers who are looking for information on appliance buying, repair, and maintenance.

Despite being the worst goalie in history, Steve is a fan of the Bruins and college hockey, loves to read, and is a Peloton biker. The love of his life is his daughter, Sophie.
A Note About Pricing
Pricing on this blog is for reference only and may include time sensitive rebates. We make every attempt to provide accurate pricing at time of publishing. Please call the stores for most accurate price.