The Miele G 5006 SCU Dishwasher: A Great Dishwasher You Can't Buy
For years if you considered a dishwasher between $999-$1,099, you bought a Bosch, KitchenAid, or maybe a better Samsung, LG, or other brands.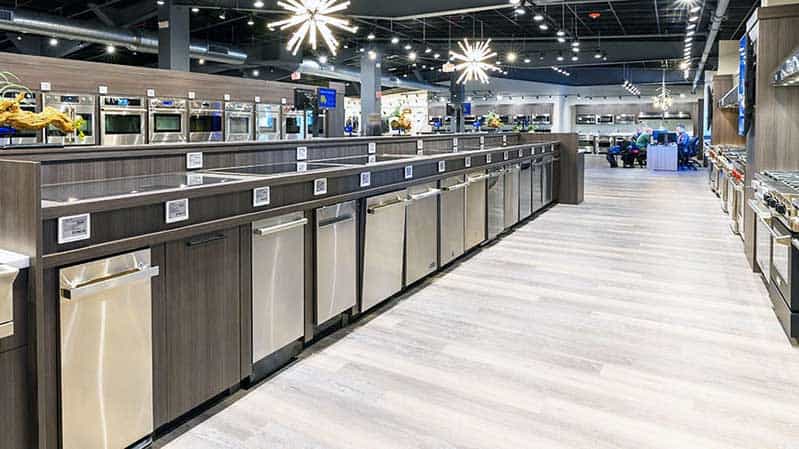 Dishwashers at Yale Appliance in Hanover
Miele was a consideration. They have solid dishwashers but were light on features and cycles. They were also noisy at 46 decibels (dB) over the quietness threshold of 44 dB.
With your kitchen opened to a family room, it's a problem.
However, with the introduction of their new G 5000 series, Miele has more than closed the gap and finally has a quiet dishwasher.
Except you can't buy it.
Like many brands and products across the spectrum of home improvement, you can't buy this dishwasher or any Miele dishwasher until next year - at the earliest.
In addition to covering the features of the Miele G 5000 series dishwashers, you will also learn the best alternatives to buy in the next six months and how to buy a dishwasher in this more than interim period.
Two brands you will know. One will be surprising.
Let's have a look.
Miele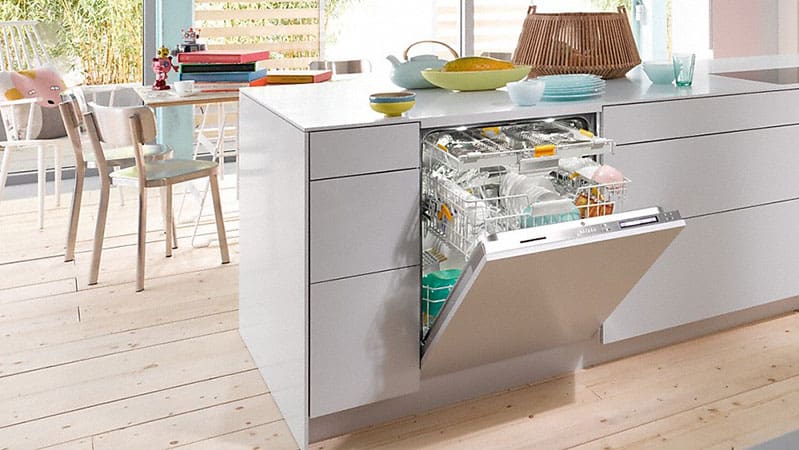 Miele is the largest family-owned appliance company in the world. They operate two giant factories in Gütersloh, Germany.
Reliability has always been the hallmark of a Miele appliance. They manufacture not just the products but the components as well.
They are different from most companies that outsource parts globally.
Now let look at this dishwasher.
The Miele G 5006 SCU Dishwasher
Miele G 5000 Series Dishwasher G 5006 SCU - $1,099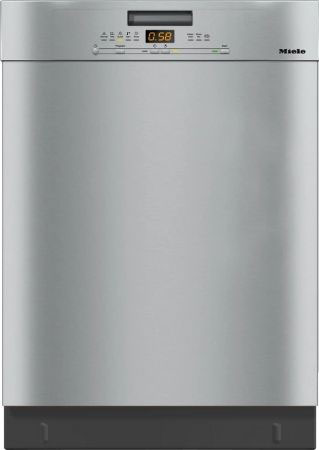 After years of being over the quietness threshold, Miele is now considered quiet by meeting that standard at 44 dB, so it's similar to a Bosch, but KitchenAid is better.
First, as you would expect, Miele has a good washing system with a full three arms, including one on top versus really two, and a sprinkler head for the Bosch.
Like most premium dishwashers, the top rack adjusts, and there is a third rack for silverware.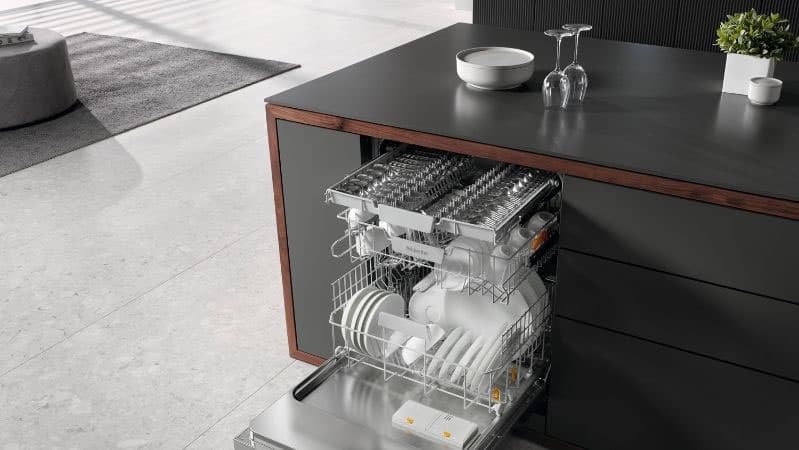 Most brands have top racks, but Miele secures theirs, so your silverware won't move and scratch during the wash.
Miele Dishwasher Cycles
Miele has the basic cycles plus a few new additions.
They added Extra Clean, which raises the temperature in the main wash cycle.
The Extended Dry options raise the temperature in the final rinse for better drying.
QuickIntenseWash is a new cycle on this model for a 58-minute wash and dry cycle for normally soiled dishes.
But drying is still Miele's best feature.
They have a port at the bottom, so outside air is directed to the outer wall. The hot steamier air is attracted to the cooler side and dissipated as water.
It's simple, and it works.
I don't usually include cycles in many articles because most dishwashers have more than enough.
Most dishwasher cycles are combinations of wash, rinse, and dry at different temperatures.

A Pots and Pans cycle will have all the washes, rinses, and drying for a longer period of time.
Miele Dishwasher Cycles
Pots and Pans

- For heavily soiled dishware and normally soiled pots, pans, and utensils with dried-on residue, use 20% more detergent than recommended.

QuickIntenseWash

- Achieves optimum cleaning and drying results for a load with normal soiling in 58 mins.

Normal

- Program for regular use to completely wash a full load of normally soiled dishware with the ability to adjust energy and water consumption based on the soil load of the dishware.

Economy

- Water and energy-saving program for standard dishes soiling that have not dried on, with a long soaking time and a low temperature.

SaniWash

- To sanitize dishware, e.g., baby bottles, cutting boards, and preparation dishware.

Rinse and Hold

- To rinse dishes when a complete program is not needed.
Wash Option Definitions
Extra clean

- You can choose this program option to increase the cleaning performance of the programs. If you activate this program option, the program cycle times and the main wash temperatures will increase. Water and energy consumption may increase.

Extra Dry

- You can select this program option to increase the program drying performance. If you activate this program option, the program cycle times and final rinse temperatures will increase. The energy consumption may increase.

Short

- The Short option reduces the duration of programs in which this option is available to achieve optimum cleaning results. Water consumption and energy usage are increased with this option.

Express

- Express program option reduces the program cycle time. To achieve optimum cleaning results, the temperature and energy consumption will increase with this option. The time by which the program cycle time is shortened varies according to the selected program.

Delayed Start

- You can set the start time for a program. You can delay the start time between 30 minutes and 24 hours. The delay period is shown in 30 minutes increments for a delay period between 30 minutes and 9 hours 30 minutes.
Dishwashing Sensors
Auto Sensor

- Measures the turbidity in the water and uses that measurement to determine the main wash parameters of time, temperature, and water volume. These reinforcements maximize efficiency with zero compromises to cleaning.
Reliability
For reliability based on real service calls, Miele is once again the most reliable premium dishwasher at 8% service within the first year, according to our internal service stats of over 37,000 service calls logged last year.
KitchenAid is close at 11%, while Bosch is 12.8%.
At $1,099, Miele is a solid dishwasher and a good combination of features and reliability.
Dishwasher Reliability From December 2019 to November 2020
| | |
| --- | --- |
| | Service Ratio |
| Blomberg | 0% |
| LG | 1.9% |
| Whirlpool | 2.1% |
| Thermador | 7.6% |
| Beko | 7.67% |
| Miele | 8.2% |
| GE Profile | 10.5% |
| Samsung | 10.6% |
| JennAir | 11.0% |
| KitchenAid | 11.0% |
| Asko | 11.6% |
| Bosch | 12.8% |
| Bosch Benchmark | 18.4% |
| Café Appliances | 18.8% |
| GE Appliances | 19.5% |
| Fisher & Paykel | 27.8% |
| Average | 11.2% |
Each brand represented has a minimum of 50 units sold and a total sample of over 10,000 pieces.
Read More: Most Reliable Dishwashers
Miele Dishwasher Problems
If you are reading this article, hopefully it's February of 2022 because the availability is non-existent until then.
You will have a real problem buying a Miele dishwasher most likely throughout 2022 into 2023.
How Does Miele's Dishwasher Compare to Bosch, KitchenAid, and Beko?
Assuming you can buy one, Miele compares pretty well against Bosch and KitchenAid. It's more reliable than both.
However, you can buy a KitchenAid or Bosch dishwasher now, so let's see how they compare.
We made videos comparing both.
Miele vs. KitchenAid Dishwashers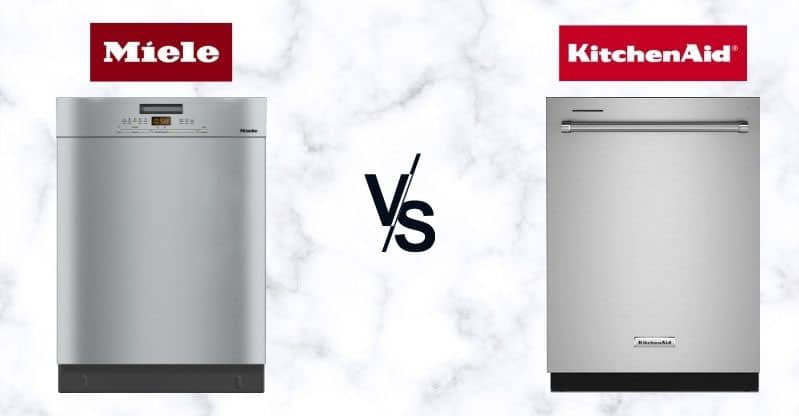 Miele G 5006 SCVi | KitchenAid KDTE204KPS
KitchenAid is quieter at 39 dB for $999.
However, Miele is quiet enough at 44 dB. The difference is not immediately detectable even if you have an open kitchen.
Miele will have a better drying system of drawing the air from the outside.
Miele vs. KitchenAid M Series Dishwashers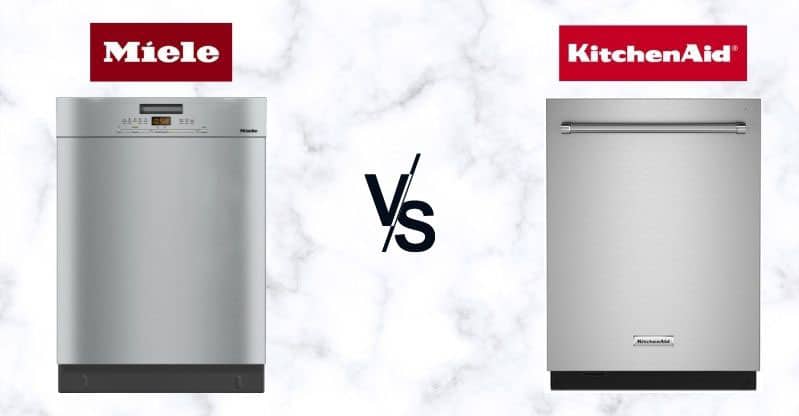 Miele G 5006 SCVi | KitchenAid KDTM604KPS
KitchenAid's M series models at $1,299 have that same drying system using a fan to pull the air into the dishwasher. It also has its larger rack and 4th level of sprays for $200 more.
A big plus for KitchenAid is that it was available.
Miele vs. Bosch Dishwashers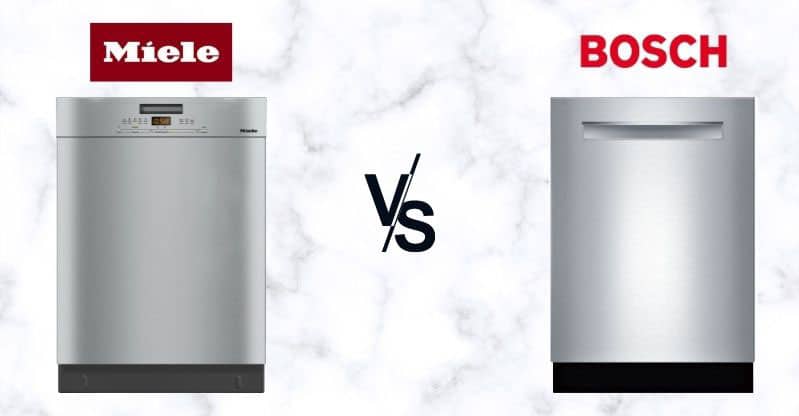 Miele G 5006 SCVi |Bosch SHP878ZPSN
Bosch has a good feature set as well. Their drying system features AutoAir or the door popping open at the end of the cycle to release heat and steam.
Miele may be better with their system, and Miele has a better wash arm on the top.
At $1,399, Bosch has CrystalDry using a volcanic element called zeolite to increase heat and absorb moisture, and it is the best drying, but it's $300 more than this Miele dishwasher.
Miele vs. Beko Dishwashers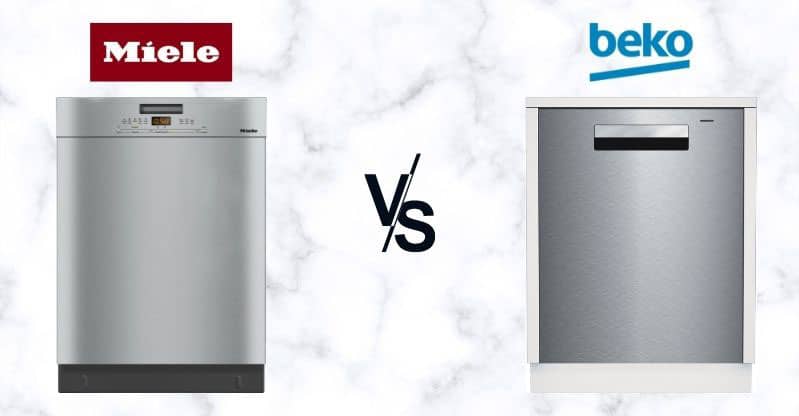 Miele G 5006 SCVi | Beko DDT39432XIH
Imagine you have a good product widely sold in Europe and 140 countries in the world. You want to sell in the US and can compete on features and price.
Then your main competitors either have little or no products to sell.
Beko is probably the luckiest company I have covered in my 36 years at Yale.
Luck, however, is not sustainable without good products and execution.
Their dishwasher is surprisingly good and is the most feature-driven product on the market.
It is 39 dB, with an additional wash arm below dedicated for heavily soiled dishes, and is Wi-Fi enabled.
It even has an ion generator to emit negative ions to counteract the positive ions of odors, so your dishwasher smells clean.
It's also incredibly reliable.
You may not be interested in an unfamiliar brand. However, in the absence of almost everything, Beko may be a good fallback.
Watch the video on Beko if you are interested.
Should You Consider a Miele Dishwasher?
Yes, you should consider a Miele dishwasher for your home.
It could be the best combination of washing, drying, racking, quietness, and reliability.
Will you be able to buy a Miele? That's a better question. If you are reading this article in 2023, I would have a degree of confidence.
Until then, you do have other options as well in other brands and perhaps other Miele models.
Not that you know about this non-existent Miele and the basic comparison to Bosch and KitchenAid, download our Dishwasher Buying Guide with comparisons to all the brands like Samsung, LG, Whirlpool, Cafe, Profile, Beko, and Asko.
Almost 1 million people have read a Yale Guide.
Then again, it is free but pretty detailed and worth your time to buy the right dishwasher for you.
Thanks for reading.
Quick Funny Story
One of the most likable guys in this industry is Jan Heck. He is the CEO of Miele in the US.
He lives near my folks, so occasionally, we would have dinner or lunch together.
When the pandemic hit last March and business stopped, we would talk a couple of times a month about avoiding a catastrophe in our business.
It was that bad back then.
However, home improvement surged and Miele and appliances and general, so now we don't talk as much.
I called him after a few months last week.
He picked up the phone and said, "I don't have any dishwashers."
There was no hello and no how are you.
I told him, "Hey, I just wanted to see how you are doing."
We chatted for a bit about business and a bit about life, and then the conversation ended.
The real reason I called?
Dishwashers.
Additional Resources
Want to learn about the different dishwashers and brands? Download the Yale Dishwasher Buying Guide packed with tips, features, and brands of every major dishwasher. Over 1 million people have read a Yale Guide.
Related Articles:
Why Should You Trust Us?
It seems that every appliance review has nothing but glowing comments about almost every product, yet you read customer reviews and they are almost universally bad.
We are here to fill in the disconnect. We'll give you the best features, and the drawbacks as well, including reliability based on over 37,000 calls performed by our service team just last year. Our goal is to give you ALL the information so you know what's right for you.
Please consider subscribing or adding to the conversation in the comments below. We appreciate you stopping by.
A Note About Pricing
Pricing on this blog is for reference only and may include time sensitive rebates. We make every attempt to provide accurate pricing at time of publishing. Please call the stores for most accurate price.