What To Check If Your Dishwasher Breaks
A note from the CEO: We wanted to publish this article comparing fixing your current dishwasher versus replacing it. During this troubling time, you want to spend less while maintaining your quality of life. We did publish Best Affordable Dishwashers if you need to replace a dishwasher now.
It's Saturday morning, and you're cleaning up the remains of last night's family dinner. As you scrub your counters, you hear your dishwasher end its cycle.
"Finally," you think to yourself - time to unload and reload the next group of dishes.
You open the dishwasher and see that nothing has changed. Your favorite dish is still covered in leftover spinach dip along with all the plates and utensils.
It looks as if nothing cleaned all that well, or at all. As your irritation and concern grows, you start to wonder what happened?
The dishwasher was working fine yesterday, what could have happened?
In this article, we'll cover how to troubleshoot your dishwasher, how to maintain your dishwasher, and what to do if you need service.
Let's get started.
What To Check If Your Dishwasher Breaks
Here are some helpful tips on what you can do next and what you can check:
Inlet valve - The water inlet valve can become clogged up with food and other debris. However, this is tricky to check because attempting to fix your inlet valve will most likely result in damage. It's always best to call a service technician to replace it.
Type of detergent - Believe it or not, the type of detergent you use plays a huge role in the process of cleaning dishes. Certain brands and models work best with certain types of detergents. Check your user manual, or always hit up your best friend, Google, to find out the best detergent for your specific dishwasher.
Loading - Your owner's manual will recommend a loading method that works best for your dishwasher. In general, you want to load large items along the sides and back, so they don't block the water and detergent. Face the dirtier side of dishes toward the center of the machine, and don't let dishes or utensils nest together.
Check The Spray Arms - Remove the dishwasher spray arm and clean out the holes. Most spray arms simply pop off. Others require you to unscrew a cap on top. Cleaning out the debris from the spray arm holes will allow for a stronger pressure.
Check the Filter - Most filters not can be easily accessed without having to move anything. Reach in and take a look at the filter - make sure there is no gunk stuck in there.
Common Dishwasher Problems & Solutions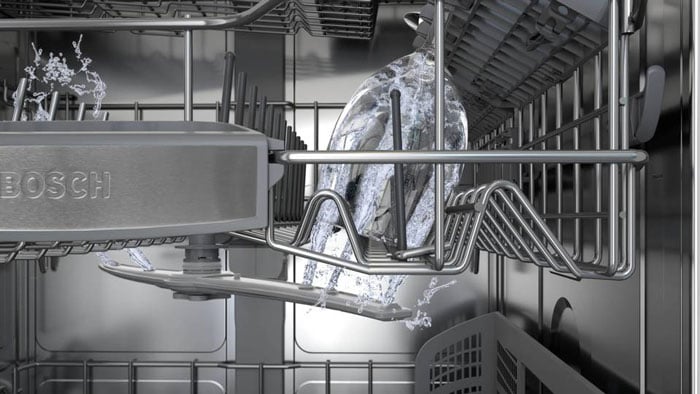 Your dishwasher not cleaning the dishes is just one problem that can arise. Say your dishwasher is leaving streaks and little residue bubbles all over your glasses, and you don't know why.
What can this possibly mean, and how can this happen?
The leftover streaks and water droplets can easily be solved with one swift purchase; Rinse Aid.
Rinse Aid almost always solves all your streaky problems. It is a surfactant reducing the surface tension of water.
Rinse Aid prevents water from forming into droplets. Instead, it allows for it to drain from the surface in thin layers.
Your dishwasher problems don't always have to be nightmares. This is a frequent call and can save you a repair fee.
These are easy solutions and troubleshooting you are able to do at home.
When To Call For Service
When is the best time to call for service? Well, that depends.
If you strongly believe your dishwasher is on the fritz or has frequent issues, then set up a repair visit.
Times to consider calling for service.
If it's leaking: What could be a possible cause of this? The over sudsing, incorrect displacement of dishes, that "Tuesday cutting board" or big pan disrupting the wash arm.
Not draining: Some culprits for this include the disposal not being cleared, mesh filter needing to be cleaned, and an improper drain loop undercounter.
Certain cycles will not finish: This could be a possible electronic malfunction, or even water intake, frozen or faulty.
You have exhausted the owner's manual with no resolution.
Now the question is, is my dishwasher worth the repair visit? Is it cost-effective to buy new or repair?
A dishwasher's average life span is anywhere from 7-10 years old, and the average repair rate for some of the most popular brands at Yale is 13.55% for the first year. Take a look:
Dishwasher Brand Reliability For 2020
| | | | |
| --- | --- | --- | --- |
| | Service QTY | Shipped QTY | Service Ratio |
| Asko | 103 | 190 | 54.21% |
| Jenn-Air | 188 | 493 | 38.13% |
| Bosch Benchmark | 25 | 70 | 35.71% |
| Fisher & Paykel | 56 | 193 | 29.02% |
| Miele | 185 | 903 | 20.49% |
| Maytag | 2 | 10 | 20.00% |
| Gaggenau | 16 | 104 | 15.38% |
| Thermador | 126 | 872 | 14.45% |
| KitchenAid | 90 | 688 | 13.08% |
| Café Appliances | 3 | 25 | 12.00% |
| Bosch | 398 | 3573 | 11.14% |
| Samsung | 134 | 1297 | 10.33% |
| LG | 5 | 81 | 6.17% |
| Cove | 2 | 44 | 4.55% |
| Ge Appliances | 1 | 37 | 2.70% |
| Whirlpool | 38 | 1471 | 2.58% |
| Grand Total | 1377 | 10166 | 13.55% |
When To A Buy New Dishwasher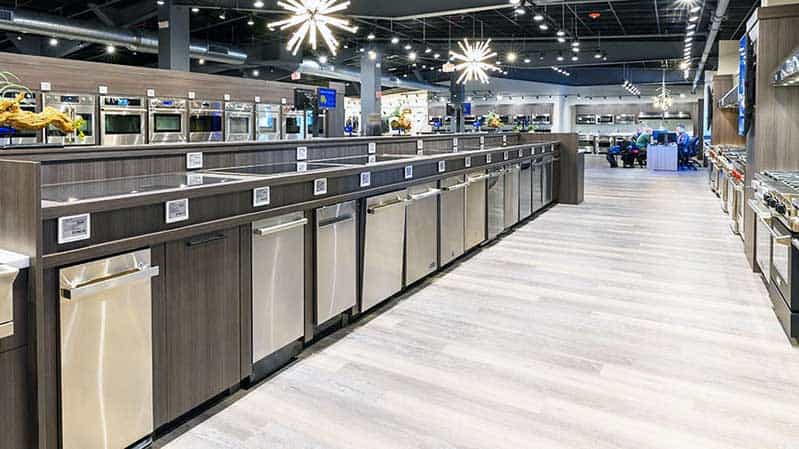 If your dishwasher is surpassing its average life span, it may be better to buy new, and here is why:
Parts generally are only available for eight years. Unless it's a basic filter or pump.
If there are parts still available for your dishwasher's specific model, but it's an older unit, the parts may be pricey. Older units are more expensive to fix.
An example of this may be, your dishwasher needs a whole new control panel and motherboard. These parts alone can go anywhere from $150-$700 on average.
That is not including the labor, of course, which can range anywhere from $69 and up.
With the average dishwasher selling for $599 plus installation, a major repair can cost more than buying new.
When To Fix Your Dishwasher
First, some repairs are minor, as we already outlined. For less expensive fixes like:
Drain pumps
Water valves
Faulty soap dispenser opening
Washability complaints etc.
You may also want to repair a more expensive machine because the cost of replacement is so high. You also need to pay for the installation of a new dishwasher, which can cost $200-$350.
As you can see, there are a lot of factors that come into play when deciding whether to buy new or repair.
Get an Estimate
Many companies will look at your dishwasher and offer an estimate of repair. We charge $99 for a home visit but will credit you $50 if you decide to buy new in-store.
Buying New
If you have decided it is time to buy new, here are some features to consider:
Tub Composition
Silence Ratings
Types of cycles
Special features
Racks
Styles
Price/Value
Reliability.
Warranty length
Key Takeaways
You now know when to call for service, how to troubleshoot, and how to decide the best next steps on whether to repair or buy new.
The biggest take away from this is to know the value and worth of your dishwasher. Is it worth it to repair, or is it worth it to buy new?
Factors such as price, age, durability, service history, and more will play important roles in that decision making.
Always remember the simple fixes you can try on your own first. Such as trying rinse aid for water build on glasses or replacing your filters to allow for better drainage.
One last thing to note: We don't recommend attempting a major repair on your own. Always look at reviews for the best service companies.
If the repair cost is 60% of the cost of the dishwasher, then it's probably best to buy new.
Remember to compare the total price of a new dishwasher with installation versus your total repair cost.
Additional Resources
Want more information on dishwashers? Read the Yale Dishwashers Buying Guide with specs, features, and detailed profiles of all the major brands. Over 680,000 people have read a Yale Guide.
Related Articles:
Why Should You Trust Us?
It seems that every appliance review has nothing but glowing comments about almost every product, yet you read customer reviews and they are almost universally bad.
We are here to fill in the disconnect. We'll give you the best features, and the drawbacks as well, including reliability based on over 37,000 calls performed by our service team just last year. Our goal is to give you ALL the information so you know what's right for you.
Please consider subscribing or adding to the conversation in the comments below. We appreciate you stopping by.
A Note About Pricing
Pricing on this blog is for reference only and may include time sensitive rebates. We make every attempt to provide accurate pricing at time of publishing. Please call the stores for most accurate price.