Should You Buy a Miele Professional Dishwasher? (Review/Ratings/Prices)
Editor's Note: I volunteer at a homeless shelter in Boston. Once I was washing dishes for the 80 or so residents. The dishwasher just washed the dishes in maybe 5 minutes. It was incredibly fast. You can have the same ability in your home, but there are some costs other than the price of the dishwasher.
Miele is a German appliance company known for producing some of the best quality high-end home appliances on the market.
They also have a commercial division for laboratories and commercial use. You can buy a similar dishwasher for your home.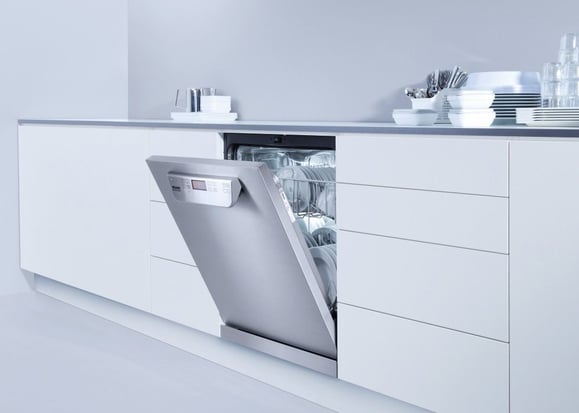 So, we will discuss the advantages, disadvantages, and whether you should spend more for a professional dishwasher.
We will focus on the PG 8056 and PG 8061 Miele Professional Series dishwashers.
Miele Professional Dishwashers
Miele PG 8056 - $5,499

Miele PG 8061 - $5,999

Features:

13 Cycles
6 Minute Cycle
Built-In Water Softener
Hygienic Fresh Water Cleaning System
59dBA Sound Rating

Features:

3 Wash Cycles
6 Wash Options
3 Sanitization Programs
Detergent Dispenser
Rinse Aid
Spray-Jet Steam Condenser
57 dBA Sound Rating
The two dishwashers have much in common. They both feature a beautiful and modern design. Clad in a 24" wide stainless steel body, it features a two row touch control display. This allows for control even when the doors are closed, unlike dishwashers with a hidden control and display.
Differences Between the Two Units
Although very similar, these two models are significantly different, especially in performance and functions. The PG 8056 at $5,499 is dubbed, "The world's fastest commercial fresh water dishwasher". Its fast cycle time is only 6 minutes.
However, it draws 30 amps and requires 240 volts for higher heat and faster cycles for almost twice the power of a regular residential dishwasher.
It also has thirteen dish washing programs including China & crystal, plastic, rapid, glasses, and utensils. As such, there is almost nothing that you cannot wash in this dishwasher.
This includes almost any utensil of any size, material and stain while performing wash cycles in less than 10 minutes.
The PG 8056 is 59 decibels or 14 decibels higher than their average dishwasher, so you will hear it. Not a deal breaker in my opinion since it is only for about 5 minutes that you will hear it.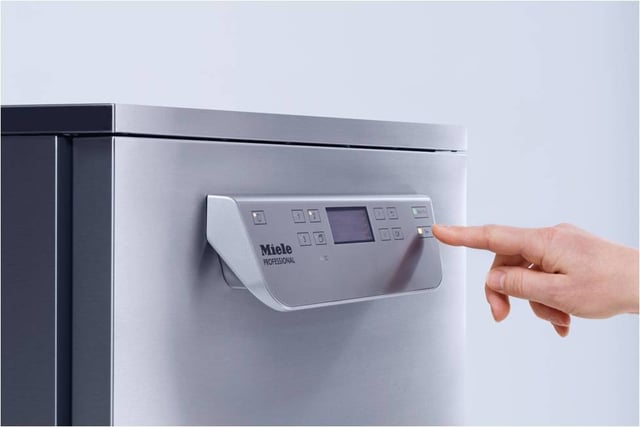 The PG 8061 for $5,999 on the other hand is labeled for "Industrial Use Only" which means it is most suitable for commercial environments such as restaurants and large kitchens. Compared to the PG 8056, this dishwasher is equipped with much less of a collection of dishwashing programs.
It has a total of 6 programs which include intensive, short, and universal in addition to 3 sanitization wash programs. They are all suitable and designed for large capacity washing. The fastest cycle time for this dishwasher is 15 minutes.
The PG 8061 draws 20 amps and requires 240 volts for a little higher heat for the faster cycles. Like the PG 8056, you will need an electrical upgrade from a normal dishwasher. The only downside is the 57 decibel sound rating, but it is only for 15 minutes instead of over 2 hours.
Advantages
For performance, they are both built to handle up to 40 wash cycles per day. As well as water softening functionality, delay start, and optional automatic liquid detergent pump that lets you pre-load detergent for several cycles.
To use the water softener, you add salt as needed (about every 6 months). This is better for the dishwasher and the dishes. It can help in cleaning performance and can extend the life of the machine.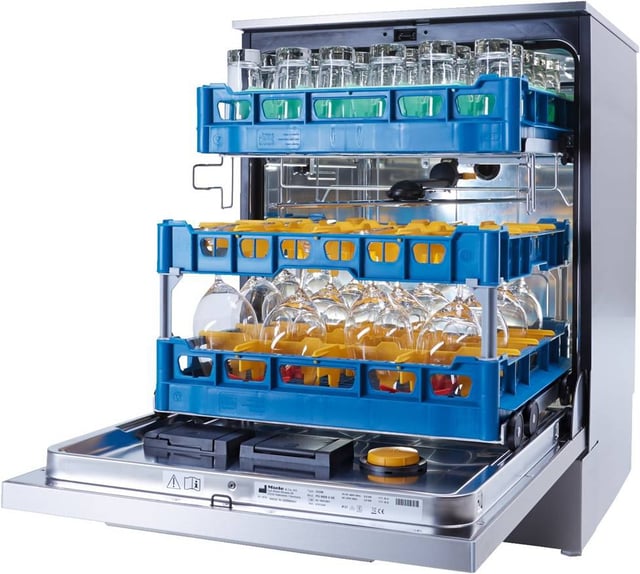 Miele also has 3 water feeds for better water pressure than the one feed for two arms of a regular dishwasher. They also have commercial dish washing capabilities if you choose the optional commercial dish racks for larger pots and utensils.
Otherwise they are available with the standard interior. It is similar to their residential with the separate cutlery tray on top for the silverware.
Should You Buy a Professional Dishwasher?
Probably not.
You will spend $6,000 for a dishwasher plus another $1,000 or more for electrical work depending on your home. A good dishwasher is about $700-$1,200 with a great one being $1,200-$1,500 tops with minimal electrical work.
However, the 2 hour time savings between the commercial and residential dishwashers is substantial.
These dishwashers are built extremely well and are designed for 40 washes per day. So if you like to entertain, have a large family or own a bed & breakfast, it could be a decent option.
For the average family, buy a regular Miele or Bosch. This dishwasher is designed for heavier use.

Additional Resources
Read our Dishwasher Buying Guide for features, specs and inside tips on all brands of dishwashers. Over 160,000 people have already read a Yale buying guide.
Related Articles
John Ramsay V
John Ramsay V has been in major kitchen appliance sales for over 17 years. John enjoys Theology, politics and sometimes gets into trouble because of it!

Read more about John here.
A Note About Pricing
Pricing on this blog is for reference only and may include time sensitive rebates. We make every attempt to provide accurate pricing at time of publishing. Please call the stores for most accurate price.