KitchenAid vs. Bosch Dishwashers Under $900 (Reviews / Ratings / Prices)
You walk into a store looking for a new dishwasher. It's probably been a while.
You notice new brands like Samsung with its WaterWall technology. Maybe LG is interesting with its steam cycle (then again a by-product of hot water is steam).
Then you have Miele, Asko, Sub-Zero's new Cove dishwasher and the revitalized Café Appliances. However, it's a bit more than you had intended to spend at $999 to $2499.
This leaves you with the single most common comparison, not just in dishwashers, but in all appliances: Bosch Vs KitchenAid Dishwashers.
For this comparison, you will also be comparing their two most popular dishwasher models.
In this article, you will learn about the Bosch SHS863WD5N and KitchenAid KDTE334GPS dishwashers, their features, quietness, their wash, and dry systems.
You will also discover their reliability based on 35,256 service calls logged last year by our service team.
In the end, you will understand how as well as when to buy either dishwasher.
KitchenAid Vs Bosch Dishwashers Under $900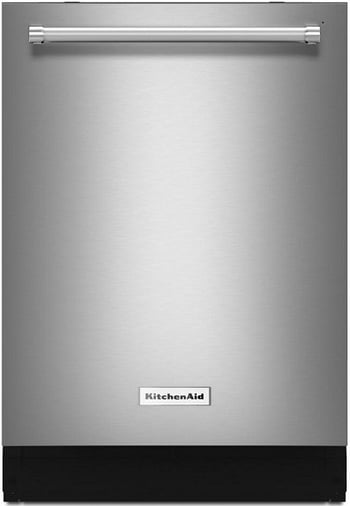 Features:
39 dBA
Third Level Rack
Bottle Wash Option
ProWash(TM) Cycle
ProDry(TM) System
Durable Stainless Steel Interior
SatinGlide(R) Max Rails (Upper Rack)
KitchenAid KDTE334GPS Dishwasher Review [VIDEO]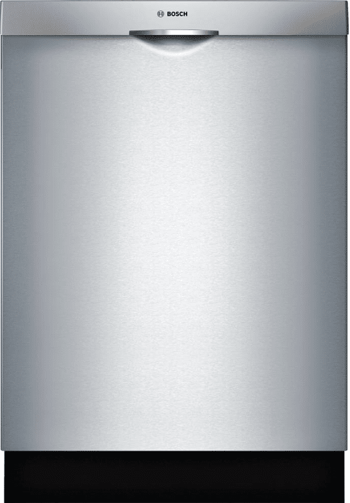 Features:
44 dBA

3rd Rack for Additional Loading Capacity

InfoLight(R) Beams on Floor to Indicate Dishwasher is Running

RackMatic(R) on Upper Rack - 3 Height Adjustments and Up to 9 Possible Rack Positions

AquaStop(R) Leak Protection Works 24/7
This is a tough comparison because both brands have changed over the years to compete with each other.
KitchenAid has become noiseless like the Bosch, and Bosch added more cycles to be more like KitchenAid.
Then two years ago, they both added a third rack for silverware to be more like Miele's dishwashers.
Let's jump in.
Short on time? Get our free Dishwasher Buying Guide
KitchenAid Vs Bosch Dishwashers Features And Cycles
KitchenAid Dishwasher Cycles: Pro Wash, Tough, Normal, Express, Rinse, Extended Pro Dry, Hi-Temp, Sani Rinse, Delay
Bosch Dishwasher Cycles: Heavy, Auto, Normal, Speed60, Delay, Half Load, Sanitize, Extra Dry, Extra Scrub
They both have a ton of features including an extended wash, soil sensing cycles as well as more time-sensitive cycles.
Here is a tip to understanding dishwasher cycles: They regulate the time, temperature, wash and rinse sequence. Extended is more washing with a hotter temperature. Delicate is less time at a lower temperature.
Both are stainless on the inside and have a third rack for silverware. You can delay the wash on both as well.
Feature Highlight: Bottle Wash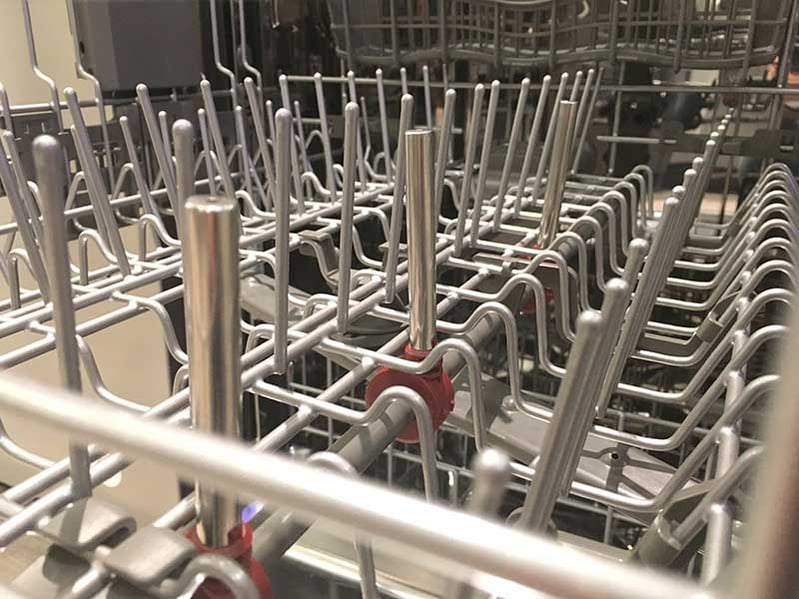 KitchenAid Bottle Wash System On Top Rack
KitchenAid has a few different cycles like bottle wash with separate sprays for sports bottles on the top rack.
I didn't appreciate this feature until I had a child. Having a focused spray to power out the gunk from a baby bottle is a good idea. Ditto for your protein drinks and sports bottles.
Feature Highlight: Third Spray Arm
| | |
| --- | --- |
| | |
| KitchenAid Dishwasher Arm | Bosch Dishwasher Spray |
KitchenAid also has a third wash arm on the top versus just a spray for the Bosch. Both these dishwashers wash dishes.
However, with a spray on the top, KitchenAid may clean the silverware on that third rack better.
KitchenAid KDTE334GPS Vs Bosch SHS863WD5N Dishwasher Drying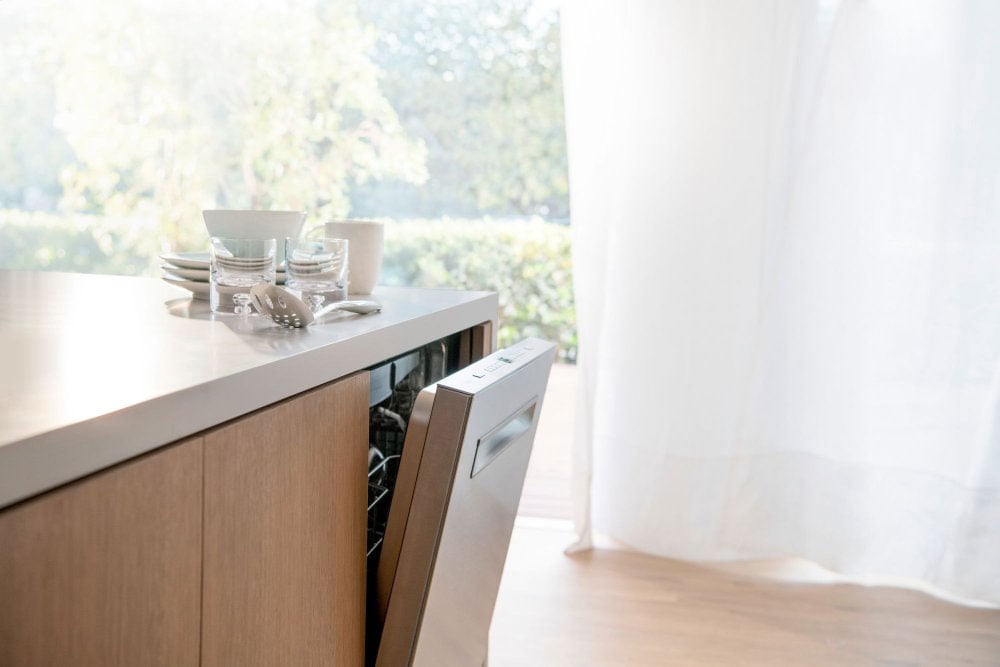 Bosch Dishwasher With AutoAir Drying
Bosch uses the residual heat and steam plus JetDry to dry your dishes. KitchenAid adds a separate heating element and a fan to help dissipate steam.
Both do use JetDry, but KitchenAid does a better job in this price range
Bosch has a new drying system on their better models starting at $999. The door pops open automatically to release steam and heat.
Their new "CrystalDry" in models $1200 and above employs a volcanic element called Zeolite to increase heat and absorb moisture.
However, in this price range, KitchenAid is technically better.
KitchenAid KDTE334GPS Vs Bosch SHS863WD5N Quietness
Both are quiet. The Bosch is 44 DBs, and you will only hear a hum. KitchenAid, however, is 39 DB and will be completely noiseless.
In fact, you would have to spend another $1,000 for a lower DB rating than this KitchenAid.
Both are excellent. However, in an open kitchen, you may hear the faint sound of the Bosch and no sound on the KitchenAid.
Click here for the "Quietest Dishwashers by Decibel Rating" article and video.
KitchenAid Vs Bosch Dishwasher Reliability
| | | | |
| --- | --- | --- | --- |
| | Service QTY | Shipped QTY | Service Ratio |
| Asko | 103 | 190 | 54.21% |
| Jenn-Air | 188 | 493 | 38.13% |
| Bosch Benchmark | 25 | 70 | 35.71% |
| Fisher & Paykel | 56 | 193 | 29.02% |
| Miele | 185 | 903 | 20.49% |
| Maytag | 2 | 10 | 20.00% |
| Gaggenau | 16 | 104 | 15.38% |
| Thermador | 126 | 872 | 14.45% |
| KitchenAid | 90 | 688 | 13.08% |
| Café Appliances | 3 | 25 | 12.00% |
| Bosch | 398 | 3573 | 11.14% |
| Samsung | 134 | 1297 | 10.33% |
| LG | 5 | 81 | 6.17% |
| Cove | 2 | 44 | 4.55% |
| Ge Appliances | 1 | 37 | 2.70% |
| Whirlpool | 38 | 1471 | 2.58% |
| Grand Total | 1377 | 10166 | 13.55% |
Based on our 35,256 service calls completed last year, the results are similar.
KitchenAid: 688 sold | 90 Serviced - 13.08% Service Ratio
Bosch: 3537 Sold | 398 Serviced - 11.14% Service Ratio
The numbers are similar. We sold more Bosch through our builder channel. There is less service for condos and apartments for various reasons.
It explains why Whirlpool's number is so low. Whirlpool is sold almost 100% to builders.
Before you decide on either, here are a few other factors.
KitchenAid Vs Bosch Black Stainless Dishwashers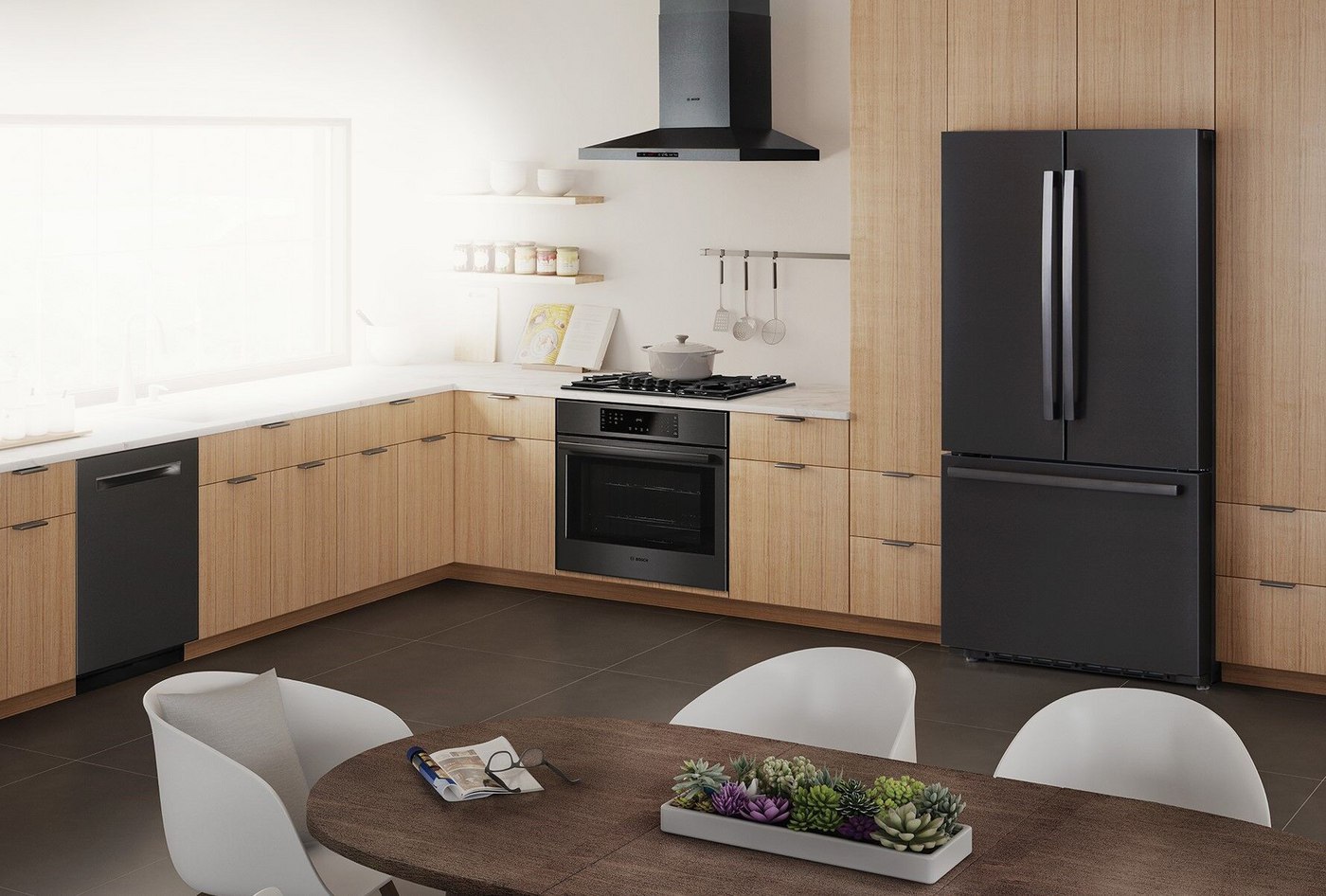 Bosch Black Stainless Steel Kitchen
Black stainless is still popular in some parts of the country. In this area, there is a profound difference. KitchenAid applies a black oxide coating, whereas the color is baked into the process for Bosch
KitchenAid will scratch and peel, but the Bosch will not as easily. You can see the Black steel scratch test below for both brands.
Click here to watch our Black Stainless Steel Scratch Test Video.
KitchenAid Vs Bosch Panel-Ready Dishwashers
Although neither of these models is suited for panels, Bosch has a similar model for placing cabinet fronts on your dishwasher.
Bosch is better for panels because it fits within the cabinet. KitchenAid protrudes outside the cabinet ruining the look.
Which Dishwasher Should You Buy?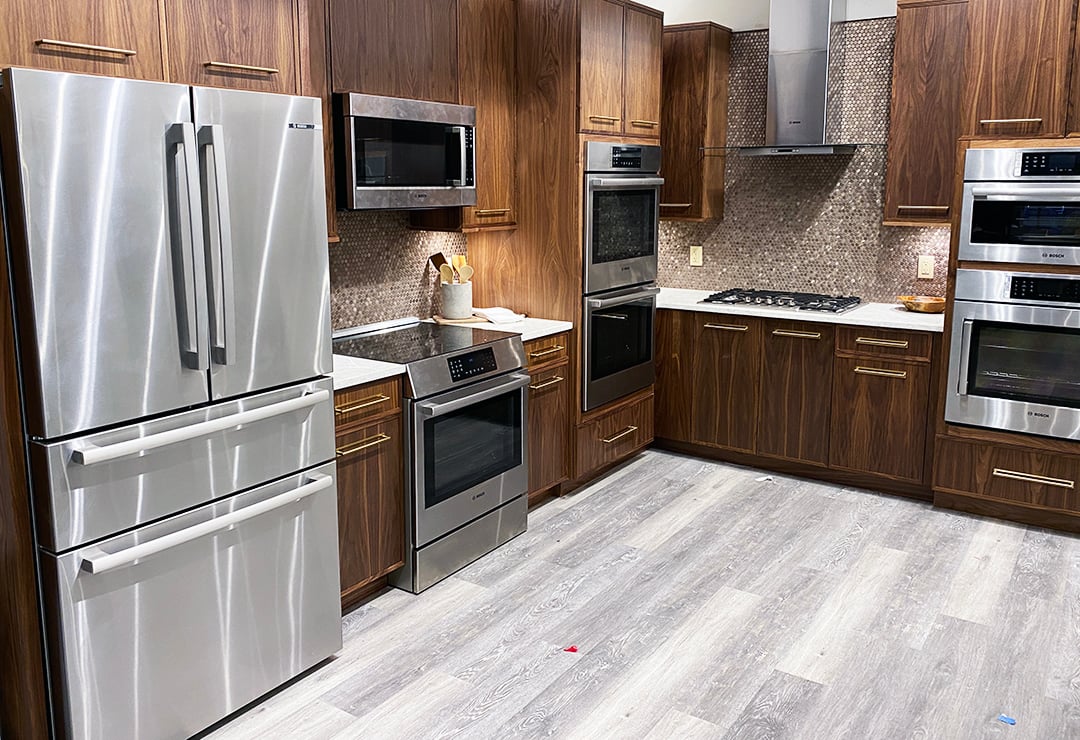 Bosch Kitchen Package at Yale Appliance in Hanover
Well, if you are buying a whole kitchen then consider the other appliances like the stove and refrigerator first because there are more profound differences.
When comparing these dishwashers, when you buy them becomes an important consideration.
Best Dishwasher For Price
Prices can fluctuate as well. Both have installation offers and package rebates.
Generally, it is better to buy an appliance around a national holiday like Black Friday, Labor Day, Memorial Day, July 4th and Presidents' Day.
KitchenAids price fluctuates wildly from $649 on promotion to up to $899 at a regular price.
This Bosch is $769 with a $50 rebate most of the year. So the price can be a factor depending when you buy.
Best Dishwasher For Features
With the price being equal, then KitchenAid is a slightly better choice in this under $900 price range.
It is quieter and has better features such as a third wash arm and fan assist dry. The bottle wash is a decent option if you have a baby or drink from sports bottles regularly.
However, this comparison does change with different models at a higher price because Bosch has better features starting at $1,049.
However, you should consider Kitchenaid over Bosch under $900 for features in this comparison.
Additional Resources
Download the Yale Dishwasher Buying Guide with features, specs, and insider buying tips for every major dishwasher brand. Over 680,000 have read a Yale Guide.
Related Articles:
Why Should You Trust Us?
It seems that every appliance review has nothing but glowing comments about almost every product, yet you read customer reviews and they are almost universally bad.
We are here to fill in the disconnect. We'll give you the best features, and the drawbacks as well, including reliability based on over 37,000 calls performed by our service team just last year. Our goal is to give you ALL the information so you know what's right for you.
Please consider subscribing or adding to the conversation in the comments below. We appreciate you stopping by.
A Note About Pricing
Pricing on this blog is for reference only and may include time sensitive rebates. We make every attempt to provide accurate pricing at time of publishing. Please call the stores for most accurate price.