4 Best Smart Refrigerators for 2022
Smart technology has become a popular trend in many household products.
With the incorporation of Wi-Fi connectivity, smart refrigerators are designed for convenience with features like voice control, remote diagnostics, and even customizing the perfect latte.
In this article, you will learn about the best smart refrigerators to consider for your home from Café Appliances, LG, Bosch, and Samsung.
You will also learn why not to buy a smart refrigerator and what features may be more important.
This article will have everything from features and best brands to benefits and a few very big disadvantages of buying a smart refrigerator.
Let's get started.
4 Best Smart Refrigerators for 2022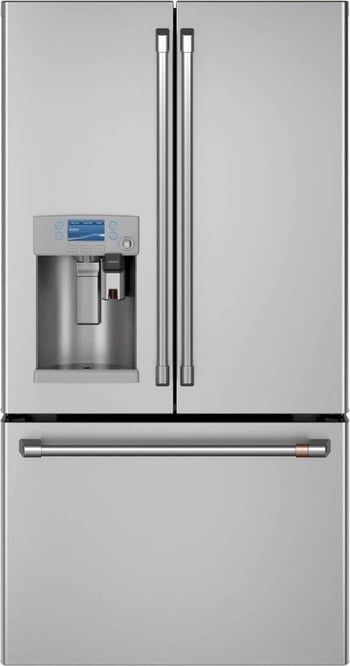 The Café Appliances smart French door refrigerator CFE28UP2MS1 offers a great balance of smart technology and features.
One of the best smart features of this refrigerator is the benefit of being able to brew your coffee or tea before you're even out of bed.
With the Keurig K-Cup brewing system and hot water dispenser, you can select your beverage of choice and when you want it through your phone.
Café Appliances smart refrigerator connects with the SmartHQ app for easy remote access and connectivity between all your smart appliances within the brand.
Through the app, you can access remote diagnostics, receive notifications, and select your preferred settings.
With Service HQ, our service technicians can easily access the refrigerator's diagnostics and plug into your refrigerator to see any issues if problems arise.
Another useful feature is voice control. You can control your refrigerator's settings or brewing features with voice control.
Aside from smart features, this refrigerator features a large 27.8 Cu. Ft of capacity with excellent interior LED lighting.
With its large capacity, you have a pull-out tray for holding large containers, perfect for any host.
The CFE28UP2MS1 has twin evaporators to maintain the best possible temperatures for your food. The refrigerator and freezer air doesn't blend so that tastes and odors don't cross over.
Lastly, this refrigerator is available in multiple finishes for a touch of style in your kitchen.
In Summary: Café Appliances smart refrigerators are not as flashy as Samsung on this list. However, it's practical. Service HQ has GE Appliances behind it. Service is critical for refrigerators, and only GE and Whirlpool offer it nationwide.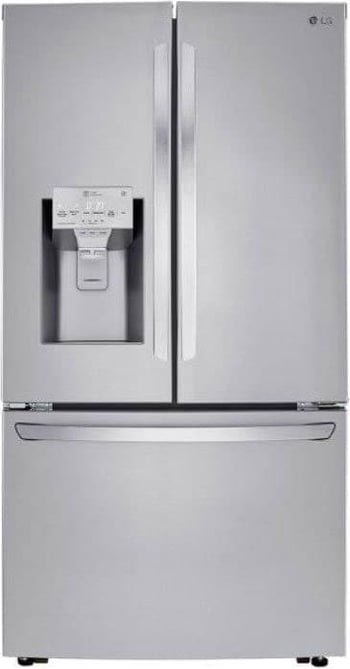 LG, like the others, has a wide variety of smart refrigerators. The LRFX2416S has several features other than smart features to consider.
You can control your refrigerator's key features and monitor your refrigerator if problems arise through your smartphone.
Through the app, you can receive alerts if a door is ajar or maintenance is needed. You can also control the temperature of your refrigerator and freezer.
LG's smart refrigerator can integrate with Google Assistant, Alexa, Intuit, Side Chef, and Amazon Dash.
Another feature with LG's smart refrigerator and app is that you have direct access to LG's Proactive Customer Care system, providing you peace of mind - at least in theory.
LG's service is not as comprehensive as Café Appliances. You may have access to assistance online, but someone showing up at your door could be different.
LG's additional key features include its Cooling System, Linear Inverter Compressor, ice maker, and size.
Like the others, LG's Cooling System has two evaporators and uses nine sensors to monitor every part of the refrigerator and vents.
Their door vents project cold when the refrigerator is open to compensate for the warmer room air.
Inverters have fewer parts and run quieter than a regular compressor. LG's Linear Converter Compressor had problems until 2019 but now has a ten-year warranty.
This refrigerator's ice maker produces craft ice is a slower dissolving cube. If you like fine cocktails and spirits, you will taste more of the beverage and less evaporating ice.
The LRFX2416S is 24 cu. ft and large for a counter depth where the average is 20-23 cu. Ft.
In Summary: LG is a solid consideration for its user-friendly smart features and service alerts along with its cooling system, compressor, and capacity.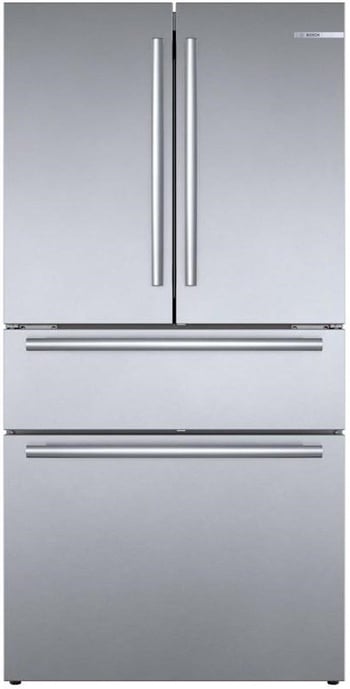 The B36CL80SNS is Bosch's best counter-depth refrigerator available. It's also the most reliable, with a 16.9% service rate based on 37,061 service calls last year.
Bosch's refrigerator is more basic for smart features with a touchscreen control panel and remote control access.
Through Bosch's app, you can monitor your fridge, receive alerts if the door is ajar, and customize your refrigerator's settings.
Like the others, some of its best features are not smart features. Instead, Bosch focuses on features to keep your food fresh.
Many refrigerators have one compressor and two evaporators. Bosch has two compressors or two cooling motors.
As food spoils, it emits ethylene gasses into the air. An ethylene filter will delay the spoiling process as well as cross-contamination to other foods.
This refrigerator is all stainless steel in the back. Stainless steel interiors absorb cold air better and are more hygienic.
In Summary: Bosch's counter depth refrigerator is a good refrigerator to consider overall with easy-to-use smart features. Consider this refrigerator for its reliability and features to prolong the life of your produce.
Most Popular: Samsung Smart French Door Refrigerator RF22R7551SR - $3,509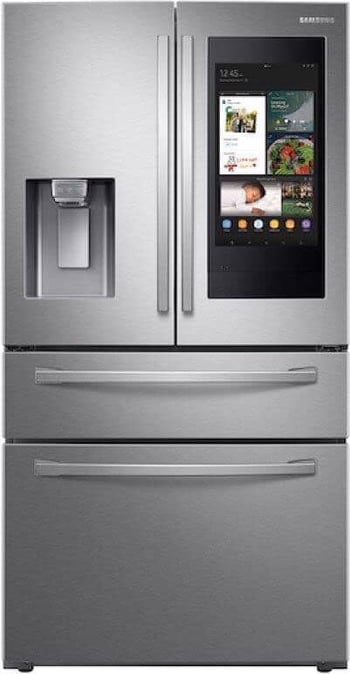 The Samsung Family Hub smart refrigerator is, at first glance, a versatile smart refrigerator.
The Samsung Family Hub refrigerator acts as a central hub for all your smart appliances, as well as Samsung's SmartThings app.
The Samsung Family Hub refrigerator has a Wi-Fi-enabled touchscreen with internet access on the front of your refrigerator.
With the Family Hub, you can organize your family's life by setting reminders of chores, checking schedules, setting up custom alerts, leaving notes, or ordering groceries.
Their best feature is the ability to integrate with your Ring security system so you can see who is at your door or easily monitor multiple rooms within your home.
With compatible integration with Alexa, you can also stream music, share pictures, and control all your connected devices from the Family Hub.
Samsung Family Hub Problems
However, it emulates many of the functions on your cell phone. That's the problem. You have more computing power in your pocket.
Other problems are service and performance-related. Who fixes the computer portion of your refrigerator is unclear.
On top of that are Samsung's popularity and lack of available service in certain areas. Always check for available service in your area before purchasing any appliance.
Like many of the newer refrigerators, Samsung has two evaporators to keep the warmer, humid air of the refrigerator from commingling with the drier, colder freezer air.
You can even convert the fourth door of Samsung's drawer and four-door models from freezer to refrigerator.
However, Samsung finished last in our Project Produce experiment. We tested five refrigerators to see how fresh the fruit and vegetables were over four weeks.
In Summary: The Samsung Family Hub refrigerator has great features, but will you use them? Service and performance may be lacking a bit as well. It may be the most popular smart refrigerator available but check for available service in your area first.
Final Verdict
Without question, you have some interesting features within smart refrigeration.
You can set your Café Appliances Keurig Coffee Maker to brew as you wake up. Samsung's interior cameras can prevent you from buying that extra bottle of mustard at the grocery store.
Then you have some semi-important features like an alert of temperature change or if you leave the door open.
More importantly, you have service alerts, especially in LG.
Service notifications are a great feature but can be a problem at the same time.
You may receive an alert that your refrigerator needs service, but your refrigerator doesn't notify customer support to help you.
Not to mention, you may have problems finding a service technician within your local area.
Instead of investing in smart features, companies should have invested in service first.
Getting the alert is good. Having someone on the way - far better.
Should You Buy a Smart Refrigerator?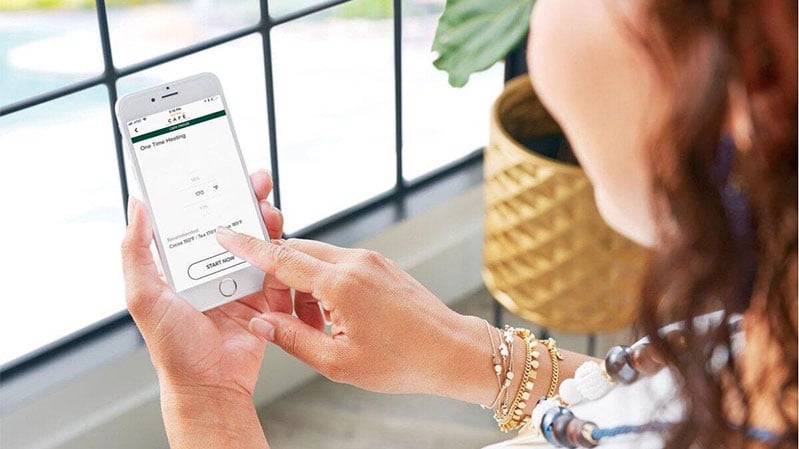 Do you need a smart refrigerator? Probably not.
Smart refrigerators do have some cool features but should not be exclusively the basis of your buying decision yet.
In the next five years, smart will probably evolve into a more critical feature.
For right now, focus on the features you need, including the ability to keep your food fresh.
The best freestanding refrigerators you can buy for freshness are not even smart refrigerators.
According to our four weeks of tests, Beko was number two, narrowly behind Sub-Zero for keeping food fresher longer.
Beko uses blue lighting to simulate photosynthesis. Blue lighting simulates sunlight on the Kelvin lighting scale.
Beko also has a unique temperature management system in the crisper drawers. Beko is the only company guaranteeing freshness for 30 days.
However, they do not manufacture a smart refrigerator as of this writing. Investing in keeping food fresher is again better than most of the smart functionality.
Some of the best refrigerators like True, BlueStar, Hestan, and most Whirlpool and KitchenAid refrigerators are currently not smart.
Lastly, always check to see if there is an available service in your area.
As we said earlier, having an alert on your phone is good. Having it fixed promptly is way better.
Additional Resources
Download the Yale Counter Depth Refrigerator Buying Guide with features, specs, and inside buying tips for regular, pro, and integrated counter-depth refrigerators. Well over 580,000 people have read a Yale Guide.
Related Articles
Why Should You Trust Us?
It seems that every appliance review has nothing but glowing comments about almost every product, yet you read customer reviews and they are almost universally bad.
We are here to fill in the disconnect. We'll give you the best features, and the drawbacks as well, including reliability based on over 37,000 calls performed by our service team just last year. Our goal is to give you ALL the information so you know what's right for you.
Please consider subscribing or adding to the conversation in the comments below. We appreciate you stopping by.
Sara Silvestro
Sara Silvestro is a skilled marketer and writer with over 10 years of experience. In her free time, she enjoys reading, sketching, and embarking on new adventures with her faithful black cat, Raven. With a passion for all things spooky and a love for the Morbid podcast, Sara enjoys exploring the mysteries of the paranormal and seeking out haunted houses during her travels.
A Note About Pricing
Pricing on this blog is for reference only and may include time sensitive rebates. We make every attempt to provide accurate pricing at time of publishing. Please call the stores for most accurate price.