Best 30 Inch French Door Refrigerators (Reviews / Ratings / Prices)
There are three popular widths for refrigerators: 36", 33" and 30". Why are they so popular? Appliances fit cabinets. You will never see a 37" refrigerator, because it cannot fit inside a popular cabinet.
That being said, a 36" is by far the most popular and has the most selection. You are probably reading this because you cannot find a decent 30 inch refrigerator. It is pretty amazing, because most city apartments can only fit a 30 inch fridge.
There are very few actually, because most 30 inch seems to be for less expensive ($499 and up) top mounted refrigerators. However, French doors have better refrigeration space and are generally considered nicer looking.
Below are some of the best 30" French door refrigerators.
Short on time? Get our free Refrigerator Buying Guide
Models / Brands
Not too long ago there was only one option in this segment. Gone are the days of sacrificing style and performance due to size constraints.
Now several manufacturers are offering models in the French door configuration. Style and aesthetics are advantages along with access to the refrigerator at waist height.
With more and more kitchens being designed with islands, French door refrigerators are a better choice. You won't need as much clearance to open the doors, so there is more space between the island and the refrigerator.
Best 30-Inch French Door Refrigerators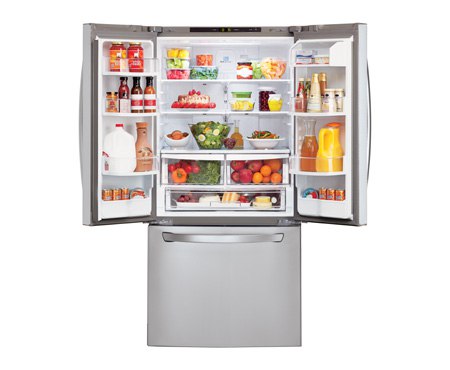 Features:
21.6 Cubic ft capacity
Smart cooling - monitors the internal temperature throughout the refrigerator, reacts and adjusts the temperature. There are vents throughout the refrigerator shelves and drawers to keep the refrigerator perfectly cool.
Adjustable spill proof shelves.
Internal icemaker
Humidity-controlled crispers - these crispers extends the life of the fruits and vegetables.
Auto closing doors
LED Lighting in the back of the refrigerator to give the brightest lighting throughout the refrigerator.
The Smart handle makes it easier to open and close the door
Colors-Stainless, Smooth Black, and White.
Features:
21.8 cubic feet capacity

LED Lighting

Energy Star rated.

Gallon Door Storage

Factory installed ice maker.

Wide Open Pantry- store party platters and long flat trays.

Door Alarm

Cool Tight Door

Colors stainless steel, White, Black, Stainless Platinum
Features:
19.7 cubic foot capacity
LED Lighting
Factory installed ice maker
Speed Cool - when you leave the door open it gives a blast of cold air to bring the food back to the correct temperature.
Strongbox Door Bins- 50 times stronger than normal bin.
FreshFlow Produce Preserver- the packets that go in the fruits and vegetables drawer to take out the ethylene gas so the fruits will stay fresher for a longer period of time.
FreshFlow Air Filter- it removes odors that are moving through the refrigerator.
Full Width Fold-Away Shelves- folds back so you can put larger items on the shelf below. Like a pitcher of lemonade.
Pure-Ice filter-takes some contaminants and smell from the ice cubes.
Colors - Stainless, Black or White.
Features:
19.68 cubic foot capacity
LED Lighting
Automatic ice maker
Internal water dispenser
Humidity-Controlled Crispers- separate drawer to control the humidity to keep the food fresher longer.
Fresh Chill- controls the temperature in the pantry drawer for meats, wine or produce. You can do that with a manual control that makes it cold or colder.
Produce Preserver- that comes from the fruits and vegetables. This will make the fruits and vegetables stay fresher longer.
Extended Fresh-Temperature Management System-it has sensors in the refrigerator and freezer that manage the temperature to make sure that your food is at the proper temperature.
Colors- Stainless, White, Black
Which One Would I Buy?
There are several ways to pick out a refrigerator. The first way is, if you are doing the whole kitchen over and you need a suite of appliances. In this case you want to maximize rebates from the manufacturers. You should consider buying a kitchen package from one brand for escalating rebates.
If you are just replacing the 30" French door refrigerator, you would want to look at the features and benefits. For example, if the cubic feet is most important, then you may go LG or Samsung for a total of 22 cu ft versus 19.68 for KitchenAid and Maytag (by the way, they are identical products with a few feature differences).
You may want filtered water inside the refrigerator, then consider the KitchenAid. The feature you want to consider is the food preservation. KitchenAid and Whirlpool both have filters to absorb ethylene gas and keep your fruits and vegetables fresher for longer.
What I like about the KitchenAid is the internal water dispenser, style and design and it's made in the U.S. KitchenAid is also available in packages for a better deal if you need a whole suite of appliances.
Then again, at almost $500 more, it should be. Samsung is another product to consider on price. It has a pretty good record of durability.
Additional Resources
Want to learn more about refrigerators, sizes, and features? Get the Yale Refrigerator Buying Guide with features, specs and inside tips to all the brands. Well over 165,000 people have read a Yale Guide.
Related Articles
Brett Lucero
Brett Lucero has been with Yale Appliance + Lighting since 2005, working in our delivery team before transitioning to the sales department. Brett enjoys spending time snowboarding, striper fishing, and golfing.

Read more about Brett here.
A Note About Pricing
Pricing on this blog is for reference only and may include time sensitive rebates. We make every attempt to provide accurate pricing at time of publishing. Please call the stores for most accurate price.