Built-In Vs. Freestanding Compact Refrigerators (Prices / Reviews)
September 22nd, 2020 | 6 min. read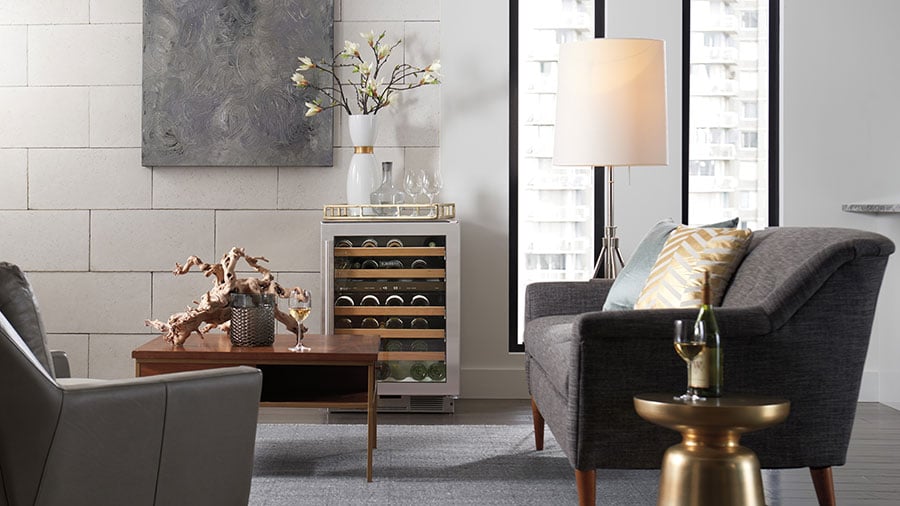 You want to buy a compact refrigerator or beverage cooler for your bar or kitchen.
You see this perfectly good GE six cubic foot refrigerator at $509 and Avanti wine cooler at $669. They have stainless and glass to match your décor.
Then you see this Yale beverage center at $1,799 or a True combination at over $4,000, and you have to wonder why built-in compact refrigerators are so expensive?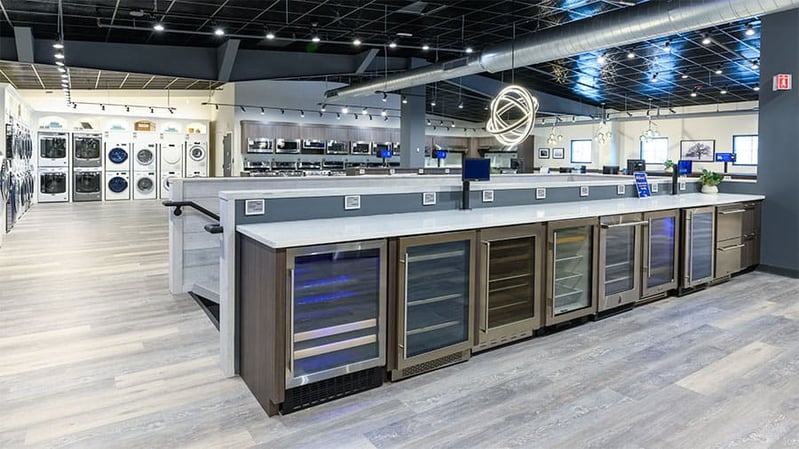 Undercounter Wine Coolers and Beverage Centers at Yale Appliance in Hanover
It's one of the most asked questions in refrigeration, maybe in all appliances.
Why are freestanding refrigerators so inexpensive, yet you can buy a whole kitchen of appliances cheaper than a compact built-in refrigerator in most cases?
It's baffling because you can buy that package with an 18-21 cubic foot fridge, stove, microwave, and dishwasher cheaper than a six cubic foot built-in refrigerator.
Why?
In this article, you will learn all the differences between a freestanding and built-in compact refrigerator, the most popular brands, and the many types of refrigerators, beverage centers, wine coolers, and combination units.
How To Buy An Undercounter Compact Refrigerator
I am writing this in our Stoughton warehouse. Almost all of our team members have their own undercounter refrigerators.
I would like to say its because the lunchroom was closed due to COVID-19. However, more likely, people wanted a place for their food.
Have a look: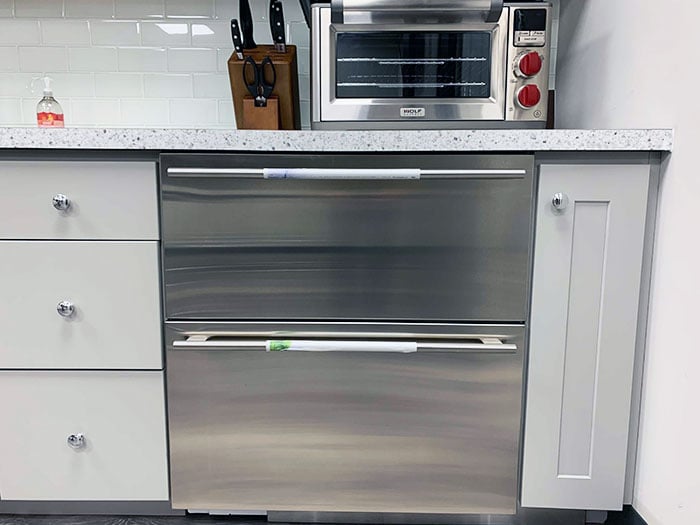 Double Drawer Refrigerator at Yale Appliance in Hanover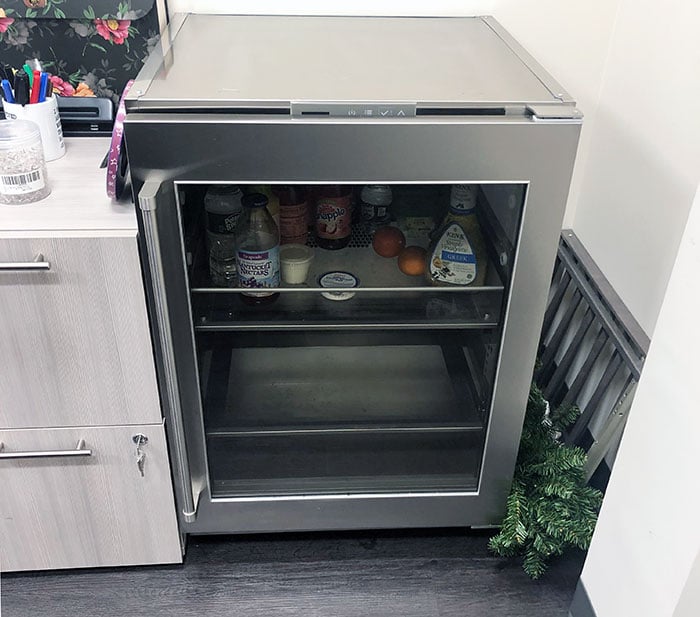 Compact Refrigerator at Yale Appliance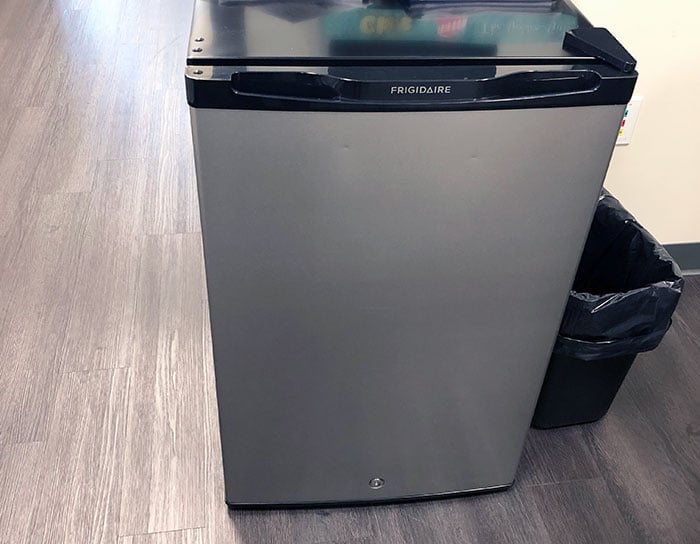 Freestanding Compact Refrigerator
This is a small sample, but only the double drawer refrigerator is built-in. The rest are freestanding.
In these last two applications, you do not need a built-in refrigerator.
I will explain why in greater detail below.
Let's start with brands you should expect to buy for built-in and freestanding compact refrigerators.
Most Popular Freestanding Compact Refrigerator Brands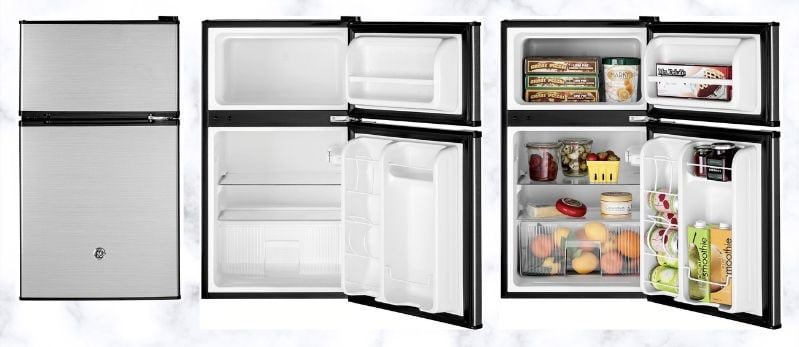 GE Freestanding Compact Refrigerator and Freezer
GE, Frigidaire, Haier, and Summit are the most popular undercounter freestanding refrigerators using a Google search. It's a mixed bag of known and off-brand products.
However, they are all imported and have similar specifications.
See More: Most Popular Undercounter Freestanding Refrigerators
Most Popular Compact Built-In Brands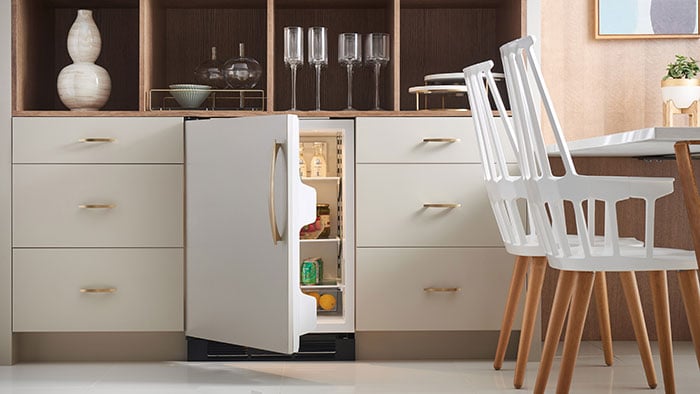 Sub-Zero Undercounter Built-In Compact Refrigerator
Sub-Zero, True, Yale, Marvel, KitchenAid, and U-Line are the most popular brands. They are all different in terms of features and prices starting at $1400 to $4,000.
Built-In And Compact Refrigerator Sizes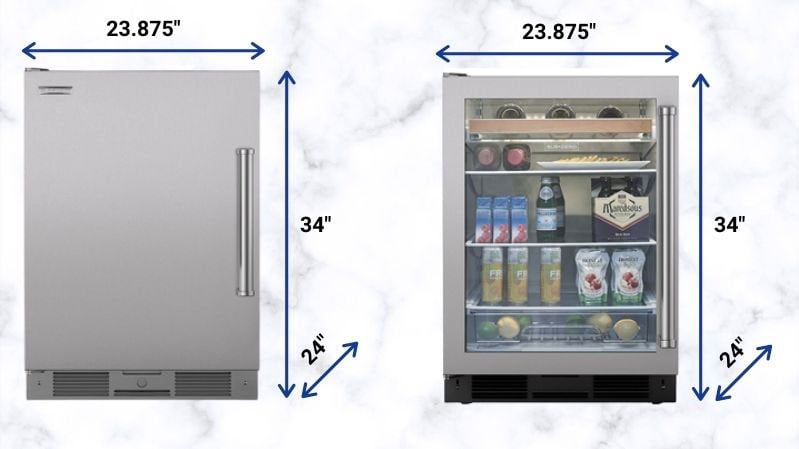 You will notice most of these refrigerators share the same dimensions. They are all 34 high by 23.5 wide by 24 deep.
They all fit the most common 24-inch cabinet size. Dishwashers and compact laundry are also designed around that cabinet.
You can buy a few different sizes in 18 and 15-inch widths, but over 90% of the products are 24 inches.
Different Compact Refrigerator Types
I mentioned refrigeration in the title, but undercounter all refrigerator are not as popular as other types.
The following are more popular undercounter options.
1. Beverage Centers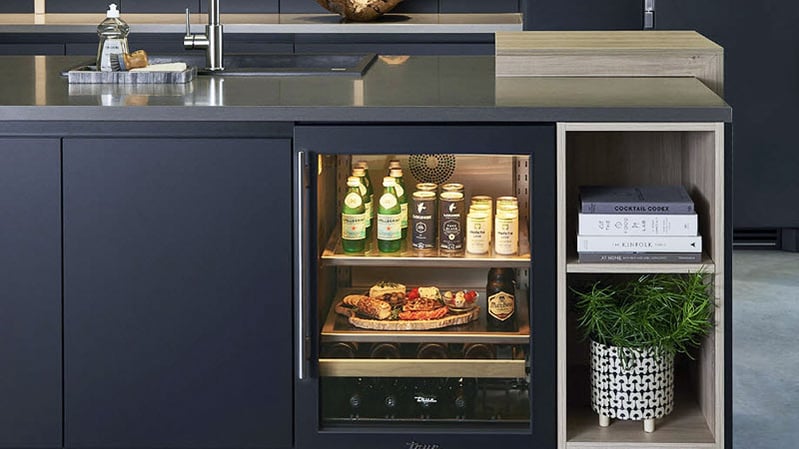 True Undercounter Beverage Center
Beverage centers are designed to hold all different types of beverages, from wine to soda cans. You can even accommodate food. It's is the most popular type of under counter unit.
Yale, KitchenAid, and True have popular models.
Read More: Best Undercounter Beverage Centers
2. Wine Storage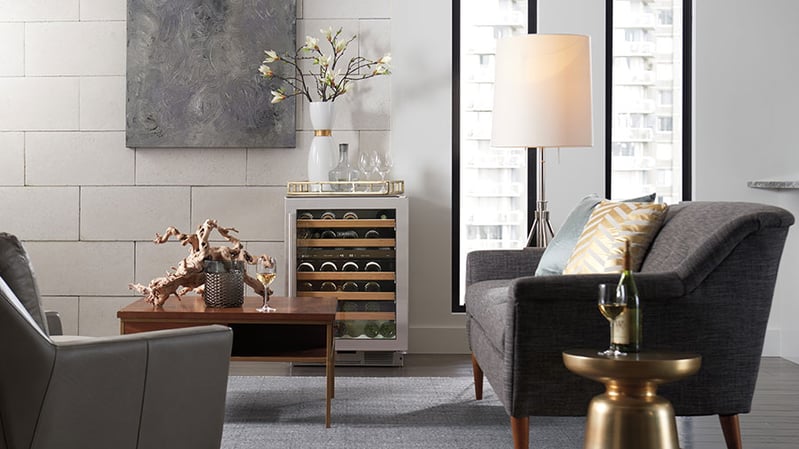 Sub-Zero Wine Cooler
These undercounter wine storage refrigerators have racks designed to hold wine bottles. They all have racks, but few are designed to store wine for an extended period of time. You will learn why further in this article
3. Combination Units
A combination of a refrigerator and freezer with or without an ice maker is another option.
Learn More: Best Undercounter Combination Refrigerator and Freezers
4. Ice Makers
Installed Sub-Zero and Wolf Ice Maker
Ice makers are available with pumps to sinks or gravity-fed through a drain. Ice makers need to be cleaned periodically.
Read More: How To Clean Your Ice Maker
5. Drawers
Sub-Zero Built-In Refrigerator Drawers
Drawers are more expensive but are convenient for kids. They can have their unit for juices, water, and yogurts.
Compact And Undercounter Refrigerator Maintenance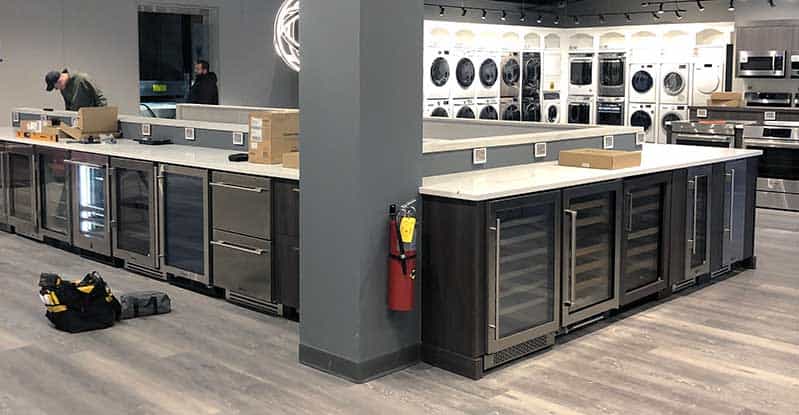 Undercounter Refrigerators and Wine Coolers routine Maintenance at Yale Appliance
A friend of mine complained about his Sub-Zero wine cooler. It wasn't working. The repair agency quoted some astronomical amount to fix. (He lives in Florida a bit out of our service network).
I asked him when the last time he cleaned under it. He hadn't in 5 years.
Whether you buy a freestanding or built-in refrigerator, you have to clean either below for a built-in or behind the freestanding unit.
Built-In Vs. Freestanding Compact Refrigerators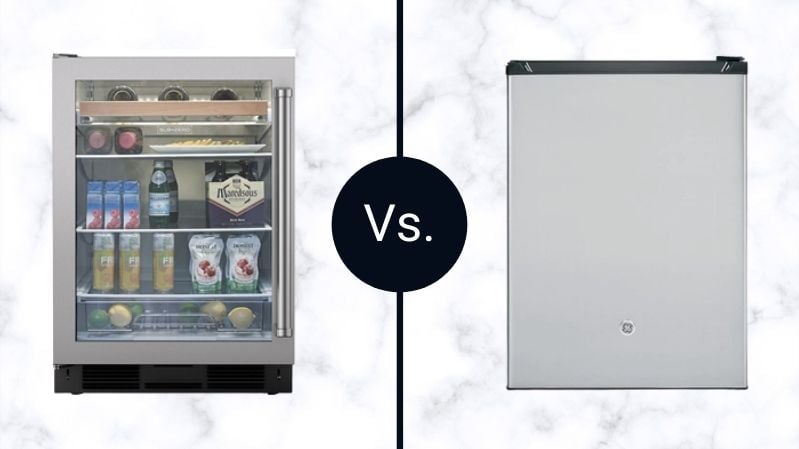 Let's start with the biggest difference:
Freestanding compact refrigerators have the compressor on the back, whereas built-ins have the compressor on the bottom.
More importantly, a freestanding compact refrigerator cannot be built under a cabinet because air will not circulate properly.
It's a bit odd because more giant refrigerators all have compressors built-in below as well.
Built-in compacts are designed to be built into that 24-inch space with the compressor below.
A quick tip: You have to clean under any refrigerator a couple of times a year or that debris will affect and eventually shut down your compressor (I know I said it twice).
Component Quality
Compact built-ins are built-in steel versus plastic in a freestanding refrigerator. The shelving will be better as well with glass vs. plastic.
Shelving shouldn't matter except in wine. You want a smooth rollout in a wine unit because vibration harms the grape's tannins, affecting taste.
It's best to have a better system addressing light, vibration, humidity, and temperature so you can store your wine longer.
There are few brands with the ability to store wine. Built-ins are far better than freestanding in this regard.
Temperature Controls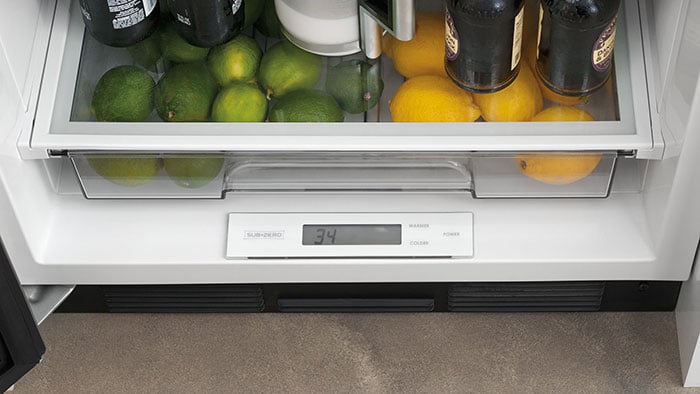 Sub-Zero Built-In Compact Refrigerator Controls
Typically the temperature settings on a freestanding are between 34-50 degrees, whereas you have more temperature flexibility at 34-65 degrees in a built-in.
Most dual zone refrigerators are misleading and imprecise. The top "zone" is warmer because cold air is heavier than the bottom "zone."
Sub-Zero for wine has two evaporators for two dual settings on their wine storage systems along with a gasket separation so you can keep your reds and whites in different environments.
Design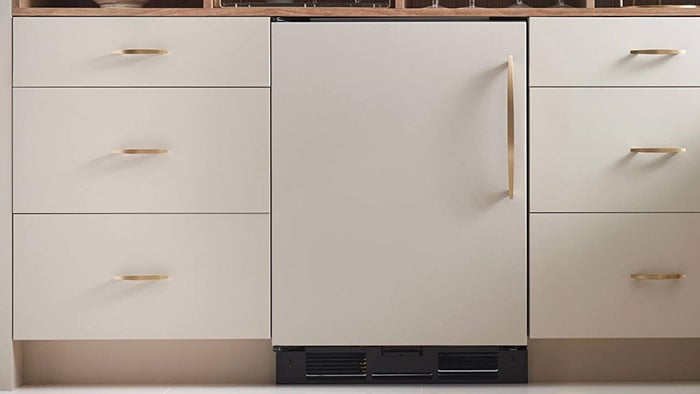 Sub-Zero Built-In Compact Refrigerator With Custom Cabinet Panel
If you want to place your panel on the refrigerator, then built-ins are your only choice. You can place a panel over the whole unit or overlay it showing the bottles or food on the inside.
True has a cool concept with nine different finishes and six other trims. We show it in white and brass in our Hanover store in the larger size.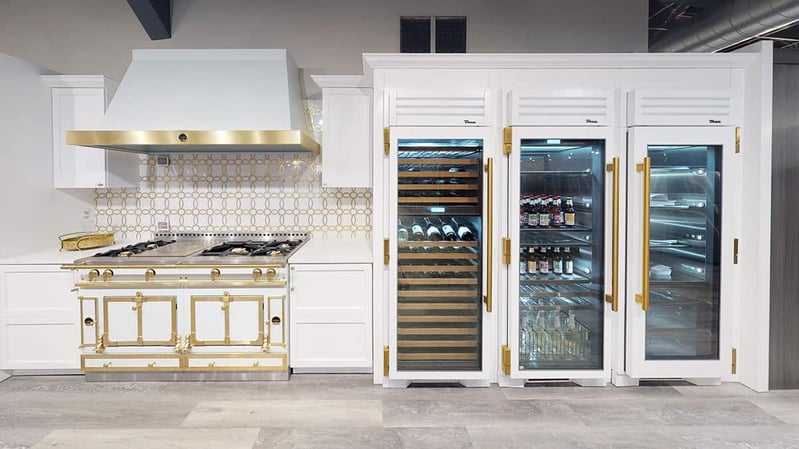 True Refrigeration in White and Brass at Yale Appliance in Hanover
For freestanding, it is almost always glass faces with stainless trims or solid doors.
Warranty
Freestanding is almost a throwaway. They may have a one year warranty, but there will be no service departments to fix it.
The cost of sending a truck and qualified tech costs too much to support this (or any) less expensive product adequately.
Just call a company selling one of these units and tell them you need a repair. The response is surprising, but don't plan a repair for a freestanding.
On the built inside, Yale has a 5-year warranty with a service department. Sub-Zero and True have extended warranties as well.
Built-In vs Freestanding Compact Refrigerators: Key Takeaways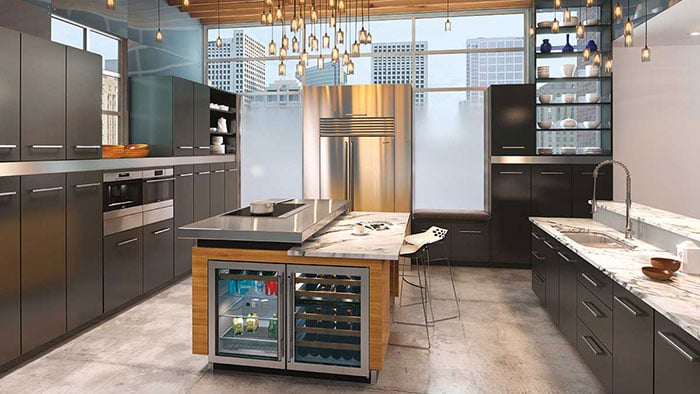 Sub-Zero Undercounter Built-In Compact Refrigerator and Wine Cooler
I am not discounting the value of a freestanding compact refrigerator. I had one in college. Some of us have them now to hold water.
But they are not designed to be built into a cabinet.
Freestanding should be left freestanding. If you build in the unit, the compressor will seize over time.
Built-ins are expensive without question. You can buy a 26 cubic foot refrigerator for less than a six cubic foot built-in compact.
However, they are manufactured well with better components and the ability to customize.
The opposite is true, as well. You do not need to buy a built-in if it is freestanding unless you store five more expensive wine.
You can also repair a built-in if you find better service companies before you buy them.
So consider your application. Then buy the built-in for your cabinets or freestanding in your office or separately in your home.
Best Undercounter Built-In Refrigerators
Let me show you some interesting undercounter built-in refrigerators.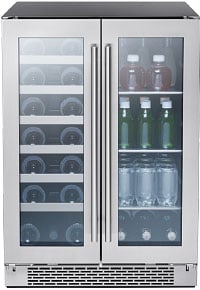 Can't decide between wine refrigerator and can storage. This unit can store 21 bottles and 64 12 oz cans.
It's also quiet at 38 dB with temperature controls from 34-65 degrees. The unit is warrantied for five years.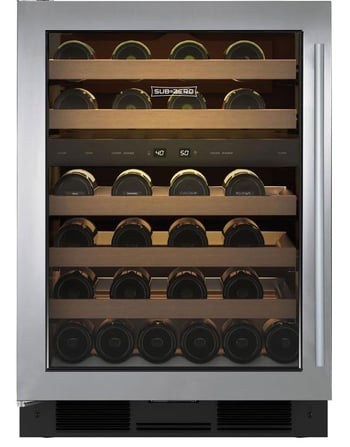 Wine storage has improved dramatically over the years with Low E doors to prevent UV rays from harming your wine and better glide out shelving.
However, Sub-Zero is designed to store wine longer.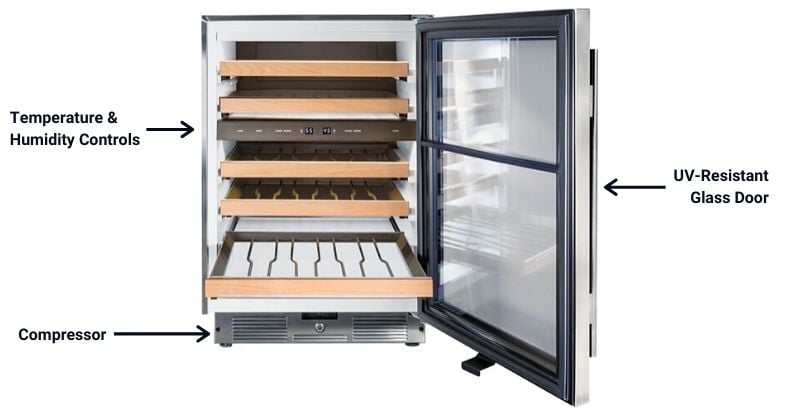 It has vibration dampening grommets on the compressor. Its two temperature zones are still the most accurate in the industry.
Read More: Should You Buy A Sub-Zero Wine Cooler?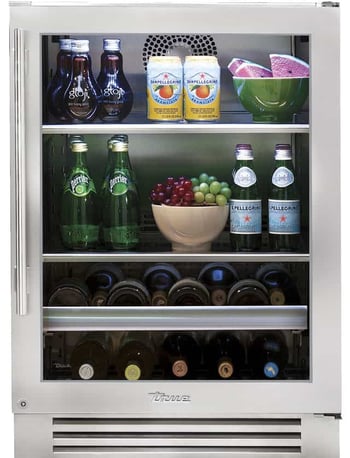 Nothing is built quite like a True. It is metal inside and outside. You can even place a True on the outside of your house, even in New England.
Metal absorbs cold better than plastic, so your drinks will be colder when placed against a metal surface.
True has several LED lights on the inside. Even if LED is functionless, it is interesting.
Additional Resources
Get the Yale Undercounter Refrigerator Guide with features, specs and inside tips to all the beverage centers, refrigerators, freezers and ice makers. Over 820,000 people have read a Yale Guide.
Related Articles:
Why Should You Trust Us?
It seems that every appliance review has nothing but glowing comments about almost every product, yet you read customer reviews and they are almost universally bad.
We are here to fill in the disconnect. We'll give you the best features, and the drawbacks as well, including reliability based on over 37,000 calls performed by our service team just last year. Our goal is to give you ALL the information so you know what's right for you.
Please consider subscribing or adding to the conversation in the comments below. We appreciate you stopping by.
Steve Sheinkopf is the third-generation CEO of Yale Appliance and a lifelong Bostonian. He has over 38 years of experience in the appliance industry, and he is a trusted source of information for consumers on how to buy and repair appliances.

Steve has also been featured in numerous publications, including the New York Times, Consumer Reports, The Boston Globe, Bloomberg Radio, the New York Post, The Wall Street Journal, and Entrepreneur, for his knowledge of how to buy appliances and appliance repair.

Steve is passionate about helping consumers find the best appliances for their needs, and he is always happy to answer questions and provide advice. He is a valuable resource for consumers who are looking for information on appliance buying, repair, and maintenance.

Despite being the worst goalie in history, Steve is a fan of the Bruins and college hockey, loves to read, and is a Peloton biker. The love of his life is his daughter, Sophie.
A Note About Pricing
Pricing on this blog is for reference only and may include time sensitive rebates. We make every attempt to provide accurate pricing at time of publishing. Please call the stores for most accurate price.