Best 30-Inch Wide Refrigerators (Reviews / Ratings / Prices)
You're probably asking yourself, why aren't there better options for 30-inch refrigerators?
Refrigerators (and appliances) are designed to follow cabinet sizes.
The three most common cabinet widths for refrigerators are 36", 30" and 33", in that order.
Thirty inches is really the standard in most city apartments and smaller kitchens.
Yet there are only a few upscale pieces in the 30-inch size. Yet, In Boston, 30-inch cabinets are most common.
In this article, you will learn the best options and features for counter and full depth 30-inch refrigerators.
First, let's look at the different refrigerator configurations and average prices. Then you will learn about counter vs. full depths.
Then you can pick your best option.
Short on time? Get our free Refrigerator Buying Guide
30-Inch Refrigerator Configurations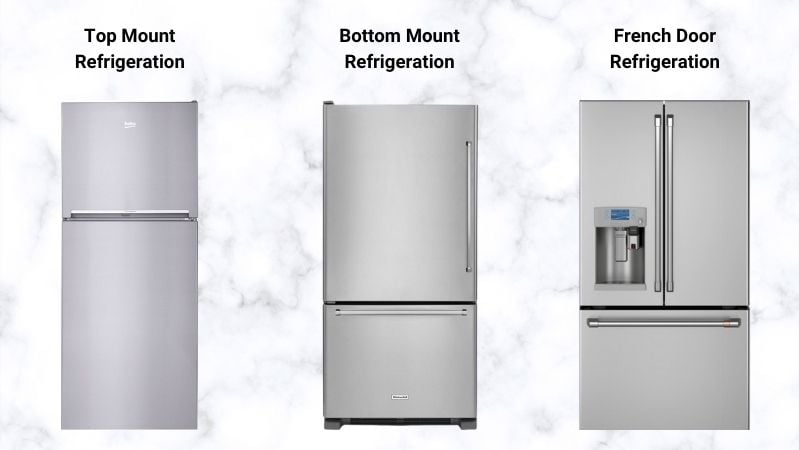 Top Mount Refrigerators: Top mounts are the least expensive, with the refrigerator on the bottom and freezer on the top. You can buy the most cubic footage at 21 in a top mount in a 30-inch width.
Bottom Mount Refrigerators: Bottom mounts have become more popular as the refrigerator becomes more accessible. For a 30 inch refrigerator, the max cubic footage is about 19 cubic feet.
French Door Refrigerators: French doors are side-by-side tops with a bottom freezer. French doors have better lateral storage than a side-by-side and more refrigerator space. In a 30 inch wide refrigerator, the max cubic footage is about 22 Cu. Ft.
Read More: French Door Vs. Side-by-Side Counter Depth Refrigerators
Counter-Depth Vs. Full Depth 30 Inch Wide Refrigerators
Standard or full depth refrigerators protrude from the countertop and are priced more reasonably than a counter depth refrigerator.
3 Types Of Counter Depth Refrigerators For A 30-Inch Wide Refrigerator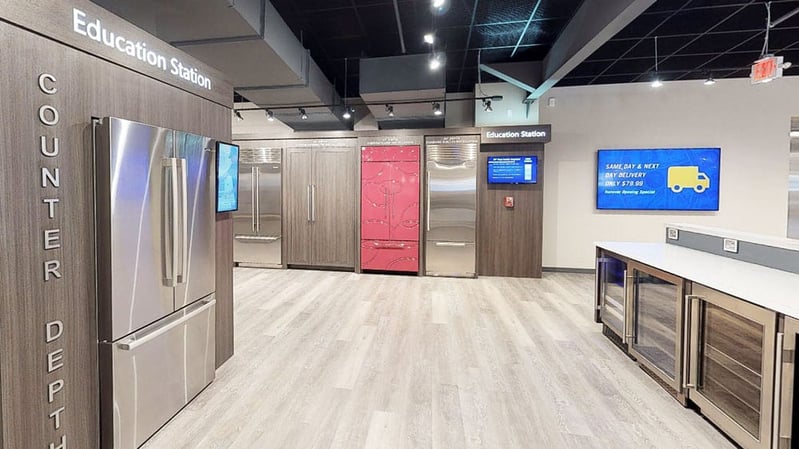 Standard is just a regular refrigerator with less depth. It looks the same. The max cubic footage for a regular counter depth refrigerator is 25 Cu. Ft.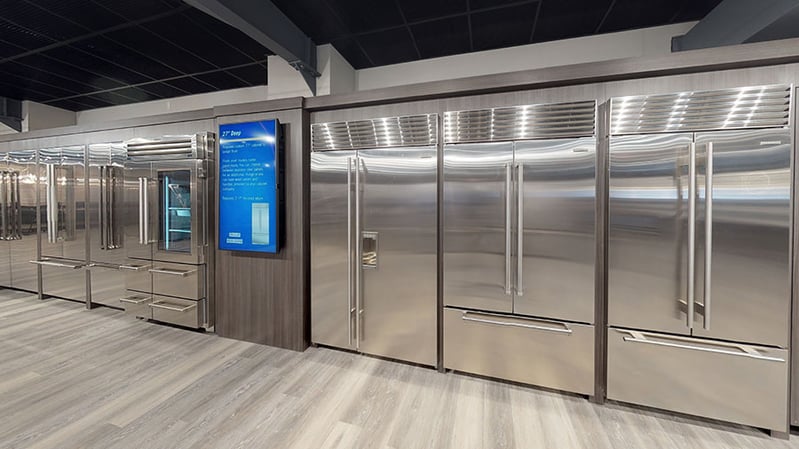 Professional has the compressor on the top like a restaurant refrigerator. It's designed to have a custom cabinet front. It also looks great in stainless steel.
The max cubic for a professional refrigerator in a 30 inch counter depth is about 18 cubic feet.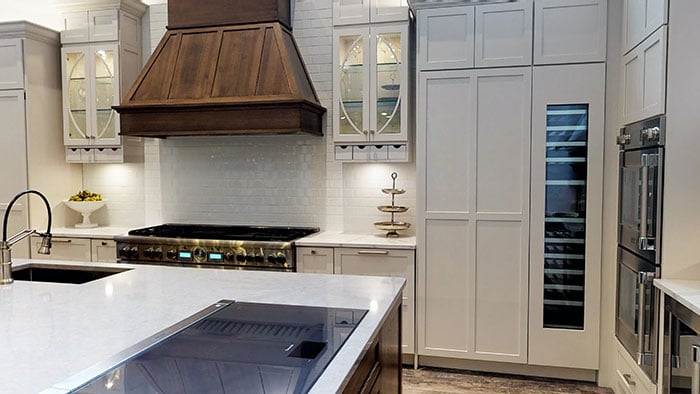 Integrated is the shallowest of the counter depths because it is designed to fit within a standard cabinet.
Integrated is designed to be paneled because it will look like your cabinets. The max cubic footage for a 30-inch width refrigerator is about 15-16 cubic feet.
For a 30 inch width, size decreases and price increases from a basic top mount to an integrated refrigerator.
First, you will see the best 30-inch full-depth refrigerators. Then we'll look at the best 30-inch counter depth refrigerators.
Refrigerator Availability Due To COVID-19
Product availability has been tight for appliances due to factories and warehouse shutdowns for the last 11 months.
The industry doesn't expect a recovery until mid-2021 at the earliest. This article will show you the best available models.
Read More: How To Buy Appliances During A Supply Crisis
Best 30-Inch Full Depth Refrigerators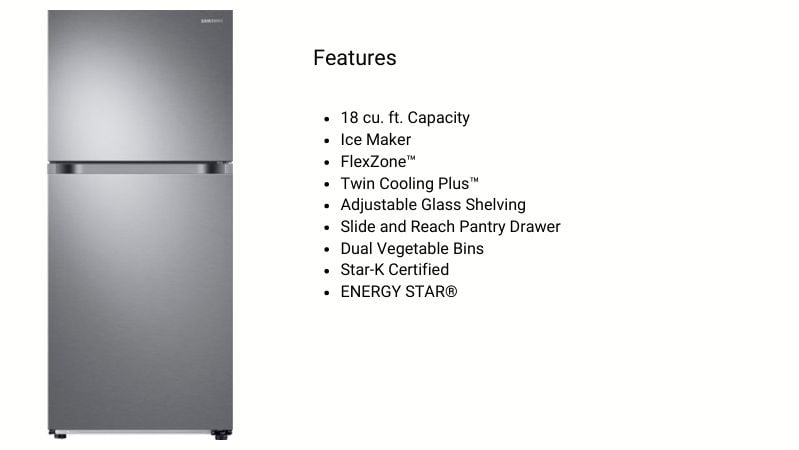 Samsung probably has the best-featured top mount refrigerator in this 30-inch size. It has twin cooling, so the air from the refrigerator and freezer do not commingle.
In other words, warmer moist air doesn't enter a colder, drier environment and vice versa. Your frozen food will taste better. The freezer will defrost less as well.
The freezer can also be converted to a refrigerator as well, with a flick of a switch.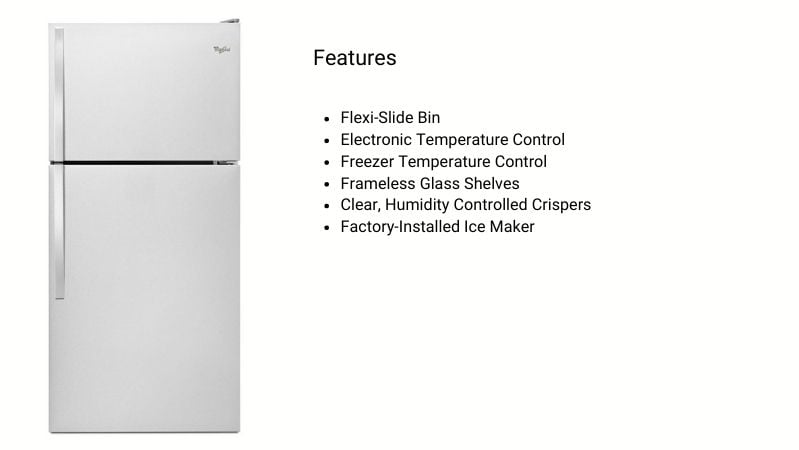 Whirlpool is not as flash or functional as the Samsung. It is reliable and can be repaired easier, however.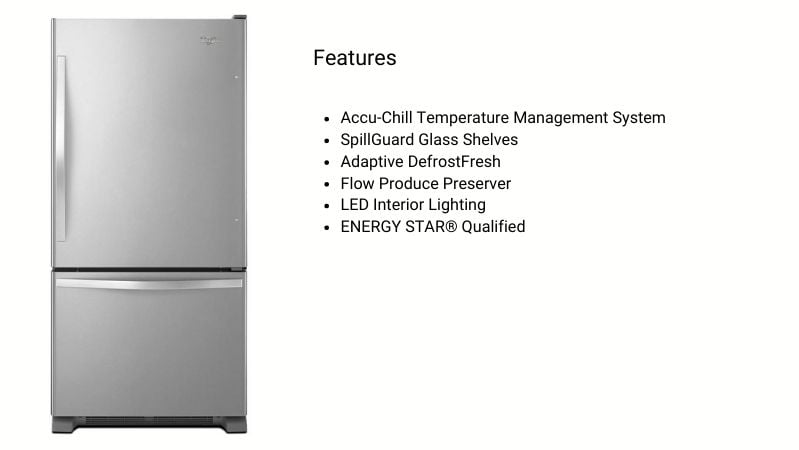 The Whirlpool WRB329DMBM features convenient, versatile storage options, from gallon door storage to adjustable door bins. This refrigerator at the top is more accessible.
The Gallon Door Storage allows for beverages to be stored out of the way, and the adjustable door bins can move up or down to fit various condiments.
This refrigerator also features an Easy Freezer pull-out drawer at the bottom with a slide-out wire basket, allowing accessing frozen food to be easier than ever.
Amana, Maytag, and Whirlpool are in the same unit, so buy the least expensive option.
With Covid, these units have become more expensive than ever.
Whirlpool, Amana, and KitchenAid are similar. Look at their prices as well as package opportunities if you're building an entire kitchen.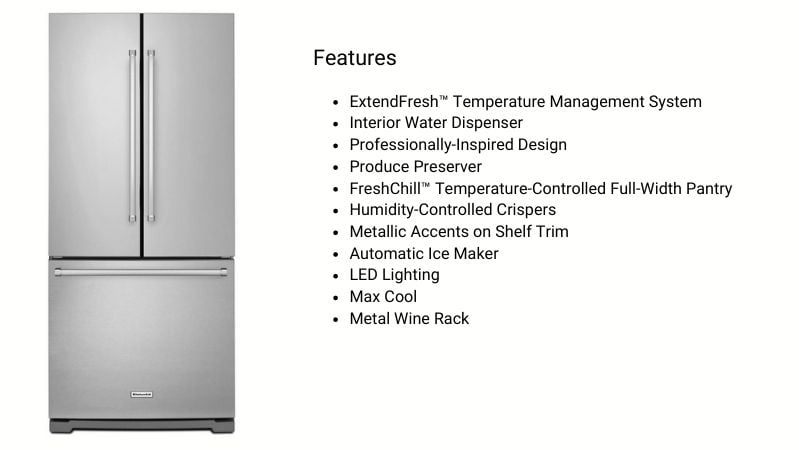 KitchenAid is one of the best of the 30-inch French doors (Read: Best 30 inch French Door Refrigerators) with an interior water dispenser and pretty decent shelving.
French doors allow you to fit food laterally with shorter doors. They are also ideal for kitchens with islands.
Best Premium 30-Inch Counter Depth Refrigerators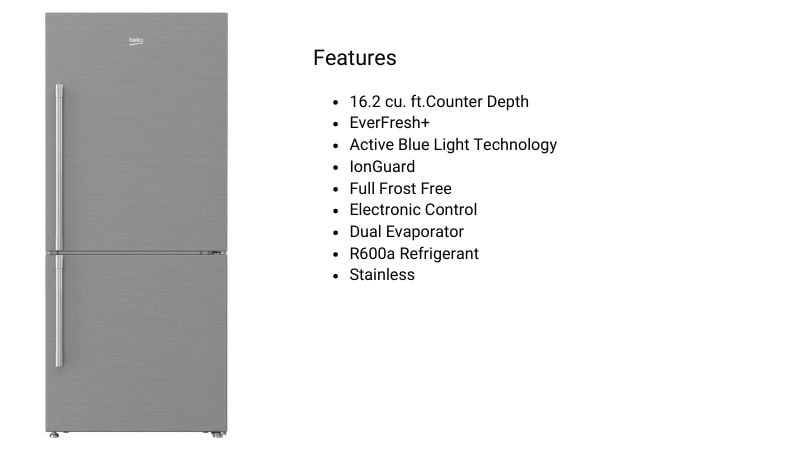 Beko is probably the best value in this article because they specialize in smaller, counter depth refrigerators.
This refrigerator is loaded with features.
Their Blue Light Crispers mimic the sun prolonging the life of fruits and vegetables. Like Samsung, it is dual-zone for the refrigerator and freezer.
Beko even employs an ethylene gas filter to keep foods from spoiling and cross-contaminating other food.
We tested Beko along with other refrigerators on keeping food fresh over a month. Beko was second best only to Sub-Zero.
Read More: Project Produce: Which Refrigerator Keeps Food Fresh The Longest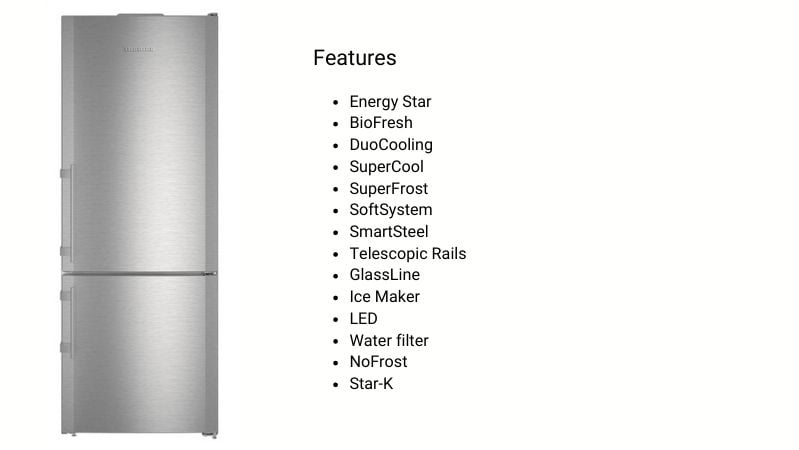 The Liebherr CS1660 features two super quiet, variable-speed compressors to preserve food better.
The BioFresh storage bins are separate compartments in which humidity levels can vary and can help extend your food's life up to three times longer than a regular refrigerator.
Liebherr's box freezer design prevents a gush of warm air from getting into freezing food to prevent freezer burn.
There is a beverage rack, in addition to the two 1-gallon storage spaces in the door, and the refrigerator is lit by LED.
The refrigerator also features Sabbath Mode, a water filter, and a full stainless steel cabinet with SmartSteel (easy clean) doors.
Bosch Built-In Bottom Mount Refrigerator B30BB930SS - $7,499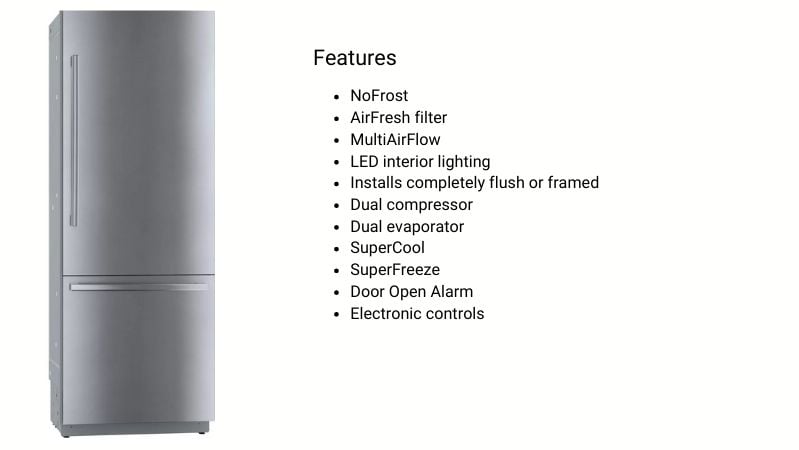 Bosch's B30BB930SS is a great way to find a middle ground between the Sub-Zero and Liebherr. Bosch features some of the same styles as Sub-Zero.
This refrigerator can be installed completely flush or framed, features LED sidewalls and theater lighting and has a full-height door, which allows for true cabinet integration.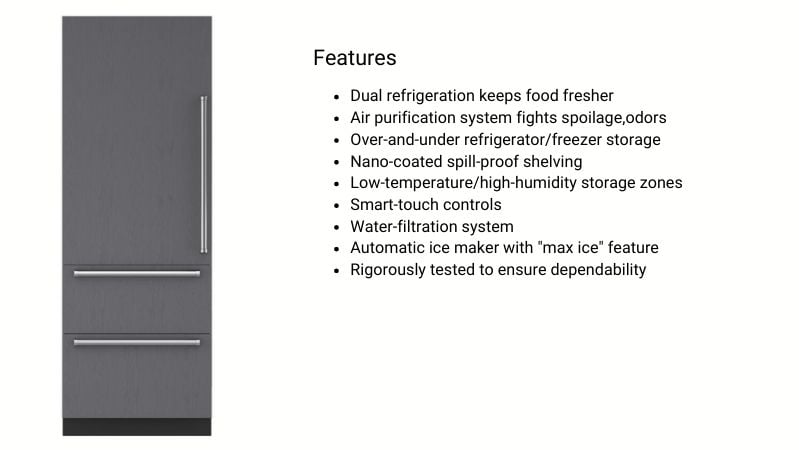 The most seamlessly disappearing refrigerator in this built-in class. Sub-Zero's fully integrated unit stands apart.
The Sub-Zero IT30CI features an upper cabinet refrigerator and two freezer storage drawers below.
This refrigerator features a dual refrigeration system, which ensures the freshest food and energy efficiency—Sub-Zero's dual compressors separate refrigerator and freezer cooling systems.
Fresh food stays fresh in a cooler, moist environment. Dryer air gets locked in the freezer, preventing freezer burns.
Unlike Samsung and Beko, it has two compressors, not one compressor and two evaporators.
The air purification system reduces odors, bacteria, viruses, and gases, and the cartridge can be replaced.
The high-humidity crisper drawer has adjustable dividers, as does the smooth-glide, full-extension freezer drawers.
The Sub-Zero value proposition; the vacuum seal door, magnetic crispers, and air purification keeps food fresher longer.
The BI-30 will be larger, while the IT30 is designed to integrate with your cabinets.
Read More: Best 30-Inch Counter Depth Refrigerators
Best 30 inch Wide Refrigerators: Key Takeaways
That's a tough question as they are all different.
Samsung is excellent with good features, especially for the price. Whirlpool lacks the features but is more easily repaired depending on where you live.
For shallow depth, Beko has good features for the lowest price.
For premium, Bosch and Sub-Zero are decent considerations as well.
Additional Resources
Download the Yale Counter Depth Refrigerator Buying Guide with features, specs, and inside buying tips for regular, pro, and integrated counter depth refrigerators. Well over 580,000 people have read a Yale Guide.
Related Articles
Why Should You Trust Us?
It seems that every appliance review has nothing but glowing comments about almost every product, yet you read customer reviews and they are almost universally bad.
We are here to fill in the disconnect. We'll give you the best features, and the drawbacks as well, including reliability based on over 37,000 calls performed by our service team just last year. Our goal is to give you ALL the information so you know what's right for you.
Please consider subscribing or adding to the conversation in the comments below. We appreciate you stopping by.
A Note About Pricing
Pricing on this blog is for reference only and may include time sensitive rebates. We make every attempt to provide accurate pricing at time of publishing. Please call the stores for most accurate price.