Sub-Zero vs. Samsung vs. Dacor 42-Inch Built-In Refrigerators (Reviews / Ratings / Prices)
Sub-Zero has owned the 42-inch refrigerator market with their side-by-side refrigerators. In 2011, they marketed the more popular French door version.
However, Sub-Zero has never competed against a progressive, technology forward company like Samsung before. In 2016, Samsung bought Dacor and in just 2 years, they have produced competitive products.
Because Samsung now owns Dacor, their refrigerators are very similar in features and based on the same design. Let's see how the newcomers stack up against the veteran, Sub-Zero by first looking at the companies and their 42-inch refrigerators.
Sub-Zero Company Profile
Sub-Zero has been making refrigeration since 1945. They are still a family-owned company and are based out of Madison, WI. They make two styles of 42-inch refrigeration, side-by-side models and French door models. Both have the option to come in stainless steel or have custom panel fronts attached.
Sub-Zero uses a dual compressor, a dual evaporator, and a dual condenser cooling system that allows them to offer superior food preservation. Your food will stay fresh longer in their products due to their superior temperature and humidity control.
Both models offer a water filter and an air filter removing ethylene gas from food. Ethylene gas can cause premature ripening in some foods and faster decomposition and spoiling in others.
Sub-Zero 42-Inch Built-In Refrigerators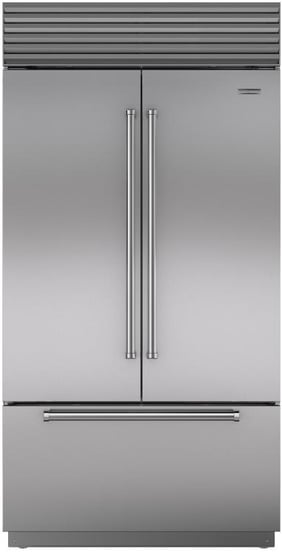 Features:
25 cubic feet of capacity
Fridge and Freezer have separate compressors
Water filtration system
Air purification system
Low temp/high humidity storage zones
Nano-coated shelves-stop liquid spills from spreading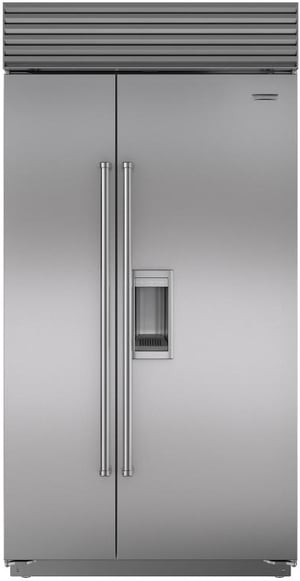 Features:
23.7 cubic feet of capacity
Fridge and freezer have separate compressors
Water filtration system
Air purification system
Low temp/high humidity storage zones
Option for internal or external water/ice dispensers
Samsung and Dacor Company Profiles
Samsung has been making appliances since the late 1960s. Primarily their focus has been on laundry but in the last decade, they have made a major push into the residential kitchen appliance market.
In 2016, Samsung acquired U.S. based Dacor, a high-end kitchen appliance manufacturer. Both brands offer a similar 42-inch, 4-door built-in refrigerator.
Samsung and Dacor both employ a dual compressor system as well. They go a step further as their refrigerators have 3 separate zones.
The third zone can be converted from fridge to freezer depending on your needs. This is a very popular feature in their smaller, freestanding refrigerators.
This system works like Sub-Zero's dual compressor system.
Samsung and Dacor 42-inch Built-In Refrigerators
(Panels and Handles Sold Separately)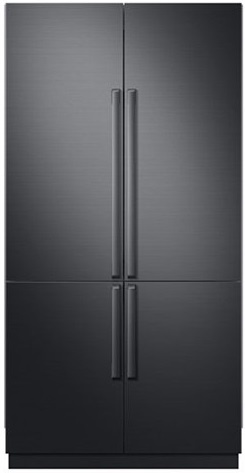 Features:
Panel ready, stainless steel or black stainless options (panels sold as accessories)

Led lighted interior
Internal water dispenser
Triple cooling system
23.5 cubic foot capacity
Metal cooling-metal walls hold temperature better
Deodorizing air filter
Wi-fi enabled, with remote view cameras allow you to access what you have in the fridge on the fly
Humidity controlled crispers
Energy star compliant
Flex zone can be converted to 4 different temperature settings
Dacor DRF427500AP - $10,499
(Panel Kits Sold Separately)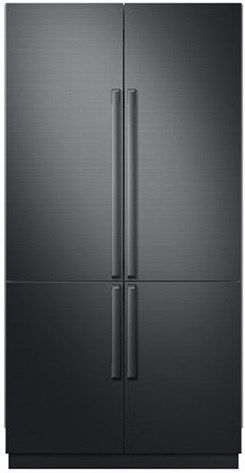 Features:
23.5 cubic foot capacity
IQ remote view wi-fi enabled 3 camera system with matching app to view what's in your fridge
Energy star rated
Internal water dispenser
Fresh Zone Plus compartment-convert from freezer to fridge
Fresh zone drawer-3 customizable temperatures
LED interior lighting
Steel Cool interior
Ice maker makes regular cubes or cocktail cubes
Stainless steel and graphite steel panel kit options
What's the difference between Samsung and Dacor Refrigerators?
So, what separates these units? As you can see, the Dacor and Samsung are virtually identical. Dacor has slightly more stainless steel in their refrigerator's interior and an ice maker with different cube options.
Metal absorbs cold faster than plastic, so placing groceries will be colder faster touching steel instead of plastic. Cocktail cubes are larger and dissolve slower for your drinks.
Dacor has fixed pricing while Samsung tends to offer significant rebates throughout the year, so that price difference can be much larger especially around Black Friday and other promotional holidays.
Sub-Zero vs. Dacor vs. Samsung 42-Inch Refrigerators
Installation
Samsung and Dacor offer the ability of a truly flush install whereas the Sub-Zero will sit proud in a traditional installation. You'd need to buy Sub-Zero column unit for a truly flush install, which is more expensive.
Twin Compressors
They all have twin compressors and separate environments for the moist cool air of the refrigerator versus the drier, colder air of the freezer.
Samsung and Dacor add a third convertible environment on the bottom right. You can change from refrigerator to freezer and back.
Shelving
The Samsung and Dacor have impressive looking shelving. However, Sub-Zero has a nanotechnology coating. It congeals spills instead of allowing them to spread.
It's a great feature when you or your children spill juice all over your refrigerator. You are cleaning juice drops for months. Nanotechnology prevents this.
Wi-Fi
Samsung and Dacor have Wi-Fi, so you can look inside the refrigerator from the grocery store. Sub-Zero does not have this capability currently.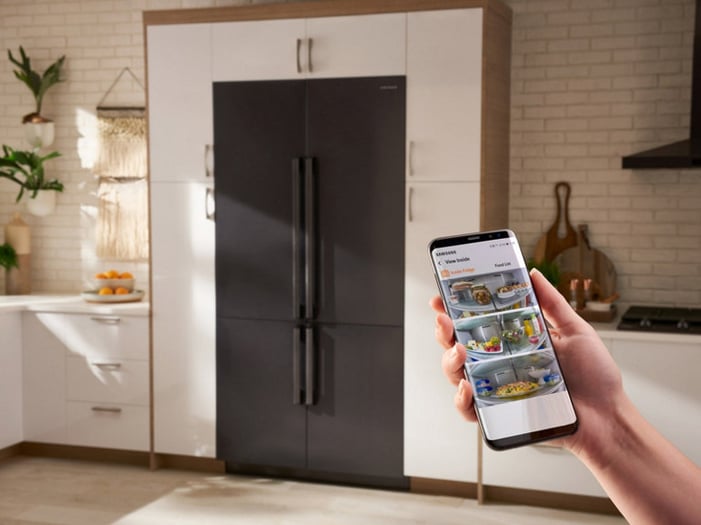 Samsung and Dacor Wi-Fi
Filters
They all offer filters as well. Samsung and Dacor offer a deodorizing filter. Sub-Zero has the air scrubber. Sub-Zero's air scrubber is more effective at keeping food fresher longer.
Service
Sub-Zero has been manufacturing these refrigerators for almost 70 years whereas Samsung and Dacor are new to the market. Also, Samsung is the number 1 selling brand in the US., so that has complicated their service and logistics.
You should ask about the service before you buy either.
Click here for our FREE Delivery Checklist with all the right questions to ask your dealer.
Should You Buy Sub-Zero or Samsung and Dacor?
You are looking at completely different products.
Samsung and Dacor are more technology focused. You have three cameras to look inside and an app to monitor performance. It is flashier inside with metal and theater lighting.
Sub-Zero's premise is keeping food fresher for a longer period of time. It has a vacuum seal on the door, so air does not infiltrate into or outside of the refrigerator.
The crispers are magnetic and lock air out of the crisper itself, so your fruit and veggies stay fresher. You also have better filtration.
They are all great choices depending on what you value.
Additional Resources
Want to learn more about Refrigerators? Get the Yale Refrigerator Buying Guide with features, specs, and detailed descriptions of every refrigerator available. Well over 355,000 people have read a Yale Guide.
Related Articles
Why Should You Trust Us?
It seems that every appliance review has nothing but glowing comments about almost every product, yet you read customer reviews and they are almost universally bad.
We are here to fill in the disconnect. We'll give you the best features, and the drawbacks as well, including reliability based on over 37,000 calls performed by our service team just last year. Our goal is to give you ALL the information so you know what's right for you.
Please consider subscribing or adding to the conversation in the comments below. We appreciate you stopping by.
Brett Lucero
Brett Lucero has been with Yale Appliance since 2005, working in our delivery team before transitioning to the sales department. Brett enjoys spending time snowboarding, striper fishing, and golfing.

Schedule a showroom visit with me
A Note About Pricing
Pricing on this blog is for reference only and may include time sensitive rebates. We make every attempt to provide accurate pricing at time of publishing. Please call the stores for most accurate price.