Kitchen Appliance Trends, Features, and Problems for 2021
Imagine circumventing all the roadblocks of design and construction, and not having a punch list.
You should be excited (heck, you should win an award).
That is not the time to discover your new Black Steel appliances will eventually peel because it's a thin coating.
Designing and building a house is not easy, especially now. It is tougher now than at any time in my 36 years at Yale.
Unfortunately, you will read a ton of misleading information.
In this post, we will examine each trend based on our own data or experiences using the product.
You will have plenty of corresponding videos and references.
In the end, you will make smarter decisions for your home, kitchen, and project.
As usual, feel free to leave comments in the comments below.
9 Kitchen Appliance Trends for 2021
Trend #1: Stainless Steel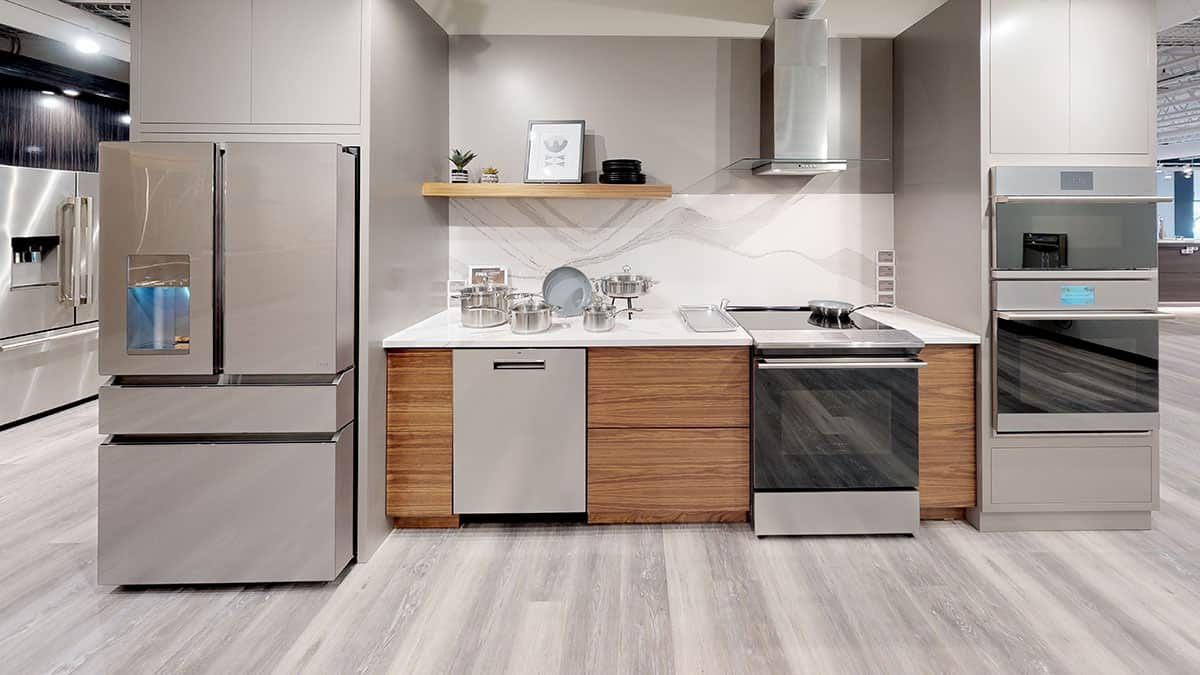 Stainless Steel Kitchen Appliances at Yale Appliance in Hanover
Stainless steel has been popular since 1992 when Frigidaire first marketed stainless for stoves, refrigerators, and dishwashers at more affordable prices.
Before that, Viking introduced stainless steel for their professional ranges.
Flash forward to 30 years later, and is stainless a faded trend?
The logical answer is no for many reasons.
Let's just say you wanted the best appliances for your dream kitchen.
With La Cornue as an exception, Sub-Zero, Wolf, Thermador, Miele, and JennAir are stainless steel lines.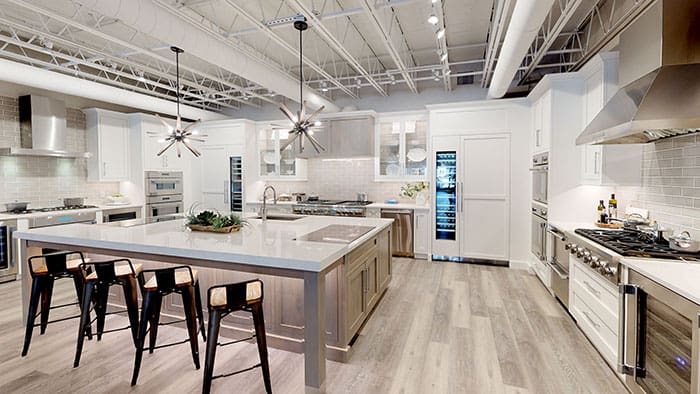 Thermador Kitchen at Yale Appliance in Hanover
You can buy the refrigerator and dishwasher to be paneled, but a cooktop, range, or rangetop are always going to be in stainless steel.
Let's say stainless is a fading trend. What will replace it? The next best-selling finish is white, as shown below in our Café Appliance kitchen.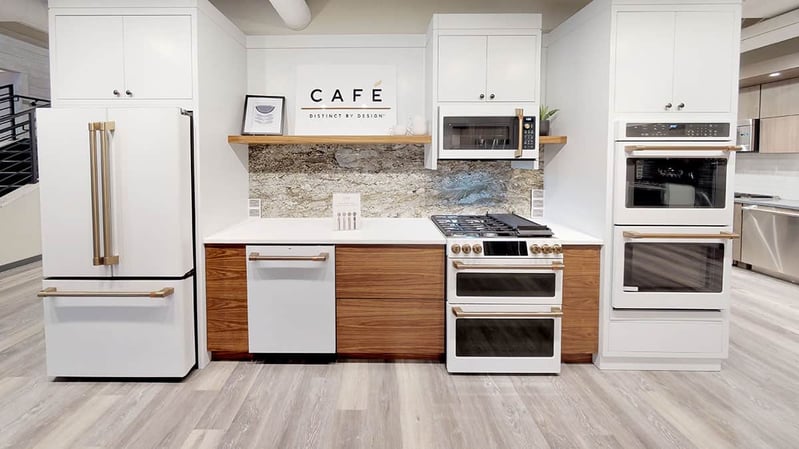 Café Kitchen Appliances in White with Brass Trim at Yale Appliance in Hanover
White appliances are probably 5% of the market tops. What are the finishes for the other 95%?
Manufacturers have tried and failed with all sorts of other finishes.
For a finish to be a trend, it has to be mass-produced. Having a hot finish exclusively, even for a short period, will increase sales dramatically as it did with Black Steel shown below.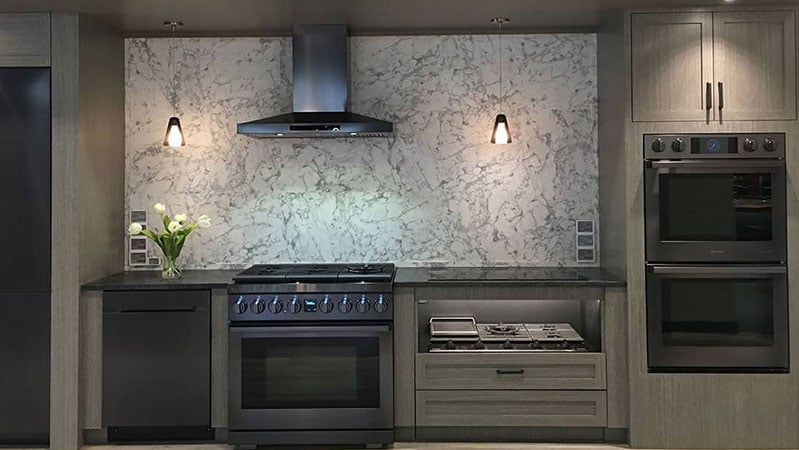 Samsung Kitchen in Black Stainless Steel at Yale Appliance
The following list shows the colors that have been tried and failed just in the last few years:
Black Stainless (all manufacturers)
Brown Truffle (Miele)
White Truffle (Miele)
Oil Rubbed Bronze (JennAir)
Platinum/gray (Many manufacturers)
White ice (Whirlpool)
Black Ice (Whirlpool)
Carbon Steel (Sub-Zero)
Tuscan Bronze (Samsung)
Sunset Bronze (Whirlpool)
That leaves us with stainless steel.
I never understood this until I renovated two homes. Stainless is easy.
It matches every cabinet and style from the ubiquitous white cabinet in its many forms to Farmhouse and Modern kitchen styles.
When you have to make 100 decisions in building your new home, sometimes you default to a few.
It's like wearing a white shirt. Sometimes, there may be better choices, but wearing white is always safe.
Trend #2: Custom Colors and Finishes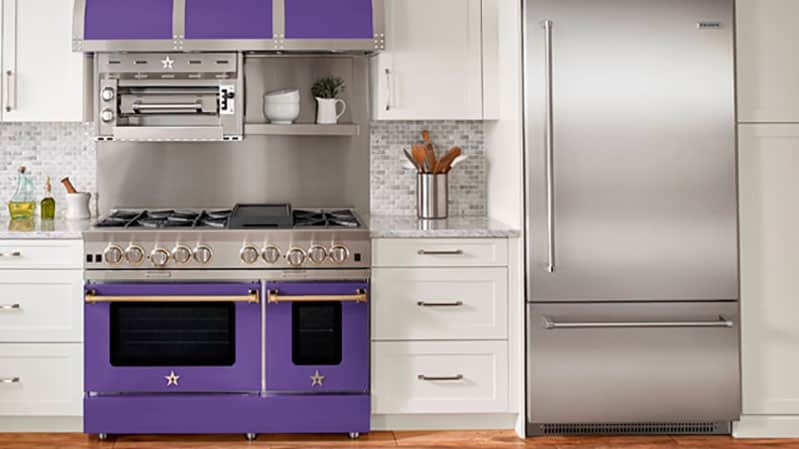 BlueStar Custom Range With a Purple Finish
We discussed colors extensively in March's webinar, 5 Ways to Make Your Kitchen Unique Using Appliances.
Colors, panels, accents, and glass were covered as options. You can watch the webinar to see the different ways to approach style in your kitchen.
Many specialty manufacturers are now allowing you to buy colors or even customize your own.
However, it can be expensive for a color.
BlueStar has 1000 colors to choose from and ten trim packages, plus the ability to customize your own.
La Cornue has 50 colors and eight trim packages, plus the ability to customize. In terms of style and execution, La Cornue is the best. A great design tip is to just look at their website for ideas.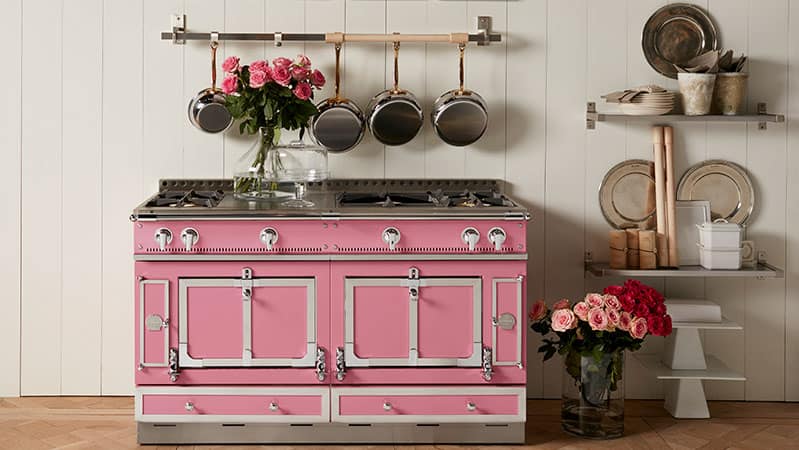 La Cornue Château Range in Pink
Viking has 19 custom colors to choose from.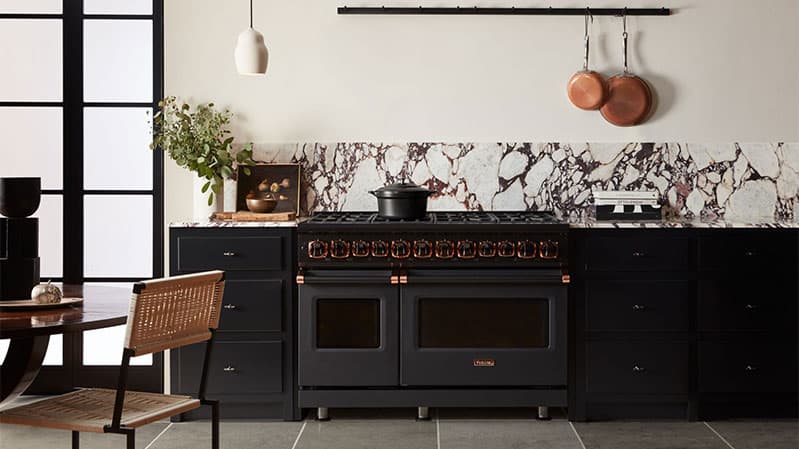 Viking Professional Range in Black
Hestan has 12 groovy California colors with names like Citrus, Steeleto, and Sola.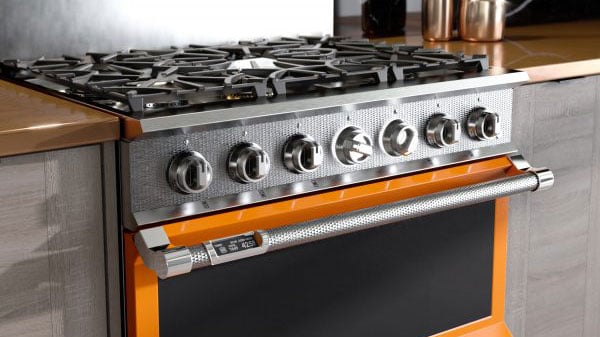 Hestan Professional Range in Orange
Café Appliances has three colors and three trim packages.
Café has become popular, especially with its white and copper or brass handle options.
Fisher & Paykel also has three colors to choose from.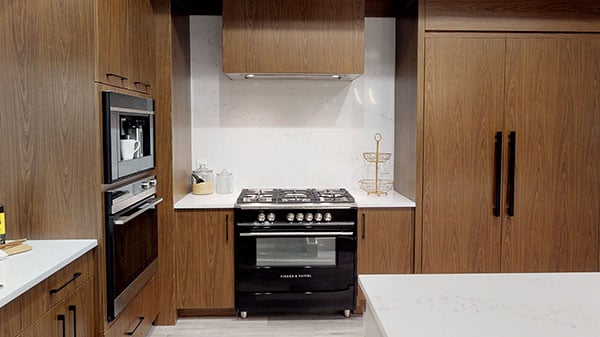 Fisher & Paykel Black Range at Yale Appliance in Hanover
Brands we don't sell like Big Chill, Ilve, Bertazzoni, and Verona also offer custom colors.
A kitchen in one unique finish will cost significantly more.
However, adding one color as an accent on the refrigerator or stove is a great trend in upscale kitchens.
Trend #3: Smart Appliances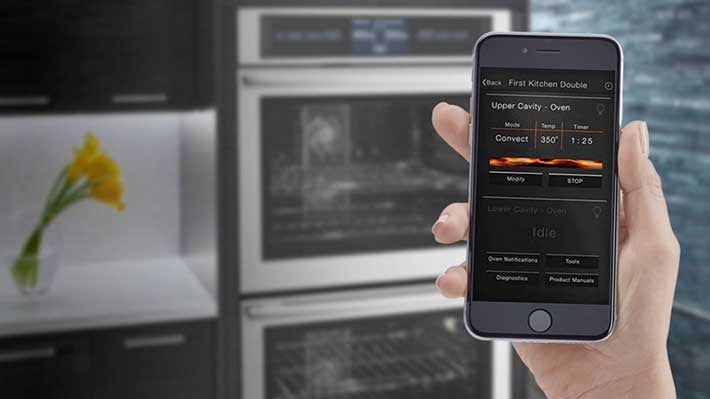 JennAir Smart Double Wall Ovens
We all grew up watching the Jetsons or Star Trek order food through a machine, and the food would appear instantly and perfectly cooked.
I have always loved Smart functionality.
We bought LG's first Wi-Fi-enabled refrigerator almost 15 years ago. It had a camera, radio, and built-in stereo with internet access.
It became our warehouse refrigerator after not selling.
In 2016, Lynx introduced the MyChef with a learning algorithm to cook food to your specifications using 300 sensors.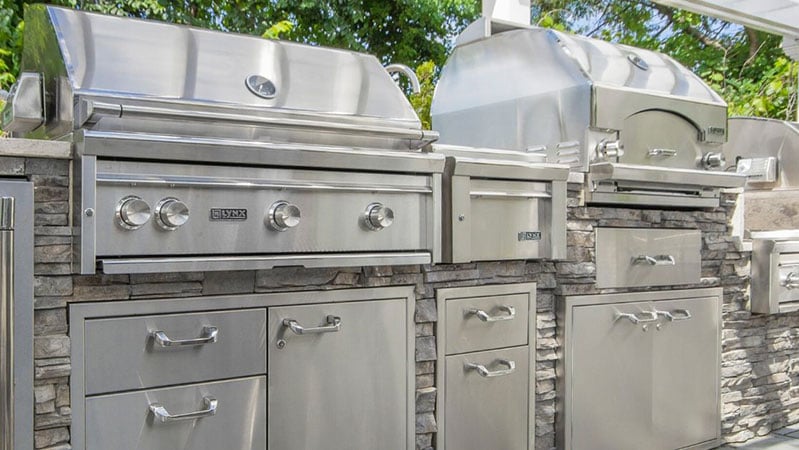 Lynx Professional Outdoor BBQ Grills Built-In at Yale Appliance in Framingham
It has recipes and an app to text you when to turn the food over or remove it from the grill.
MyChef is now available as a special order only with an uncertain future.
In 2018, JennAir revealed its long-term vision for Smart functionality. You would be able to talk to your stove.
Let's say you wanted lasagna. The oven would scan for ingredients in your refrigerator and order what you didn't have.
After cooking it perfectly, the oven would set the dishwasher to the correct cycle for lasagna.
That's pretty bold, but three years later, no manufacturer is close to JennAir's vision.
GE and the Bosch companies seem the closest. GE, with its connection to Haier, probably has the inside track.
Bosch, Thermador, and Gaggenau have the HomeConnect, so you have recipe tie-ins right on the app.
JennAir has recipe ties and has a robust platform but a low rating on the app store.
Wolf will have their Smart appliances out later this year. They typically pioneer anything worthwhile, so it should be interesting if Smart cooking lives up to the hype.
For now, Smart functionality for your appliances is basic with the ability to turn the appliance on or off and monitor food or wash cycle completion.
Smart Dishwashers
Beko has a 39 DB Smart dishwasher, but dishwashers don't need smart functionality as much. You typically turn it on before bedtime, so the cycle ending doesn't matter.
GE, LG, and Miele have Smart functionality as well.
Smart Refrigerators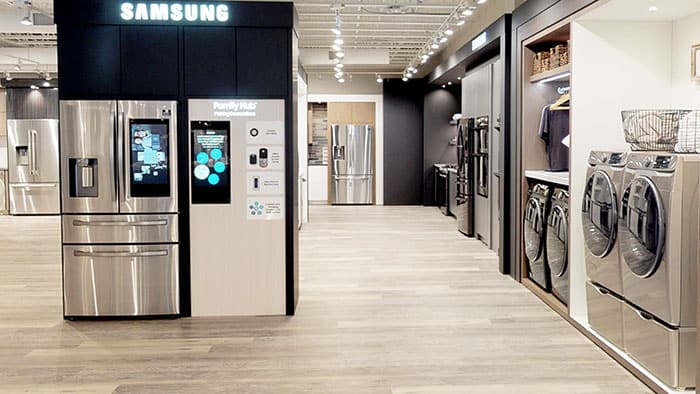 Samsung Family Hub Refrigerator
Once again, the features are basic.
Samsung has their internet-ready Family Hub refrigerator (shown above), so you can look into the refrigerator at the grocery store (it would cut down the bottles of Dijon mustard in my refrigerator).
The actual tablet on the Samsung is a good idea. Then again, you have the same tablet on your phone, and it's more personalized to you.
GE can brew coffee at the precise time you wake up through their Keurig dispenser.
Sub-Zero will send you alerts if the door is open and when the filter and air cleaner need to be changed.
Smart Laundry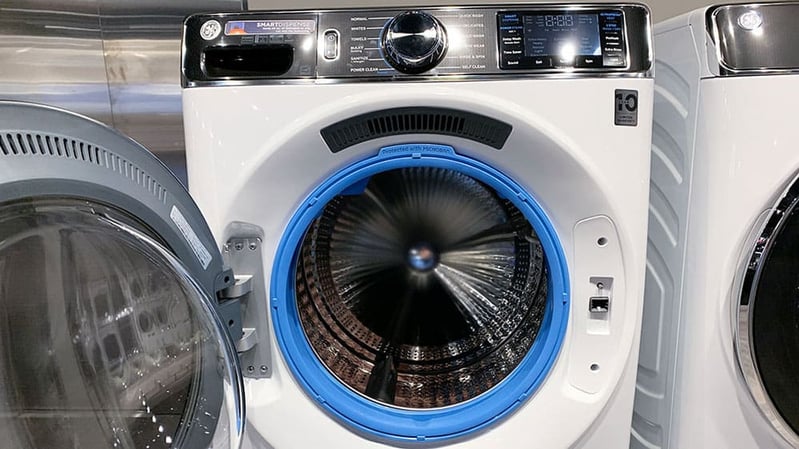 GE Smart Front Load Washer 850 Series
Smart laundry is probably the most convenient.
Who has walked up and down the stairs repeatedly checking to see if your laundry is done?
Or stared at each second as it ticks by?
Smart washers and dryers will text you when the pre-soak or wash cycles are over.
GE and Whirlpool will let you know how much detergent is left in their auto dispensers as well.
LG has customizable cycles through the app.
Smart Grills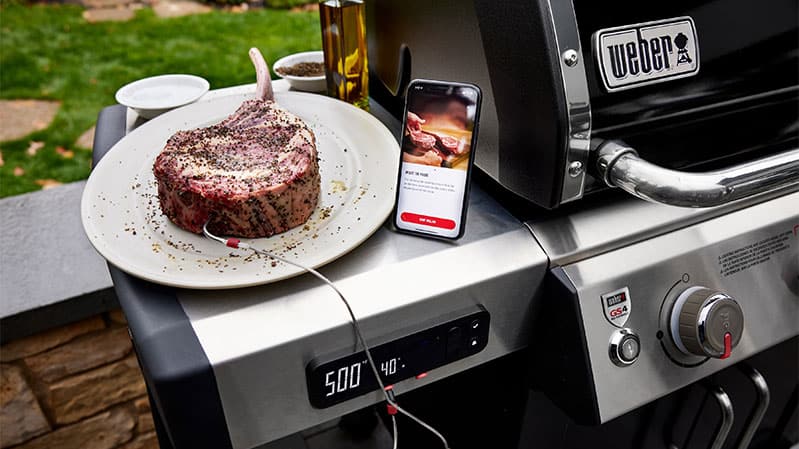 Weber Smart Grill and Grill App
Weber Smart grills are perhaps the least sophisticated smart appliance but work the best. The Weber iGrill system works through Bluetooth meat thermometers.
It texts you when you need to turn the food over and when the food is cooked.
Trend #4: Induction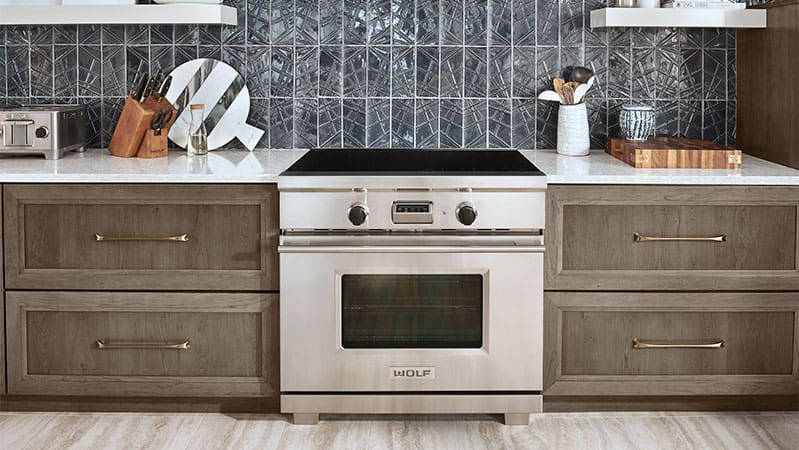 Wolf Induction Range
Last year, I was contacted by the KEG group or the California Electric Group.
Their stated purpose was to introduce induction to the broader market.
However, their secondary purpose was to ban new gas ranges in the state.
Poorly ventilated gas stoves have been linked to IAP (internal air pollution) and SBS (sick building syndrome).
We covered ventilation in our Kitchen Renovation Mistakes to Avoid Webinar in April.
In addition to sickness, you see increased incidents of asthma and other problems.
Personally, I think it's solvable with better ventilation.
However, in California, the gas lines are vulnerable to earthquakes.
California is now looking into legislating a ban on gas ranges.
When you look at the products, induction is more prevalent than ever.
Any lasting trend must start from the manufacturers. It certainly seems like many are at least hedging that induction will be more prevalent.
Induction is faster than professional gas cooking with a better simmer requiring less ventilation and is the most child safe.
It's also the most responsive and the easiest to clean because the surface doesn't heat.
If you have a choice, it's the best type of cooking.
The induction trend is more long-term. It requires 30 to 50 amps per household to convert from gas.
Whether it's mandated from a state or federal level remains to be seen.
Trend #5: The Trend to Unknown or Off Brands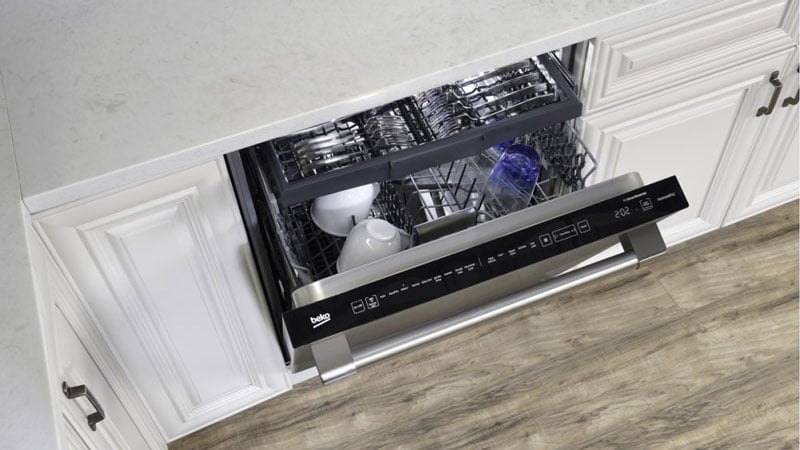 Beko Dishwasher
My daughter's teacher last year needed a dishwasher and wanted a Bosch under $1000.
That's easy. None existed at that time.
I said, how about Beko? It's 39 dB, has a special intense wash, or even has an ion emitter to keep the dishwasher smelling fresh for less than $1000.
She had never heard of Beko even though they are in 140 countries and are popular in Europe.
I told her to try it. If it didn't meet her specifications, I offered for Yale to pull it out of her house.
Seriously, what was I going to do to let an unhappy customer teach my child?
She loves it (thank heaven).
Let's look at the feature comparison between a Beko and Bosch.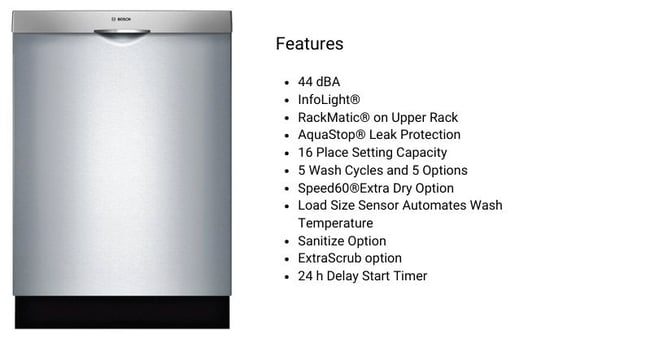 I love Bosch. They have also earned a reputation for reliability to command a higher price.
But, when the product isn't available, you do have to be creative.
As I have said, look at features and reliability ratings rather than brands during these times of tight supply.
Make sure these unknown brands have service departments as well.
Other Unknown Brands to Consider
Hestan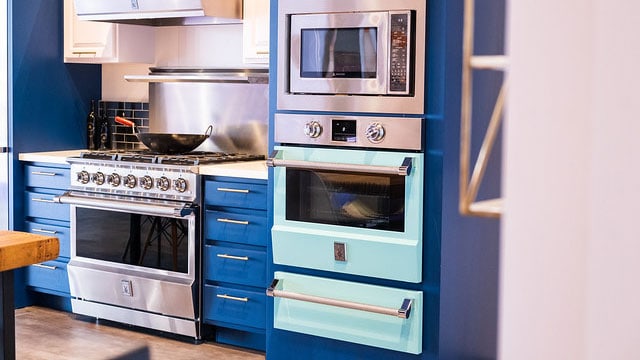 Hestan Professional Range
We started selling Hestan BBQs a few years ago. It's a great piece with an 18,000 BTU rotisserie burner, 23,000 searing capability, and 25,000 BTU burners.
Their range has a 30,000 BTU burner making it easily the hottest in the industry.
Their other burners would be tied for the hottest sealed burners at 23,000 BTU along with 2 15,000 BTU.
Like their grill, Hestan is made well with brass ignition and incredible solid knobs, and a towel bar handle.
Signature Kitchen Suite (SKS)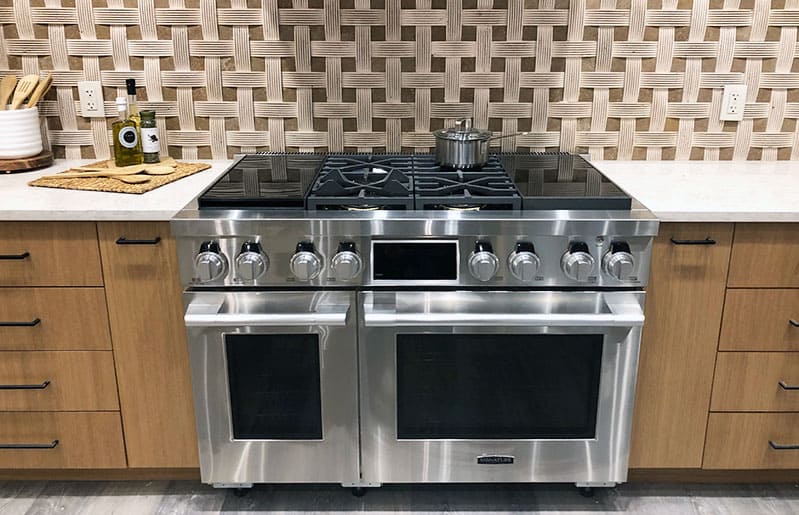 SKS Professional Range With Sous Vide and Induction at Yale Appliance in Hanover
You may know SKS as the high-end division of LG.
Their pro range offers sous vide (more on that later), induction, and pro-gas with 23,000 BTU on one range with a steam and steam assist oven.
True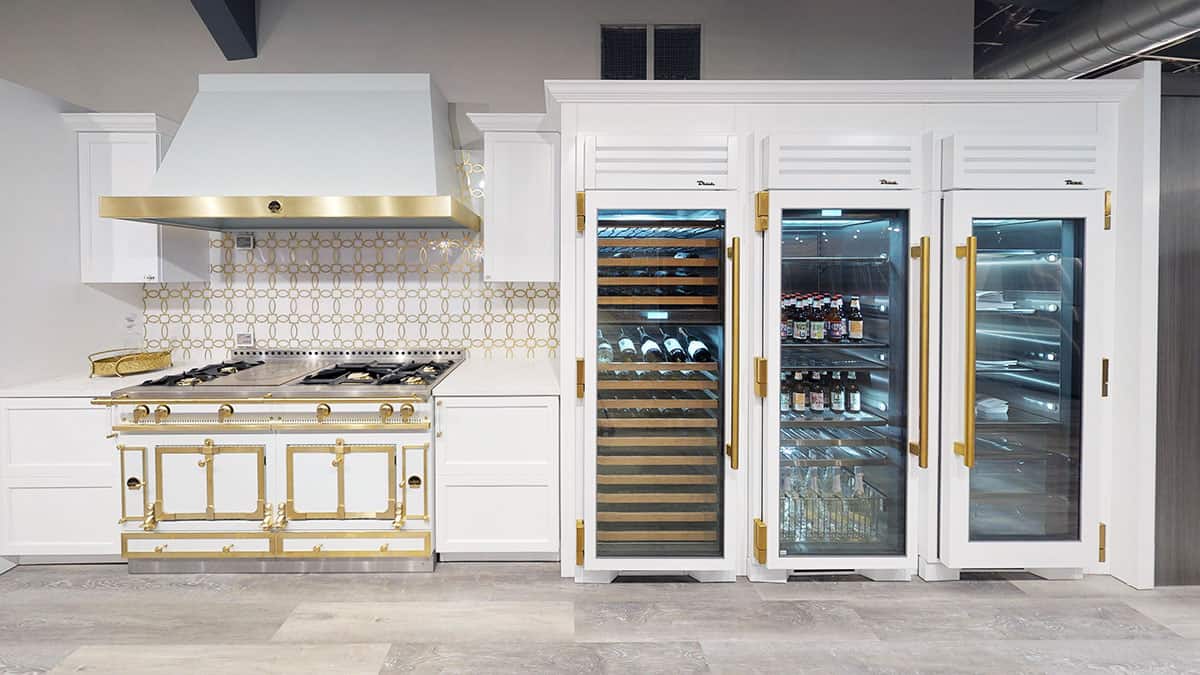 True Residential Refrigeration at Yale Appliance in Hanover
Most likely, your neighborhood Whole Foods or Wegmans uses True freezers.
They have been around residential since 2017. True has incredibly solid refrigeration with several commercial adaptations for your home.
Yale Beverage Center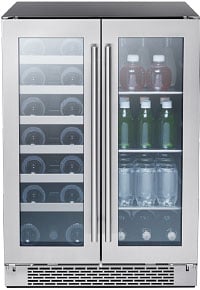 Not to slander our own brand, but it's not quite a Sub-Zero or True but costs $2,000-3,000 less with a five-year full warranty.
Trend #6: Downdrafts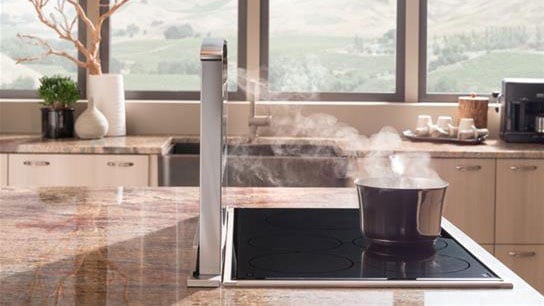 Downdraft System for an Electric Cooktop
With the introduction of islands into kitchens, the downdraft allows you to place cooking in a central spot.
However, when I first started at Yale in 1986, you could buy a downdraft range from Thermador, Modern Maid, GE, Roper, and JennAir.
Now JennAir is the only downdraft range available along with the same range manufactured for KitchenAid.
Ditto for cooktops with integrated downdrafts.
You can buy component downdrafts from several companies.
Downdrafts were once popular.
However, pushing exhaust down along with an elbow is like reversing gravity.
It doesn't work if you cook, so the downdraft trend is dying. Solutions include island hoods and placing the sink on an island.
Pick up a ventilation guide to learn more about venting properly in your home.
Trend #7: Integrated Refrigerators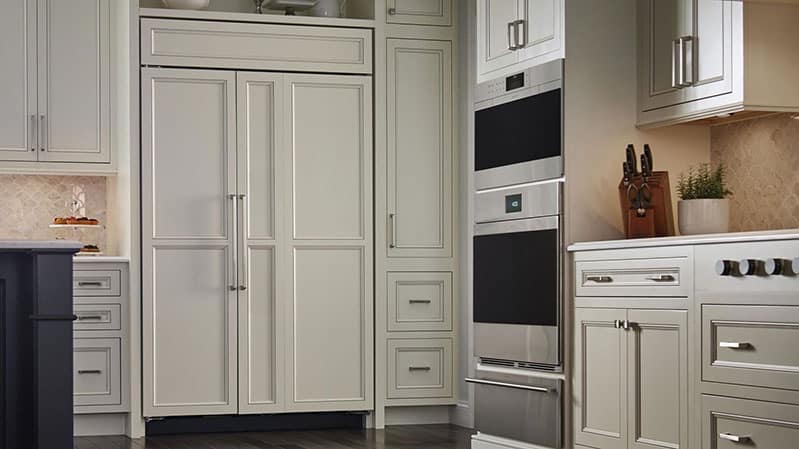 Sub-Zero Integrated Refrigerator With Custom Cabinet Panels
You see more integrated refrigerators because it complies easier than a professional refrigerator with state and federal energy laws.
The only pro-style is Sub-Zero and True. GE Monogram has a few, and so does Viking. But the trend to integrate your refrigeration is clear.
Hiding your appliances behind panels is a way to have a unique kitchen.
Trend #8: Front Control Ranges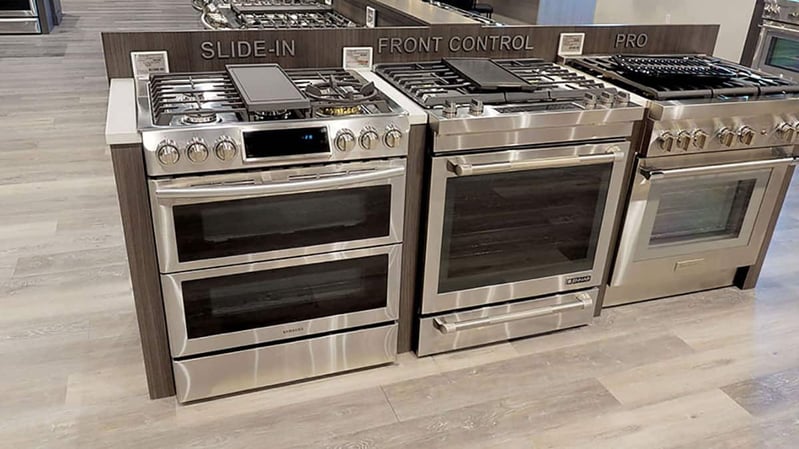 Different Styles of Ranges at Yale Appliance in Hanover
Front control ranges have become popular because it looks better.
Manufacturers charge a premium over the equivalent freestanding, and it is not a different product like a slide-in (which will eventually be discontinued, I suspect).
Trend #9: Double Oven Ranges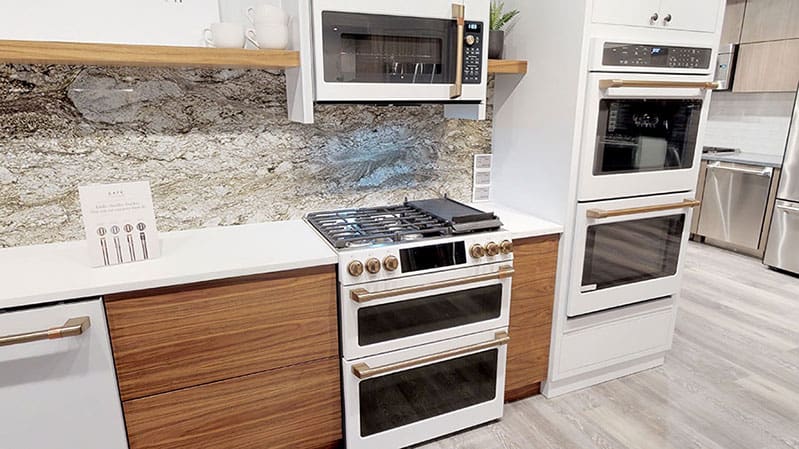 Café Appliances Double Oven Range at Yale Appliance in Hanover
If one oven in a 30-inch footprint is good, then two should be better. After all, who uses the storage drawer anyway?
Samsung has a Flex Duo feature in their range so that it can flex between one large and two medium-size ovens. However, there are temperature limitations when flexed.
Café Appliances has a smaller oven on the top which means you have to stop for the lower oven.
Others like Frigidaire and KitchenAid have a smaller oven on the bottom instead of storage.
Choosing a double oven range depends on how you use it and whether you need a second oven.
Just make sure you look at the doubles before you buy one.
3 Unique Kitchen Appliance Features for 2021
The following are the newest features touted by manufacturers. Let's see if they are worthwhile.
Feature #1: Air Fry Modes
My daughter loves French fries.
I trick her by going to BGood, the healthy local chain, where the fries are air fried, not dipped into hot oil (order them extra crispy).
So the technology exists.
Just not in anything sold currently for your home. When we tested GE and LG's air fryer modes in their new ranges, the food was hardly crispy and quite soggy.
The way air frying should work in a range is with convection and a broil cycle. But soggy does not pass for crispy.
I think future adaptations will be better, but air fry is not worth buying right now.
Feature #2: Automatic Dispensers
Automatic Dispensers for Laundry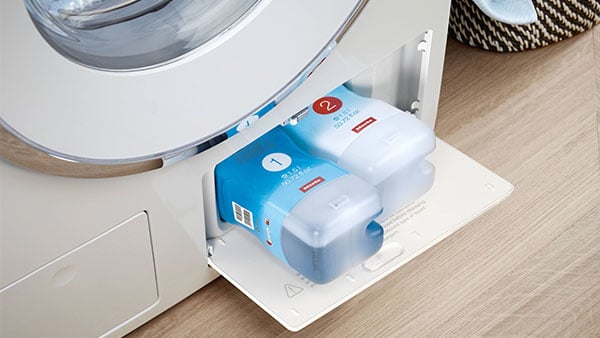 Miele Auto Detergent Dispensers for Compact Laundry
If I asked you how much detergent you should use for your new front-load, you would probably give an amount that's too much.
You only need a capful.
That extra detergent becomes foam and ruins the internals of your machine resulting in one expensive service call.
Auto dispensers release the right amount of detergent at the right time, and you can fit multiple loads in the dispenser.
Dishwasher Auto Dispensers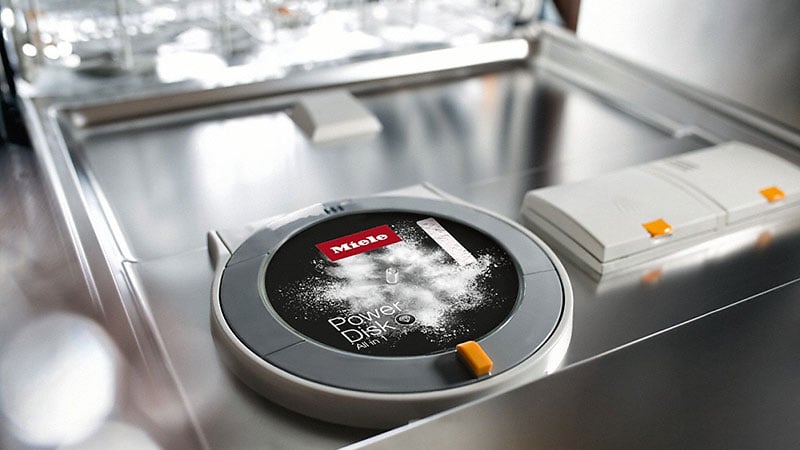 Miele Dishwasher with AutoDos PowerDisk
I was initially skeptical about the Miele auto dispenser. I use a tripack of detergent and Jet-Dry, so I figured it would take care of the wash.
However, clients who bought the Miele reported the cleanest dishes and glasses.
I don't see this as important as the laundry, and Miele is the only one available at $1,999.
Feature #3: Sous Vide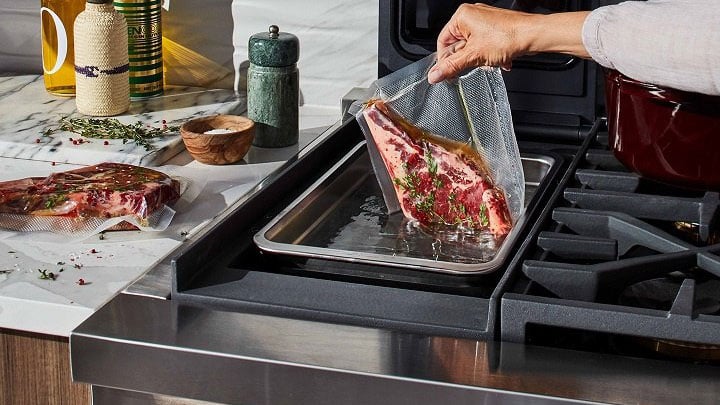 SKS Sous Vide System in a Professional Range
Our chef, and new Chopped Champion, has used the sous vide cooking method extensively.
Let me bring you back to your college days.
Remember the old Stouffer's dinners like Orange Chicken? You boil them for 2-3 minutes, and you have dinner.
Sous vide is a very advanced version using water immersion to keep precise temperatures.
Unlike Stouffers, it's healthy. You place the ingredients in a vacuum-sealed bag until it reaches the precise temperature and it's ready to eat.
Sous vide is only available in SKS ranges and Miele and Gaggenau steam ovens.
It's a great way to cook, but unless more manufacturers produce appliances with Sous Vide, it will never be a trend.
2 Kitchen Appliance Problems to Avoid in 2021
1. Not Having Available Appliance Service
Before you buy that Sous -vide pro range, make sure it can be fixed. Most retailers and manufacturers have abandoned service entirely.
Let me show you the need for service graphically.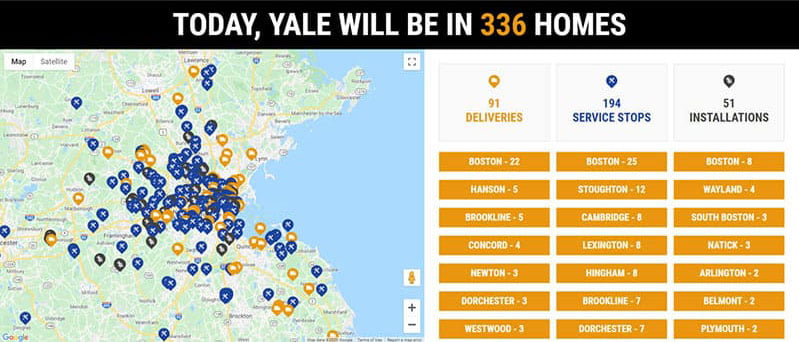 In 2003, the average service technician was 56. Unless younger people see service as a career opportunity, you will be plagued by service problems.
The only way that will happen is if everyone involved looks at service to retain you as an ongoing client and pay better wages.
You should always inquire about available services in your area before buying any appliance.
2. Long Appliance Lead Times
I wrote this article on May 15th, 2021. Yesterday, we received an order acknowledgment for mid-December on a new order.
That's seven months.
Of course, not every brand is quoting seven-month lead times.
However, COVID-19, along with port issues, container issues, parts issues, semiconductor issues, foam insulation shortages, and exploding demand, made buying anything a contact sport.
Here is a tip: Look at features and then open yourself up to many brands.
Key Takeaways
The key to a kitchen trend is not to have a new kitchen of Black Steel with a $200 upgrade for air frying.
The finish will peel, and the air frying mode won't work.
You can still buy stainless or a designer color and not worry. In these times, don't be afraid of an unknown brand with decent features as long as you have available service in your area to repair it.
Lastly, give yourself enough time to complete your job without material shortages and delays.
Additional Resources
Want more information on the worst renovation mistakes to avoid? Get The Book of Bad Renovations to learn how to avoid a renovation failure. Well over 1 million people have read and trusted a Yale Guide.
Related Articles
Why Should You Trust Us?
It seems that every appliance review has nothing but glowing comments about almost every product, yet you read customer reviews and they are almost universally bad.
We are here to fill in the disconnect. We'll give you the best features, and the drawbacks as well, including reliability based on over 37,000 calls performed by our service team just last year. Our goal is to give you ALL the information so you know what's right for you.
Please consider subscribing or adding to the conversation in the comments below. We appreciate you stopping by.
A Note About Pricing
Pricing on this blog is for reference only and may include time sensitive rebates. We make every attempt to provide accurate pricing at time of publishing. Please call the stores for most accurate price.