Electrical Requirements for Compact Laundry (Reviews / Ratings / Prices)
My friend is a general contractor. He is a creative guy who likes to figure out everything home-related.
He had an old Asko stacked in his closet and needed to replace the washer. He loved the new Miele but didn't want to replace both.
I told him that compact laundry is all different. The Asko was a different voltage, and the dryer fits into the washer.
He bought the Miele anyway.
Weeks later, we talked about him changing the electrical, water, and securing the dryer.
I wondered how long he toiled on the installation and how secure that dryer is.
Compact laundry is not like regular full-size laundry.
There are all different types of electrical configurations and venting options.
In this article, you will be learning all the compact laundry types from the most popular brands, and which ones will work best for your space.
You will also know how to replace a washer or dryer without buying the pair.
Compact Laundry & Dryer Venting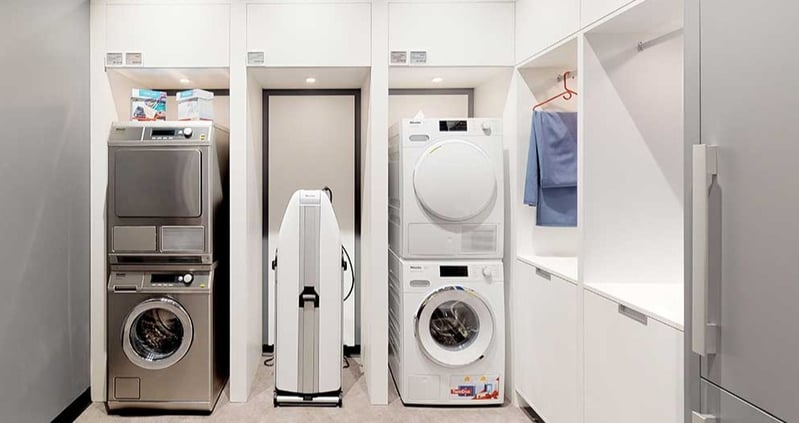 Miele Compact Laundry at Yale Appliance in Framingham
Compact laundry is usually 24" wide, 34" tall, and about 23"-25" deep compared to a full-size unit, which can be 27" wide, 39" tall, and 32" deep on average.
Full-size laundry dryers are almost always vented. You can see the steel vent from the dryer to the outside.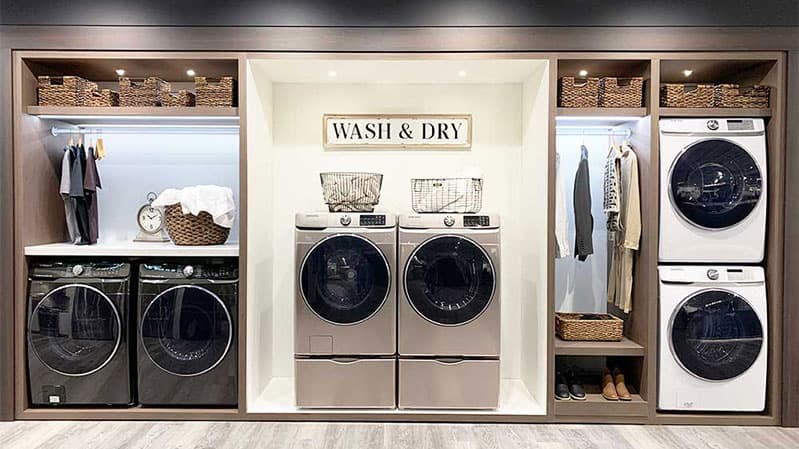 Full-Size Washers and Dryers at Yale Appliance in Hanover
Most compact laundry is ventless, meaning the heat and steam are recycled back through the machine. You do not need the vent outside.
Short on time? Get our free Compact Laundry Buying Guide
How Do You Know If Your Dryer Needs To Vent Outside?
Look for the vent or the spot for the vent. If you are on an inside wall, then it's probably ventless.
Ventless Brands: Bosch, LG, Miele, Electrolux, Beko (Heat Pump), Samsung (Heat Pump), Blomberg (Heat Pump)
Vented Brands: Samsung, Beko, Asko, Blomberg
What Are The Electrical Requirements For Compact Laundry?
Electrical Requirements for Beko Compact Laundry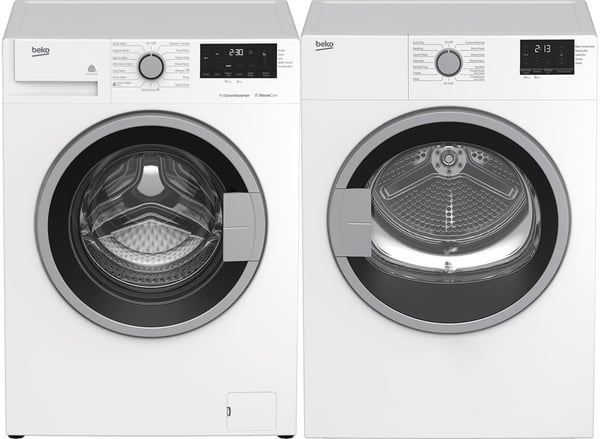 Beko Compact Washer BWM7200X - $849
Requires 120 volts,15 amp circuit for the washer
Washer plugs into the dryer
15 Wash Cycles
1.95 Cu. Ft. Capacity
1,200 RPM Spin Speed
Internal Water Heater
Automatic Wash and Water Control
Beko Vented Dryer BDV7200X - $749
Available as Vented, Condensation, or a Heat Pump Model
Requires 208-240 Volt Outlet for the dryer, 15 amp circuit for vented, 30 amps for ventless and heat pump
3.7 Cu. Ft. Capacity
15 Program Settings
Automatic Sensor Drying
Includes Stacking Kit
Beko is popular, especially as an inexpensive vented solution.
The washer plugs into the dryer and requires a 30-amp circuit or electrical feed from your main panel.
In simplest terms, the circuit is a system that is the whole electrical line and outlet (where you plug into).
Its shallow depth decreases the total capacity by 0.5 cubic feet, but Beko is the easiest to place in a tight closet.
Electrical Requirements for Electrolux Compact Laundry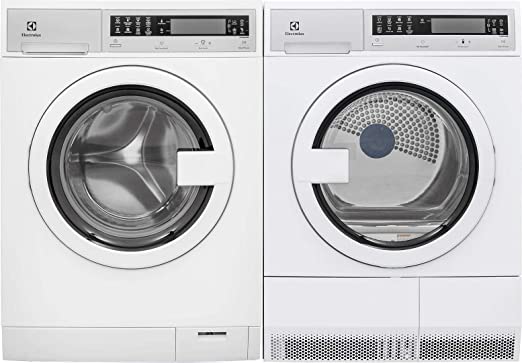 Electrolux Compact Washer EFLS210TIW - $899
Requires a Separate 120 Volt, 10 Amp Electrical Outlet
14 Wash Cycles
2.4 Cu. Ft. Capacity
Steam Washer
1,400 RPM Spin Speed
Fast Wash Cycle
Energy Star Rated
10 Year Motor Warranty
Electrolux Compact Condensation Dryer EFDE210TIW - $899
Requires a 208-240 Volt, 30 Amp Electrical Outlet
4.3 Cu. Ft. Capacity
Ventless Condensation Drying only
7 Dry Cycles
Wrinkle Release Option
Delay Start
Stack Kit Sold Separately
Electrolux has a steam feature for easier stain removal.
This compact Electrolux set requires two separate electrical outlets and 40 total amps. Electrolux is non-vented only.
Electrical Requirements for the Bosch 500 Series Compact Laundry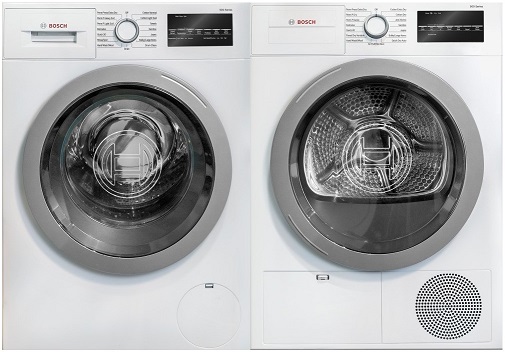 Bosch 500 Series Compact Washer WAT28401UC - $1,129
Washer Requires 208-240 volts and a 20 amp circuit if you're not plugging into the dryer
2.2 Cu. Ft. Capacity
15 Wash Cycles
SpeedPerfect
Sanitize Cycle
1,400 RPM Spin Speed
ADA Compliant
Bosch 500 Series Compact Condensation Dryer WTG86401UC - $1,129
Condensation Dryer Only
Dryer Requires 208-240 volts and a 30 amp circuit
15 Dry Cycles
4 Cu. Ft. Capacity
Gentle Drying
Low Vibration and Quiet Operation
Energy Star
Bosch is incredibly reliable. The washer has a different power cord plugging into the Bosch dryer. You will need a 30 amp circuit.
Electrical Requirements for Miele Compact Laundry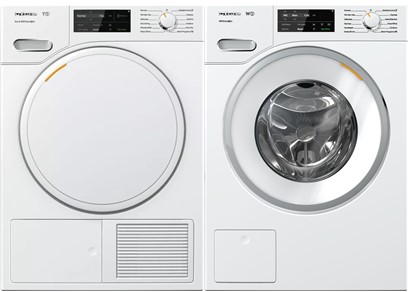 Miele Compact Washer WWB020WCS - $1,199
Requires a Separate 120 Volt 15 amp Electrical Outlet
2.2 Cu. Ft. Capacity
12 Wash Cycles
Stainless Steel Honeycomb Wash Drum – Enhances cleaning performance
Large LCD Screen
1,400 RPM Spin Speed
Miele Compact Heat Pump Ventless Dryer TWB120WP - $1,199
120 Volt Required or a 4-Prong 208-240 Volt 30 amps Electrical Outlet with 220V electrical adapter
8 Drying Cycles
Anti-Creasing After Program Ends
Electronic Moisture Sensor
Honeycomb Drum
Stacking kit sold separately
Miele is the best compact laundry with a revolutionary 110-volt heat pump dryer. The washer has a high spin speed for pre-drying clothes and also can dispense pods as well as a ton of other features.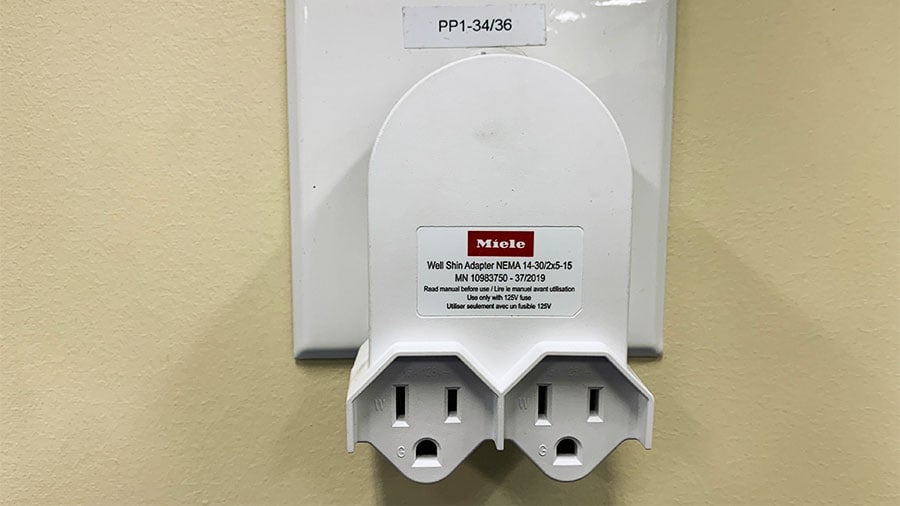 Miele Adapter for Compact Laundry
You would need two separate 120-volt outlets or one 220-volt outlet with an adapter for two 110-volt outlets.
Electrical Requirements for Samsung Compact Laundry
Samsung Compact Washer WW22K6800AW - $799
Requires 15 amp 120v Electrical Outlet
2.2 Cu. Ft. Capacity
Steam Wash Cycle
1400 RPM Spin Speed
12 Wash Cycles
VRT - Vibration Reduction Technology
Smart Care Diagnostic
Samsung Compact Dryer DV22K6800EW - $799
Vented Dryer Only
Requires 240v Electrical Outlet 30 amps
4.0 cu. ft. capacity
12 Drying Cycles
Wrinkle Prevent
Smart Care Diagnostic
5 Temperature Settings
What Type Of Compact Washer And Dryer Is Easiest To Install?
Condensation dryers are easier to install than vented dryers because you do not have to run a vent to the outside.
In many cases, venting a dryer is impossible inside closets or kitchens.
From an electrical standpoint and ease of installation, the Beko heat pump can be installed into a 30-amp outlet with only one electric line.
Bosch would be the next easiest with one outlet at 30 amps. Miele and Electrolux need two outlets for both your dryer and washer to plug into and 40 amps.
Miele can also be plugged into one 220v outlet using the Miele adapter.
| | | | |
| --- | --- | --- | --- |
| | Vented or Ventless | Number of Outlets | Total Amperage (Amps) |
| Beko | Optional | 1 | 30 Amps Ventless |
| Electrolux | Ventless | 2 | 40 Amps |
| Bosch | Ventless | 1 | 30 Amps |
| Miele | Ventless | (2) 120v or (1) 240v | 30 Amps |
| Samsung | Vented | 1 | 30 Amps |
Our most important advice is always to check what kind of circuits your building or home has and how much amperage you can draw for your machine to work correctly.
If you live in a condo, apartment complex, or older building, check with your property manager.
How Do You Replace An Existing Washer Or Dryer?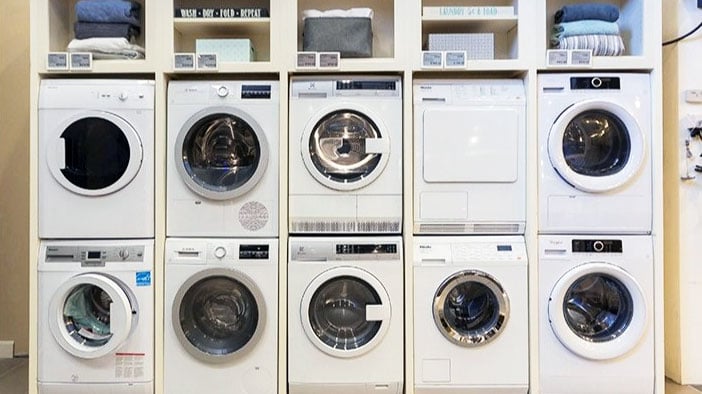 Compact Washers and Dryers at Yale Appliance in Boston
As my friend in the opening experience, it's hard replacing one unit, especially when it's stacked.
Placing your washer and dryer side-by-side is more manageable, especially if the units require two outlets like Miele, Electrolux, and Samsung.
When stacking, you also have to make sure there is a current stacking kit available, so the dryer doesn't fall forward off the washer during the spin.
Technically, you would have to stay with the same manufacturer and hope the kit exists.
Key Takeaways
First, understand if the laundry is vented or ventless. You can tell by checking for metal venting. It's ventless on an inside wall.
Then you want to check the electrical by plug type and amperage.
If you are replacing a washer or dryer and want to keep the other unit, stay within the same brand. It's your best bet to secure the dryer and not have to change the electrical components.
Additional Resources
Download the Yale Compact Laundry Buying Guide with specs, features, and inside buying tips to every major brand. Well over 820,000 people have read a Yale Guide.
Related Articles
Why Should You Trust Us?
It seems that every appliance review has nothing but glowing comments about almost every product, yet you read customer reviews and they are almost universally bad.
We are here to fill in the disconnect. We'll give you the best features, and the drawbacks as well, including reliability based on over 37,000 calls performed by our service team just last year. Our goal is to give you ALL the information so you know what's right for you.
Please consider subscribing or adding to the conversation in the comments below. We appreciate you stopping by.
Roger Pontes
Roger Pontes has been with Yale Appliance for over 10 years. He's worked in both the lighting and appliance department over the years. Roger truly enjoys helping people. He's a married father of 2 kids, a boy and a girl. On his spare time Roger enjoys spending time with his family and playing sports.

Schedule a showroom visit with me
A Note About Pricing
Pricing on this blog is for reference only and may include time sensitive rebates. We make every attempt to provide accurate pricing at time of publishing. Please call the stores for most accurate price.