Should You Buy Miele's Compact Laundry Set WWB02 And TWB120? (Reviews / Ratings/ Prices)
Miele now has a compact laundry set at the same price as other brands like Bosch, Electrolux, and Asko but with better wash and unique drying capabilities.
In this article, you will learn about the pairs' best features like a "Honeycomb drum," heat pump drying as well as reliable stats based on 34,687 service calls.
You will also learn about the difference between this set versus Electrolux, Bosch, and even other Miele compact washers and dryers.
In the end, you will know more about Miele's laundry sets than washers and dryers in general.
What is Compact Laundry?
Compact laundry is about the same size as a dishwasher at 35 inches in height, 24 inches wide, and 24 inches deep.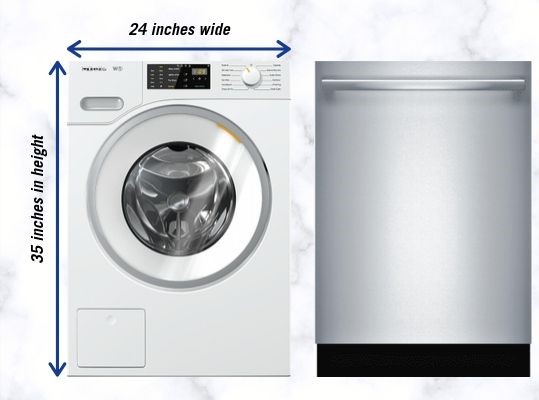 It is designed to be placed in small spaces anywhere from your kitchen to a small closet, because of its smaller width and depth.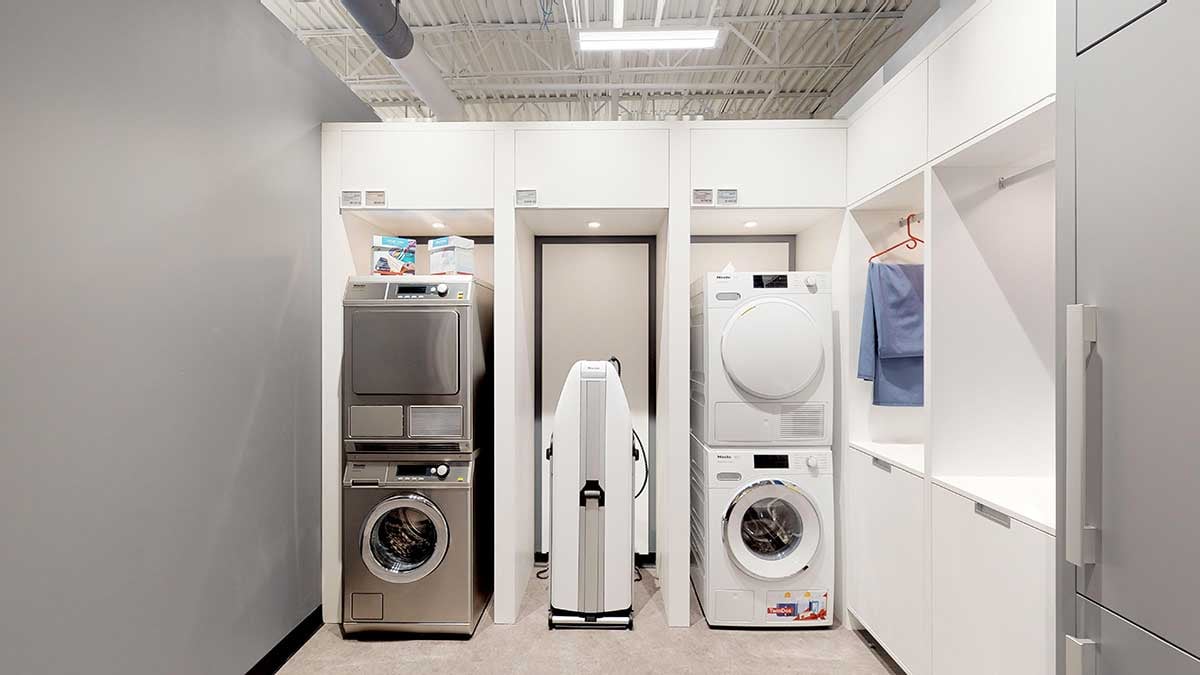 Miele 24-Inch Compact Laundry, Closet Installation At Yale Appliance In Framingham
Compact laundry is also better than full-size with features including better spin speeds and more specialized fabric settings.
Unlike vented full-size laundry, compact dryers are usually ventless, like Miele. Instead of running through a vent, steam is converted to water and discharged through the washer.
In theory, you can place these machines anywhere in your home where there are water and power.
Now let's look at Miele's compact laundry set.
To learn more about choosing the right kind of compact laundry for your home, click here for our free Compact Laundry Buying Guide.
Now through December 7th, receive $200 Mail-In Rebate on qualifying Miele washer and dryer pairs.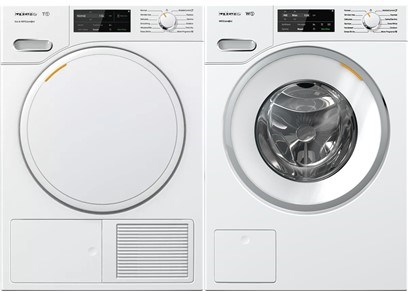 Washer: WWB020WCS
Dryer: TWB120WP
This laundry package is their least expensive, but lines up with Bosch middle line 500 series and Electrolux's urban laundry.
Now through December 7th, receive $100 Mail-In Rebate on qualifying Miele washers and dryers.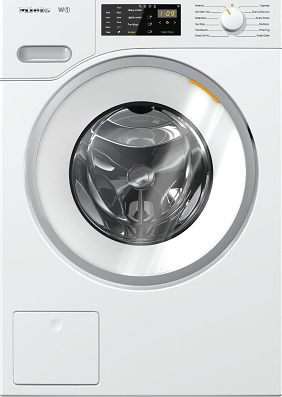 Features:
Stainless Steel Drum
HoneyComb Drum
CapDosing
12 Wash Cycles
Maximum Spin Speed: 1400
120 Volts
5 Temperature Settings
4 Wash Options
Stackable
DirectSensor Interface
Outerwear Wash Cycle
Sanitize Wash Cycle
Miele didn't skimp on this machine, even if it's almost $2000 less than their best compact washer and dryer.
It still has Miele's signature HoneyComb drum. It's perforated, so the clothes glide and never touch the drum during the wash.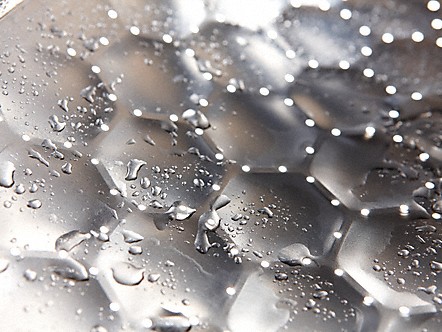 Miele's Washer HoneyComb Drum
Miele is still the only washer with the ability to wash delicate fabrics like silks and other handwash-only fabrics.
This washer spins at 1600 RPM like the more expensive Mieles. It has the fastest washer spin speed on the market for any washers.
The average top-load spins at 410 RPM. Front loads will spin at 1000-1200. A faster spin will pre-dry your clothes for less time in your dryer.
Short on time? Get our free Compact Laundry Buying Guide
However, you have to be careful with Miele and other high-speed washers. They will shake the floor.
Miele is also the only compact washer with the ability to dispense caplet detergents with its CapDosing feature. Electrolux has its Adaptive Dispenser on its larger machines and not on their compact washer.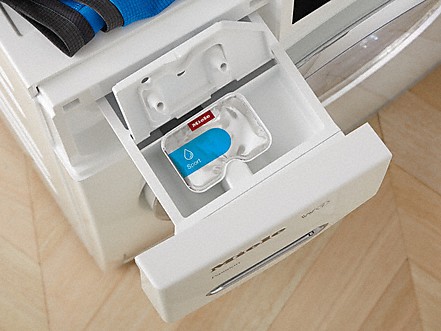 Miele Washer CapDosing Feature
You can also buy special application caplets for wools, silks, and other fabric types from Miele or use your own.
What you can't see in this Miele is leak prevention. Like Bosch, Miele engineers leaks out of their machines with a sensor. If there is a leak, the water intake is closed automatically. A float switch in the drip tray can also detect leaking water.
Of all the machines on the market, only Miele guarantees against leakage for 20 years.
Wash Cycles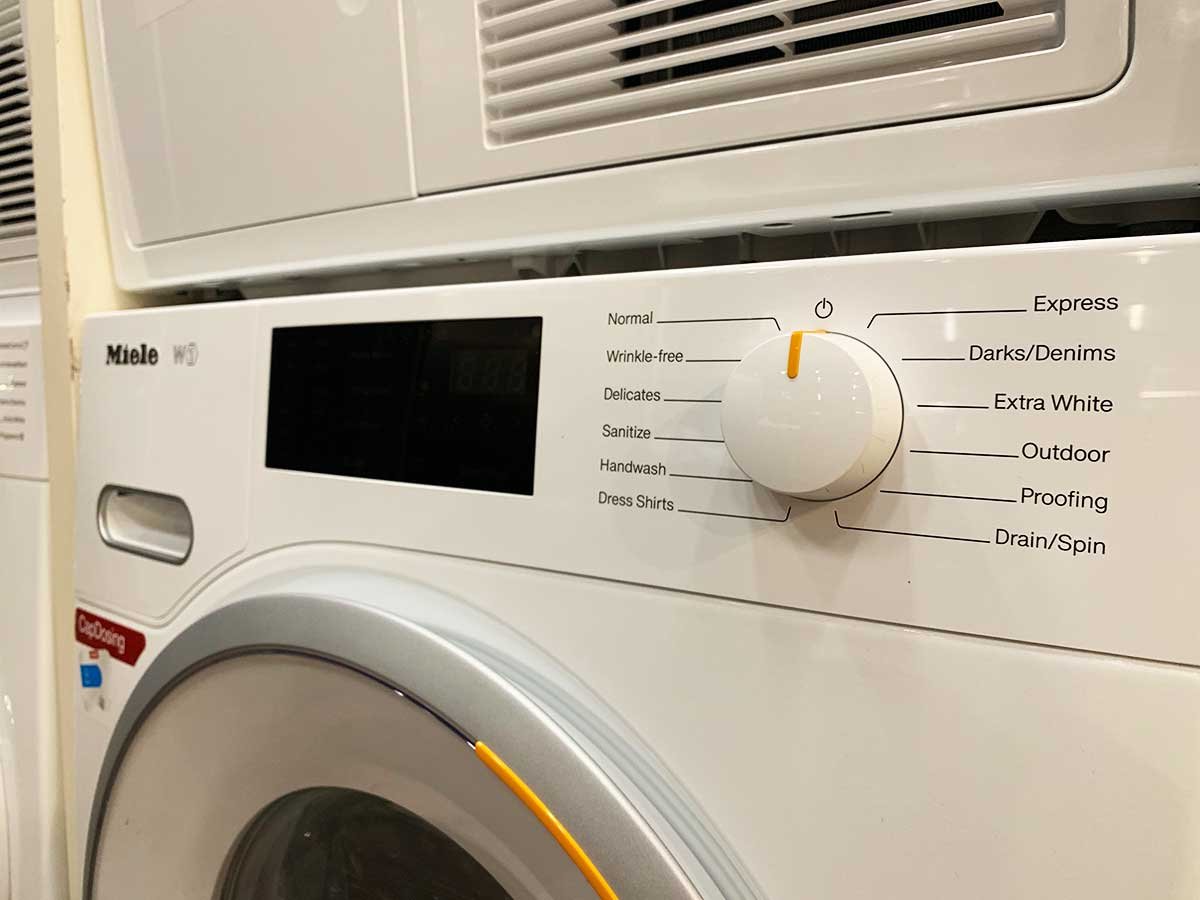 Miele Compact Laundry Control Panel At Yale Appliance In Boston
You have plenty of wash cycles in this machine, and each cycle is specially designed to wash, rinse, and spin for that fabric or setting.
Miele's wash cycles are:
Normal
Wrinkle Free
Delicate
Sanitize
Handwash
Dress Shirts
Express
Darks /Denim
Extra White
Outdoor
Proofing
Drain / Spin
Proofing is an interesting cycle. The wash cycle doesn't lessen the water repellent qualities of your rainwear.
Get the Yale Compact Laundry Buying Guide with features, specs, and inside tips to all the brands.
Now through December 7th, receive $100 Mail-In Rebate on qualifying Miele washers and dryers.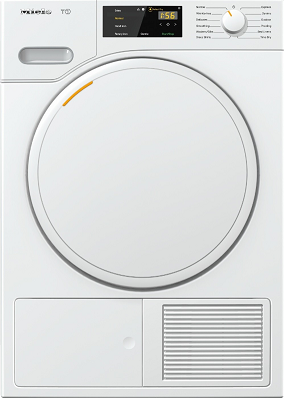 Features:
Ventless
Heat Pump
Wrinkle-Free
HoneyComb Drum
FragranceDos
EcoDry
12 Dry Cycles
Express Cycle
4 Temperature Settings
Reversible Door
Stainless Steel Drum
Energy Star Rated
110 volt
As good as the washer may be, the dryer is truly unique. First, it is ventless like other manufacturers like Bosch and Electrolux.
However, Miele employs a heat pump rather than basic drying elements to dry your clothes. A heat pump uses a compressor to recycle existing air in your dryer, so it is both more energy-efficient and gentler on your clothes.
Heat pumps don't project hot air into the room like regular ventless dryers. Miele's heat pump is only 110, not 220 volts so you can plug it in anywhere, like an upstairs closet without rewiring.
Adding custom fragrances to the dryer is yet another Miele exclusive. Interestingly enough, Miele fragrances are produced in France by a family is a 140-year history of creating fragrances.
How Does Miele's Compact Laundry Compare To Other Popular Compact Laundry Sets?
Miele Vs. Miele Compact Laundry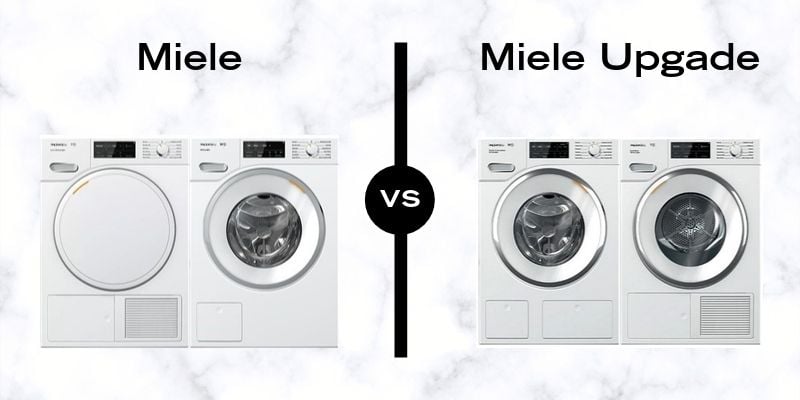 In this article, we're looking at Mieles' least expensive pair.
Here are the added features for each washer model upgrade:
Miele WWF060 - $1,499

Adds four wash cycles, steam, and Wi-Fi connectivity through an app on your phone.

Miele WWH660 - $1,799

Adds the TwinDos dispenser. The machine can automatically dispense detergent and bleach without refilling for three months.

Miele WWH860 - $1,999

Adds the QuickIntense Wash cycle. The best Miele will dispense from the top and bottom for better saturation of clothes.
Dryers:
Miele Vs. Bosch Compact Laundry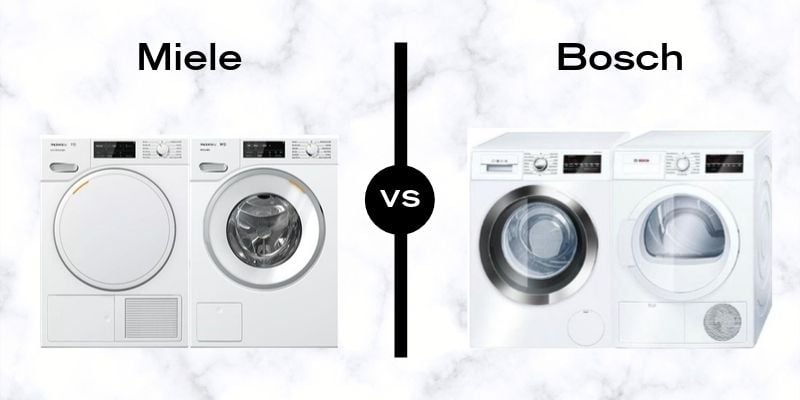 Bosch has slightly better reliability for the set, but Miele has the better drum, higher spin 1600 Vs. 1400 RPM for better drying of clothes, CapDosing and heat pump drying, as well as fragrance choices.
Miele is about $100 more at $2,398 versus $2,299.
To learn more about choosing the right kind of dryer for your home, click here for our free Compact Laundry Buying Guide.
Miele Vs. Electrolux Compact Laundry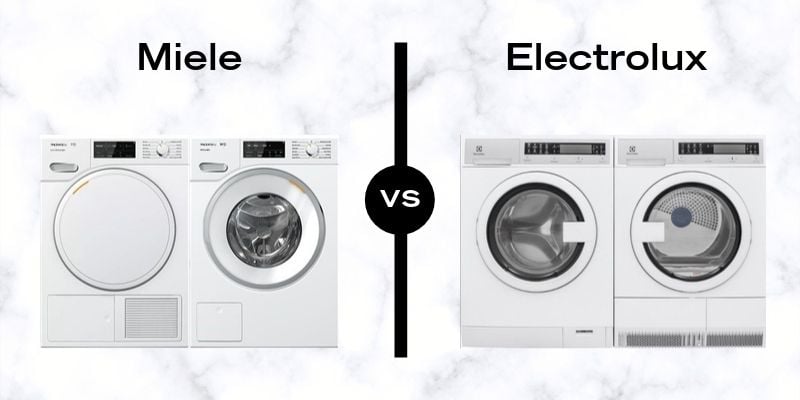 Electrolux has steam in their washer. They also have a cool foldable pedestal available. However, Miele has better features like Capdosing, better spin, and heat pump drying with fragrances.
For the same price, you have way more features with Miele than any competitive brand at similar prices.
Electrolux is about $2,200.
Are Miele's Compact Washer And Dryer Reliable?
The Bosch washer and the Miele dryer are the most reliable compact laundry units. The Bosch set is the most reliable by a small margin.
Most Reliable Compact Washers For 2019
| | | | |
| --- | --- | --- | --- |
| | Service Qty | Shipped Qty | Service Ratio |
| LG Electronics | 0 | 1 | 0.00 % |
| Bosch Appliances | 47 | 710 | 6.62 % |
| Whirlpool | 2 | 29 | 6.90 % |
| Samsung | 18 | 201 | 8.96 % |
| Miele | 19 | 180 | 10.56 % |
| Fisher & Paykel | 1 | 6 | 16.67 % |
| Blomberg | 36 | 196 | 18.37 % |
| Asko | 13 | 29 | 44.83 % |
| Maytag | 2 | 1 | 200.00 % |
| Grand Total | 141 | 1378 | 10.23 % |
Most Reliable Compact Dryers For 2019
| | | | |
| --- | --- | --- | --- |
| | Service Qty | Shipped Qty | Service Ratio |
| Amana | 0 | 1 | 0.00 % |
| LG Electronics | 0 | 4 | 0.00 % |
| Fisher & Paykel | 0 | 5 | 0.00 % |
| Miele | 7 | 207 | 3.40 % |
| Samsung | 9 | 219 | 4.11 % |
| Electrolux | 9 | 136 | 6.62 % |
| Bosch Appliances | 77 | 1023 | 7.50 % |
| Maytag | 2 | 26 | 7.70 % |
| Whirlpool | 6 | 51 | 11.80 % |
| Blomberg | 90 | 515 | 17.50 % |
| Asko | 20 | 82 | 24.40 % |
| Grand Total | 220 | 2269 | 12.44 % |
Should You Buy Miele's Compact Laundry Set?
Without question, if you have a ventless installation, Miele is the best value in that $2,000-2,500 range. It may not have steam, Wi-Fi, and the fancy 3-month detergent dispenser.
However, it has plenty of unique features like the better honeycomb drum, more spin speed, Capdosing, and the heat pump dryer.
You can wash silks, and dry your clothes more gently with a Miele than any other machine for about the same price as the other brands.
Additional Resources
Get the Yale Compact Laundry Buying Guide with features, specs, and inside tips to all the brands, to dimensions and explanations of every washer and dryer type are included. Over 600,000 people have read a Yale Guide.
Related Articles:
Why Should You Trust Us?
It seems that every appliance review has nothing but glowing comments about almost every product, yet you read customer reviews and they are almost universally bad.
We are here to fill in the disconnect. We'll give you the best features, and the drawbacks as well, including reliability based on over 37,000 calls performed by our service team just last year. Our goal is to give you ALL the information so you know what's right for you.
Please consider subscribing or adding to the conversation in the comments below. We appreciate you stopping by.
Steve Sheinkopf
Steve is the third-generation CEO of Yale and a lifelong Bostonian. He currently resides in Boston, one mile from where he was born. Despite being one of the worst goalies of all time, he is a huge hockey fan of college hockey and the Boston Bruins. The love of his life is his daughter Sophie.
A Note About Pricing
Pricing on this blog is for reference only and may include time sensitive rebates. We make every attempt to provide accurate pricing at time of publishing. Please call the stores for most accurate price.