Samsung vs. Electrolux Compact Laundry (Reviews/Ratings/Prices)
Compact laundry has become much more popular in Boston. You can place compact units anywhere you have water and electricity such as a closet or even in a kitchen.
In this article, we will compare two popular compact laundry sets from Samsung and Electrolux. You will also learn about both companies, their units, and then we will compare them at the end.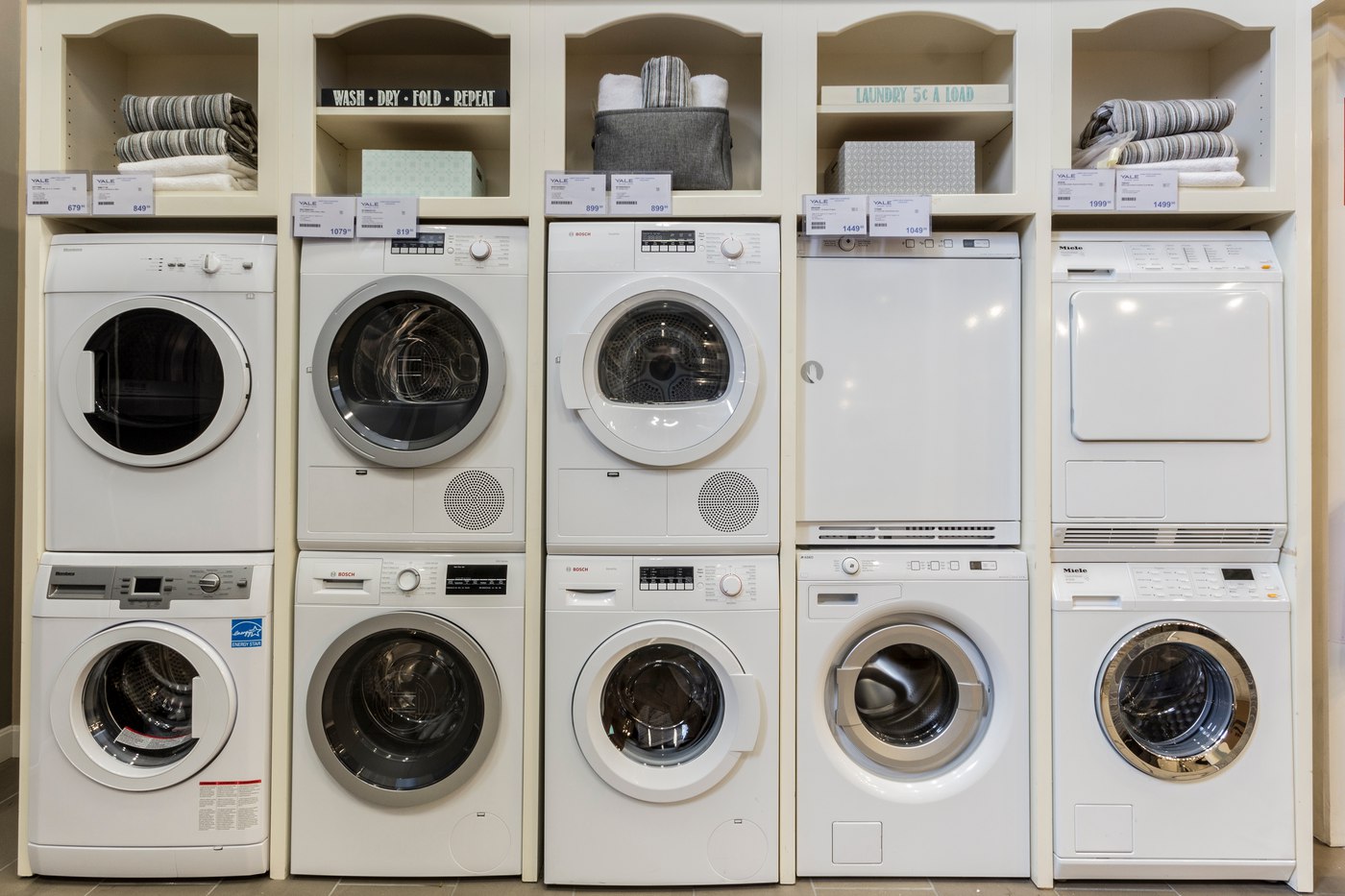 The compact laundry market has been dominated by European brands such as Miele, Bosch, Asko, Electrolux, and Blomberg.
Some other brands becoming quite popular in this category are Samsung and Whirlpool.
All of these compact washers operate just like your standard full-size washer with some better features and cycles.
Unlike full-size laundry, it is the dryer, not the washer driving your decision. There are three types of dryers instead of one in full size: Heat Pump, Condensation, and Vented.
Lets' compare all three first as it will affect your decision in where you place these units.
Short on time? Get our free Washing Machine Buying Guide
Condensation
This process turns the heat and water into steam without venting.
That steam is then drained either into a reservoir or out the back of the unit. It will also emit a small amount of hot moist air out of the front of the dryer.
Most widely sold compact laundry is the condenser type like Electrolux and Bosch, because it allows you to place the laundry anywhere with electricity and water. There is no venting required.
Heat Pump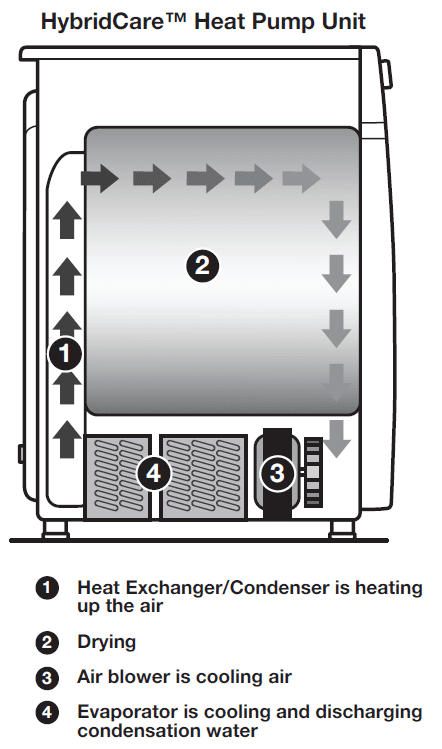 Heat pump drying is a similar process to condensation except the warm water passes over a compressor instead of using heat elements. It actually recycles and reuses the heat.
Like condensation dryers, heat pumps can be placed anywhere without a vent.
The Heat pump is the most efficient dryer type and is the future of laundry. Miele has the newest and best requiring only 110 volts (yet is the most expensive). Whirlpool and Blomberg also have heat pump dryers.
Venting
This type sends all the hot air and moisture through an exhaust vent outside. Due to 2013 UL regulations regarding fire containment, vented dryers are the least common with Samsung and Blomberg passing these standards.
Venting does not emit heat into the room, but you need an outside wall to vent the air. Unlike the others, you cannot place these units just anywhere.
To Learn More about Compact Laundry, check out our Compact Laundry Video
Vented vs. Vent-less Dryers
This is a complicated answer and it depends on your application.
For builders of apartments and condominiums, ventless is cheaper and more practical. You do not have to cut holes in the walls to make it work.
Ventless also helps with your LEED and Passive Home certifications.
If you are moving your laundry from the basement to the bedroom, then ventless is far simpler because all you need is water and electricity. Like builders, you do not have to plan where you vent.
Vented may be slightly better if you have a choice or are replacing your full-size vented dryer.
It does not emit any residual heat back into the room. Drying times are also a bit faster. Samsung and Blomberg tend to be less expensive options as well.
Let's look at and compare the Samsung and Electrolux pair.
Electrolux
Based in Sweden, Electrolux is one of the world's largest appliance companies. They are very popular and known for their full-sized laundry. They are newer to the compact laundry industry in the US, but compact laundry is most of their sales around the rest of the world.
Their home base is in Sweden, however, this washing machine is built in Italy with the dryer being manufactured in Poland.
Electrolux Compact Laundry Pair
Washer - EFLS210TIW - $899.99 | Dryer - EIED200QSW - $899.99
Required Cutout Dimensions:
Stacked
Height: 68.5''
Width: 24''
Depth: 26''
Side-By-Side
Height: 33.5'' (pedestal accessories add 12'')
Width: 48''
Depth: 25''
Electrical Requirements
You must have both a 220-volt plug for the dryer and 110-volt plug for the washer.
Features:
2.4 cubic ft. washer
Washer Cycles: normal, deep clean sanitize, heavy duty, delicates, rinse & spin, casual, steam refresh, normal with steam, casual with steam, fast wash, whites, wool, jeans, clean washer
5 temperature selections
Steam in washer helps you power out stains
5 spin speed selections (1400 RPM max)
5 soil level selections
2nd-floor guarantee – Electrolux stands behind machines perfect balance system ensuring quiet operation near bedrooms and common areas
Dryer Cycles: normal, heavy-duty, delicates, casual, mixed load, touch up, towels, jeans, fast dry, wool, timed dry
4 cubic ft. stainless dryer drum
Gentle dry use lower heat temperatures to be more gentle on clothes and protects them from over-drying, shrinking, or wrinkling
Delay start
3 temperature levels
4 dryness levels
End of cycle chime on/off
Steam Cycle in the washer
Condensation Drying
Samsung
Samsung is a South Korean based company known for their use of the latest technologies. No surprise they are one of the leaders for new and innovative products, considering their background and history with electronics.
They are also the fastest growing appliance company and the number 1 appliance brand sold in the US. Their compact laundry has been around for 15 years in various brand names.
For example, Maytag sourced their compact laundry from Samsung over 15 years ago.
Let's look at the products.
Samsung Compact Laudry Pair
Required Cutout Dimensions:
Stacked
Height: 68.5''
Width: 24''
Depth: 28''
Side-By-Side
Height: 33.5''
Width: 48''
Depth: 28''
Electrical Requirements
You must have both a 220-volt plug for the dryer and 110-volt plug for the washer.
Features:
2.2 cubic ft. washer
Washer Cycles: normal, deep steam, heavy duty, sanitize, allergen, self-clean, rinse + spin, activewear, perm press, delicates, wool, quick wash, my cycle
Steam in washer helps you power out stains
Super speed selections (1400 RPM max)
5 soil level selections
VRT technology – Samsung's patented tech that reduces noise to an incredible level.
Diamond drum interior- helps extend fabric life by being extra gentle
Lighted interior washer + dryer
Dryer Cycles: Normal, Perm press, heavy duty, towels, active wear, delicates, Sanitize, Air fluff, wool, quick dry, Wrinkle release
4 cubic ft. stainless dryer drum
Smart care- self-diagnosis and troubleshoot right from your phone
Sensor drying
5 temperature levels
5 timed dry settings
Child lock
Vented
Most Reliable Compact Laundry
| | | | |
| --- | --- | --- | --- |
| | Units Sold | Units Serviced | Service Ratio |
| Maytag | 26 | 10 | 38.46% |
| Asko | 47 | 15 | 31.91% |
| Whirlpool | 19 | 4 | 21.05% |
| Samsung | 20 | 3 | 15.00% |
| Miele | 71 | 8 | 11.27% |
| Blomberg | 305 | 32 | 10.49% |
| Bosch Appliances | 522 | 43 | 8.24% |
| Electrolux | 276 | 21 | 7.61 % |
| LG Electronics | 3 | 0 | 0.00% |
Should you buy Samsung or Electrolux Compact Laundry?
Both of these units are great options.
The washers both have steam and high RPM spin speeds to remove most of the water from your clothes for less time in your dryer.
Samsung's units will fit more clothes because of their greater depth. However, for tighter spaces, the shallower Electrolux would be a better choice.
Unlike regular washers, the decision should be based on the dryer. Samsung is vented out like your regular dryer now.
Electrolux is a condensing unit with longer drying times and will emit more heat into your room.
It can be placed anywhere with water and electricity. Samsung still needs the exit for the vent through the wall.
Both are good. It all depends on where you will be placing your laundry.
Additional Resources
Download our Yale Washer Buying Guide with all the features, terms and brands of laundry. Over 300,000 people have already found answers in a Yale guide.
Related Articles:
Why Should You Trust Us?
It seems that every appliance review has nothing but glowing comments about almost every product, yet you read customer reviews and they are almost universally bad.
We are here to fill in the disconnect. We'll give you the best features, and the drawbacks as well, including reliability based on over 37,000 calls performed by our service team just last year. Our goal is to give you ALL the information so you know what's right for you.
Please consider subscribing or adding to the conversation in the comments below. We appreciate you stopping by.
Kenny Keefe
Kenny Keefe is an appliance sales consultant at Yale Appliance. Prior to working at Yale, he spent 10 years as a Golf Professional. Since becoming a team member here in 2014, his passion, drive, and pursuit to exceed customers' expectations has made him a valuable asset to Yale. During his free time, he enjoys traveling, golfing, cooking, and keeping active.

Schedule a showroom visit with me
A Note About Pricing
Pricing on this blog is for reference only and may include time sensitive rebates. We make every attempt to provide accurate pricing at time of publishing. Please call the stores for most accurate price.