The Best Compact Laundry for 2017 (Reviews / Ratings / Prices)
Compact Laundry is a great alternative for homes in the city or if you have limited space.Typically these units are 24 inches wide by about 24 inches deep, so they could fit in a kitchen cabinet.
Usually, they are stacked, maybe in a closet, or in a narrow hallway. Compact laundry is mostly electric and most brands will only offer vented or non-vented dryer options. Brands to consider are Miele, Electrolux (they have a huge rebate now), Bosch, Blomberg, and Whirlpool.
First, since your biggest question will be what type of dryer you need, let's cover the differences between vented, non-vented (condensation), and heat pump dryers.
Short on time? Get our free Compact Laundry Buying Guide
Vented vs. Non-Vented Dryers
A vented dryer is like a vacuum because it pulls air in. To put it simply, it pulls air in from your laundry room, heats it, tumbles your clothes in it, and then pushes the air outside through an exhaust. Vented dryers usually cost less money to buy and dry faster than non-vented versions.
As for non-vented dryers, they work with a condenser which heats the air and helps evaporate water. Instead of pushing the air outside, it circles back into the condenser where it is cooled. Still, the evaporated water needs to be removed from the dryer. Most people run a line from the dryer to the drain of the washer to remove it.
Non-vented dryers have become more popular, especially with builders and homeowners who cannot vent to the outside. Non-vented dryers can work in any space with just 220 watts of power and a water line.
That said, most vented dryers also cannot pass the UL fire test, meaning the dryer cannot contain a fire for 7 hours, so many companies, like Bosch, now only market a non-vented dryer.
Heat Pump Dryers
Heat pump dryers work by using a compressor instead of elements. The air is then recirculated with no outside air being used. Heat pumps are more efficient than any type of dryer, but it is not widely sold in the US because they are a newer technology.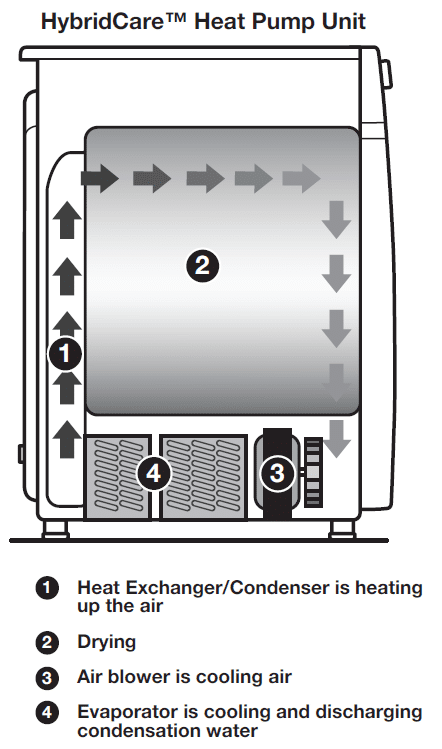 Now, let's dive into your five best options for compact laundry pairs.
5 Best Compact Laundry Pairs for 2017
Miele
Miele is a family owned German company. Their hallmark has been quality control and over 98% of the parts and components are built in their own factories. For this reason, Miele is one of the least repaired items in the appliance industry.
Miele Washer W3037 - $1999

Stainless steel Honeycomb wash drum
Advanced touchtronic controls
24-hour delay start
Digital program countdown display
Fault indicators
Child lock feature
Self diagnostics
Interior light
Hydraulic suspension
139 kWh consumption per year
110 volts
11 MasterCare wash programs
7 Standard wash programs
Create your own custom wash program
Heavy soil option
6 water temperature settings
6 spin settings (0 - 1300 rpm)

Miele Ventless Dryer T8023C - $1499

Large Capacity
Condensation Model
Stainless Steel Honeycomb drum
Condenser Container
Advanced Touchtronic Controls
Interior Light
Program Sequence Lights
Child Lock Feature
Buzzer On/Off Switch
8 Pre-set Drying Programs
Turbo Drying Option
Gentle Drying Option
Anti-crease Function


I like their indented "Honeycomb" drum because the fabrics never touch the bottom during the wash. Silks and fine washables can be placed in a Miele without damaging or stretching the fabrics.
Bosch
Bosch, like Miele, is another German company. Bosch has always been one of our most popular sellers. They are built solid, offer better sound insulation, and are reliable for parts and service. Also, compared to other options, they are reasonably priced.
Bosch will have two washer models and two dryer models. The dryers are both condensation only (non-vented). Typically, we recommend a higher speed CFM washer with a non-vented dryer in order to pre-dry the clothes. The higher spin speed will remove more liquid out from the clothes which will help dry the clothes faster.
Bosch Axxis Plus Series WAP24202UC - $1259.99

Large Capacity on Compact Footprint
15 Wash Cycles plus 6 Selectable Options
Large LED Display with Delay Start
Unique Raindrop Stainless Steel Drum
AntiVibration Technology for Second Floors Installation
Special Cycles including 15 Minute Super Quick Wash, Sanitary, and Heavy Duty
Stackable Installation Option Helps Save Space
Plugs into Axxis Dryer. Uses 15 Amp 3-Wire 240/208 Volt Power Cord.

Bosch Axxis Plus White WTB86202UC - $1259.99


Ventless Drying
Requires No Ducting
Large Capacity on Compact Footprint
15 Drying Cycles
6 Selectable Options
LED Display with Remaining Time
Interior Light
Reversible Door Requires No Additional Parts
Washer Plugs into Bosch 240V Dryer.
Blomberg
Blomberg, originally from Germany, is now manufactured in Turkey. Blomberg is one of the only compact vented dryer manufacturers to pass the March 20, 2013 U.L. fire test. Besides the "Fire Test," what makes Blomberg unique is their depth of 22 inches vs. most compact laundry units, which are usually 24 inches.
In tight spaces, sometimes the depth can make a huge difference. The Blomberg laundry will have automatic and adjustable controls. The automatic controls will adjust to the wash and dry perfectly, or they can be manually selected for more customization, based on the user preference and load types.
Bloomberg Washer WM87120 - $940

2.15 Cu. Ft. Volume
1,200 RPM
Stainless Steel Drum
Internal Heater
Child Lock
16 Program Settings
Automatic Wash and Water Control
LCD Electronic Display

Blomberg Vented Dryer DV17542 - $665

3.67 Cu. Ft. Volume
Vented Drying System
Stainless Steel Drum
220-240V / 60Hz
15 Program Settings
Auto Anti-Creasing
Automatic Sensor Drying
Clean Filter Indicator Light
Child Lock
What is Compact Laundry?
Electrolux
Electrolux has been in business since 1919 and is a global leader in home appliances from Sweden.
These are some great units, especially with the current $400 rebates. They currently have largest capacity in the market and offer the fastest wash and dry cycles in the industry. The washer is the only compact steam washer in the market.
The washer vents from the bottom so it uses the natural rise of steam to more effectively remove stains. In addition, Electrolux offers a 2nd floor guarantee, which makes this ideal for upper floor installations. These are known for not vibrating at high spin speeds.
The washer uses varied wash motions to deliver the best cleaning performance, and the dryer offers a reversible door for flexible installation. It also has reverse tumble action. This will alternate directions of the dryer to reduce tangling and wrinkling of clothes.
They can either be stacked or installed on pedestals. The pedestals offer a unique built-in laundry basket.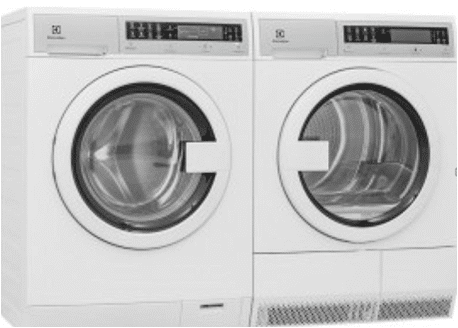 Electrolux Washer EIFLS20QSW - $999

Less $200 Rebate = $799

2.4 cu.ft. Largest Capacity Stainless Steel Drum
Perfect Steam Washer
1400 RPM
2nd Floor Guarantee
NSF Certified
14 Washing Programs
Eco Start
Sanitary Cycle
Delay Wash (up to 24 hours)
Fast Wash Cycle
Pedestal Option w/ Built-in Laundry Basket

Electrolux Electric Non-vented Dryer - $999

Less $200 Rebate = $799

4.0 cu.ft. Large Capacity with NeveRust Stainless Steel Drum
Sensor Dry System
LoDecibel Quiet Operation
9 Drying Programs
3 Temperature Options
2nd Floor Guarantee
Reversible Door
Delicates Cycle
Fast Dry Cycle
Pedestal Option w/ built-in Laundry Basket
Whirlpool
Whirlpool, which started as a laundry company in the 1920s, is the largest manufacturer in the world. Whirlpool is American-based right out of Michigan. They produce KitchenAid, Maytag, Jenn-Air, and Amana labels. Their laundry products are still the best in their line.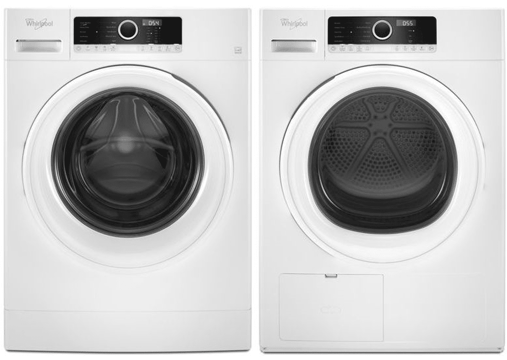 Whirlpool Compact Washer WFW3090GW

1.9 cu. ft. capacity
Detergent Dosing Aid
Multiple options including Save Time option, Colors option, and TumbleFresh option
Guided Mode
Tap Touch Controls with Memory
Fabric Care
Stainless Steel Drum
10 Wash Cycle Selections

Whirlpool Heat Pump Dryer WHD3090GW

4.3 cu. ft. capacity
Stainless Steel Drum
3 Temperature Options
10 dryer cycles including Refresh Cycle, Wool Cycle, Air Dry Cycle, and Bulky Bedding Cycle
7 dryer options such as the Wrinkle Shield Option
Delay Start
The washer is decent. You will like the detergent dispenser, which automatically dispenses the right amount of detergent. The dryer is excellent with the main benefits being efficiency and cost savings.
Compact Laundry Comparison
When comparing these brands, the Blomberg will be less expensive. From an installation perspective, Blomberg is great for tight areas and the dryer can be vented outside.
Miele is best known for quality as they are built for performance. Its honey-combed drum allows you to wash silks and other fine washables. Miele, however, costs almost twice as much compared to other brands.
Bosch is very well known for their service, value, and reputation.
Electrolux is very appealing with their 2nd floor guarantee and steam in the washer. With their $400 rebates, Electrolux may be the best value currently on the market.
Additional Resources
Download the Yale Compact Laundry Buying Guide with specs, features and inside buying tips to every major brand. Well over 200,000 people have read a Yale Guide.
Paul Groux
Paul Groux has been with Yale Appliance + Lighting for over almost 20 years, specializing in appliance sales. He is a former U.S. Army Paratrooper and has completed two Boston marathons.

Read more about Paul here.
A Note About Pricing
Pricing on this blog is for reference only and may include time sensitive rebates. We make every attempt to provide accurate pricing at time of publishing. Please call the stores for most accurate price.