Dacor vs. Miele 48-inch Dual Fuel Professional Ranges (Reviews / Ratings / Prices)
Forty-eight-inch ranges have become very confusing to buy. You have a vast array of options. They break down this way: BlueStar, Capital, Thermador Harmony, Viking, and Wolf. Basic gas ranges have simple controls and limited functionality. They are designed like the original commercial ranges.
In dual fuel, like Wolf and Jenn-Air's ranges, add a clock, timer, and other functionality similar to a decent kitchen range.
Thermador, Dacor, and Miele offer better features. Dacor and Miele especially offer guided cooking, some steam functionality and other features unavailable in other ranges of any kind.
To understand which is better for you, we will look at both companies, the technology, and both ranges. Then you can judge which range might fit your needs.
Short on time? Get our free Pro Cooking Buying Guide
Who is Dacor?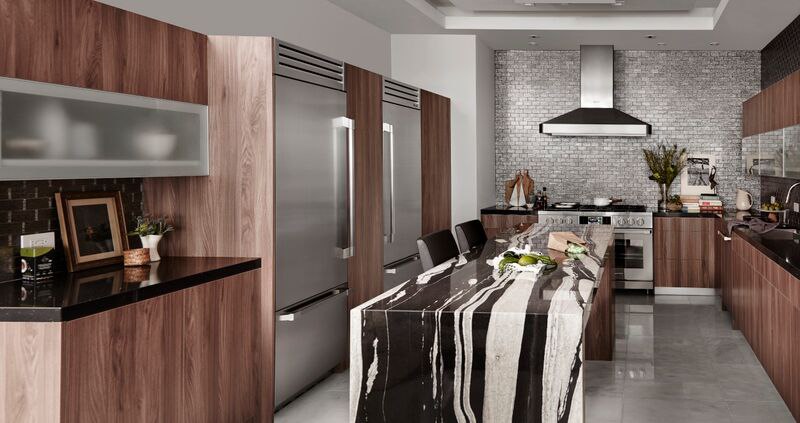 American-made and family-owned, Dacor has been designing and manufacturing appliances for three generations. Stan and Anthony Joseph founded the Stananthony Corp. in 1948.
In 1965, Stananthony became Distinctive Appliance Corporation, also known as Dacor.
From 1975-2013, Dacor has produced many appliances from modular cooking systems to the first smart wall oven.
They were the first with the internet connected range. Samsung bought Dacor in 2017 enabling technology to continue being Dacor's forte.
Who is Miele?
The Miele Company is a European based company with many factories throughout Europe. Carl Miele and Reinhard Zinkann founded Miele & Cie in 1898 which was and still is an independent family-owned company.
The Miele Corporation has launched a magnitude of appliances over decades and even its own line of cleaning products called the "Miele Care Collection."
Professional ranges were released in 2015. They feature their MasterChef and steam assist automatic programs, which aid in your cooking whether you are baking bread or cooking meat.
Miele has been more manufacturer driven. They still produce most of their parts rather than outsource them, unlike most manufacturers.
Let's take a look at Dacor's and Miele's 48-inch dual fuel professional ranges.
Dacor vs. Miele 48-inch Dual Fuel Ranges
Dacor Modernist DOP48M96D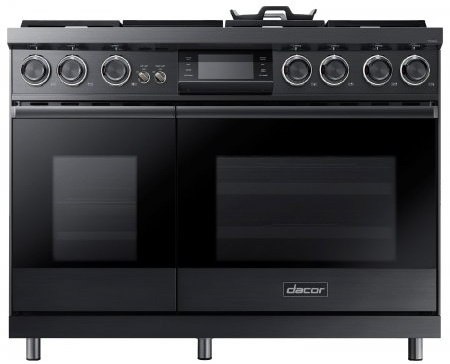 Features:
Android control panel with Wi-Fi capability
An app called the "IQ" created for Dacor ranges to download recipes, store favorites, get menu ideas with recipes, and even have a remote diagnosis.
Sear burners provide up to 22,000 BTUs along with an 18,000 BTU, four at 16,000 BTUs, and a 9,000 BTU burner
Simmer, ultra-low at 800 BTUs to achieve a true simmer
Option to have brass burner caps or black, the range ships with both colors
The convection fan has a baffle filter (which allows the air to pull through the filter allowing very little to no transfer of flavors between racks. This system also ensures the same air temperature and air speed on each rack.)
Large oven capacity (5.2 cu ft) that will hold a commercial size sheet pan
Glass covered broiler for easy cleanability, even sear, and broil
Custom finishes in multiple colors
Self-Clean and Steam clean conserves energy and cleans without any harsh chemicals.
3 Year Warranty
Features:
6 x 19,000 BTU Brass Burners
2 x 12,000 BTU Brass Burners
M-touch menu driven control panel walks you through the cooking process on over 100 dishes to ensure perfect results
Full-Size Steam-Assist Wall Oven with M-Touch Controls – adds bursts of steam into the wall oven cavity throughout the cooking process to achieve optimal cooking results
Dishwasher-safe grates
Oven racks can stay inside the oven during the self-clean cycle
Wireless roast probe
Clean touch stainless steel reduces fingerprints on stainless surface
Soft-close and soft-open doors
Speed oven, microwave combination with convection – like many other brands the Miele 48'' range has 2 ovens, their smaller oven also has microwave capabilities for quick heating
Gas griddle and/or grill option
Warming Drawer – located below the speed oven, keeps your food warm until you are ready to eat, great for busy families
2-year warranty
Dacor vs. Miele Pro Range Comparison
Controls
Dacor 's control panel is essentially a Samsung tablet. You can play Pandora, surf for recipes, and have full internet access. The range can also text you after set durations of time or modes are completed, so you do not have to stay in your kitchen all day. The oven alerts you.
Miele does not have internet capabilities but has the more functional technology.
Their MasterChef controls allow you to select a food, your preferred doneness, and then cook it to perfection with just a touch of a button.
Dacor's interface has nice images of food you can cook but no guided cooking to achieve that result.
Both of these ranges are "tech-heavy". They both require the use of a control panel to use the oven.
If your goal is to create food easily, the Miele control panel is more function focused and easy to navigate.
However, you can only surf the internet for recipes with Dacor.
Dacor Modernist Control Panel
Miele Range Controls
Burners
Miele Burner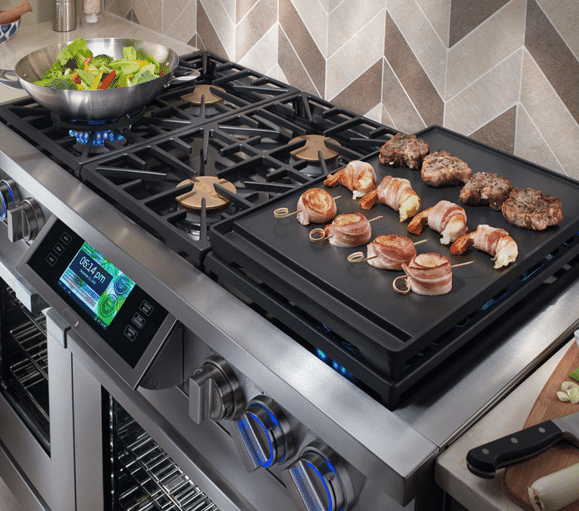 Dacor Burner
Miele's offers 48-inch ranges with a few surface options: 8 burners, 6 burners and griddle, 6 burners and grill, and four burners with grill and griddle.
Miele's most powerful burner at 19,000 BTUs. Miele's burner can also achieve a low simmer.
Dacor has a technically more powerful top with a 22,000 BTU and several at 16,000 BTU.
Miele has an infrared gas grill, which is the fastest and easiest to clean. They also have the gas griddle. It will be faster than the Dacor.
Oven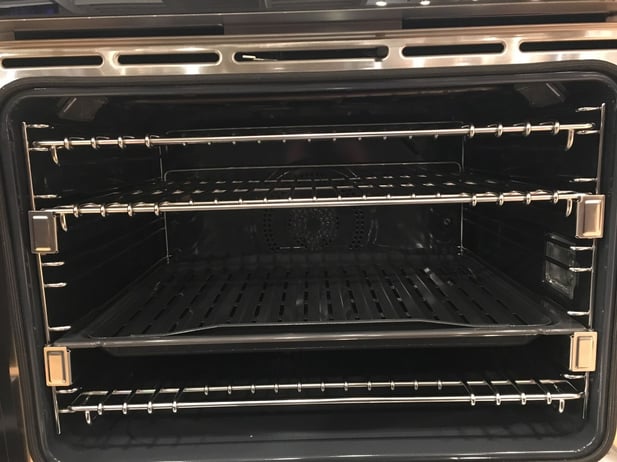 Miele Oven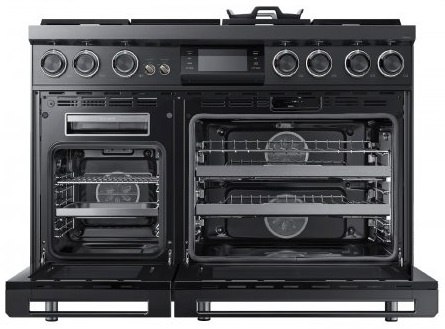 Dacor Oven
Miele has a speed oven and warming drawer instead of a second oven. The speed oven is a microwave convection, so you can cook microwave, convection or both to save time.
Miele's main oven has the steam assist. Steam is a great finisher to harden foods or add the crust to bread. Never baked bread before? Miele has automatic programs for 16 types of bread.
They also have a warming drawer that keeps food warm for up to 3 hours without dehydration, which is useful if you like to entertain.
Dacor has a twin convection oven without steam, but adds a steam oven on the side.
This may be confusing but you are comparing a larger steam assist oven versus a steam oven and a smaller speed oven against a larger convection oven.
Warranty
Dacor's 3-year warranty is one of the best in the industry. Miele is only 2 years.
Value and Reliability
Miele is known to have the best quality control of any manufacturer because they make their own hardware and electronics. Because of this, they are known to be one of the most reliable brands.
Dacor has the better warranty, but you will more likely need to use it. To be transparent, we have not carried Dacor in recent history. I am curious to see how the brand performs under new ownership.
Neither brand offers much for service, so make sure you buy from a company with repair services.
Which Do You Buy?
The case for Dacor:
You have to love the WiFi, the smart new finish and the enhanced burners. The second oven with steam is a good idea.
The case for Miele:
The oven control panel does not have as many "bells and whistles" however is still function focused. The MasterChef just simplifies every cooking function.
The speed oven, warming drawer, and especially steam cycles are a big advantage. No other range company offers a "steam assist" or a "speed oven."
Miele's guided cooking is easier and more transparent than the Dacor at this moment and time. It is very easy to use.
Which Should You Buy?
It depends on how you cook like any similar products.
However, you need to to see a demo on both including food to truly see the capability of each before you buy.
Miele is more proven, but Dacor will be interesting especially in the future with Samsung developing the technology.
Additional Resources
Want to learn more about Professional Ranges? Download the Yale Professional Cooking Buying Guide with features, specs and inside tips to all the brands like Wolf, Thermador, Dacor, Miele, Viking and more. Well over 240,000 people have read a Yale Guide.
Related Articles
Why Should You Trust Us?
It seems that every appliance review has nothing but glowing comments about almost every product, yet you read customer reviews and they are almost universally bad.
We are here to fill in the disconnect. We'll give you the best features, and the drawbacks as well, including reliability based on over 37,000 calls performed by our service team just last year. Our goal is to give you ALL the information so you know what's right for you.
Please consider subscribing or adding to the conversation in the comments below. We appreciate you stopping by.
Amy Ross
Amy has worked in sales, design, and home staging for 15 years. She enjoys seeing her projects from beginning to end and is extraordinarily detail-oriented. Amy has assisted in the designs of all three Yale showrooms. In her spare time, she loves spending time outdoors with her husband and two children, kayaking, paddle boarding, hiking, and skiing.

Schedule a showroom visit with me
A Note About Pricing
Pricing on this blog is for reference only and may include time sensitive rebates. We make every attempt to provide accurate pricing at time of publishing. Please call the stores for most accurate price.