Infrared vs. Traditional Grill Burners (Reviews / Ratings / Video)
Free Delivery & Assembly of Grills Over $499
You are probably a bit confused as to what an infrared grill burner, also known as an all-sear burner, is and why you may or may not need it. Once you understand infrared you will then wonder why you may still need traditional burners.
In fact, I asked two chefs the same question. Would they prefer infrared burners or the traditional gas burners? Their answer: Most people would burn their food using the infrared burners because they are more powerful.
Much of what you should purchase has to do with how you cook. So, we will define what an infrared all-sear burner is, how it differs from a traditional burner, and then show you the performance in a video we created to answer this question.
What's the difference between infrared burners and traditional gas burners?
It's simple, actually. A gas burner heats the air and the air heats the food while infrared burners heat the food directly.
For a more detailed explanation, watch this video below.
Infrared vs. Traditional Burners on Grills
What is an Infrared All-Sear Burner?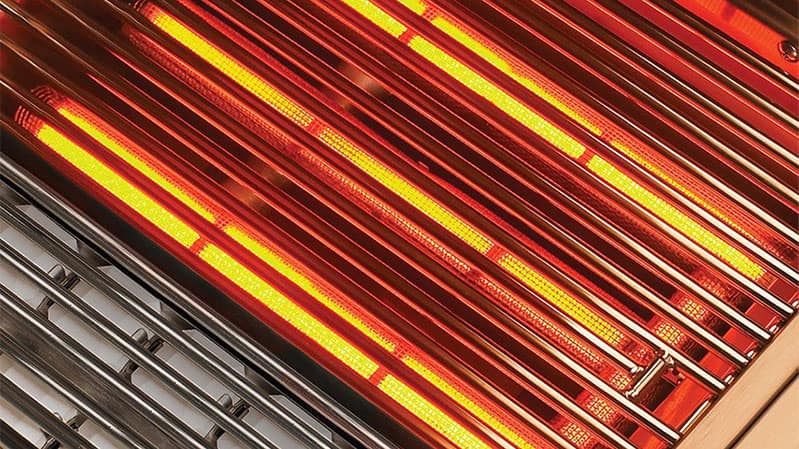 Lynx Grill Infrared Burner
An infrared all-sear burner offers a much higher and persistent heat. The most common infrared technology works by focusing the flame onto a ceramic tile covered in thousands of microscopic holes. This acts as a diffuser to stop the flow of hot air and only allowing infrared energy to radiate through, resulting in a nice char on the outside but your steak (for instance) stays juicy in the middle.
The infrared burner was patented in 1961 by Bill Best while working on rockets. In the beginning, it wasn't used for grilling. He used it for portable space heaters and automotive paint drying systems. It was in the 1980's that he combined his infrared technology with his love for outdoor cooking.
Best understood that heating the food instead of the air was a more efficient way of cooking and a better way to lock in the moisture. I know that when I cook a steak I really want to lock in those juices. With infrared, you can do that much better than with a traditional all gas burner.
Bill felt the same way. With this new technology, he launched TEC, the first infrared grill. In 2000, his patent for this technology ran out and other brands started using it. You will typically see infrared burners on gas grills in the form of side burners or sear burners.
Benefits of Infrared Burners:
Direct heat - more efficient
Faster pre-heat time
Better searing
Less wasted energy
Higher cooking temperatures - some from 275 to 1100
Short on time? Get our free BBQ Buying Guide
Traditional All Gas Burners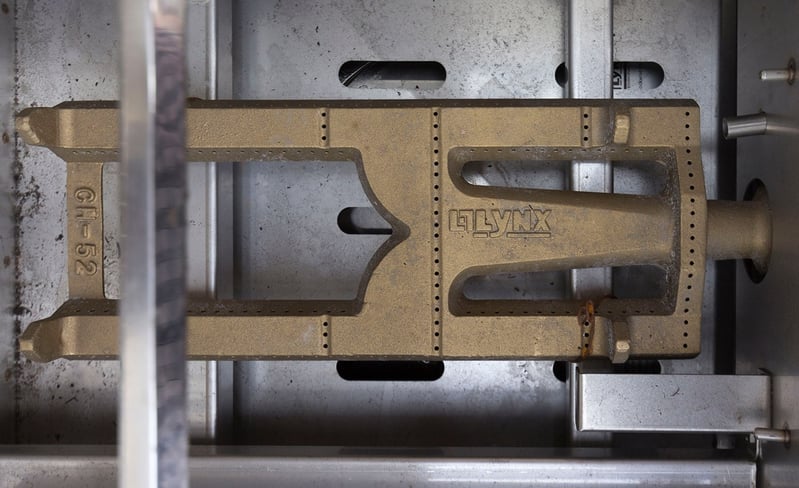 Lynx Grill Trident Burner
Traditional all gas burners diffuse heat from the flame and push the heated air upward and out. Your food is cooked by the hot air surrounding it.
In the 1960's William G. Wepfer introduced the gas grill as a bid to sell more natural gas. He took a charcoal grill and retrofitted a liquid propane bottle to it.
The resulting grill was more expensive than the charcoal models available at the time but the ease of use was seen as a value. The great debate of which is better, the ease of use versus flavor of the charcoal, still goes on today.
Benefits of Traditional All Gas Burners:
Most commonly used
Longer history of use
Better temperature control
Can sustain low temperatures
So, should you buy an infrared grill, an all traditional burner grill or a combination of the two?
Well, it depends on how you cook. If you like to cook fast, then infrared is better. It is also better for steaks and meats in general.
Normally, sear units are one temperature but Lynx has a variable sear from 275-1100 degrees. You could cook less dense foods faster. Below is the Lynx 42-inch built-in All Trident grill.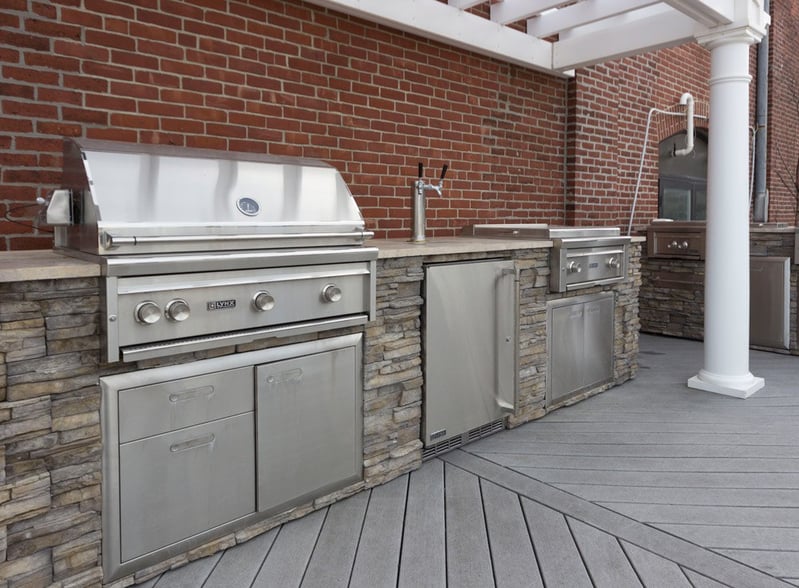 42" Built-In All-Trident Grill with Rotisserie (L42ASR) - $5,459
You can buy a great grill without a sear burner for much less money. If you only cook hotdogs and vegetables, a grill without a searing burner could be right for you. Weber offers decent, affordable grills for less money. The best feature: It has three Trident Burners (69,000 BTUs).
You also have a number of alternatives without buying infrared. Most professional burners are now 25,000 on average, but a few have additional functionality:
Ceramic briquettes will retain a lot of heat, making it an even heat. DCS has ceramic rods claiming a sear without an infrared.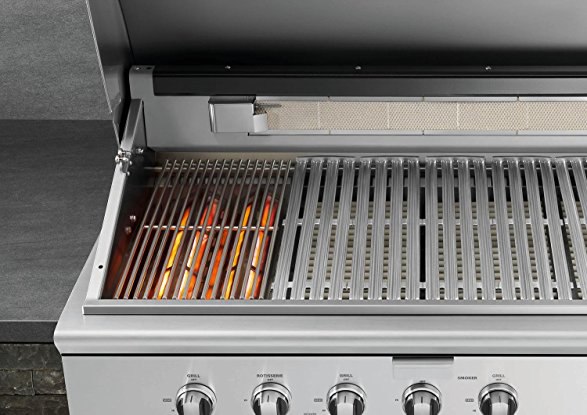 DCS Grill Interior
Hestan has super thick grates to absorb and retain more heat effectively turning that grill into a sear unit.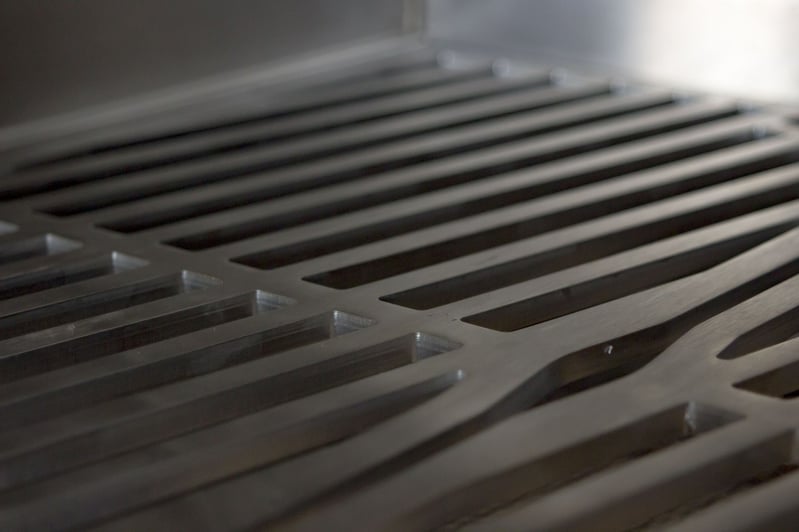 Hestan Diamond Cut Grill Grates
If you do any sort of burgers or steaks, I still recommend getting at least one searing burner. You need to lock in those juices!! If you want the most flexibility and price is not a problem, all-trident infrared grills are probably the best. You may be hesitant to buy an all infrared because of the power. However, it is adjustable.
Infrared is faster, more direct heat than a traditional gas burner. The prices are higher as well. Whether it is worth the extra money is dependent on how you use your grill and what you cook.
Additional Resources
Get our free BBQ Grill Buying Guide for reviews, features, and specs of the best brands. Over 330,000 people have already found answers in a Yale guide.

Related Articles:
Chris Wurlitzer
Chris Wurlitzer works as an Appliance Sales Associate with Yale Appliance + Lighting. He has 24 years of sales experience. Chris enjoys helping people and is a father of four. He is also an avid Spartan racer.

Schedule a showroom visit with me
A Note About Pricing
Pricing on this blog is for reference only and may include time sensitive rebates. We make every attempt to provide accurate pricing at time of publishing. Please call the stores for most accurate price.