Bosch 500 Series Built-In Dishwasher SHP865ZP5N Review (Ratings / Prices)
Bosch Kitchen Appliances at Yale Appliance in Hanover
The Bosch 500 series dishwasher SHP865ZP5N is one of the most popular dishwashers nationally.
However, that does not mean you should buy it.
Most of the time, it means a product was highly promoted or incentivized, not because it's that good.
In this article, you will learn all of the SHP865ZP5Ns features, price, and when to buy this dishwasher.
Then you will see the reliability of Bosch versus every major brand based on 35,256 service calls logged by our service department last year.
In the end, I'll compare Bosch's 500 series dishwasher to Miele, Samsung, and KitchenAid as well. To be popular or "best selling," the product has to compete favorably versus its competition. You will see if it does.
Short on time? Get our free Dishwasher Buying Guide
Bosch 500 Series Built-In Dishwasher Review
First, what's the deal with so many "SHP865" dishwasher models?
Do a Google search on a SHP865, and you will see an array of model numbers ranging from $799 for last year's model to $1,049 for 2020's model.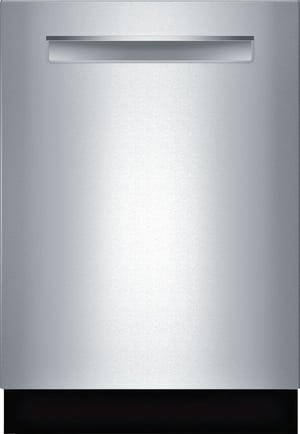 Features:
44 dBA: Quietest Dishwasher Brand in the U.S.
A flexible 3rd rack with fold down sides adds 30% more loading capacity.
The pocket handle seamlessly integrates into your kitchen & installs flush.
The 2 level EasyGlide rack system provides a smooth glide for easier loading & unloading on the
upper and lower racks.
FlexSpace Tines fold back to fit your larger pots & pans.
The SHP865ZP5N is the latest and most well-featured model. It adds Bosch's best ball-bearing racks, rack stop, and new AutoAir drying system. You will read about those features in the next few paragraphs.
You should know there is a difference in all these SHP865 model numbers.
Bosch 500 Series Dishwasher Review [VIDEO]
Bosch 500 Series Dishwasher Feature Highlights
Bosch 500 Series Dishwasher SHP865ZP5N Racks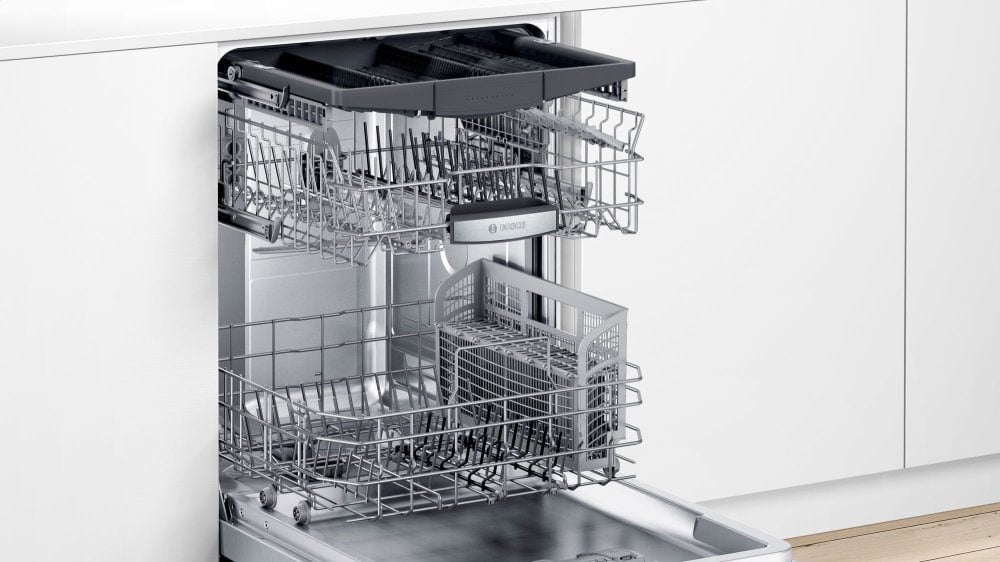 Bosch 500 Series Dishwasher Racks
Before we look at cycles, this dishwasher has a third rack for silverware and Bosch's premium ball-bearing racks, so they glide out.
Bosch Dishwasher Premium Ball-Bearing Racks
You don't have to tug at a rack full of dishes to force them out. You even have a rack-stop at the bottom as well.
It's a great feature if you load up your dishwasher.
Dishwasher Sound Comparison [VIDEO]
Bosch 500 Series Dishwasher SHP865ZP5N Washing Cycles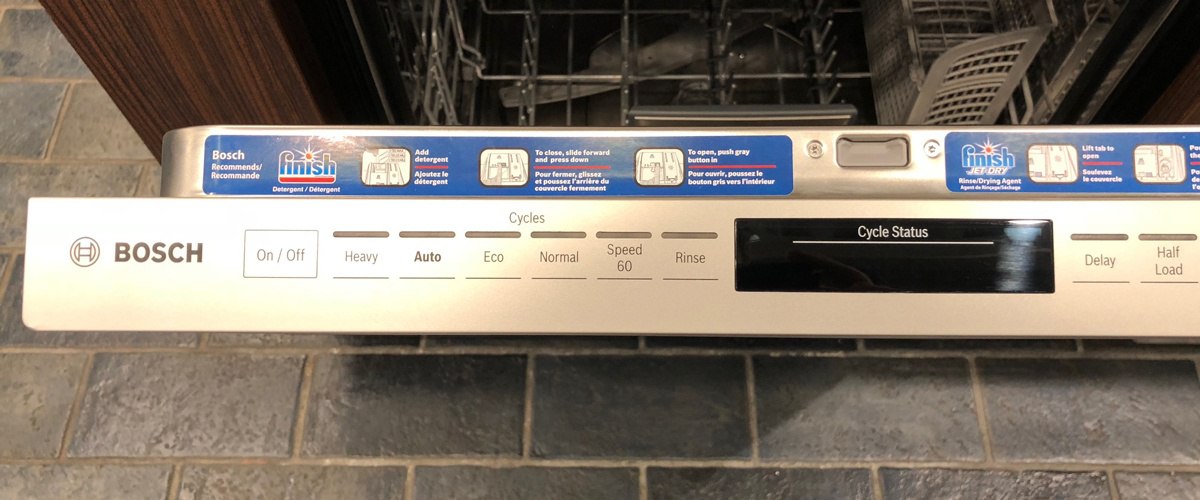 Bosch Dishwasher Cycles at Yale Appliance in Boston
This dishwasher will also have all the main cycles you'll use. Heavy for baked-on dishes, auto sets time and temperature based on a soil sensor. You have a delay start, and a sanitize for a higher temperature boost.
The following are short descriptions:
"Heavy" for baked-on food
"Auto" for efficiency and power based on the amount of food on the dishes
"Delay start."
And "Sanitize" for a temperature boost
"Speed60" for a quick 60-minute wash and dry for lightly and medium soiled dishes
Bosch 500 Series Dishwasher SHP865ZP5N Drying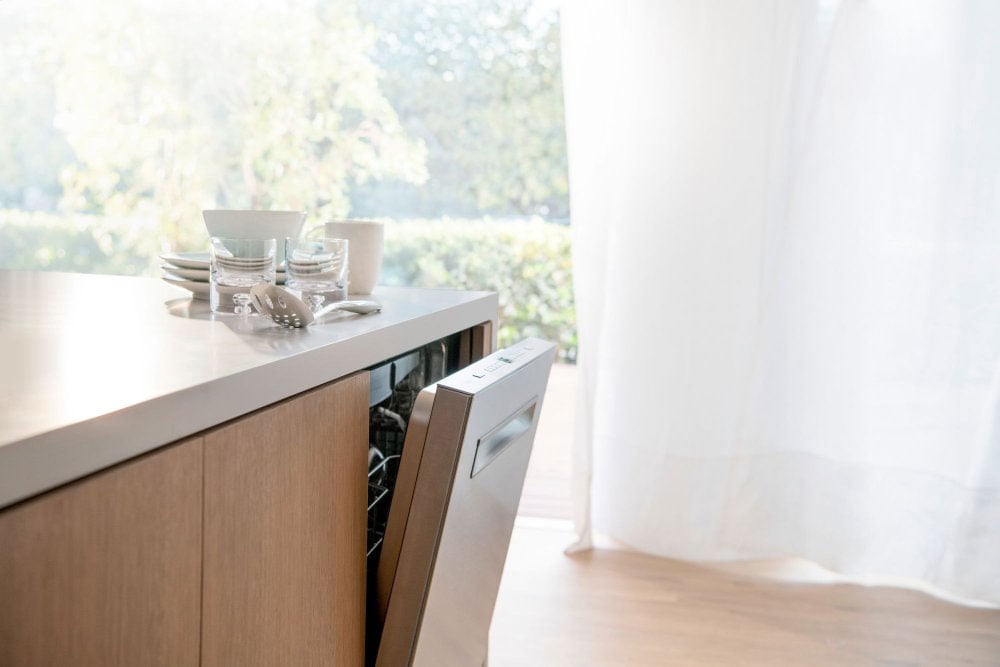 Bosch Dishwasher With AutoAir Drying
Bosch's drying system focuses on condensation as its main drying method. The dishwasher uses residual heat plus JetDry to dry your dishes.
AutoAir
Bosch's newest feature has been available in Miele and Samsung for a few years.
In AutoAir, the door pops open, releasing heat and steam to speed the drying process.
Crystal Dry
Crystal Dry is not available in this model, but it's still important to mention. Crystal Dry uses a volcanic element called zeolite to absorb moisture and increase heat in the dishwasher.
Although years in the appliance industry has caused us some skepticism, the drying does work - we tested it.
Anyway, it's available on the next better model at $200 more.
Bosch 500 Series Dishwasher SHP865ZP5N Quietness
At 44 DB, Bosch will be quiet enough to place even in an open floor kitchen plan without you hearing it.
Listen to a sound clip of various dishwashers.
Bosch 500 Series Dishwasher Reliability
Most Reliable Dishwasher Brands for 2020
| | | | |
| --- | --- | --- | --- |
| | Service QTY | Shipped QTY | Service Ratio |
| Asko | 103 | 190 | 54.21% |
| Jenn-Air | 188 | 493 | 38.13% |
| Bosch Benchmark | 25 | 70 | 35.71% |
| Fisher & Paykel | 56 | 193 | 29.02% |
| Miele | 185 | 903 | 20.49% |
| Maytag | 2 | 10 | 20.00% |
| Gaggenau | 16 | 104 | 15.38% |
| Thermador | 126 | 872 | 14.45% |
| KitchenAid | 90 | 688 | 13.08% |
| Café Appliances | 3 | 25 | 12.00% |
| Bosch | 398 | 3573 | 11.14% |
| Samsung | 134 | 1297 | 10.33% |
| LG | 5 | 81 | 6.17% |
| Cove | 2 | 44 | 4.55% |
| Ge Appliances | 1 | 37 | 2.70% |
| Whirlpool | 38 | 1471 | 2.58% |
| Grand Total | 1377 | 10166 | 13.55% |
Bosch is also the most reliable premium dishwasher requiring service only 11.3% of the time within the first year.
Most of the more reliable dishwashers are either basic or builder grade.
Bosch Vs. KitchenAid, Samsung, and Miele Dishwashers
Before we say Bosch is good or bad, let's look at its main competition Miele, Samsung, and KitchenAid.
Miele Vs. Bosch Dishwashers
Miele has a full wash arm on the top and bottom compared to Bosch's sprinkler.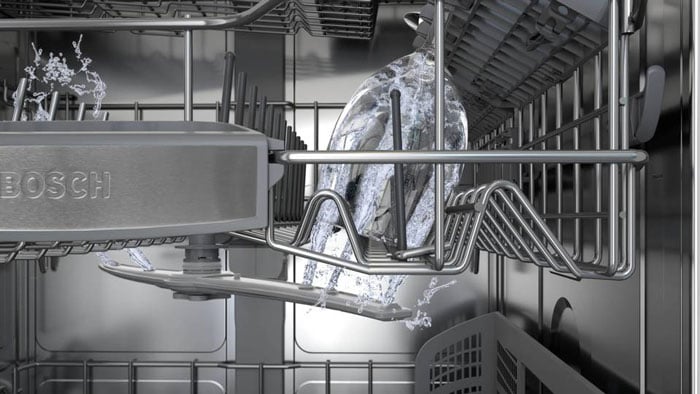 Bosch Dishwasher Sprinkler Wash Arm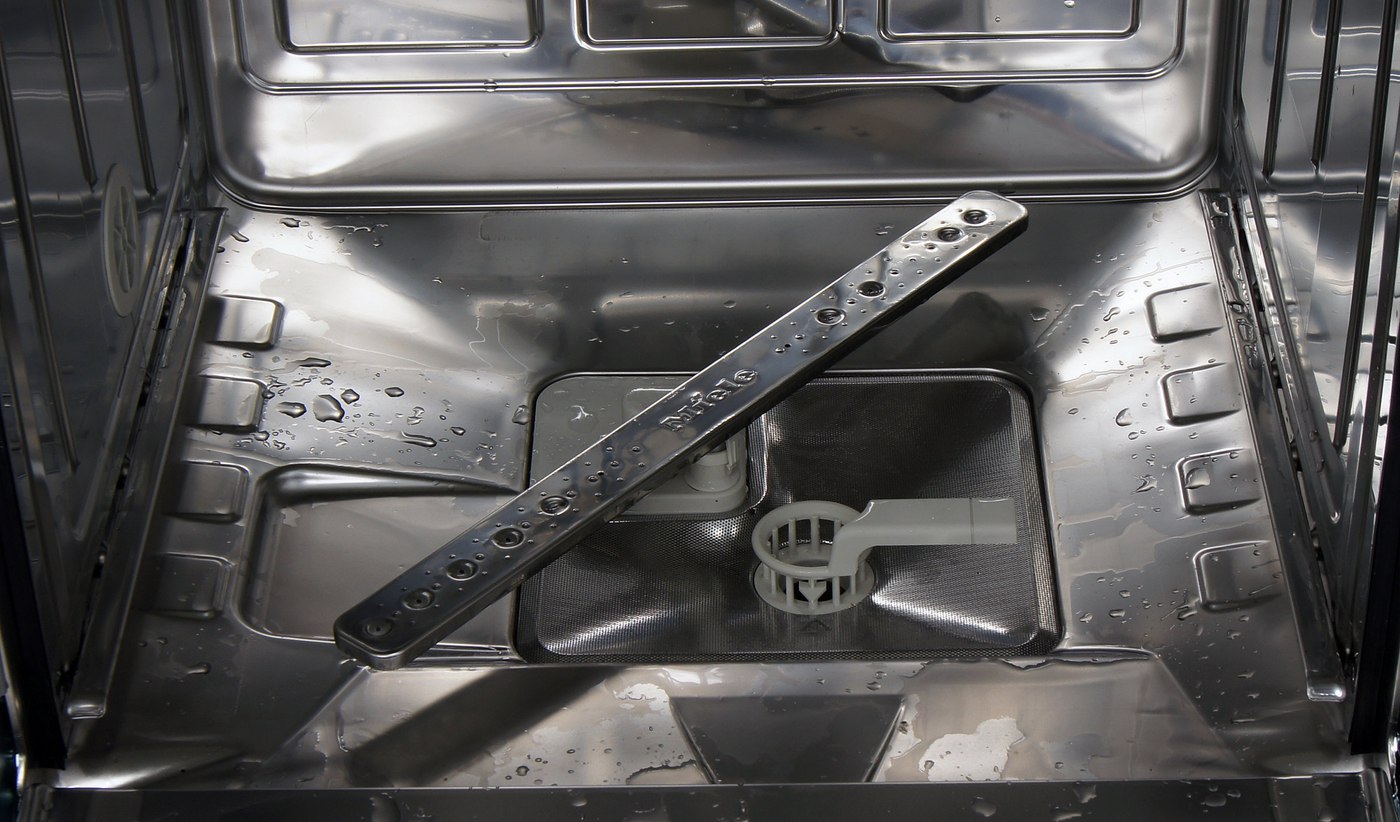 Miele Dishwasher Wash Arm
Miele also has a smart drying system called CleanDry. Air flows through a port in the bottom to the outside of the dishwasher.
The hotter air is attracted to the cooler sides of the interior and dissipates as water.
Bosch will have more cycles, better racks, and is more reliable than Miele, at least in the previous 12 months. Miele has historically been the most reliable, just not recently.
Miele Vs. KitchenAid
KitchenAid has a great dishwasher at $799. It's super quiet at 39 DBs and has the bottle wash or a separate spray to remove the gunk out of the bottom of your sports or baby bottles.
KitchenAid Dishwasher Bottle Wash System
Still, Bosch is a bit more reliable at 11% with KitchenAid at 13%. Bosch also has better racks and an automatic opening door for drying.
Bosch Vs. Samsung Dishwashers
Samsung has a ton of features. Their WaterWall is an impressive idea as the "wall of water" flows back and forth instead of the more traditional wash arms. It has zones of more intense washing as well.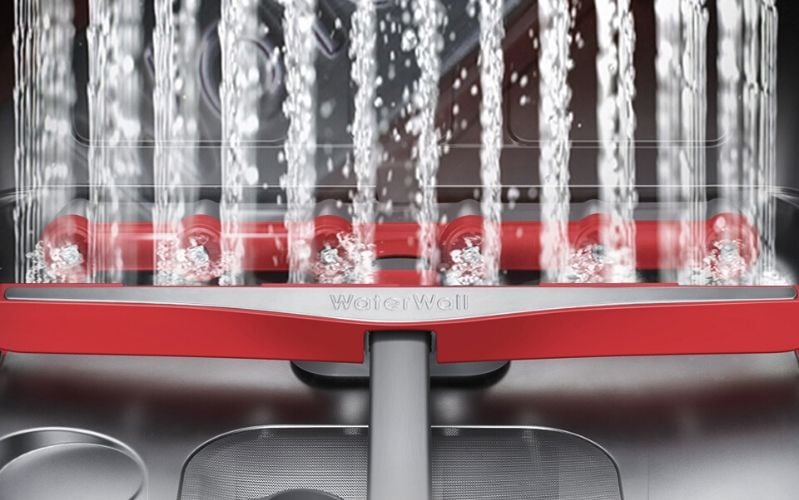 Samsung Dishwasher WaterWall
The pricing can be attractive as well as bouncing like a ping pong ball between $699-999, depending on the promotion.
In my opinion, revolutionary designs are good, but only if the product is inefficient or doesn't work well.
Dishwashers wash well. Boschs' dishwasher is more time tested, and for those outside Boston, it's easier to find service for a Bosch over a Samsung.
When Is The Best Time To Buy A Bosch Dishwasher?
The key to buying Bosch, KitchenAid, Miele, or any other appliance is timing around promotions. Always buy around holidays if you can, like Presidents' Day, July 4th, Labor Day, and Black Friday (now all of November).
You can save with rebates of 10-35% and other installation as well as package offers.
Of course, if you want a Bosch for less, their 300 series does not offer the better racks, AutoAir and some cycles for $769.
So there is a range to consider for Bosch dishwashers.
Should You Buy A Bosch 500 Series Dishwasher?
Dishwasher Display at Yale Appliance in Framingham
First, there is more than one SHP865. That said, this is a good dishwasher in terms of cycles, features, and racks.
Their reliability is the best for a premium dishwasher.
It is a dishwasher to consider along with some KitchenAid and Miele models, as well as the better and lesser expensive Bosch dishwashers.
Additional Resources
Want to learn more about Bosch, Miele, KitchenAid, and other dishwashers? Download the Yale Dishwasher Buying Guide with features, specs, and inside buying tips to all the major brands. Over 680,000 people have downloaded a Yale Guide.
Related Articles:
Why Should You Trust Us?
It seems that every appliance review has nothing but glowing comments about almost every product, yet you read customer reviews and they are almost universally bad.
We are here to fill in the disconnect. We'll give you the best features, and the drawbacks as well, including reliability based on over 37,000 calls performed by our service team just last year. Our goal is to give you ALL the information so you know what's right for you.
Please consider subscribing or adding to the conversation in the comments below. We appreciate you stopping by.
Steve Sheinkopf
Steve is the third-generation CEO of Yale and a lifelong Bostonian. He currently resides in Boston, one mile from where he was born. Despite being one of the worst goalies of all time, he is a huge hockey fan of college hockey and the Boston Bruins. The love of his life is his daughter Sophie.
A Note About Pricing
Pricing on this blog is for reference only and may include time sensitive rebates. We make every attempt to provide accurate pricing at time of publishing. Please call the stores for most accurate price.