June 3rd, 2022 | 5 min. read
There is a lot to learn. You also need to understand venting and how to vent. If you're unfamiliar with how to ventilate your kitchen, it may help to download our free Ventilation Buying Guide.
Let's get started.
The Best Downdraft Ranges and Cooktops for 2022
Best Gas Downdraft Cooktop: JennAir JGD3430GS - $2,399
There are only two brands that make downdraft cooktops, KitchenAid and JennAir. KitchenAid and JennAir downdraft cooktops are available in 36 and 30 inches. Then again, they are the same unit with a slightly different style.
If you had to choose one, check out the JennAir. This JennAir cooktop has 17,000 BTU (British Thermal Unit) and 15,000 BTU burners. This cooktop's downdraft has over 300 CFM (Cubic Feet Per Minute) of power. CFM is the amount of air that is extracted per minute by blower or fan.
Best Electric Downdraft Cooktop: JennAir JED3430GS - $2,299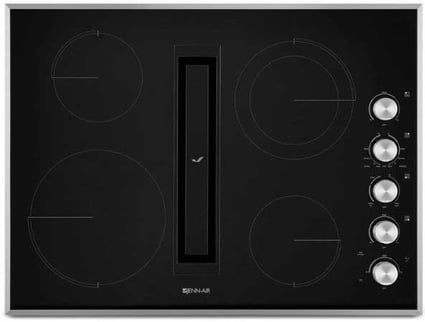 This electric cooktop is similar to gas, with only four smooth top burners. You can buy it with a package of JennAir appliances for a better overall discount.
Electric cooktops with downdrafts are better than gas because electric doesn't generate the heat and smoke of gas.
Best Cooktop Downdraft Alternatives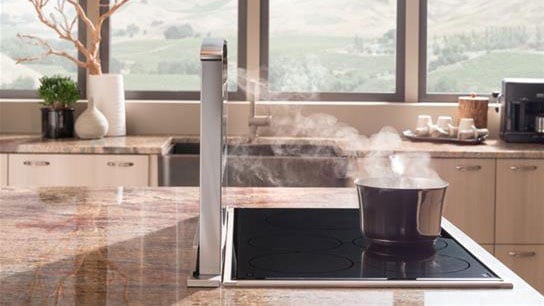 BEST Cattura Downdraft Paired With an Induction Cooktop
All downdraft cooktops are dated. Any cooktop can be a downdraft by adding the downdraft separately. These componentry downdrafts are better as well in CFM exhaust. You can buy them at 600 or even 1200 CFM compared to the 350 CFM of the JennAir.
They also raise nine inches over the cooktop to exhaust the steam. Every brand, like Thermador, Bosch, Wolf, BEST, Broan, KitchenAid, JennAir, and Gaggenau, market this separate downdraft.
A separate raised downdraft is a better option because it allows you to buy induction or another gas cooktop and incorporate a different, more powerful downdraft option.
You will not want to buy any downdrafts after reading the rest of this article.
Best Electric Downdraft Ranges: JennAir JES1750FS ($3,699) and KitchenAid KSEG950ESS ($3,239)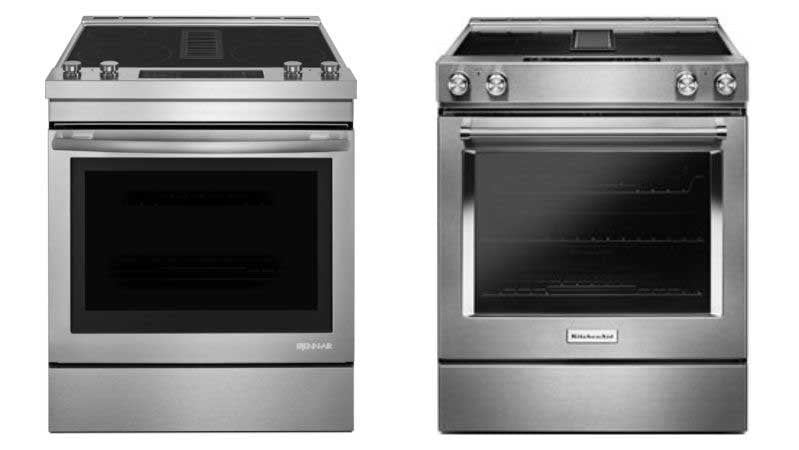 JennAir and KitchenAid have the only downdraft ranges, and again it's the same product. Electric ovens are better for baking, but gas is better for roasting and broiling.
Do Downdrafts Work?
Downdrafts are a final solution only for existing construction. I would tell you to scrap the idea and renovate your kitchen if I knew you better.
It's a problem and a risk for your family as burning fat produces Carbon Dioxide, Formaldehyde, Carbon Monoxide, and Particulate Matter. Your new efficient remodel will keep those gases in your home longer.
The best option you have is buying the right ventilation hood to properly exhaust the air and gases in your kitchen while cooking. For example, in a commercial kitchen, the vent is always enormous. It is much bigger than the range to capture all the heat and smoke.
The following are the properties of venting and how a downdraft measures up to a regular ventilation hood.
CFM - Downdrafts can have enough CFM. They start at 330 to 1200 CFM. CFM is how many cubes of air are exhausted every minute.
Capture - Smoke is captured and then exhausted. You need a tall deep hood if you cook. Unlike a range hood, there is little or no capture area in a downdraft. That smoke will billow past your downdraft into your kitchen and home if you are stir-frying on the front burners.
Duct Run - You are also reversing the flow of the smoke and adding an elbow, reducing the static flow of the exhaust.
The Problem with Burner Output Upgrades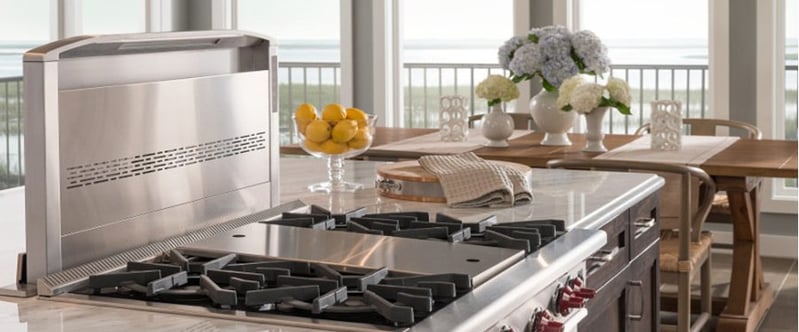 Downdraft Stationed with a High Output Gas Rangetop
The average gas stove output in 1986 when I started at Yale was 40,000 BTU. Now ranges have 65,000-70,000 BTU with power burners of 15,000 BTU and up in the front.
The downdraft sits in the back, poorly positioned to handle the most used, most powerful burners. You should either install an overhead hood or place the cooking where it can be more easily vented if possible.
Do You Need to Vent Your Range or Cooktop?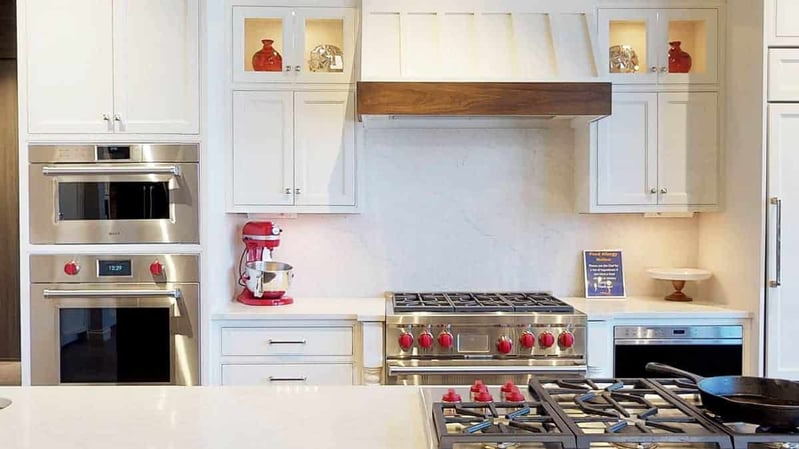 Wolf 36-Inch Dual Fuel Range with a Custom Designed Range Hood
No, you legally do not need to vent your kitchen range or cooktop. It's odd because your dryers and hot water tanks are regulated.
However, all that heat, grease, and smoke stays in your kitchen and house.
We have all been in that house that smells like old fish. That lingering odor is due to poor ventilation.
Broan says four gallons of grease stay in poorly ventilated kitchens. However, studies have shown that the air inside our home is worse than air outside due to all the gases emitted from burning fat.
You always should your range or cooktop with a hood.
Read More: How to Vent Your Kitchen Range
Make-Up Air
In Massachusetts, for any new construction with any vent of 400 CFM or greater, you need to "make-up" that air with an equal return.
With tighter tolerances for air, removing 400 cubes of air (the C in CFM) creates an unhealthy environment in your home without fresh air return. Air doesn't create a vacuum.
Without make-up air, that air will be pulled from your furnace, garage, and attic.
Now, it's easy to comply in the planning stages. Typically, you add an air return to your HVAC system.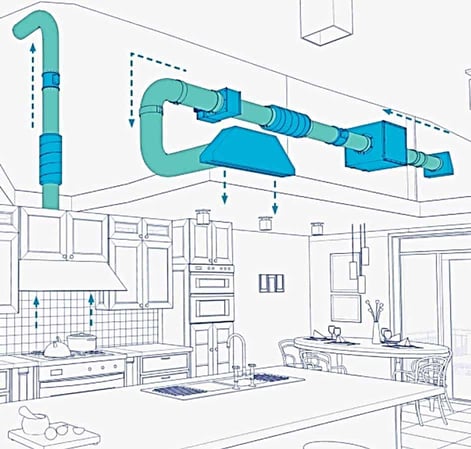 The regulations state that you need to plan a return on the opposite wall 10 feet away. Make-up air is much harder after your construction is done, so be careful.
Read More: What Is Make-Up Air?
Best Downdraft Alternatives
Island Hoods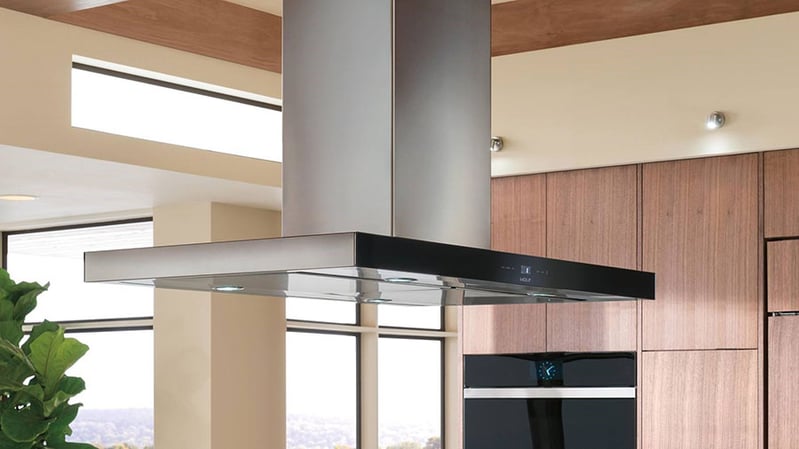 Island Ventilation Hood
Back in 1986, when I started at Yale, you had the Broan Chuckwagon and other awful venting solutions. Now island hoods are attractive. Island hoods are four-sided, unlike wall hoods. They are available in a ton of styles. You can also build yourself a wood hood and add a blower later.
You should consider an island hood because it is only directing rising air. Unlike downdrafts, hoods do not have to pull air in another direction. They can capture volumes of smoke and grease as well. You should try to incorporate a hood before thinking about a downdraft.
Different Kitchen Designs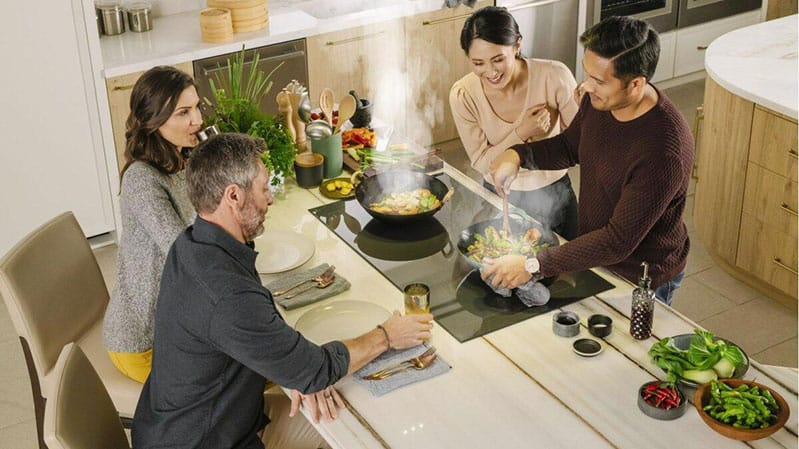 Cooktop Placed in a Kitchen Island
We have webinars about kitchen design. We will leave a few links at the bottom. Downdrafts are bad for ventilation in new kitchens, but designers like the streamlined look. You like to cook while facing your family and guests.
The design doesn't work well.
So instead, move the most used appliance, your sink, into your island and move the cooking against the wall where you can vent directly to the outside.
Read More: What Appliances You Should and Should Not Place in a Kitchen Island
Key Takeaways
The best takeaway is don't buy a downdraft unless you are replacing an existing downdraft.
We need to start taking venting more seriously. Higher output stoves and tighter homes lead to health risks due to the gases emitted by cooking.
A hood should always be your first choice. Even an island hood works in the middle of the kitchen.
Consider separating the downdraft and the cooktop for a much better overall unit or just scraping the idea and moving the stove against an outside wall.
Downdrafts are last-resort options only.
Additional Resources
Download the Yale Ventilation Buying Guide with features like ducting, the proper CFM for professional ranges, downdrafts, and much more. Over 1 million people have read a Yale Guide.
Related Articles:
Why Should You Trust Us?
It seems that every appliance review has nothing but glowing comments about almost every product, yet you read customer reviews and they are almost universally bad.
We are here to fill in the disconnect. We'll give you the best features, and the drawbacks as well, including reliability based on over 37,000 calls performed by our service team just last year. Our goal is to give you ALL the information so you know what's right for you.
Please consider subscribing or adding to the conversation in the comments below. We appreciate you stopping by.
A Note About Pricing
Pricing on this blog is for reference only and may include time sensitive rebates. We make every attempt to provide accurate pricing at time of publishing. Please call the stores for most accurate price.