New Jenn-Air Vs. Thermador 36- Inch Professional Ranges (Reviews/Ratings)
Jenn-Air and Thermador have both changed their professional (pro) range series with bold new looks and Wi-Fi connectivity.
In this article, you will learn about each brand's updates, and then we will compare each range by features and reliability so you can choose which range is best for your home.
First, let's look at Jenn-Air.
Jenn-Air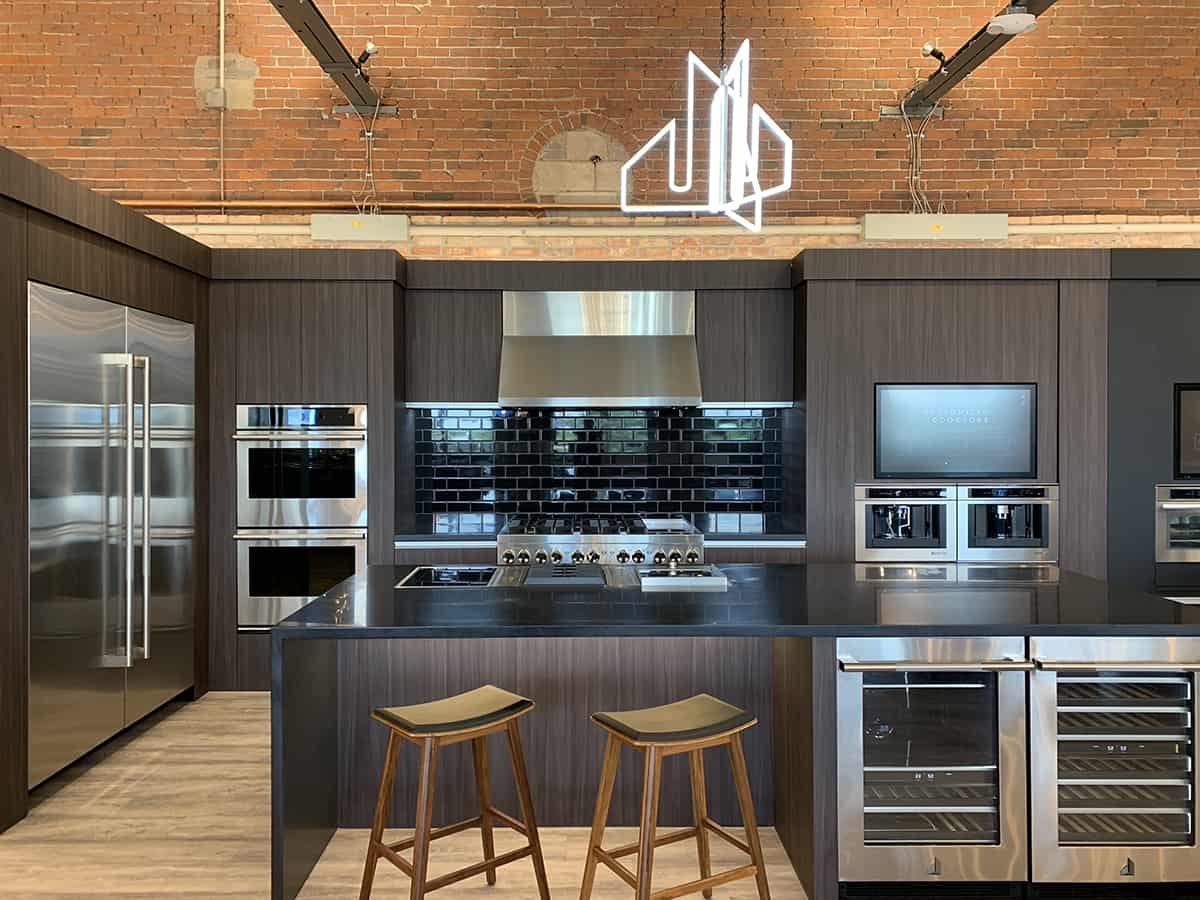 Jenn-Air Kitchen at Yale Appliance in Boston
Jenn-Air offers pro ranges in two distinct styles. The Rise Series is a more traditional looking The Noir Series is a more modern.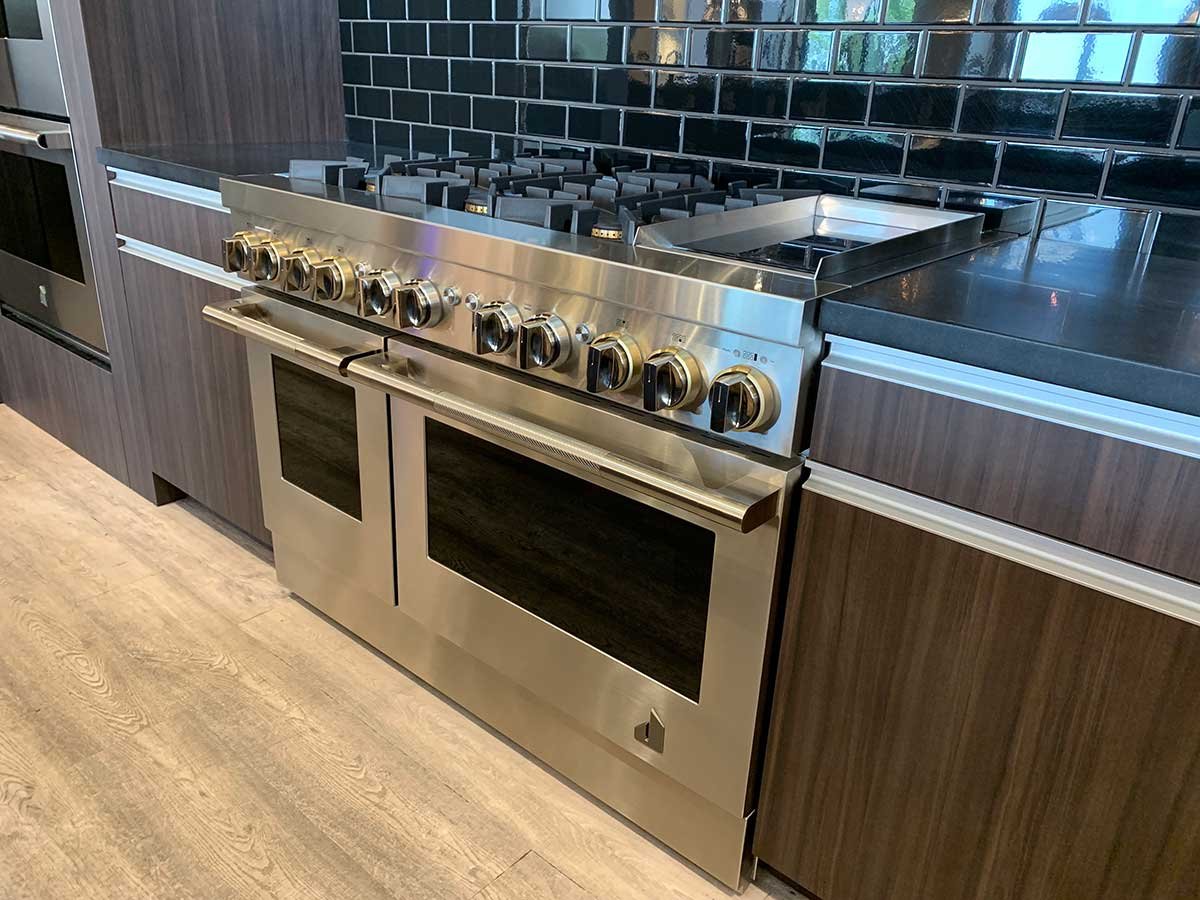 New Jenn-Air Professional Range Rise Collection
Six models are all gas (gas top and gas oven), and six models are dual fuel (gas top and electric oven).
Each series range has three cooktop configurations:
Six burners
Four burners with a grill
Four burners with a chromium infused griddle
What's New?
Wi-Fi: Wi-Fi connectivity is new, and Jenn-Air wants you to use it. Remote Access will let you preheat, check the status, and personalize settings so that you can check your food at a soccer game or any other location.
This year Jenn-Air abandoned their 7-inch LCD screen in favor of an all app design. There are no clocks or timers on this range.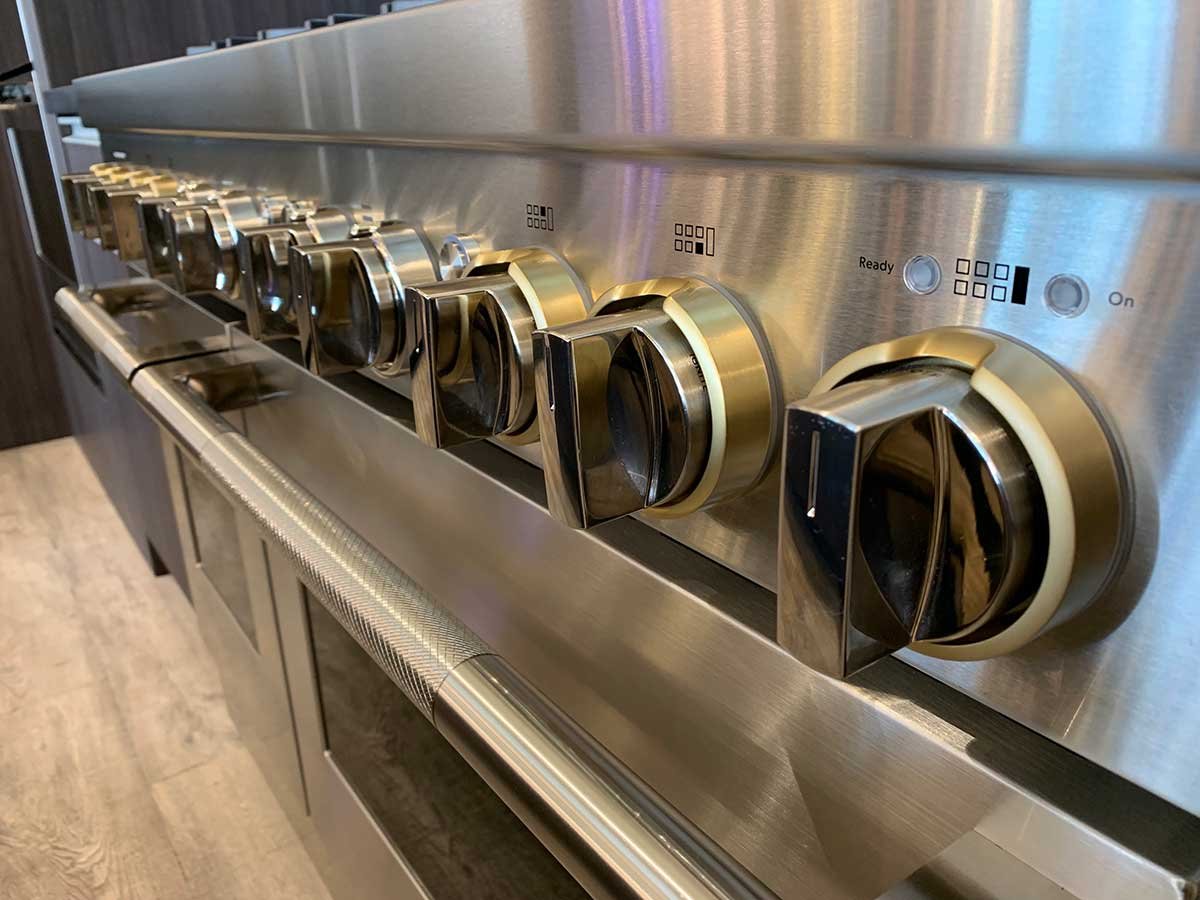 Jenn-Air Pro Range Rise Collection Controls
The timer is on your phone. Along with Miele, they have added intelligence to this range. You input the food, and how you want it cooked and the range calculates time and temperature
Scan to Cook: Scan to cook is a great feature. You scan the item to your phone, and it automatically programs the cooking time.
Burners: We are comparing 36-inch ranges, but they added another 20,000 BTU burner for a total of three along with two 18,000 BTU and one 9,000 BTU burner. The minimum simmer is 1000 BTU. It's now one of the most powerful sealed burners on the market.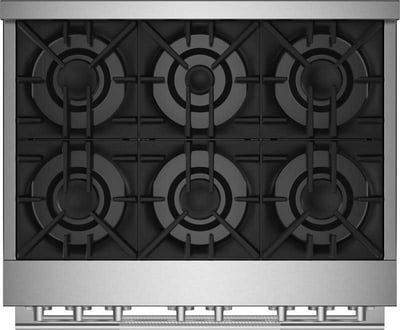 Jenn-Air 36-Inch Pro Range Controls
Infrared Grill: An infrared grill is a huge improvement, and not just because they didn't have one before. Infrared is intense direct heat. It is great for searing quickly (like your sear burners on a Lynx grill) and is easier to clean than a regular gas burner because it burns the drippings.
What Jenn-Air Could Have Improved:
The Broiler: It's not an infrared broiler and hangs down further than it should. It's more of an observation than a criticism.
Timer Settings: They are betting on a Wi-Fi range. There is no clock or any traditional timing mechanisms, so you can't set this easily using knobs. Then again, we are starting to interact with technology to this level.
Short on time? Get our free Pro Cooking Buying Guide
Thermador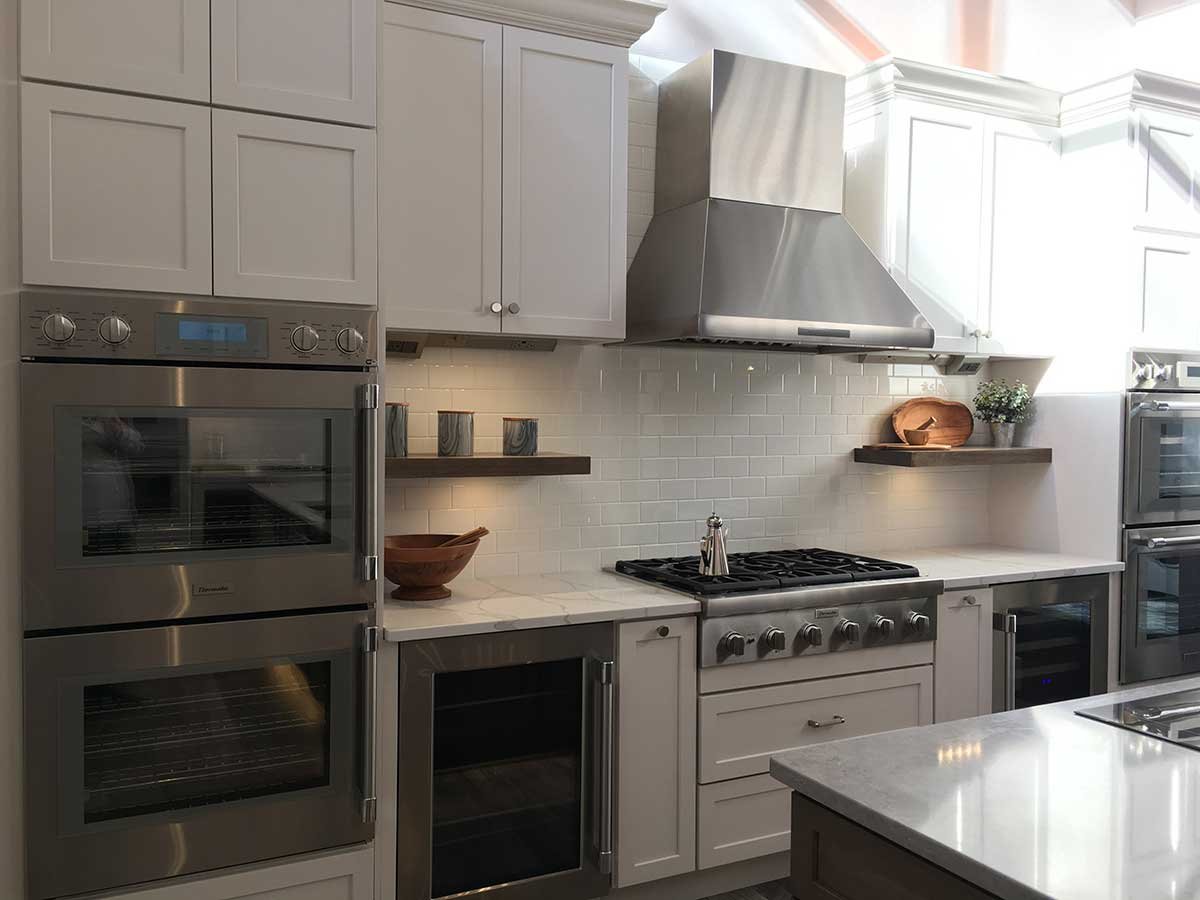 Thermador Kitchen at Yale Appliance in Boston
Thermador has thirteen options in their 36-inch units, six all gas and seven dual fuel. Like Jenn-Air, they offer two distinct styles. The Pro Harmony is the standard depth style; the Pro Grand is their commercial depth.
The Thermador Pro Harmony will sit flush with your cabinetry for a sleeker look. The Thermador Pro Grand is 3 inches deeper for a larger oven capacity.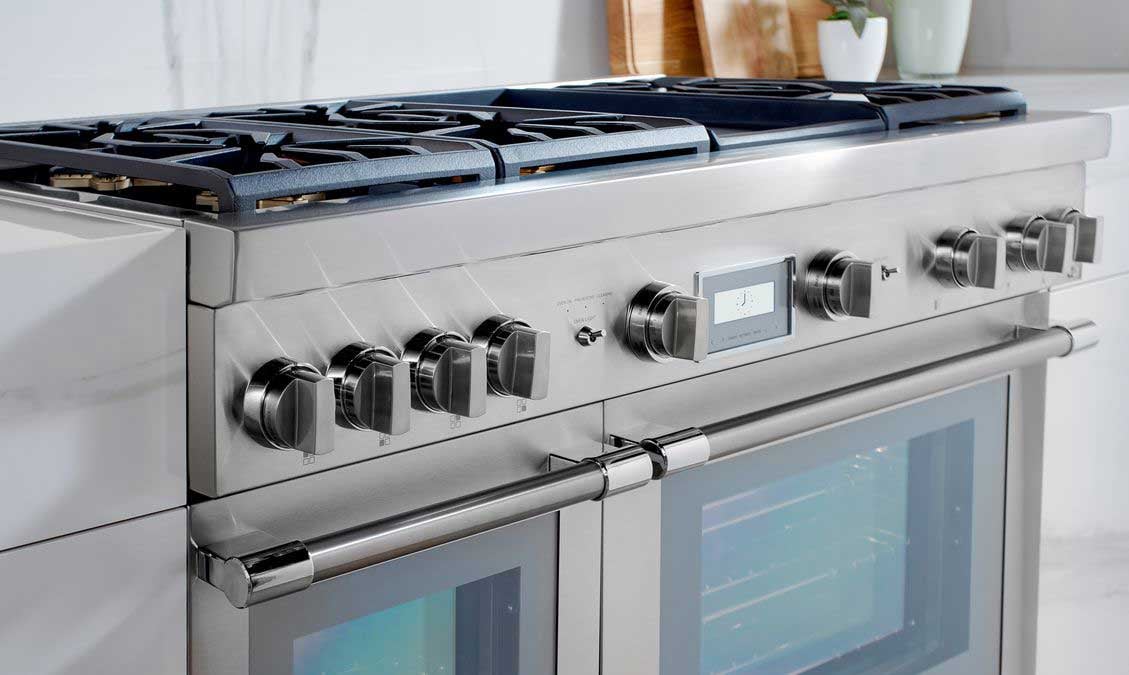 New Thermador Professional Range
Like the Jenn-Air, the two lines offer the following stovetop configurations:
Six burners
Four burners with a grill
Four burners with a griddle
In addition to the traditional cooktop configurations, Thermador offers one dual fuel model in the Pro Grand line with four burners and an induction zone.
What Is New?
Induction: Thermador has an induction on their Pro Grand series. Induction is faster to boil and offers the best simmer of any fuel type.
Wi-Fi: Thermador has Wi-Fi through its app, HomeConnect. You can preheat, see time remaining, and have access to recipes.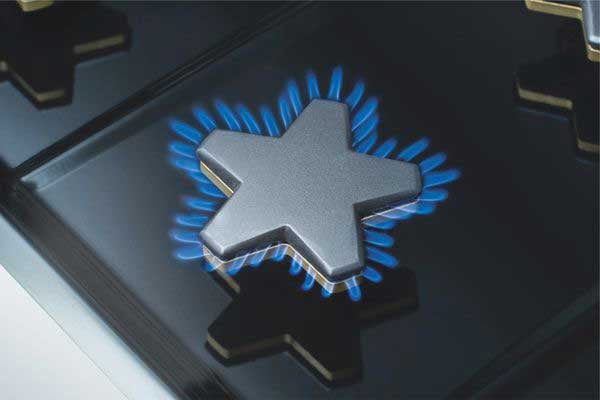 Thermador Star Burner
Burners: Thermador limited some of the output from all 18,000 BTU to three 18,000 and three 15,000 BTU burners. You still have the 22,000 BTU burner on the Pro Grand.
Click here to learn more about our top professional ranges their best features, and how to use their cooking modes.
What Thermador Could Have Improved:
Convection Oven: The look of this range is updated, but the oven is still single convection while their competitors are all of twin convection.
Grill / Griddle: The cooktop grill and griddle are always electric, not the more instant gas.
Jenn-Air vs. Thermador Professional Ranges
Overall dimensions

36W 29 13/26D 38H

36W 25 D 36 H

Burner Output

9K TO 20K

15K TO 18K

2 Extralow BURNERS

Oven Modes

BAKE,CONVECTION,BROIL, CULINARY CENTER

BAKE, CONVECTION BAKE, ROAST,BROIL

Prices

$6,199

$6,299
I made this comparison between Jenn-Air and Thermador's most common professional range, the 36-inches models because you have a grill, griddle options, and all the updated features. It is easier to understand.
In 48 and 60, Thermador will have steam oven options and a warming drawer. Jenn-Air does not offer steam functionality or a 60-inch range.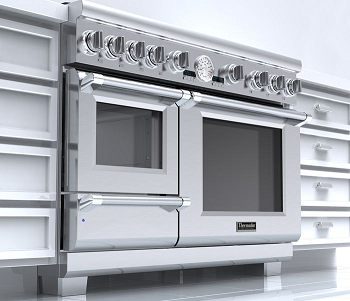 Thermador Pro Grand Range with Steam and Warming Drawer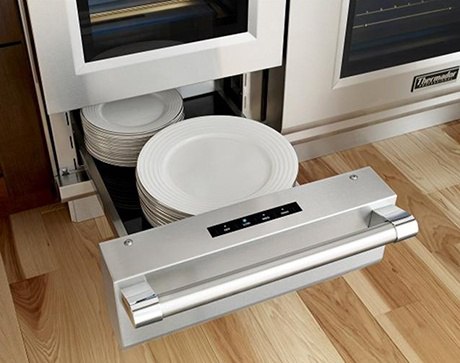 Thermador Pro Grand Range Warming Drawer
Features
Output: Jenn-Air at 20,000 with 18,000 is a bit more powerful than Thermador at 18,000 and 15,000 BTU.
Simmer: Thermador is better with a 375 BTU to Jenn-Airs 1000 PIC OF BOTH BURNERS
Griddle: Thermador is detachable for cleaning, but Jenn-Air is chromium for easier cleaning. It is simple to clean this griddle.
Read Should You Buy a Griddle For Your Professional Range by clicking here.
Grill: Jenn-Air is infrared and much faster than the Thermador. Jenn-Air is markedly better.
Induction: More ranges should offer induction as an option, but only Thermador does in this comparison.
Wi-Fi: You can do more with Jenn-Air. Then again, you have to, because there is no other way to time cook.
Oven: Jenn-Air has twin convection and should be a bit more even, than the Thermador single convection fan.
Broiler: Thermador is infrared, and Jenn-Air is not. Infrared directs the heat on the food whereas a regular gas broiler spreads the heat throughout the oven. Infrared is better.
Which Professional Range Is More Reliable?
Thermador and Jenn-Air are about equal in all gas with Thermador being more reliable by less than 2%. Jenn-Air has better service rates for their dual fuel ranges by almost 20%.
Pro ranges have more installation and customer education calls than any other product, so they have naturally higher service rates.
Most Reliable Professional Ranges 2019
| | | | |
| --- | --- | --- | --- |
| | Service Qty | Shipped Qty | Service Ratio |
| Samsung Chef Collection | 0 | 1 | 0.00 % |
| Fisher & Paykel | 2 | 10 | 20.00 % |
| Bertazzoni | 3 | 14 | 21.43 % |
| Thermador | 85 | 346 | 24.57 % |
| Jenn-Air | 36 | 138 | 26.09 % |
| Wolf | 75 | 278 | 26.98 % |
| Miele | 10 | 20 | 50.00 % |
| La Cornue | 1 | 2 | 50.00 % |
| BlueStar | 20 | 36 | 55.56 % |
| Grand Total | 232 | 845 | 27.46 % |
Most Reliable Pro Dual Fuel Ranges 2019
| | | | |
| --- | --- | --- | --- |
| | Service Qty | Shipped Qty | Service Ratio |
| Jenn-Air | 17 | 57 | 29.82 % |
| Wolf | 70 | 215 | 32.56 % |
| Miele | 11 | 31 | 35.48 % |
| Fisher & Paykel | 3 | 8 | 37.50 % |
| La Cornue | 12 | 24 | 50.00 % |
| Thermador | 54 | 108 | 50.00 % |
| Grand Total | 194 | 573 | 33.86 % |
How We Calculate Appliance Reliability
We now have 30 service technicians performing 8-10 service calls per day Monday through Friday with 110 service calls on Saturday. We simply calculate service percentages by service calls divided by sales for a static 12-month period.
A service call is recorded for any reason major or minor. We do not count installation issues, damage or problems solved by phone.
The total service calls logged for 2018 was 34,687.
We only count the first year because we offer free warranty service for the first year. After that, it's harder to track.
Which Professional Range Should You Buy?
First, they both have their advantages. Jenn-Air has a better grill, griddle, and oven. Thermador is better on the simmer and broiler.
Ultimately, your decision rests on this:
Will you opt for the radically different controls of the Jenn-Air. Would you scan to cook and set everything by your phone?
Alternatively, do you want your normal stove with clock and timer?
You can do more with the Jenn-Air...but, will you?
Additional Resources
Still can't decide? Try our Pro Range Configurator. Select your own preferences and it will share the best range options available based on your lifestyle and choices.
Additionally, you can get our free Pro Cooking Buying Guide with tips, trends, and reviews of all the best brands. Over 560,000 people have already found answers in a Yale guide.
Related Articles
Why Should You Trust Us?
It seems that every appliance review has nothing but glowing comments about almost every product, yet you read customer reviews and they are almost universally bad.
We are here to fill in the disconnect. We'll give you the best features, and the drawbacks as well, including reliability based on over 37,000 calls performed by our service team just last year. Our goal is to give you ALL the information so you know what's right for you.
Please consider subscribing or adding to the conversation in the comments below. We appreciate you stopping by.
Mark Bennett
Mark Bennett has over 10 years of experience at Yale Appliance. Mark began working in the delivery and warehouse departments before transitioning to appliance sales.

Schedule a showroom visit with me
A Note About Pricing
Pricing on this blog is for reference only and may include time sensitive rebates. We make every attempt to provide accurate pricing at time of publishing. Please call the stores for most accurate price.