Every month we offer special appliance packages which are the best values. Rebates change monthly and can deviate up to 30%. It's a good place to save some money.
KitchenAid has just introduced a new line of products. So, we will look at the brand, the package levels, and the new products.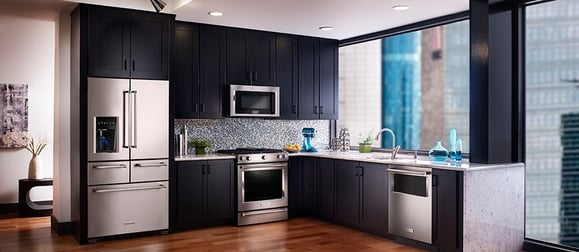 Just starting your search? Get our Appliance Buying Guide to show you how to choose the perfect products for your kitchen »
KitchenAid Background
KitchenAid is one of the upscale brands of the Whirlpool Corporation. They are known for the dishwashers and slide-in ranges. The company was started in 1919 by the Hobart Corporation, manufacturing their now famous stand mixers. In 1985, they were sold to the Whirlpool Corporation.
KitchenAid just went through a much needed design change. They added more stainless steel to their appliances for a more professional look without the high end appliance pricing.
Their new ranges also have a much more powerful burner than the previous model. The new gas ranges boast an 18,000 BTU power burner vs. 15,000 on the older model. This is a great upgrade if you use larger pots for boiling, wok cooking or like searing at a high temperature.
Following is a breakdown of the Good, Better, Best KitchenAid packages for the month of December 2015.
KitchenAid "Good" Stainless Steel Package
KitchenAid "Better" Stainless Steel Package
KRFF305ESS

–

25 Cu. Ft. 36" Standard Depth French Door Refrigerator with Interior Dispenser
KFGD500ESS – 30" 5 Burner Gas Double Oven Convection Range /KFED500ESS

–

30" 5 Burner Electric Double Oven Convection Range
KMHS120ESS – 30" 1000 Watt Microwave with 7 Sensor Functions
KDTE254ESS – 24" 39 DBA Integrated Dishwasher with Bar Handle
The better package adds a double oven with 5 burners and quieter dishwasher with matching handle and integrated controls.
KitchenAid "Best" Stainless Steel Package
The "Best" package adds a counter depth refrigerator and a freestanding front control stove.
Which Should You Buy?
All three of these packages are a great value with a popular professional look, 17,000 BTU burners for gas stoves, and quiet dishwashers.
If you're on a budget, the "Good" package is a great way to add quality appliances to your kitchen, without breaking the bank.
If you have a little extra to spend, the "Better" package gets you a double oven range, which is great for large meals. You also get the integrated dishwasher upgrade that adds a sleek look to your kitchen.
The "Best" package adds a built-in look with the front controls range. This is technically a double oven stove (lower baking oven) like the "Better" package, but with a sleek, built-in look. You also get a counter depth refrigerator that won't protrude from your cabinets like a full depth for a sleek, cleaner appearance.
Additional Resources
Want to learn more about packages and appliances? Get the Yale Appliance Buying Guide with the answers to your top 10 questions as well as buying strategies to save you money (hint: there are 5 great times to buy in a year). Well over 120,000 people have read and trusted a Yale Guide.
Related Articles