The 4 Best Dishwashers Under $600 (Reviews / Ratings / Prices)
The average dishwasher sold at Yale is approximately $750, but you can still buy an excellent machine for under $600.
Most manufacturers offer rebates or incentives, which will have some bearing your final choices. In this article, we will look at the best time to buy a dishwasher, the two kinds of dishwashers, and a few models to consider.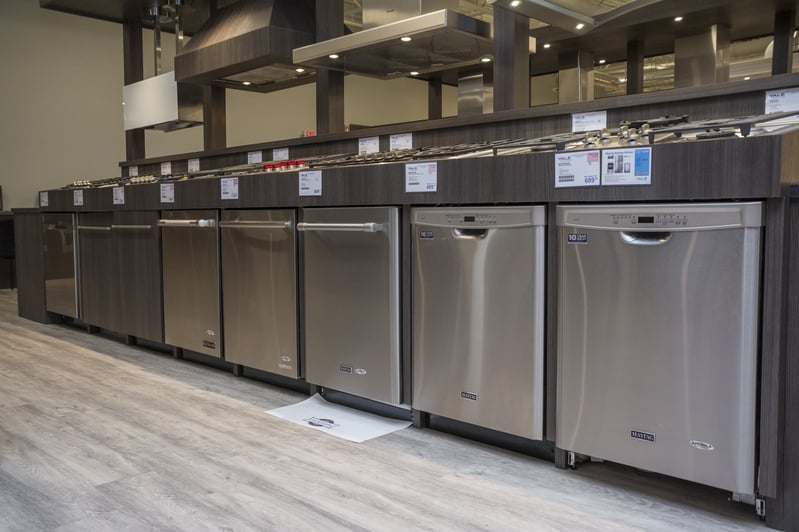 When is the Best Time To Buy a Dishwasher?
The appliance business has become similar to the electronics industry with heavy promotions around certain times of the year
These promotions generally run monthly and are usually around holidays such as President's Day, Memorial Day, Tax-Free Weekend, Veterans Day, and Black Friday.
This article would change radically around any holiday to include more KitchenAid and possibly Bosch dishwashers.
Let's first take a look at two types of dishwashers, American and European, and see what differentiates them. Then we will explore a few models that should be considered.
Short on time? Get our free Dishwasher Buying Guide
American vs. European Dishwashers
American dishwashers have a large capacity. The door extends beyond a standard 24-inch cabinet by 2-3 inches, which gives them more space than many European-style models.
European dishwashers sit flush in a 24-inch deep cabinet. This is an attractive feature because the door does not protrude from the cabinets.
American dishwashers usually use a heated dry cycle or at least offer it as an option. The heated dry cycle is a coil at the bottom of the dishwasher designed to heat the air inside to dry the dishes. This heated system provides better drying results, but it is not very energy efficient. Additionally, it can be harsh on dishes that may have decorative patterns on them.
European dishwashers use less energy and water than American dishwashers. On average, the European dishwasher uses 3.5 gallons of water per cycle. European dishwashers use a condensation drying method rather than the heated dry. They rely on the residual heat from the cycle for drying the dishes. Some may argue that this technique for drying is not as effective. As long as you keep the door closed while the machine is in the cycle and you use a rinse aid, you should be all set.
European dishwashers by design are quieter. This is due to the fact that they have a filter at the bottom of the dishwasher designed to catch food particles. This is in place of a hard food disposer, which some American models still have. Most American models are moving away from having a disposer on the bottom and using a filter like the European. This is due to the fact that most brands are aspiring to reach energy efficiency standards and remain reliable. Hard food disposers proved to have a high service rate.
How to Buy a Dishwasher
Thanks for reporting a problem. We'll attach technical data about this session to help us figure out the issue. Which of these best describes the problem?
Any other details or context?
message
Dishwasher Brands
Samsung
Samsung is the number 1 selling appliance brand in the US. You have excellent features in this dishwasher include an adjustable top rack. It is also remarkably reliable at least this year.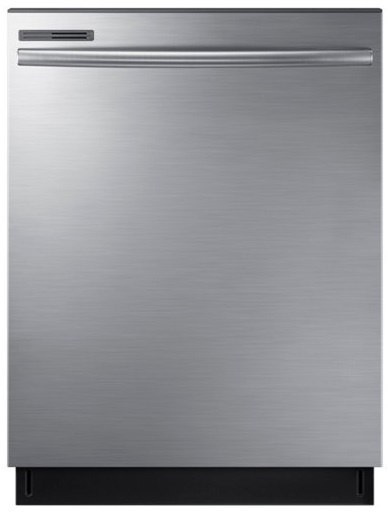 Features:
Stainless Steel Door

The interior door is covered with stainless steel that's more durable, hygienic.

Adjustable Rack

The adjustable upper rack makes it easy to fit various dishware shapes and sizes.

Digital Leak Sensor

Identifies leaks as small as 2.4 oz and shuts itself off before water can escape.

Advanced Wash System

A heavy-duty wash gets the pots and pans clean.

ENERGY STAR (R) Rated

ENERGY STAR(R) rated means lower energy bills and carbon footprint than non-certified models.* *Only uses 265KWH/yr. Visit

www.energystar.gov

for guidelines.

Touch Control

An integrated panel makes it easy to select functions with a gentle touch. Located on the top of the door for easy access, it offers simple control and is clear and easy to read.

14 Place Settings

Accommodate 14 place settings so that you can wash multiple dishes at once.
This dishwasher is also stainless on the inside and outside. It also has a hard food disposer and is much quieter than the previous model.
This dishwasher is also stainless on the inside and outside. It also has a hard food disposer and is much quieter than the previous model.
Features:
Durable Stainless Steel Tub
Hard Food Disposer
Hidden Heat Element
Dishwashing Performance at 50 dBAs
15 Place Settings
Adjustable Racking System
Frigidaire
Frigidaire is a division of the Electrolux company since the 1990s. Frigidaire is a feature-oriented machine.
Frigidaire FFBD2411NS - $399
Features:
Excellent Washing System - dual spray arm system gives your dishes a thorough cleaning every time
DishSense Technology - automatically adjusts the cycle time based on how much cleaning your dishes need
Multiple Cycle Options
Features easy-to-use cleaning cycle - options for your different cleaning needs including Energy Saver, Pots & Pans, Rinse Only, and Light Wash
Filtration - a removable self-cleaning filter
Sanitize cycle removes 99.9% of common household bacteria
2- 6 Hour Delay Start - set your dishwasher to run 2, 4 or 6 hours in advance.
Fits up to 14 place settings
55 dBAs - a relatively quiet operation
Polymer Tub - supports the drying process, keeping dishes dry the first time.
Amana
Amana has been part of the Whirlpool Corporations since 2003. It is their entry level line, which has recently been updated. Their dishwasher is integrated with the controls on the top. It has a very clean look.
Features:
Triple Filter Wash System - helps you skip the pre-rinse so you can spend less time scrubbing. Works with a combination of three filters, which removes even tiny food particles from the wash water
SoilSense Cycle - auto-senses the size and soil level of your load to get just the right clean. Sensors automatically adjust the cycle time and water usage to deliver a clean that's just right for every load.
SofSound™ Technology II - offers a sound rating of 55 dBA, 1-hour Wash Cycle
1-Hour Wash Cycle can clean light loads fast
12-Place Setting Capacity - gives the space you need for every load
Heated Dry Option - an internal heater accelerates the drying process, removing excess moisture
High-Temperature Wash Option - a heater boosts the water temperature during the wash cycle and adds an extra rinse
1-24 Hour Delay Start Option
Sani Rinse Cycle - sanitizes your dishes
Fully Integrated Console With LED Display
Electronic Controls - flat controls are easy to read and easy to clean
Bosch
Bosch is the most commonly purchased dishwasher worldwide. They have a stainless tank and are amongst the quietest dishwashers produced. They almost always have rebates on their dishwashers as a single piece, and as part of a kitchen package.
(Learn more about Bosch in our free Dishwasher Buying Guide)
Saves up to 280 gallons of water each year
Delicate Wash for Fine China
Silver Colored Fascia in Stainless Steel
Red Remaining Time Display
6 Wash Cycles and 2 Options
Sanitize Option eliminates bacteria and enhances drying results
Variable Spray Pressure
Exceeds ENERGY STAR Requirements for Water by 69%
Bosch Exclusive 24/7 Overflow Leak Protection
3 h, 6 h, 9 h Delay Start Timer
Express Wash - in 30 Minutes or Less
14 Place Setting Capacity
Manual Height Adjustment for Upper Rack
Long Silverware Basket
Whirlpool
Whirlpool was the largest manufacturer of appliances for many years, but they recently lost that position to the Chinese conglomerate Haier, when Haier acquired GE in 2016. They have many dishwasher models under $600.
Sensor Cycle - measures the load size and soil level during the prewash, and the dishwasher adjusts to the right wash and dry settings throughout the wash cycle to deliver precise cleaning to your dishes.
In-Door Silverware Basket - frees up rack space by easily fitting on the front of the lower rack or in the door to make room for more dishes.
1-Hour Wash Cycle - cleans dishes in half the time so your plates, pans, and glasses are thoroughly cleaned up and taken care of in just an hour.
Sani Rinse Option - heated water provides extra cleaning and care to sanitize items like glassware.
Normal Cycle - use for normal amounts of food soil
Heavy Cycle - adds more time to the cycle to clean heavily soiled items.
High Temp Wash - heated water provides extra cleaning and care to sanitize items like glassware.
Heated Dry Option
Soak And Clean Cycle
Cycle Memory - quickly start your dishwasher with one button. It automatically remembers the last cycle you picked so it's stored and ready to go.
Conclusion
The Amana, Frigidaire, and Whirlpool will give you decent drying with the heated element and tons of features.
The Bosch Ascenta is well known, but Samsung has a disposer with an all stainless tank for less money.
Of the three, Bosch and Samsung will be the quietest at 50 dBAs.
You can also save money usually with packages as well or wait for a holiday where you can save an additional 30%.
Additional Resources
Looking for more information on dishwashers? Get the Yale Dishwasher Buyers Guide with complete breakdowns of all the brands and features. Well over 240,000 people have read a Yale Guide.

Recommended Reads
Steve Sheinkopf
My goal has always been simple: I want Yale to be the best retail experience anywhere. I have tried to create a compelling environment for customers and employees alike.
A Note About Pricing
Pricing on this blog is for reference only and may include time sensitive rebates. We make every attempt to provide accurate pricing at time of publishing. Please call the stores for most accurate price.