You do not have to buy a pro range for super hot burners anymore. Gas ranges are starting to perform more like professional ranges with at least one burner being super hot. You also have available features like griddle burners, warming drawers, or second ovens.
So if you haven't been in the market for a while, there is much more to consider than five years ago. It can be a bit confusing, but we will describe each unit and feature below. You can determine the right product for your kitchen.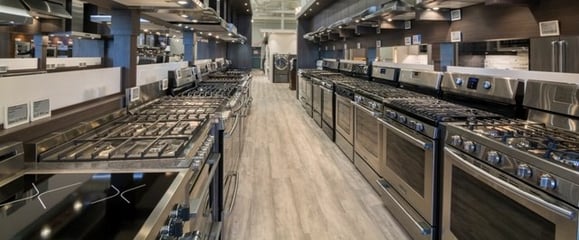 We'll look at the best units to consider now with freestanding first and then slide-in ranges below. Of the 500 or so options, following are the 10 best gas ranges to consider. Thermador is the only brand not participating in this promotion on this list (but you do get a free dishwasher).
Short on time? Get our Gas Cooking Buying Guide to learn about all gas cooking products »
Freestanding vs. Slide-In Ranges
Thanks for reporting a problem. We'll attach technical data about this session to help us figure out the issue. Which of these best describes the problem?
Any other details or context?
message
Best Freestanding Gas Ranges
Pricing updated for March, 2017
Frigidaire is a good, basic range with excellent reliability. Out of 5,657 sold in 2016, we had 469 serviced. It also has a power burner of 14,000 BTU.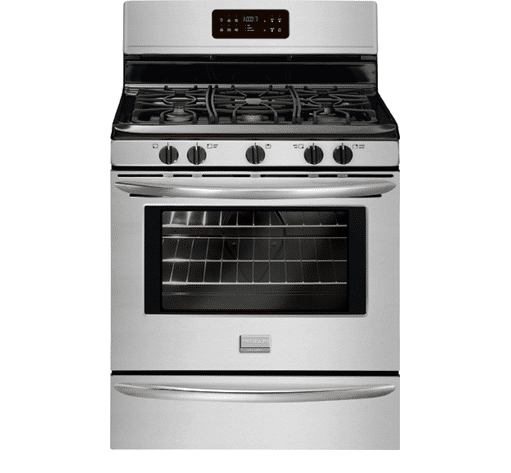 The Frigidaire Gallery has more stainless than their regular line. This unit has a powerful 18,000 BTU burner in a 5 burner configuration with a center griddle burner. The oven is convection for more even baking.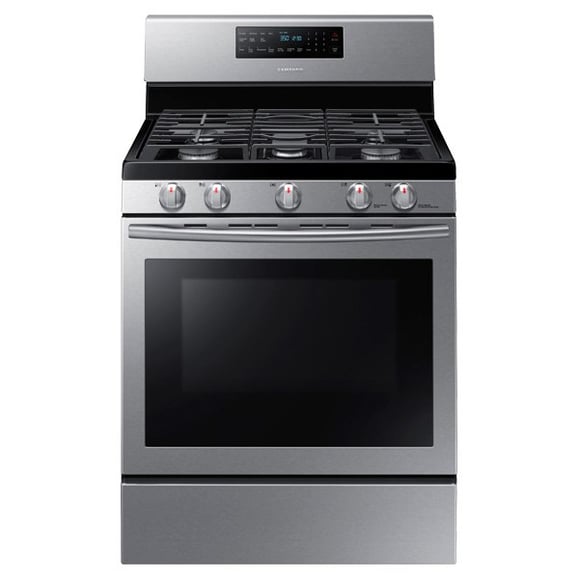 Samsung has a stylish gas range with a 18,000 BTU burner in a 5 burner configuration.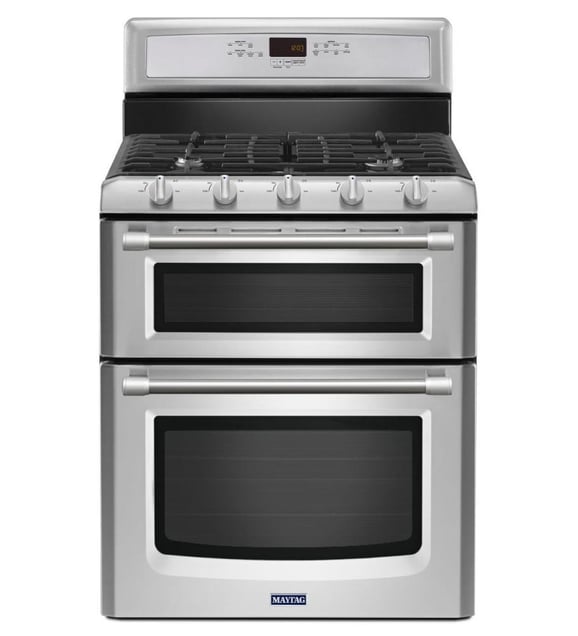 The Maytag "Gemini" range offers two completely ovens with a semi commercial look.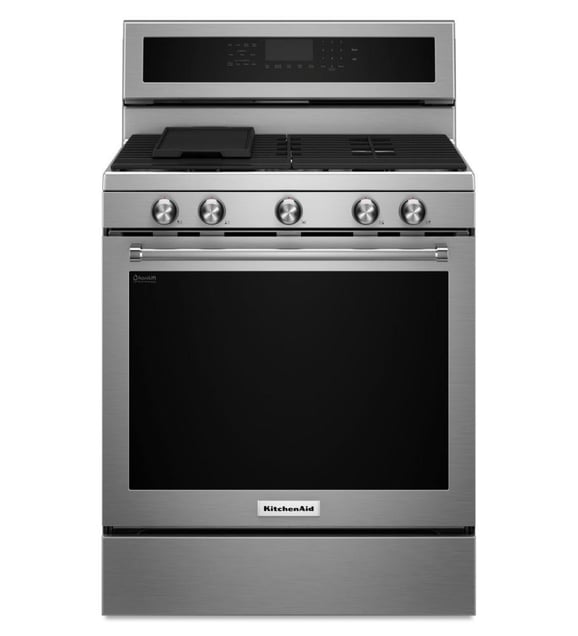 KitchenAid has the 5 burner configuration. Like Frigidaire and Samsung the power burner is 18,000. KitchenAid has convection conversion and the steam self-cleaning for faster cleaning at lower temperatures.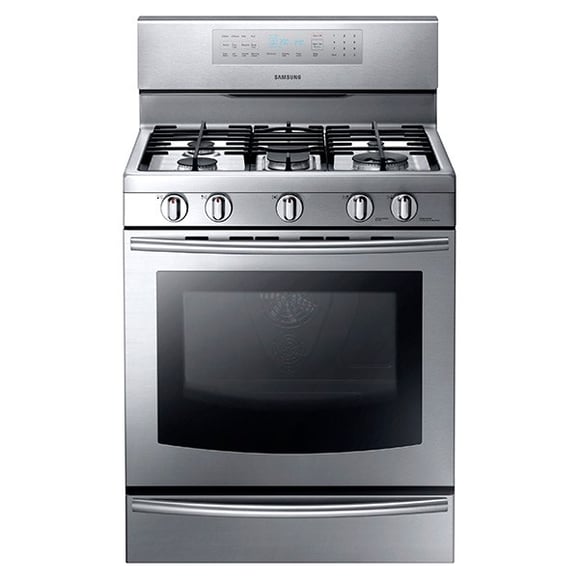 Samsung is all stainless including the top and backguard. It has the 5 burner 18,000 BTU max. It also has a warming drawer to keep food warm for up to 3 hours.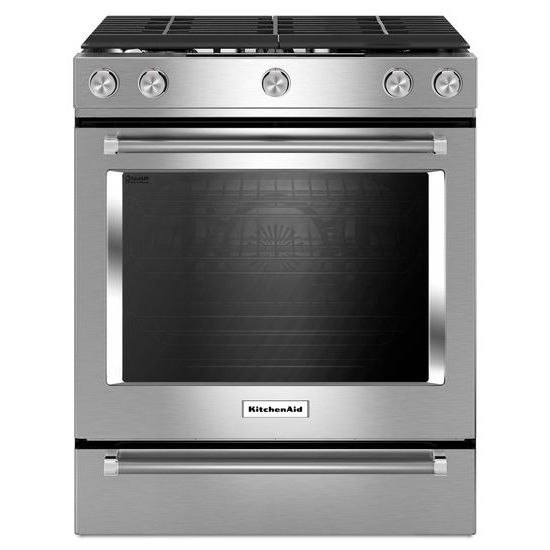 KitchenAid is a true double oven. For example, you can bake a pie in the top oven and a turkey in the convection oven below.
Most of these have greater savings as part of a package. Click here for a few of our best selling packages.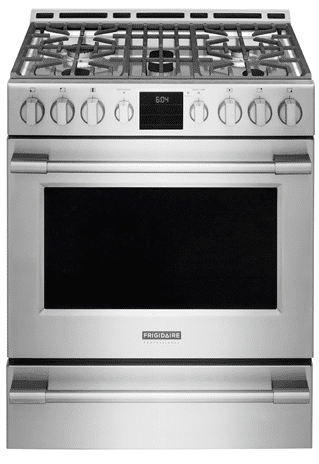 The Frigidaire Pro has front controls, a commercial look, temperature probe, griddle and 18,000 BTU burner.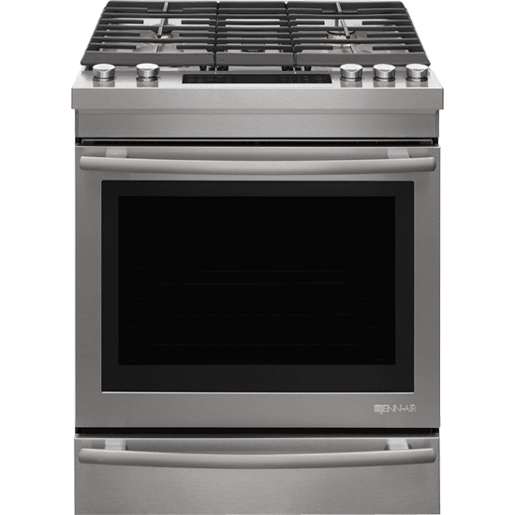 Jenn-Air offers the largest total capacity of any gas range along with 2 power burners and a baking drawer below.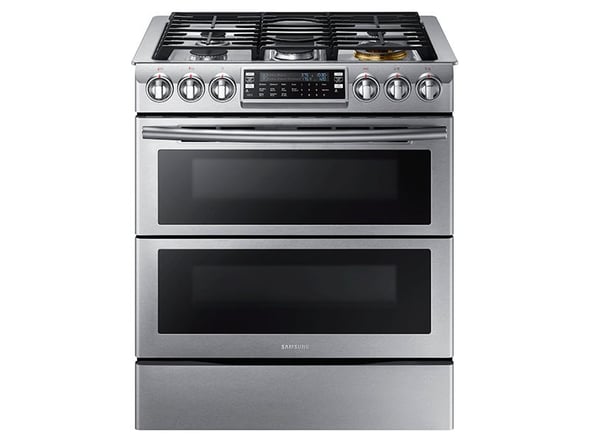 Samsung has one of the first Wi-Fi ranges to control from your phone remotely. It has a 22,000 BTU front burner for the most powerful burner in a non professional range. The oven is their duo flex or oven within in a oven, so you can cook two items at one time with different temperatures.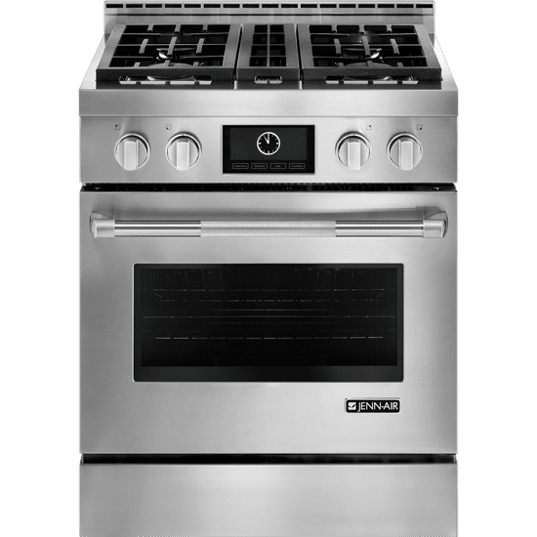 Jenn-Air's pro range includes 2 powerful 20,000 BTU burners, twin convection, self-cleaning, and a 7 inch LCD control screen along with convection conversion. It automatically converts your recipes to convection with a touch of a button. Free Jenn-Air dishwasher with purchase.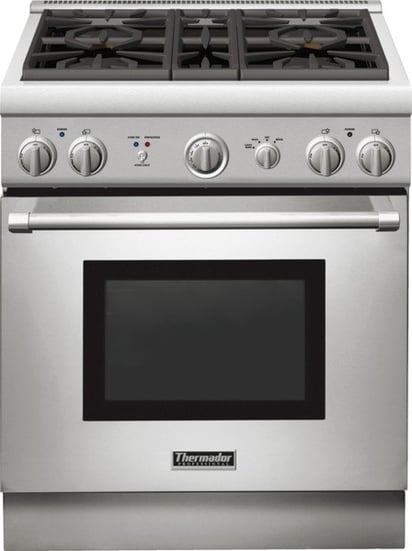 Thermador distinguishes itself with Star Burners. Each burner is 18,000 BTU and 2 burners can simmer at 200 BTU by far the lowest in the industry. It is pricey at $4,419, but their $1,200 dishwasher is free.
Slide-In vs. Freestanding Ranges

vs. Front Control
Slide-ins are units with the controls on the face of the range rather than the backguard for a more streamlined appearance (read Slide-In vs Freestanding, it will pop up in another window).
There are two types of slide-ins, front control and traditional. Front control will fit in an in an existing space at 30 inch, but will have seams on either side.
A traditional slide-in will be more cleanable, because it's installed on the countertop, eliminating seams. However, it cannot replace a freestanding without some modification.
You will also see the custom tile and backsplashes without looking at oven controls like the freestanding units.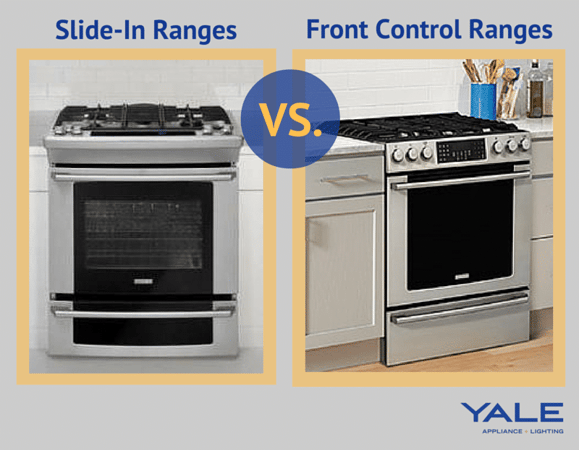 Best Slide-In Gas Ranges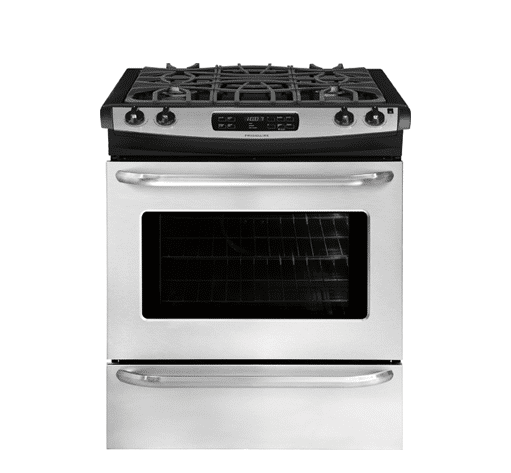 The Frigidaire distinguishes itself purely on price. $1,099 might seem high for a range, but is quite reasonable for a slide-in range.
This slide-in range has 5 burners with a high BTU output of 18,000 as well. Electrolux has the automatic programs for almost any food and a second oven below.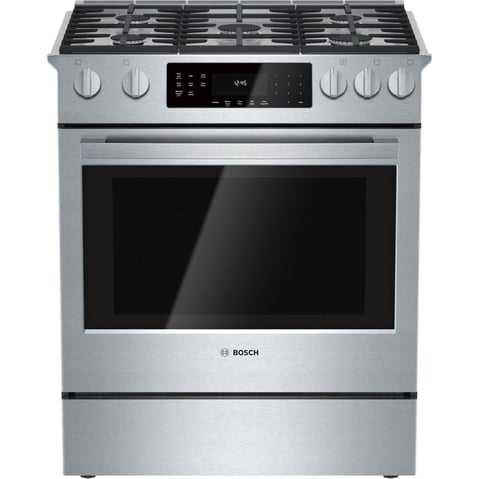 This has 5 Burners with BTU's up to 18,0000 and a pure convection oven are the highlights of this range. Bosch has good styling and whole package rebates of 10% when buying other Bosch appliances.
Want to see more Gas Ranges? Click here.
Have questions? Call us at 617-825-9253.
Related Articles:
Additional Resources
Want to learn more about the latest gas ranges and technology? Read the Yale Gas Range Buying Guide with features, specs and detailed profiles of every major brand. Well over 200,000 people have downloaded a Yale Guide.