Viking vs. Wolf M Series Wall Ovens (Reviews / Ratings / Prices)
Wall ovens have changed a lot recently. You have more features to compare than ever.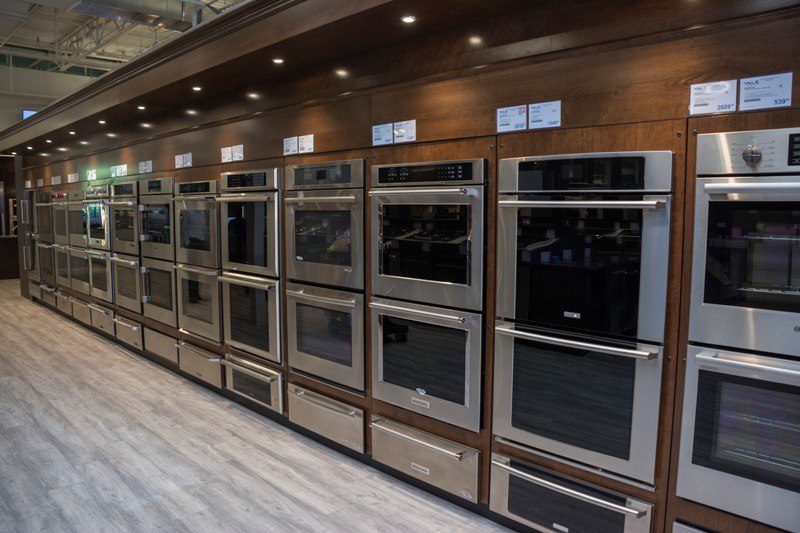 Dacor was first with a highly technical Android based controls. It will remind you of your phone. The Dacor can play Pandora and message you when the cycle is done among many other features.
Miele and Jenn-Air have robust menu driven ovens. You input the type of food and how you like it cooked. The wall oven then cooks it automatically.
So companies like Wolf and Viking have to compete with new products for this new demand. People like yourself want usable technology for convenience and new designs to choose from. Yet Wolf and Viking seem to approach the market very differently.
Let's see how they fare...We will look at both products and then compare.
Short on time? Get our free Wall Oven Buying Guide
Wolf M Series
| | | |
| --- | --- | --- |
| | | |
| New Transitional Series | New Professional Series | New Contemporary Series |
Wolf introduced twin convection to the world, essentially reinventing cooking, but that was over 12 years ago. With their new ovens, Wolf has reinvented convection cooking yet again.
The M Series of built-in ovens by Wolf feature the introduction of advanced Dual VertiCross convection for the most consistent cooking of any oven, and 10 cooking modes that control heat and airflow. The Dual VertiCross convection system quickly saturates the cavity with even, consistent heat.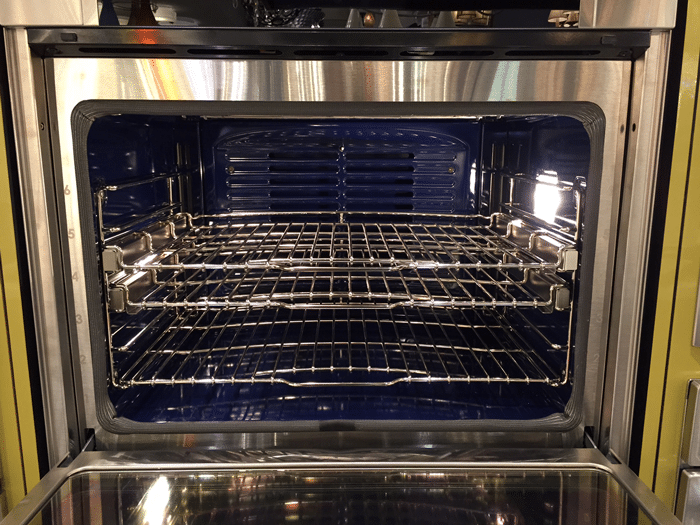 Two corner column fans with parallel vertical heating elements work together, providing just the right heat with more consistency than even twin convection. By using towers instead of the conventional fans, Wolf's interior capacity has increased to 5.1 cubic feet.
All M Series wall ovens will have the new Wolf Gourmet. This feature will take the guess work out of cooking time, rack placements, and doneness. It is loaded with over 50 different recipes to pick and choose. It covers appetizers, entrees to dessert. It is really easy to use with GUI (like your phone) touch controls.
It's better than the Miele "Masterchef" feature (created back in early 2000). Wolf Gourmet tells you the rack position, and where to insert the meat probe. Miele "MasterChef" lacks additional recipes, where Wolf Gourmet can be updated with different recipes to pick and choose.
How easy? Watch this first time user:
First look at the new Wolf Gourmet
Wolf also features 10 cooking modes for any type of cooking from making pizza to dehydrating fruit. They are convection, roast, bake, broil, convection roast, stone, gourmet, warm, proof and dehydrate.
Viking
Viking VDOF730SS 30" Electric Double French-Door Oven - $7,789
First, we do not sell any Viking products as of two years ago, but we still like the line. It has its merits.
At one point the Viking wall oven was the biggest with a 4.7 cu. ft. capacity. This model also features 11 high performance cooking modes for versatile performance include two-element bake, convection bake, TruConvec Convection Cook, convection roast, convection broil, hi broil, medium broil, low broil, convection dehydrate, convection defrost, and proof, as well as the patented Vari-Speed Dual Flow Convection System.
Viking wall ovens feature commercial-type cooking power for the home. Their convection system has the largest fan in the industry - the 8 1/2" two-speed fan works bi-directionally for maximum airflow and excellent cooking results.
The wall oven opens like a French door refrigerator. Just one hand can open both doors simultaneously. This feature will allow easy access directly into the oven rather than reaching over such as traditional wall ovens.
One of the best features is Viking Gourmet-Glo™ Infrared Broiler. The infrared broiler intense heat gives off better smearing on steak while locking their juice. An infrared broiler is more intense and powerful than traditional broiler.
Reliability
When we parted with Viking three years ago, you were over 2.5 times more likely have a service problem with Viking than Wolf. Viking at that time was the most serviced brand at Yale at over 55% service within the first year. Hopefully the new owner has installed some manufacturing discipline in the brand.
You should ask before you consider any Viking product. Viking has tried to assure their customers by extending warranty to 3 year full parts, and labor.
Wolf was named one of the most reliable products sold at Yale for 2015. That is based on total products sold versus repairs within the first year serviced by our 21 technicians and over 20,000 service calls.
Wolf vs. Viking Wall Ovens
I guess it depends on what you value. Both companies addressed your needs differently. Viking has a great broiler, and the French doors are interesting. The French doors will help negotiate a busy kitchen with more than one cook. The ease of one hand to open the two doors is a great added feature. The infrared broiler is very close to a gas broiler with extreme heat.
Viking's rapid preheat system is very impressive, because it is ready to bake within 10 minutes (based on 350 degrees, bottom rack). This is a big plus for a big capacity oven.
Viking has a distinct commercial look, which has more of a bulky, bold look.
Wolf has a different approach. They created a better convection system with better cooking technology. They went for sleeker, more modernized design to attract the iPhone generation. Wolf ovens are available in 3 different designs – contemporary (all black), professional (knobs), and transitional.
By offering so many looks, it will have the ability to fit in any type of kitchen. I am very impressed with Wolf Gourmet because it is much simpler to operate than the Viking. It was also less intimidating. You can cook different foods with more confidence.
Although reliability is a big wild card, it is an interesting comparison. Do you choose the commercial look of the Viking or the interface and convection system of the Wolf?
Additional Resources
Download the Yale Wall Oven Buying Guide with new features, specs and inside tips to all the brands (recently updated for 2015). Over 90,000 people have read a Yale Guide.
Recommended Reads
Neil Katz
Neil Katz has been in appliance sales at Yale for over 25 years. Neil spends time following the Sox and Patriots and watching the stock market.

Read more about Neil here
A Note About Pricing
Pricing on this blog is for reference only and may include time sensitive rebates. We make every attempt to provide accurate pricing at time of publishing. Please call the stores for most accurate price.