Viking vs. Wolf 30-Inch Induction Ranges (Reviews / Ratings / Prices)
Induction ranges and cooktops have become increasingly popular over the years. Oddly enough, you did not have many premium choices in induction other than Dacor and then Viking. That has changed recently as Miele (2014) and Wolf (2016) have added very decent induction ranges to consider.
We will look at Viking and Wolf and compare their companies and ranges. But first let us look at how induction actually works.
Induction Cooking
Induction uses magnetic friction which excites the molecules in the pan so that the pan itself becomes the cooking surface. It cooks the food directly and rapidly, because induction bypasses the glass. As a result, you can bring water to a hot boil in under a minute.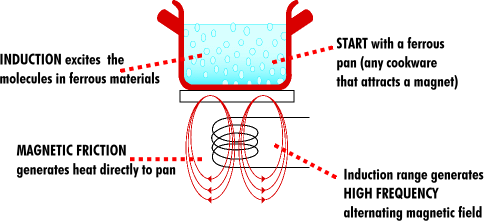 Induction is also one of the most efficient cooking methods. With 90% efficiency compared to 60% on gas and 55% on electric, there is very little heat loss when you are cooking with induction.
Because it has the least amount of residual heat, you do not need as powerful of an exhaust hood as you would need with gas. You can also use a downdraft with induction unlike professional gas ranges and rangetops which emit too much heat.
Last but not least, induction is actually one of the easiest cooking surfaces to control as far as the heat output goes. The response time to transition from high power down to a low simmer is instant.
See all the benefits of induction in our free Induction Cooking Buying Guide
Wolf
Wolf Appliance Company is owned by Sub-Zero corporation. Wolf has a long history of manufacturing commercial appliances in California. In 2001, Sub-Zero purchased Wolf. Together they are the largest American family owned appliance company globally (2nd to Miele).
Wolf appliances are premium products that are now manufactured in Madison, Wisconsin and Phoenix, Arizona.
Viking
Viking Corporation was founded by Fred Carl, Jr. who aimed to developing the first commercial type range specifically designed for home use. At one point, 50% of all professional ranges in the USA were sold by Viking.
With lack of investment and increased competition from Wolf, Thermador and Miele, Viking has taken a toll. Their service issues have also been a problem.
In 2013, Viking was sold to Middleby, a commercial manufacturer. Hopefully, they will turn Viking around. To be transparent, Yale does not sell any Viking products with no plans to do so in the near future.
Now let's compare the 30-inch induction ranges from these 2 brands.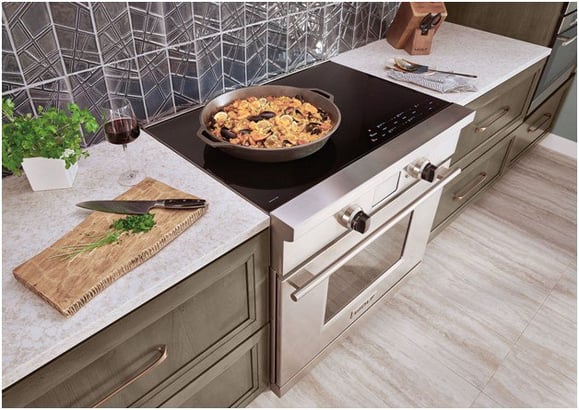 [Video] New Wolf Induction Range
Thanks for reporting a problem. We'll attach technical data about this session to help us figure out the issue. Which of these best describes the problem?
Any other details or context?
message
Features:
Flexible Cooking Surface – Four induction zones and 2-way bridging option
Dual Convection Fans – Each has its own heating element and work together to control heat and air flow
Cobalt Blue Porcelain Interior
Convenient Features – Self clean, delayed start, timed cook and Sabbath mode settings
Built with superior quality materials designed to last a minimum of 20 years
Delivers lightning fast high heat with almost instant temperature response
Cookware Sensing – Heating elements can only turn on when it senses an induction compatible pan on the surface
Temperature probe alerts you when your dish has reached its desired temperature, eliminating guesswork when preparing food
Your Choice of Control Knobs - Choose between Wolf's signature Red, Black or Brushed Stainless
10 Cooking Modes for Predictably Delicious Results – Bake, Roast, Broil, Convection, Convection bake, Convection Roast, Convection Broil, Bake Stone, Proof, Dehydrate
Also available in a Transitional Series with a more simple tubular handle
Burner Output

2 Left Side Burners with Bridge Capability = 2,100W Elements with 3,000 Watt Boost
Right Burner 1 = 2,600W Element with 3,150 Watt Boost
Right Burner 2 = 1,400W Element
Viking 30-Inch Professional Induction Range VISC5304BSS - $8,069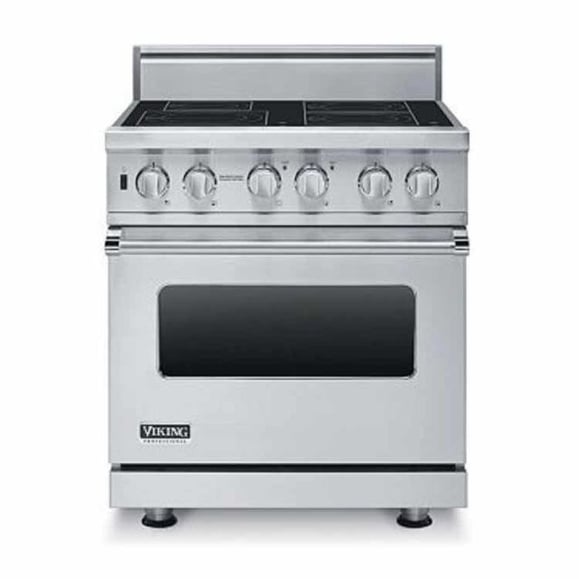 Features
Available in 7 Colors – Stainless Steel, Black, Cobalt Blue, White, Apple Red, Burgundy, Graphite Gray, Stone Gray, Cinnamon, Dijon, Wasabi and Viking Blue **8-10 Weeks for Delivery**
Commercial Type Cooking Power
6 Racks positions with two Tru-Glide full extension racks and one standard
Dual Flow Convection System
Concealed 10 pass dual bake element provide precise temperature control
Extra large glass infrared broiler
Rapid Ready preheat
High Performance Cooking Modes – Bake, Convection Bake, TruConvec Convection Cooking, Convection Roast, Hi-Med-Low Broil, Convection Broil, Convection Dehydrate, Convection Defrost, Self-Clean
Burner Output

Right front - 1,850 watt element
Right rear - 1,850 watt element
Left front - 3,700 watt boost / 2,300 watt element
Left rear - 1,400 watt element
Viking vs. Wolf Induction Range Comparison
Both Viking and Wolf offer convection systems in their ranges, however the Wolf convection system operates differently. Wolf offers two fans to one for Viking. Each fan has its own thermostat, so each fan cycles to adjust for temperature. More even temperature means better baking.
For all of you who have visited Yale and had a fresh baked cookie, they are all cooked in a Wolf twin convection oven. Although you probably didn't notice, those cookies have the same color and degree of doneness.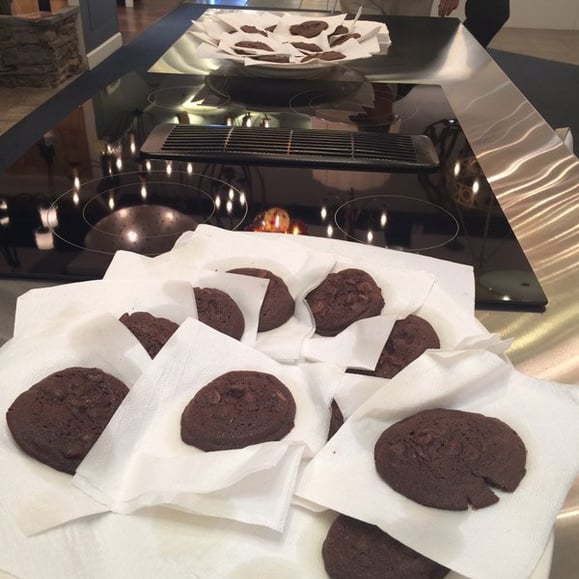 Both the Wolf and Viking will have a fast preheat oven as well as self-clean. They have similar cooking modes but Viking offers an infrared broiler.
Wolf has the better output on the surface with two bridge elements so you can cook odd size or larger pots on the enlarged burner.
Conclusion
You are comparing a newer stove versus an older one. Wolf is clearly superior in terms of convection delivery and burner output.
It is also statistically more reliable than Viking yet is also way cheaper. For this comparison, Wolf is the better range.
Additional Resources
Want more information on induction? Download the Yale Induction Cooking Buying Guide with features, specs and major brand profiles. Well over 220,000 people have read a Yale Guide.

Want a better comparison?
Roger Pontes
Roger Pontes has been with Yale Appliance + Lighting for over 10 years. He's worked in both the lighting and appliance department over the years. Roger truly enjoys helping people. He's a married father of 2 kids, a boy and a girl. On his spare time Roger enjoys spending time with his family and playing sports.

Schedule a showroom visit with me
A Note About Pricing
Pricing on this blog is for reference only and may include time sensitive rebates. We make every attempt to provide accurate pricing at time of publishing. Please call the stores for most accurate price.