What You Should Expect From an Appliance Delivery
December 14th, 2020 | 7 min. read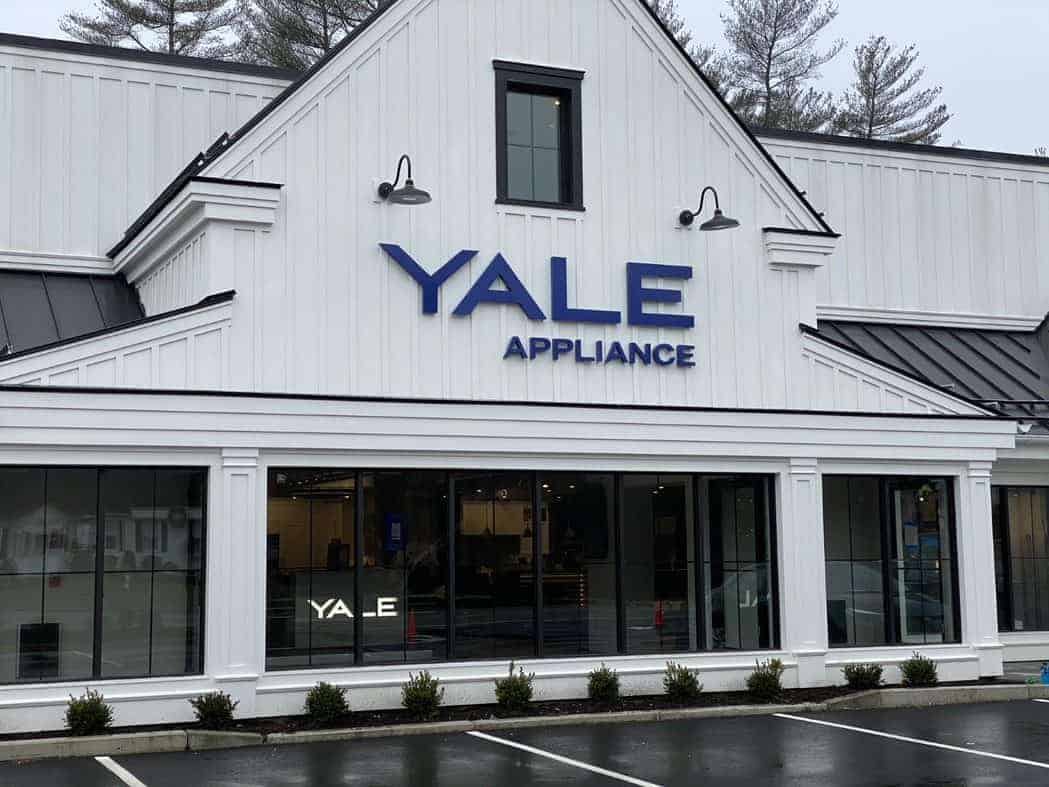 You have to think differently when buying a kitchen of appliances because so much can, and often does, go wrong.
Delivery is a close second behind service as one of the worst appliance store interactions people experience.
You may be drawn in by claims of free delivery. Like you, I think free is great.
However, you have to do your due diligence as well. Free is not always free when considering removal, connection, and tougher deliveries with three-floor walk-ups.
Then there are the issues with the service itself.
Google appliance delivery and watch the horror stories of other people light up your screen.
In this article, you will learn what to expect from delivery before it goes wrong.
Then I will give you a checklist at the end with every question you should ask before scheduling delivery for any product for your home.
Just print it out before you go appliance or furniture shopping and then compare dealer and store.
First, let's talk about delivery issues and types. Then this article will go into various aspects of delivery and how you can protect yourself.
This article is not as sexy or interesting as Sub-Zero Vs. Thermador Refrigeration or Café Appliances Vs. Samsung Double Oven Ranges, but it's worth scanning to save you from future issues.
Maybe other stores won't tell you, but you should know delivery is a real problem.
The Problem With Appliance Delivery
Delivery is much more complicated now than when I started at Yale Appliance 35 years ago.
First, many appliances, like front load washers and refrigerators, are bigger and heavier than in years past.
At the same time, the floors in new homes are softer.
You also have kitchen islands in the middle, so there is a much greater chance of damage.
Lastly, installation is tougher with different and often more technical connections.
The delivery people have to know how to move your appliance and be trained enough to install it.
So this job is no longer unskilled.
We recruit delivery people exactly like we recruit sales, service, IT, or any other job at Yale.
That is the problem.
You want free, good delivery, not free delivery, and an insurance claim while waiting 6 hours for delivery.
There is only one way that happens in the following delivery types.
You want a delivery like this:
That doesn't happen with minimum wage staff. It probably never does.
Appliance Delivery Types
Free / Drop Off Delivery
This is simple and easy to understand and most frequently used when buying from internet sellers.
You buy it, and they drop it on the street in front of your home.
It should be free because none of the expense is in the delivery.
It's just a truck and a guy.
The company doesn't need to pay for Workman's comp and general insurance liability for damage.
You don't need two or three qualified guys to bring your appliance in the house, remove the old appliance, and hook up your new appliance.
We drop off grills and vacuums for free.
Nobody has ever been injured placing a grill outside a client's house, falling down their stairs, or not being able to withstand the weight of a vacuum.
White-Glove / Titanium Delivery
White-Glove or Titanium Delivery should be the more full-service delivery of bringing your appliances into your house, with simple installation included, and removal of your old units.
I said, "should be."
It doesn't mean it happens, especially if you have tons of stairs or heavy appliances.
It usually doesn't.
The people delivering in California from a website in New York are far removed from the transaction.
There is no accountability.
You need to clarify what kind of delivery you are paying for in writing before leaving the store or website.
When you have an issue, you will need that promise on paper, especially if you need to dispute that transaction with your credit card company.
Yale Free Delivery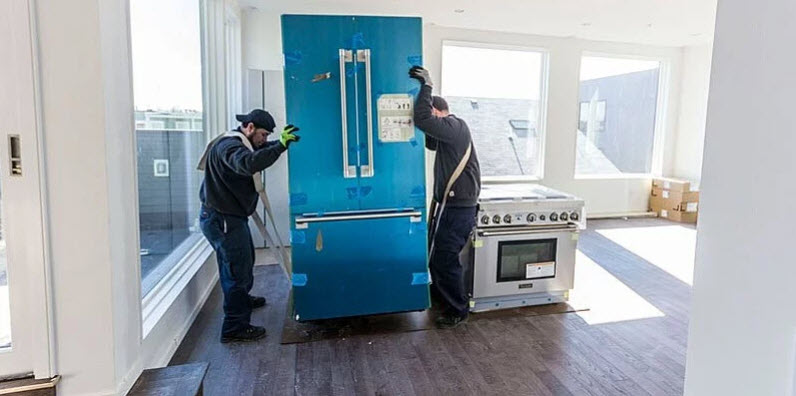 Top-Floor Refrigerator Delivery with Yale Appliance 2018
We had free delivery for the first 86 years. Then we charged $79. It will be $99 on January 1, 2021.
But it gave us a better delivery fleet.
Well paid delivery people don't scratch your floors, dent your walls, cause water leaks, and will go upstairs in a Brownstone.
I mentioned Free Delivery. We will also have free delivery if you place it on our store card.
Credit card rates are increasing.
We would rather give you free delivery than pay Mastercard, Visa, Discover, and American Express.
If you live in Massachusetts, check out the Yale Card, its many benefits, and apply here.
What You Should Expect From an Appliance Delivery
CORI-Certified Delivery Personnel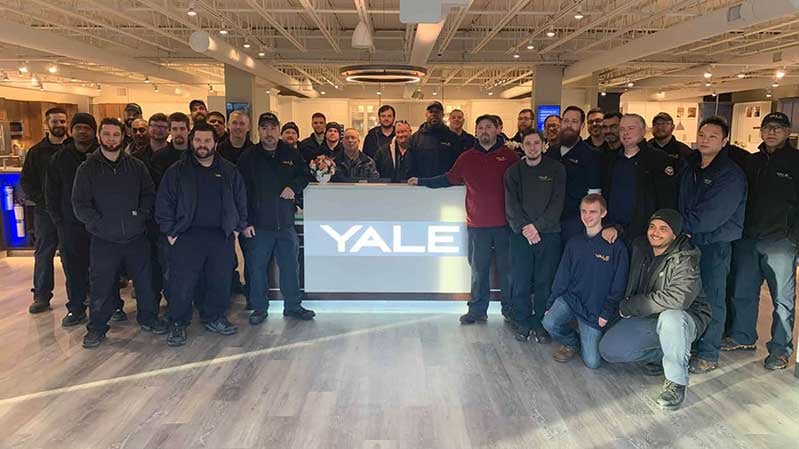 Yale Appliance Team Members
Ever wonder who you are inviting into your home? You would be surprised. It is an issue.
You should ask if the appliance store requires a CORI certification to prevent violent offenders from entering your home.
CORI allows companies to scan the criminal records of employees before they hire them.
In a prolonged delivery like a kitchen full of appliances, you should be assured of having reputable people in your home.
Pro Tip: Read reviews online, not just about sales, but about the delivery aspect of the transaction.
Communication for Delivery Time
You would expect delivery times for appliances to be better. After all, we now get edgy when we wait more than 6 minutes for an Uber.
Waiting half a day for delivery is a waste of your time.
Think about how much money you lose every hour you wait for appliance delivery.
However, most of the appliance experience is still the same as 30 years ago because it's being sent from a separate, outsourced terminal.
Many companies can narrow it down to 2 hours because the routing technology exists. We have an app allowing you to track the truck to your house within 30 minutes.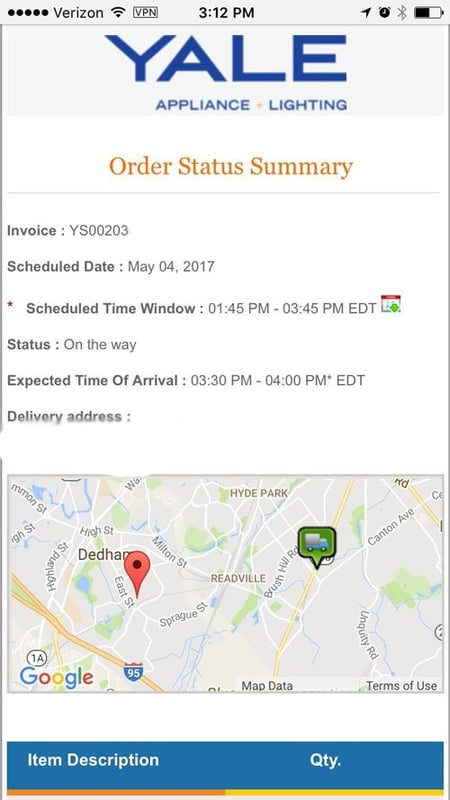 Appliance companies should have the ability to allow you to track the truck to your house.
Pro Tip: You should only wait 20-30 minutes for delivery. To track your delivery, service, or sales appointment, click here.
Removal of Existing Appliance & Basic installation
Hoods, gas appliances, and dishwashers need a plumber or certified installer. You will have to pay more for that.
However, refrigerators, electric ranges, dryers, and washing machines can and should be installed upon delivery. It should not be an additional fee.
Almost every company will charge more for this basic service.
Removal is another problem.
You hear free delivery only to find out removal and basic install are more on a per-piece basis. Suddenly this free delivery costs you more than a charged delivery.
Like this on a competitor's appliance website: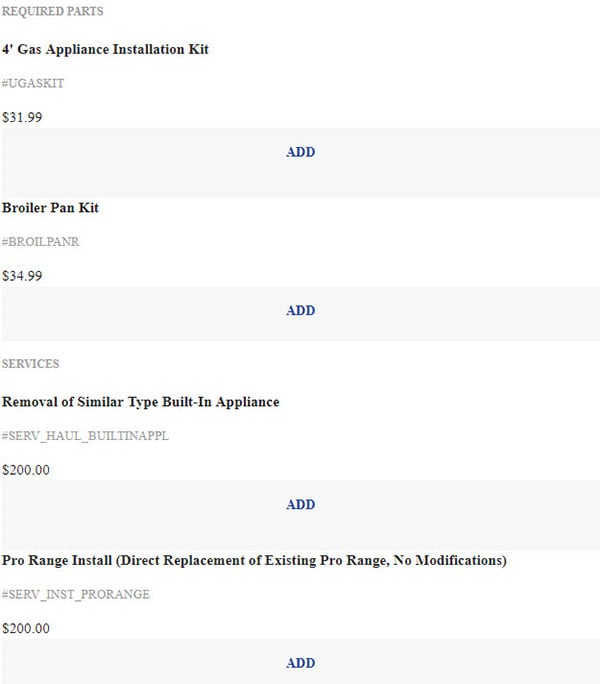 There is a two-hundred-dollar removal charge on free delivery, and that is only for one piece.
Pro Tip: Negotiate delivery and removal at the time of the sale, not when you are accepting delivery.
Appliance Leak Detection Pads
There can be massive amounts of damage from improper installation of washers, dishwashers, ice makers, and refrigerators, especially if you live on the top floor of a building or a brownstone.
We use leak detection pads under these appliances. If a client sees any water on the pad, then we send a service recovery team.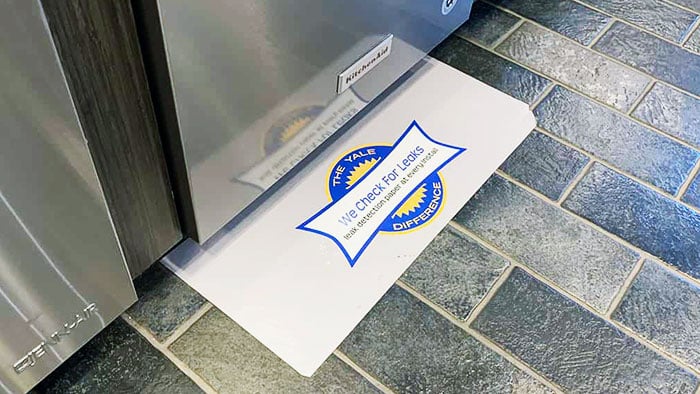 Yale Appliance Leak Protection Pads
It's not just water that can damage your home, but mold and mildew arising from any moisture left over.
You can make your own by using some waxed brown paper. Just check for water after delivery.
Pro Tip: Check every appliance with water for 24 hours after installation.
Floor Protection With Melamine
Ten years ago, we noticed appliances were sinking and indenting the floors.
Many contractors will want the appliances a day before installation, so they leave them in the middle of the kitchen.
If you leave a refrigerator or professional range in the middle of the floor, it will cause an indent.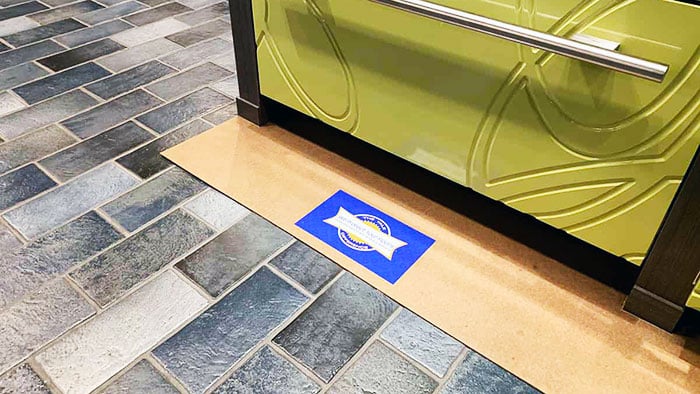 Yale Appliance Melamine Floor Protection
We use melamine to protect the floor itself. We use thousands of sheets every month.
Documentation of Delivery
Do not sign "in good condition" until you are sure.
Let me give you a common scenario:
You bought a suite of appliances on Black Friday. Delivery happens a month before you need it, but you saved $400.
You tell the delivery guys to leave it in the garage.
One month later, the stove is caved in on the side, and the hood has a huge dent in the middle.
You call that internet company, and there is nothing they will do for you.
The number 1 complaint is damage. It happens 3-5% of the time.
Many of your appliances are made in Korea, Europe, and Mexico. There will be some shipping problems.
However, when you sign for good condition, you release that company from any compensation due after delivery.
We video every delivery of the products plus the delivery path to your home.
However, we are not perfect. So we insure ourselves for every kind of scenario to ensure you will be taken care of.
Pro Tip: NEVER sign anything without a thorough inspection.
In Case Damage Happens to Your Appliances Upon Arrival:
You need to take pictures, document it, have the delivery guys sign their delivery form verifying the damage.
Call the store while they are there.
If you do not verify that damage, you will have to go through your homeowner's insurance, increasing your policy next year.
Most companies want you to own their problems because your insurance will increase, not theirs.
COVID-19 Protocols
COVID-19 has added another wrinkle to delivery.
It's no longer a good experience for delivery within the specified window, installation, and removal without damage.
Now, you have to be careful with COVID-19.
Infection is a big problem. Our delivery teams are in 10 homes a day while interacting with each other and warehouse staff.
I don't know how you vet delivery people for COVID-19.
What we do is monitor everyone's temperature and eliminate any unnecessary contact between staff.
Our warehouse door will not open to anyone with a fever.
We now have contactless delivery and service, wear masks, and disinfect all products in and out of our building.
You should insist on the following procedures for service or delivery at a minimum:
The delivery team wears masks
Contactless delivery
Wipe down the appliance before and after delivery
The following is a video of our COVID-19 procedures.
Read More: Our Commitment To Keeping You Safe During The Coronavirus Outbreak
What to Ask Before Your Appliance Delivery
Make sure to ask these questions whenever you're considering appliance delivery. This will save you headaches down the line.
When and how often will the team call ahead? You should ask when and how often the delivery team or customer service will call you to confirm your delivery arrival. You do not want to wait all day for anything.
What is the Return Policy? You should ask about the return policies, such as whether it can return an item if it doesn't fit or the applicable restocking fee?
What will be the total charges for delivery? Always ask what the total charges are. This is a big one, especially if you are ordering many products and have stairs. You want to know up front rather than negotiate at the time of delivery.
What to Expect From Delivery: Key Takeaways
Scared? Don't be.
Just ask the right questions beforehand.
Free delivery is good, but only if it's good.
A good delivery now includes solid COVID-19 protocols. Insist on them, especially if you or a family member is at risk.
Wasting a whole day, delivery damages, and installation issues are often more costly than a good delivery with a fee.
Click here to download your delivery checklist and use it to compare each appliance store.
Additional Resources
Get the free Yale Appliance Buying Guide. It has features, specs, and inside tips to all the brands like Sub-Zero, Thermador, Bosch, and Miele. It covers built-ins, counter depth, freestanding vs. slide-in, and much more (plus a ton of good product shots). Well over 600,000 people have read a Yale Guide.
Related Articles:
Why Should You Trust Us?
It seems that every appliance review has nothing but glowing comments about almost every product, yet you read customer reviews and they are almost universally bad.
We are here to fill in the disconnect. We'll give you the best features, and the drawbacks as well, including reliability based on over 37,000 calls performed by our service team just last year. Our goal is to give you ALL the information so you know what's right for you.
Please consider subscribing or adding to the conversation in the comments below. We appreciate you stopping by.
Steve Sheinkopf is the third-generation CEO of Yale Appliance and a lifelong Bostonian. He has over 38 years of experience in the appliance industry, and he is a trusted source of information for consumers on how to buy and repair appliances.

Steve has also been featured in numerous publications, including the New York Times, Consumer Reports, The Boston Globe, Bloomberg Radio, the New York Post, The Wall Street Journal, and Entrepreneur, for his knowledge of how to buy appliances and appliance repair.

Steve is passionate about helping consumers find the best appliances for their needs, and he is always happy to answer questions and provide advice. He is a valuable resource for consumers who are looking for information on appliance buying, repair, and maintenance.

Despite being the worst goalie in history, Steve is a fan of the Bruins and college hockey, loves to read, and is a Peloton biker. The love of his life is his daughter, Sophie.
A Note About Pricing
Pricing on this blog is for reference only and may include time sensitive rebates. We make every attempt to provide accurate pricing at time of publishing. Please call the stores for most accurate price.