Best Dishwasher Brands for 2018 (Reviews / Ratings / Prices)
A great dishwasher does not necessarily mean the most expensive. My favorite affordable luxury brands, Bosch, KitchenAid, and Jenn-Air now have great dishwashers.
Every brand produces multiple models. Although Miele is considered a luxury appliance brand, they also make dishwashers under $900.
In this post, I will discuss the best dishwashers in the appliance industry by brand given their features, service history, and prices.
Before we do that, lets first look at:
What makes an "ideal dishwasher"?
Stainless Steel Interior: All high-end dishwashers today have a stainless steel interior. A stainless dishwasher interior is preferable to a plastic interior because it is more sanitary.
Quietness: A dishwasher's silence rating is very important especially if your kitchen is open to a living space. You do not want to hear a dishwasher while watching TV.
Dishwasher noise levels are measured by decibel (DB). As a guideline, any dishwasher under 50 dBa is considered "quiet." Any premium dishwasher sold today is going to be quieter than a dishwasher sold 5 years ago.
Forty-four decibels is considered very quiet. Miele, Bosch, KitchenAid, and Asko will drop to 37-39 decibels, but you will not truly hear the difference between a 39 and 44-decibel dishwasher.
We recorded a 44 and 55-decibel dishwasher in this blog post or you can check out our video below of what a 44 and 55 DB sounds like.
Dishwasher Sound Level Comparison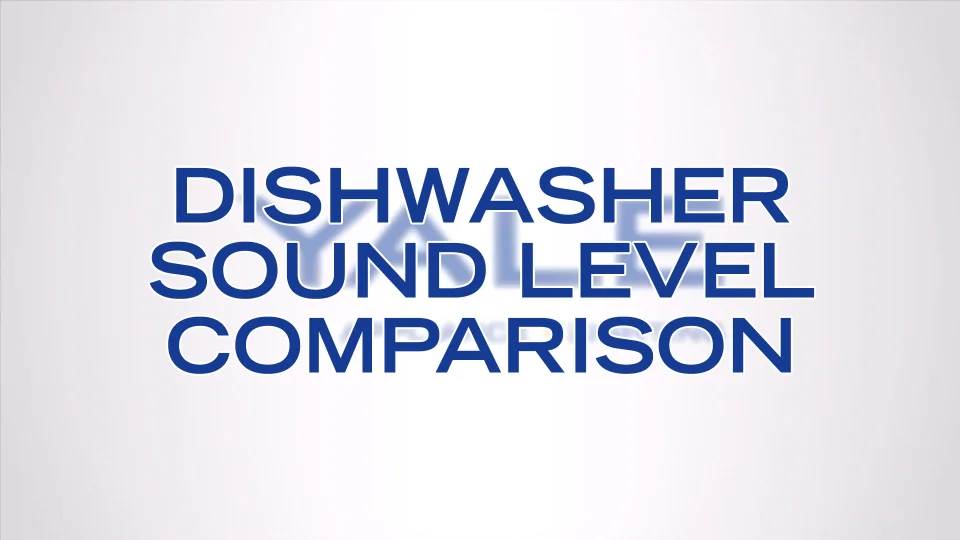 Adjustable Upper Rack: Some high-end dishwashers have an adjustable upper rack. The benefit of having an adjustable upper rack is it can accommodate various dish sizes.
For example, if you need to put plates on the lower and upper rack, keep the upper rack at its lowest setting to fit the height of plates on the higher rack. If you need to put a large pasta pot on the bottom rack, you can raise the height of the upper rack to fit the big pot on the bottom.
Third Level Cutlery Rack: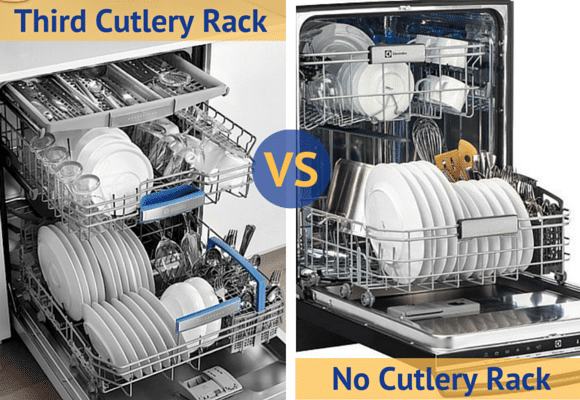 I really like this feature now that I have one in my dishwasher. You have a dedicated space for silverware, but you will pick up a ton of room on the bottom rack by removing the silverware basket.
European vs. American Dishwashers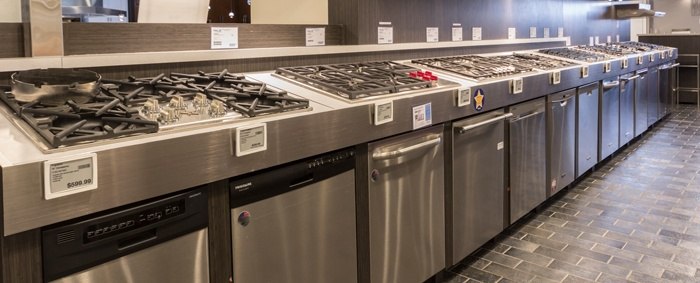 Although the features listed above are present on both the European and American dishwashers, there are still some differences in the installation requirements and the drying system.
European-style dishwashers will sit flush in a 24-inch cabinet, which is really important when you want to put a custom-panel on the front of your dishwasher to match your cabinetry. American-style dishwashers will stick out 1/2 inches beyond a 24-inch cabinet (which looks fine with a stainless, black, or white front but not a custom panel).
Drying and Disposing in European and American Dishwashers
Before I talk about drying, any dishwasher sold today requires a rinse-aid, otherwise, the dishes will not dry. The brand Finish makes a product called "Jet-Dry" that works great. European-style dishwashers use condensation to dry the dishes, a very energy efficient method.
Short on time? Get our free Dishwasher Buying Guide
The water in the final rinse is very hot and will stick to the relatively cooler stainless sides of the dishwasher to dry the dishes. American-style dishwashers use a heating coil at the bottom of the dishwasher, which heats the air in the dishwasher to dry the dishes.
Miele has the best drying system. The port at the bottom of the dishwasher lets air into the side.The warming air is attracted to the colder side and is dissipates to water.
American style dishwashers use to have grinders for soft food disposal but have since switched to filters, like the Europeans for more quietness.
Best Dishwashers for 2018
Asko - (European Style)
Asko is a Swedish company known for manufacturing compact laundry and quiet dishwashers. Asko dishwashers are made in Slovakia. They are known for being very water efficient.
Asko dishwashers have graphite racks instead of nylon coated, and metal wash arms in replace of plastic, which adds to the high quality of these dishwashers.
D5636XXLHS/PH - $1,549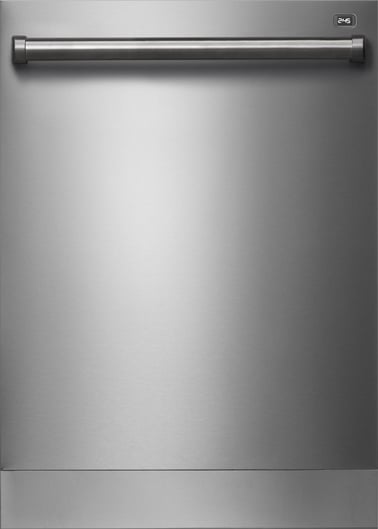 Features:
46 dBA
Hidden controls, bar handle to match Wolf/Sub Zero appliances
What makes Asko different?
More solid graphite racking and metal wash arms
Fan assisted drying system
Third level cutlery rack is in the middle of the upper and lower rack instead of at the top (top of the line only)
Bosch - (European Style)
Bosch is a brand owned by the BSH Corporation. Many of Bosch's top-of-the-line dishwashers are made in Germany, however many of their products, including some dishwashers are made in North Carolina.
BSH also owns premium sister brands Thermador and Gaggenau with similar high-end dishwasher features. Bosch offers the most models and price points of any brand.
Bosch makes 55 different dishwasher SKUs.
Features:
40 dBA
Stainless steel front with bar handle
Adjustable top rack to hold deeper items: ladles, spatulas
Splittable cutlery basket on the bottom to optimize flexibility
What makes Bosch different?
Sealed tub underneath the dishwasher will contain water in the event of a leak
A top performer in our service history
Bosch offers over 55 models at various prices from $539 (their 300 series at $679, is worth checking out)
KitchenAid (American Style)
KitchenAid is a brand owned by the Whirlpool Corporation, one of the largest appliance companies in the world. Jenn-Air is another high-end appliance brand owned by Whirlpool and is known as a sister brand (KitchenAid and Jenn-Air are the same dishwashers ). Whirlpool is the largest appliance company in the world and based in Michigan.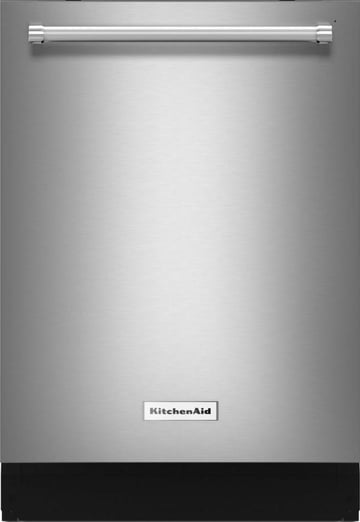 Features:
39 dBA
Satin-glide upper and lower racks
Luxury-glide racking on top rack (all models), bottom rack with luxury-glide rack (on select high-end models)
ProScrub has concentrated jets to target heavily baked-on dishes
What makes KitchenAid different?
Although older KitchenAid dishwashers had a hard food disposer on the bottom of the tub, the new models have a filter at the bottom.
The ProScrub is a great feature of concentrated "shower heads"if you need to clean lasagna trays and heavily baked-on stains
This KitchenAid dishwasher design was introduced in 2014.
Miele (European Style)
Miele is one of the largest family-owned appliance companies in the world. Miele products are all made in Germany and Miele is known as one of the most quality conscious appliance brands. As a result, they have a great reputation for reliability. In the past, you had to spend over $1,000 for a Miele dishwasher.
Features:
45 dBA
3rd cutlery tray
Clean air drying system filters air through the port at the bottom of the dishwasher to dry the dishes in addition to condensation drying
Double waterproof system shuts off water supply if dishwasher detects a problem
Door pops open at the end of the wash to speed drying
Best racks..fully adjustable on all three
What makes Miele different?
Most vertically integrated company, products and parts are designed and assembled in Germany, so life expectancy is greater
Fan assisted and unique drying system helps traditional European condensation method of drying
Very gentle cycle for delicate glassware
Their dishwashers are some of the quietest in the industry
a top performer in our service department history
Their $1499 model has full adjustability in all three racks. Dishwasher pops open at the end of the cycle automatically
Features of Miele Dishwashers
Samsung
Samsung is one of the largest companies in the world. They are also the number single brand of appliances sold in the US. They are mostly known for their refrigerators and laundry, but their dishwashers have proven reliable with tons of features.
Features:
44 dBA
Storm wash targets heavily baked-on dishes
3rd rack
Multi-cycle
What makes Samsung Different
This dishwasher has a similar washing system to the KitchenAid ProScrub with the concentrated sprays along with some of the drying of Miele.
You can also buy a Samsung for $399...and it is actually good.
Which is the best dishwasher brand?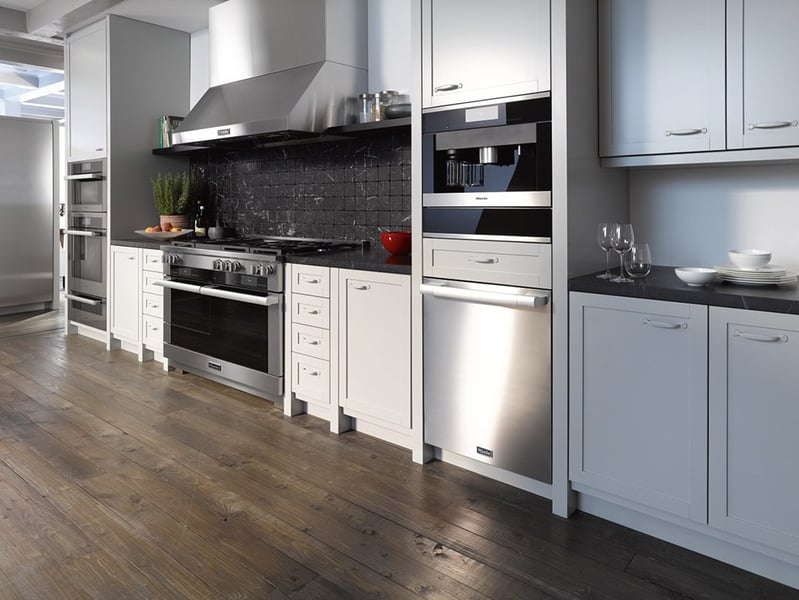 All of these dishwashers are very good. You really can't go wrong. Since there are many good brands you want to find one that best fits your needs and lifestyle.
Asko still makes a good dishwasher. They are sold at a high price relative to their competitors and many models are louder than their competition. However, I really like the metal racks and wash arms instead of plastic. Their service record has also improved under their new owner.
Bosch is probably the most popular dishwasher brand sold at Yale. They are widely sold because they have the most models in a wide variety of prices. They have the most features for the money in any premium dishwasher.
In particular, I really like how you can see the remaining time without having to get the controls on the front. Bosch also has a good reputation through our service department as being a reliable and well-supported brand.
The new KitchenAid dishwasher has some of the best racking in the industry. The ProScrub has the most concentrated wash in the industry, so bake that lasagna. KitchenAid will be able to wash it and at an unbelievable 39 dBA.
Miele makes the most reliable dishwasher and is a top industry performer in cleaning, quietness, and, especially, drying. There is a perception that Miele dishwashers are very expensive (their high-end models are pricier than most affordable luxury models). You can still get a great dishwasher at their entry-level price of $899. Miele dishwashers are among the lowest serviced products in the industry.
Samsung is a reliable dishwasher with great features at the most attractive price. I would consider Samsung between $399-649 without question. They promote heavily.
Additional Resources
Looking for more information on dishwashers? Get our free Dishwasher Buying Guide with features, specs and detailed profiles of all the brands.Well over 210,000 people have read a Yale Guide
Related Articles
Editor's Note: This article was originally published on September 2nd, 2014 and has been updated for accuracy and comprehensiveness.
Why Should You Trust Us?
It seems that every appliance review has nothing but glowing comments about almost every product, yet you read customer reviews and they are almost universally bad.
We are here to fill in the disconnect. We'll give you the best features, and the drawbacks as well, including reliability based on over 37,000 calls performed by our service team just last year. Our goal is to give you ALL the information so you know what's right for you.
Please consider subscribing or adding to the conversation in the comments below. We appreciate you stopping by.
A Note About Pricing
Pricing on this blog is for reference only and may include time sensitive rebates. We make every attempt to provide accurate pricing at time of publishing. Please call the stores for most accurate price.