Jenn-Air vs. Bosch Stainless Kitchen Appliance Packages (Reviews / Ratings)
Years ago, you would have no problem furnishing your kitchen with 4 brands like an Amana refrigerator, KitchenAid dishwasher, Jenn-Air stove and a Sharp microwave. Kitchen packages became popular over the years because manufacturers began increasing rebates for multiple purchases.
Buying a kitchen package from the same brand can save money. You also have the same look throughout your kitchen. It looks better than different handles and shades of stainless of different brands.
Short on time? Get our free Appliance Buying Guide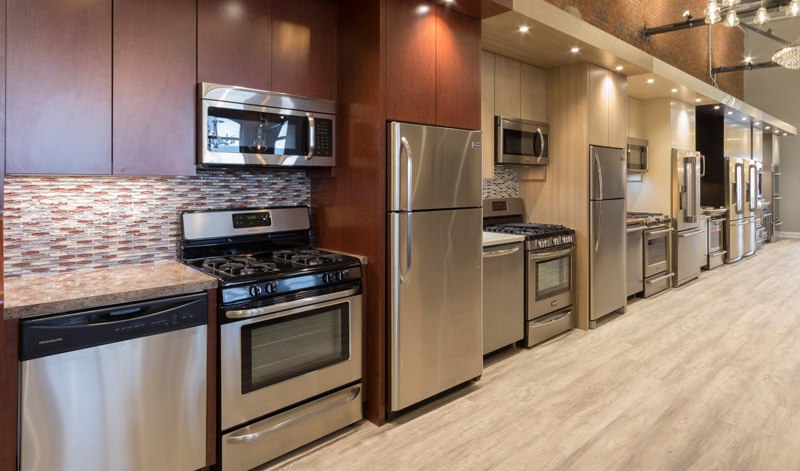 Jenn-Air vs. Bosch
Jenn-Air and Bosch are very similar in terms prices and brand perception. They are both in the affordable luxury category and both offer significant packages and rebates to consider.
Let's look at one of their most popular suites and break it down by product. This package includes a slide-in stove, counter depth refrigerator, convection over-the-range microwave and dishwasher.
Ranges
HGIP054UC - $2,699 vs. JGS1450DS - $2,599
Ranges are the bread and butter of the kitchen. Both companies offer very great options; however, the Jenn-Air may be a bit better.
With the Jenn-Air range, the drawer beneath the main oven is actually a fully function second oven. This oven is great for baking a side dish while you're utilizing the main oven.
The Bosch offers just a warming drawer. It is still decent, but does not have the baking functionality.
While the outputs of the burners on top are similar, Jenn-Air offers cast brass burners and an 8,000 BTU oval griddle burner. Bosch places their round power burner in the center of the range which reaches 20,000 BTU.
The Jenn-Air oven is the largest in terms of cubic feet.
Refrigerators
B21CL80SNS - 2,519 vs. JFC2089BEM - 2,399
At first look, Bosch looks to be the better option with a double drawer French door. However the Jenn-Air has an internal water dispenser. Bosch is also new with this product being imported from Midea, a Chinese manufacturer.
Dishwashers
SHXN87PW55N - $1,099 vs. JDB9000CWS - $1,099
Bosch is known for its dishwashers, and is competitive in this category. However, the Jenn-Air is really a KitchenAid dishwasher and also has some very competitive features. Read the Bosch vs. Kitchen Dishwasher blog for more in-depth information.
Through Jenn-Air's package promotion, Jenn-Air's dishwasher also becomes essentially free with the purchase of a package. I will cover the terms and benefits of each package at the end of this post.
In terms of quiet and reliability, Bosch is the better dishwasher.
Over-the-Range Microwave
HMV8053U - $699 vs. JMV9196CS - $999
In the over-the-range category, Bosch has caught up to Jenn-Air. Much like the Jenn-Air's convection capability, the Bosch now also offers the 800 Series microwave with convection.
Both venting systems average about 400 CFM and they also both offer lighting and stainless steel interiors.
The microwave is basically a tie.
Rebates and Packages
Both companies deal with packaging differently.
You can expect to pay slightly more for a Jenn-Air Package. However, Jenn-Air's biggest rebate is instant, and for qualifying packages, that is an instant savings of $1,300. The Jenn-Air package above also qualifies for an additional $300 in mail-in rebates. So the price is $5,796 (most of the time).
Bosch's packages offer a 10% back mail-in rebate sporadically and also have additional $50-$100 mail-in rebates that are typically on an appliance by appliance basis. The price can fluctuate between $6,000 to just over $6,900.
Which Do You Buy?
Well, it is easy if Bosch does not offer their 10%. The difference would be over $1,000. The range seems to be better in the Jenn-Air, but the Bosch refrigerator looks better. They both have a different style with Bosch being more European and Jenn-Air being more industrial looking.
In terms of reliability, Bosch is generally a more reliable product, but it is close.
So it is almost a decision based solely on timing and personal preference.
Addtional Resources
Looking for some additional help on appliances? Download the Yale Appliance Buying Guide with the answers to the 10 most frequently asked questions as well as when to buy an appliance and reliability of all the top brands. Well over 190,000 people have read a Yale Guide.
Related Articles
Steve Sheinkopf
My goal has always been simple: I want Yale to be the best retail experience anywhere. I have tried to create a compelling environment for customers and employees alike
A Note About Pricing
Pricing on this blog is for reference only and may include time sensitive rebates. We make every attempt to provide accurate pricing at time of publishing. Please call the stores for most accurate price.