6 Best Gas Slide-In Ranges for 2020 (Reviews / Ratings / Prices)
Slide-in ranges look better in your kitchen.
That is the only reason to buy one. You can see your backsplash without looking at a backguard like this.
As I have said throughout this blog, slide-ins and counter depth refrigerators are cost-effective ways to improve the look of your kitchen without spending a ton of money on renovation.
In this article, you will learn the best gas slide-in models, features, and brands to consider. I will show you what they have in common plus their unique features.
You will also see reliability statistics from real data. In the last three years, we have logged over 100,000 service calls.
Many reviewers talk about reliability and ranges being "sturdier" or being "top performers". You will see statistics showing the opposite is often true.
With the industry's often apathetic posture to service, reliability is an issue you want to understand at the beginning of your purchase.
Let's get started.
Short on time? Get our free Gas Cooking Buying Guide
Everything You Need To Know About Choosing A Slide-In Range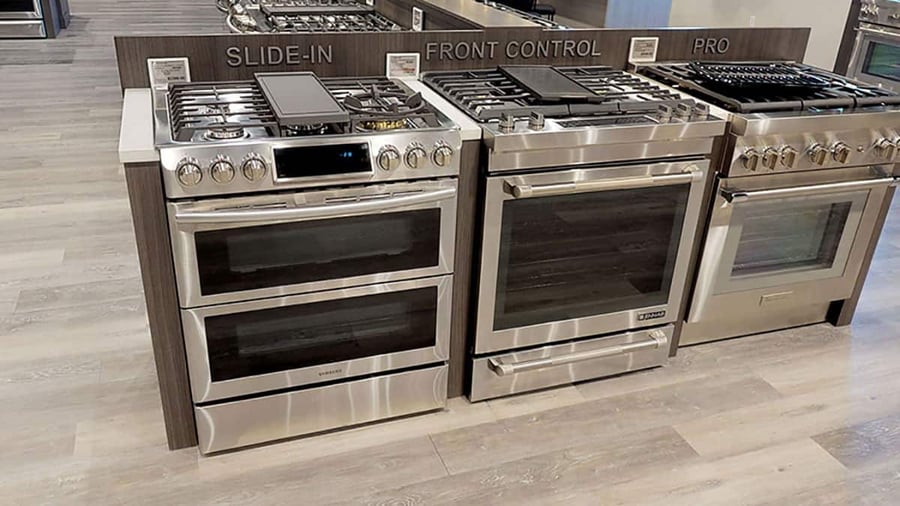 Slide-In and Front Control Range Learning Center at Yale Appliance in Hanover
First, let's look at the difference between slide-ins and front control ranges. They look almost the same. Most slide-ins are, in fact, front control.
You have to know the difference between slide-in and front control ranges to install one correctly.
What's The Difference Between Slide-In And Front Control Ranges?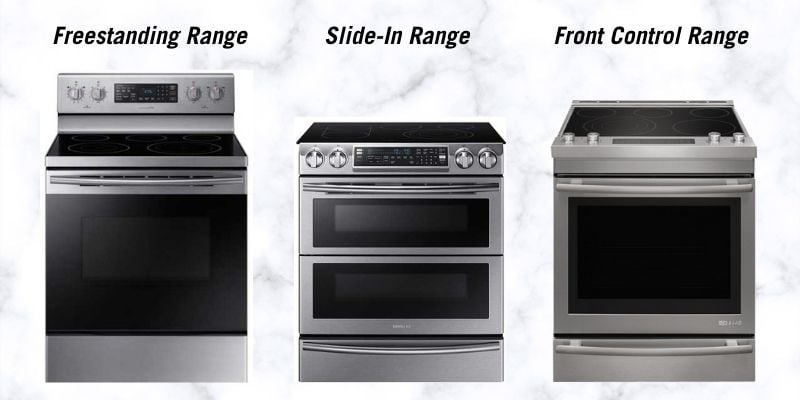 While front control and slide-ins both require a 30-inch cabinet opening, slide-in models are built-in with unfinished sides.
Slide-In Ranges
Slide-In ranges overlap your countertop by 2 inches, unlike a front control range.
One of the main benefits of the overlap is cleanability. Food and crumbs can't drip down the sides like it can with a front control or freestanding range.
Also, when you push a slide-in range all the way back, there is about a 2-inch space behind the range.
You fill this with countertop material to complete the more customized look.
Popular Slide-In Range Manufacturers:
Samsung
Bosch
Frigidaire (Frigidaire has both)
Front Control Ranges
Although it does have the same opening as a slide-in, front controls do not overlap the countertop like a slide-in.
It can replace an existing freestanding stove. You can also place a front control at the end of your kitchen because it does have finished sides, unlike the slide-in.
However, it is harder to clean with the seams or spaces on either side like a freestanding range.
Popular Front Control Range Manufacturers:
KitchenAid
Maytag
Jenn-Air
Whirlpool
LG
GE Appliance
Electrolux
All professional ranges.
You may want to consider a slide-in in new construction for cleanability. Front control is better for replacing an existing stove because you do not have to modify your countertop.
Gas Range Reliability
We have 35 techs performing service calls. Last year, they logged 35,256 service calls alone.
Following are the results:
Most Reliable Gas Ranges for 2020
| | | | |
| --- | --- | --- | --- |
| | Service Qty | Shipped Qty | Service Ratio |
| Bosch Benchmark | 13 | 25 | 52.00% |
| Jenn-Air | 109 | 323 | 33.75% |
| Blomberg | 6 | 18 | 33.33% |
| Fisher & Paykel | 2 | 8 | 25.00% |
| KitchenAid | 55 | 237 | 23.21% |
| Café Appliances | 6 | 41 | 14.63% |
| LG Electronics | 3 | 24 | 12.50% |
| Bosch Appliances | 29 | 233 | 12.45% |
| Whirlpool | 22 | 197 | 11.17% |
| Premier | 2 | 24 | 8.33% |
| Samsung | 76 | 1170 | 6.50% |
| GE Profile | 2 | 71 | 2.82% |
| Grand Total | 352 | 2450 | 14.37% |
GE Profile looks good, but we just started selling the line in March of 2019. That's only about a year of data. Still, it's pretty good.
The most reliable for gas ranges is Samsung at 6.5%.
Samsung is the most reliable brand we sell for upscale, affordable luxury appliances. Whirlpool is the best for more basic appliances.
Unfortunately, as many people have commented, Samsung does not have the support infrastructure when there is a problem.
The same could be said for almost every brand. You should check the service in your area before you buy any appliance.
You should also check Google, Yelp, and Better Business Bureau (BBB) for reviews and responses.
Taking a salesperson's advice without looking at stats and reviews is always a bad idea.
Features
High Output Burners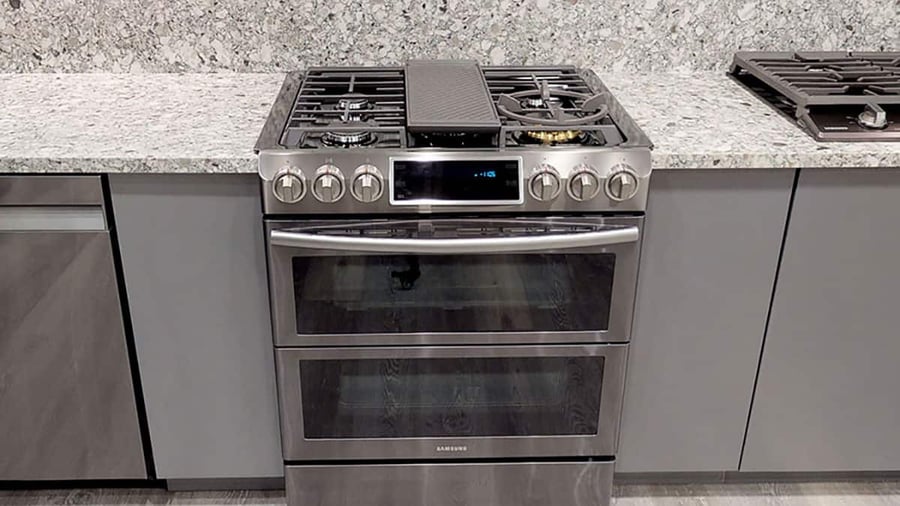 Samsung Gas Slide-In Range on Display at Yale Appliance in Hanover
At one time, a 14,000 BTU burner was considered powerful. (BTU is British Thermal Unit -a measure of heat output). Some pro ranges top off at 15,000 BTU.
Every gas slide-in on this list has two power burners of 15,000 BTU or more (Beko is an exception with one power burner).
Samsung has the hottest single burner at 22,000 BTU on their better model while Café Appliance has a 21,000 BTU burner.
You can boil and cook fast on all of these ranges.
Convection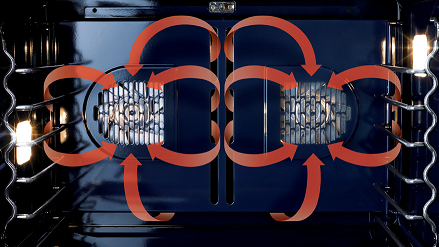 Twin Convection Fans
Convection used to be a higher-priced option as well. All of these choices have convection.
If you like to bake, convection is a fan-forced heat for more even temperatures.
Griddles
Jenn-Air Gas Range Griddle
Every unit has a fifth oblong-shaped burner for more even heat to use with a griddle. A couple of choices have six burners.
Oven Capacity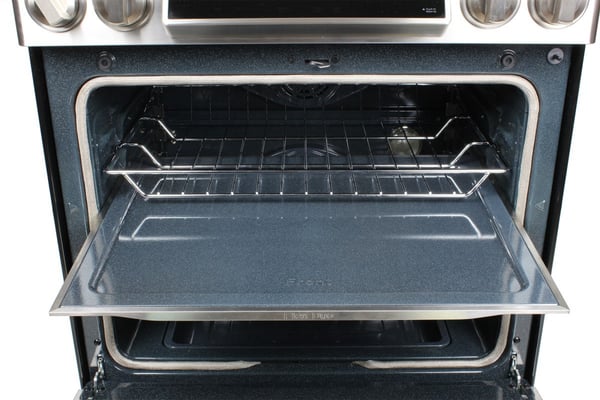 Samsung Gas Slide-In Range with Flex Duo Double Oven
Most reviewers include capacity and design, but they are basically the same. KitchenAid and JennAir are technically the largest, but they cut down the drawer underneath almost completely.
Stoves and appliances, in general, follow the same cabinet dimension of 35 inches high 30 wide 24 depth. That dictates the internal capacity.
That said, if you want more capacity, look at KitchenAid and JennAir.
Now let's look at some ranges.
Short on time? Get our free Gas Cooking Buying Guide
Best Gas Slide-In Ranges For 2020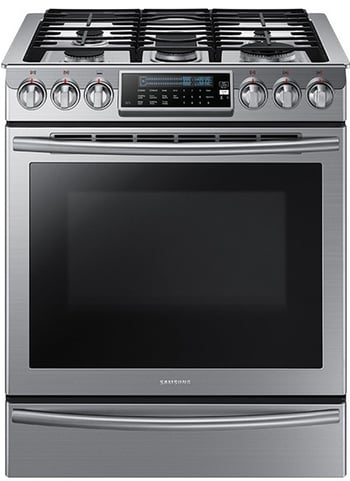 Features:
Slide-in Design - Get a Sleek, Built-in New Look for your Kitchen
5.8 cu. ft. Large Capacity - Allows You to Cook Multiple Dishes at Once
Flexible Cooktop - Cook on 5 Specialized Burners Simultaneously
True Convection - Faster, More Even Cooking
Review:
Affordable doesn't mean cheap in terms of features.
This range checks almost all the boxes with two power burners, convection, and a clean, modern look for a competitive price.
You can buy it even cheaper during promotions.
Pro Tip: The time to buy an appliance is Presidents' Day, Memorial Day, July 4th, Tax-Free Weekend, and Black Friday.
You may see less promotional activity in 2020 because COVID has affected supply, unlike previous recessions. There are fewer products now available.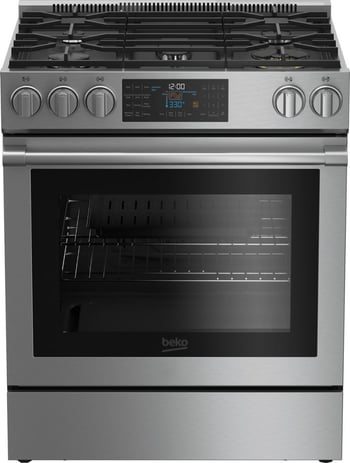 Features:
5.7 cu. ft.
5 burners with 18,000 BTU burner
Warmer Drawer
Digital LED Multifunction Display
Stainless Steel
Review:
Beko is a huge Turkish appliance manufacturer. They have a nice story of sustainability and Green engineering in their products.
This range is stylish. However, it is not as powerful as the others with an 18,000 BTU and 12,500 BTU as their max burners.
This range in a $5,000 package with a counter depth refrigerator, stainless dishwasher, and over-the-range microwave is inexpensive and should be considered.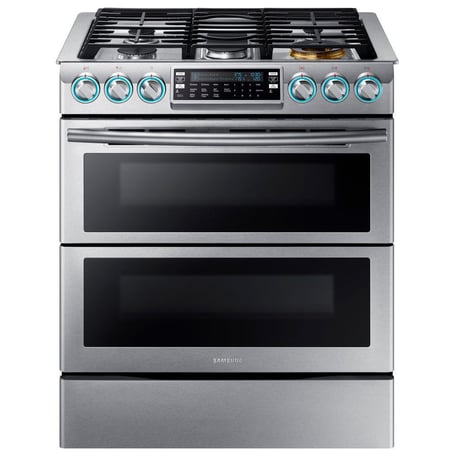 Features:
Flex Duo with Dual Door - Ultimate cooking flexibility
Blue LED Illuminated Knobs - Visually lets you know if your cooktop is on
Review:
The FlexDuo is the most well-conceived oven on the market today. You have two ovens. Both ovens are convection.
Unlike every other double oven, you can slide out or "flex" the middle divider to have one large twin convection oven.
As previously mentioned, the top is also powerful, with a 22,000 BTU burner as well as 15,000.
Features:
Even-Heat(TM) True Convection
Steam Rack
5.8 Cu Ft. Oven Capacity
5 Burners (5k, 8k, 9.2k, 15k, and 17k)
EasyConvect(TM) Conversion
FIT Guarantee
Aqualift(R)
Storage Drawer
Glass Touch Controls
Continuous Interlocking Grates
Side Trim Accessory Kit
Features:
DuraFinish™ Protection
19,000-BTU Dual- Stacked PowerBurner
Baking Drawer
True Convection
Telescoping Glide Rack
Brass Burners
Aqualift® Self-Cleaning Technology
Review:
KitchenAid and JennAir are the same range and are subsidiaries of Whirlpool.
They have good output. JennAir is a bit better at a 19,000 BTU instead of the 17,000 BTU burner, and it also has a baking drawer below.
It's a small drawer because the oven is so huge.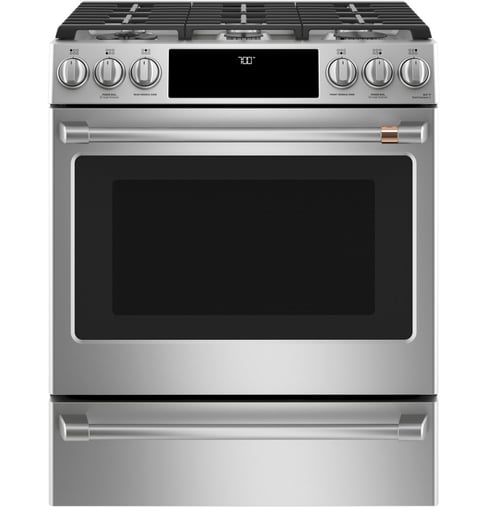 Features:
True Convection
Storage drawer
Slide-In
6 burners
Review:
I could say any Café Appliance range is best for it's smart capabilities and color options. They have a number of colors and handle accessories to customize your range. The handles are black, bronze, and copper. Try the white and copper; it looks great.
Café Appliances as a company has made Smart functionality a priority. Most of their products are Smart compatible.
Many appliances have smart capabilities and can be controlled through an app on your phone.
Café Appliances is also compatible with voice attendants like Alexa and Google Assistant.
As for the oven, it has the largest total capacity at seven cubic feet spread over 2 ovens.
Lastly, their ranges have six burners. The question is, does that fit six pots on a 30-inch range?
Key Takeaways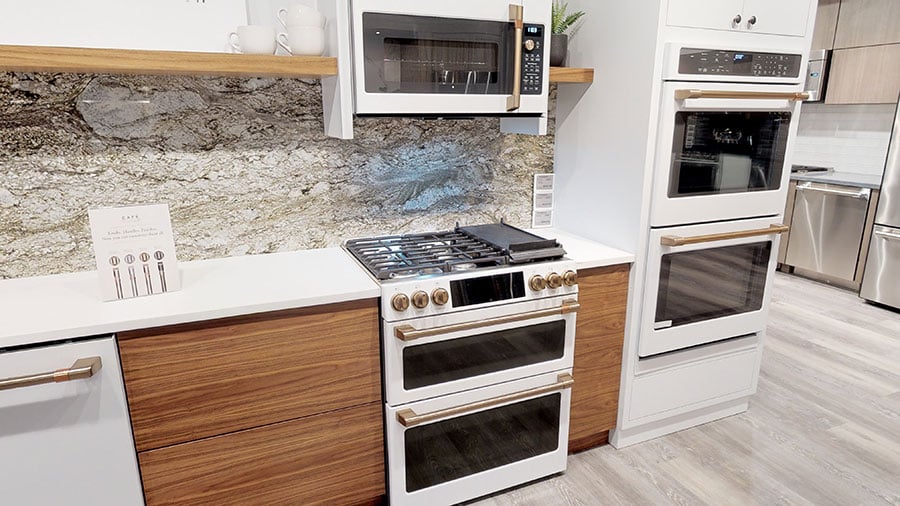 Café Appliances in Matte White Featuring Gas Slide-In Range at Yale Appliance in Hanover
First, understand the difference between front control and slide-in.
You do not want to have to "notch" (the industry term for cutting) your counters to fit a slide-in range.
Cutting counters, especially granite, is dicey. No delivery company in the world will cut granite when delivering.
After that, picking out your new range depends on features and upgrades to a certain extent.
You should also be aware of who can fix that double oven gas range. Finding out on November 24th is probably not a good idea.
Frequently Asked Questions
1. Why Are Slide-In Ranges More Expensive Than A Regular Gas Range?
There is no rational reason why one is so substantially more. Economics may play a role. Manufacturers produce millions of regular $799 ranges, so there is some scale and less cost to produce.
Slide-ins are made less, so the cost would be higher based on pure economic theory.
2. Can You Place A Slide-in At The End Of A Counter?
No. Slide-ins have unfinished sides. However, you can with a front control range because the sides of that range are finished.
3. Can You Replace An Existing Freestanding Slide-In Gas Range?
It depends on the range. You can replace a regular range with a front control without modifying your counters. That's easy.
You can replace a slide-in with a slide-in. Just check the cut-outs first on slide-ins first.
If you have your heart set on a slide-in, then a few stores (including ours) do have countertop specialists on staff and can cut to fit any slide-in or specialty range.
By the way, all gas ranges are plugged into 110 volts for the igniter. You would have to change your electrical for dual fuel (gas over electric) or electric ranges.
Additional Resources
Want to learn more about the latest gas ranges and technology? Read the Yale Gas Range Buying Guide with features, specs and detailed profiles of every major brand. Well over 800,000 people have downloaded a Yale Guide.
Why Should You Trust Us?
It seems that every appliance review has nothing but glowing comments about almost every product, yet you read customer reviews and they are almost universally bad.
We are here to fill in the disconnect. We'll give you the best features, and the drawbacks as well, including reliability based on over 37,000 calls performed by our service team just last year. Our goal is to give you ALL the information so you know what's right for you.
Please consider subscribing or adding to the conversation in the comments below. We appreciate you stopping by.
Steve Sheinkopf
My goal has always been simple: I want Yale to be the best retail experience anywhere. I have tried to create a compelling environment for customers and employees alike.
A Note About Pricing
Pricing on this blog is for reference only and may include time sensitive rebates. We make every attempt to provide accurate pricing at time of publishing. Please call the stores for most accurate price.