Bosch vs. Samsung Dishwashers (Reviews / Ratings / Prices)
Buying a decent dishwasher was easier eight years ago. If you wanted a premium dishwasher, it was either Miele, KitchenAid, or Bosch.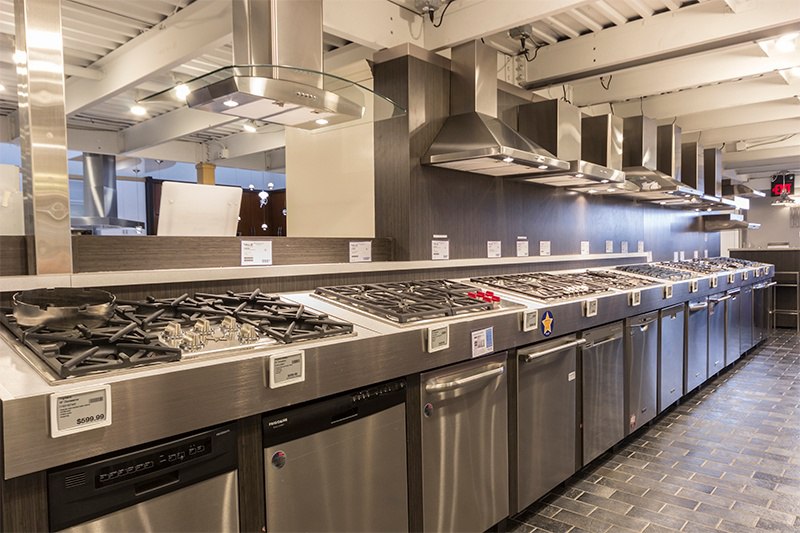 At that time, less expensive dishwashers were purchased under the Frigidaire, Maytag, Whirlpool, or GE names.
Samsung and to a certain extent LG changed that thinking by producing a decent, affordably priced dishwasher.
However, is the newer Samsung better than the popular Bosch dishwasher?
We will look at both companies, the products and then compare Bosch Vs Samsung. First, you should look at reliability.
Short on time? Get our free Dishwasher Buying Guide
Reliability
Based on 30,000 service calls completed calls completed in 2017, the more reliable dishwasher sold is Samsung.
I couldn't believe it myself, but the numbers are real. However, we sell more less expensive (under $500) Samsung dishwashers and more premium (over $700) Bosch dishwashers.
Both are considered very reliable. However, the actual repair experience differs. You may have issues repairing Samsung because they are so new.
Make sure you can have either brand repaired easily before you buy.
Bosch
Bosch home appliances is a division of BSH, Bosch and Siemens Home Appliance Group, based in Munich, Germany. Even though Bosch is a German company, most Bosch dishwashers are manufactured in the United States since 1991.
Over the years Bosch earned high marks for producing a quiet, reliable, and reputable dishwasher. They are a dishwasher company first producing over 50 different dishwashers.
Pro Tip: For the best performance, the recommended cycle is Auto with the Extra Dry option on!
Here are a few popular models.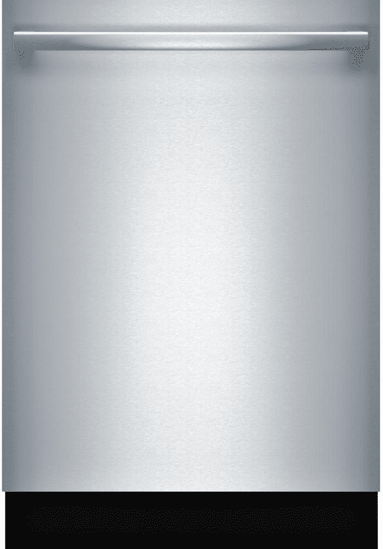 Features:
39 dBA: Quietest Dishwasher Brand in the U.S.
The MyWay™ Rack gives you the industry's largest 3rd rack loading capacity.
A clean white light illuminates the interior when the door is open.
The 3 level EasyGlide™ rack system provides a smooth glide for easier loading & unloading on all 3 loading levels.
Water softener ensures optimally spot-free and shiny dishes.
24 h Delay Start Timer
AquaStop® Leak Protection Works 24/7
Self-Latching Door
This model features integrated controls for a clean and hidden look. Plenty of flexibility for anyone who has a larger family or needs space for cooking utensils. The MyWay™ Rack easily fits larger & deeper items, like cereal bowls, freeing up extra space for pots and pans in the bottom rack.
Custom Panel Ready (Panel Not Included)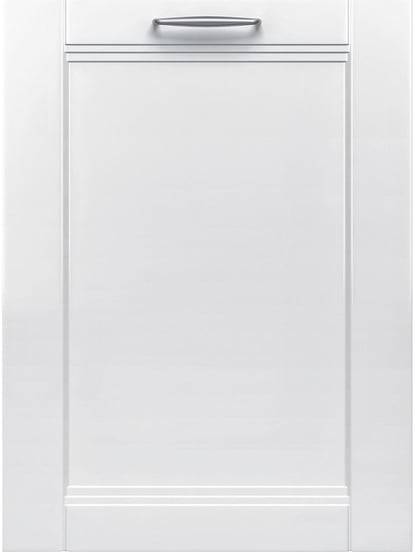 Features:
42 dBA: Quietest Dishwasher Brand in the U.S.
A flexible 3rd rack with fold-down sides adds 30% more loading capacity
FlexSpace™ Plus Tines fold back to fit items such as casserole dishes.
The 2 level EasyGlide™ rack system provides a smooth glide for easier loading & unloading on the upper and lower racks.
This custom panel Bosch dishwasher will not protrude from your cabinets. It looks way better than most.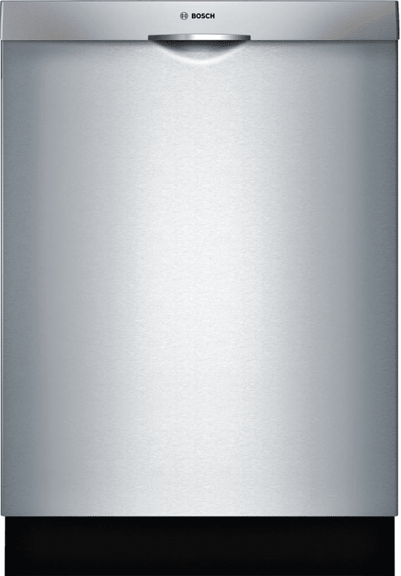 Features:
RackMatic®
AquaStop® Leak Protection™
TimeLight®
Extra Dry
NSF® Sanitize
16 Place Setting Capacity
Silence Rating of 44 dBA
This model is the most popular dishwasher sold at Yale. It has the 3rd rack, plenty of usable features, and is runs quietly at 44 dBA.
Some Pros of the Bosch:
If you're doing a high-end kitchen, you'll be able to beautifully integrate the dishwasher with a custom panel for a hidden look.
It's extremely quiet and energy efficient.
The Benchmark has a been a hit with our customers here at Yale. Rather than the red dot Bosch typically has a status light, you get a full display projected on the floor.
The time and status of your cycle are projected right on the floor.
Some cons:
It has a dated utensil basket design. While the MyWay Rack certainly is a cut above the rest, the utensil basket is dated and could use a fresh facelift like some of their newer features.
Samsung
Samsung's smallest division is appliances. For appliances, they are most known for refrigerators and laundry. Having dominated the electronics space for years, chances are you have or currently own a Samsung television or cell phone.
In what is seemingly their never-ending quest for world domination, Samsung also has a rather strong appliance division, which is becoming a fast riser among consumer brands.
A head turner on any showroom floor because of their cutting-edge design along with innovative ideas make them a big hit in the tech community.
Samsung DW80H9970US - $949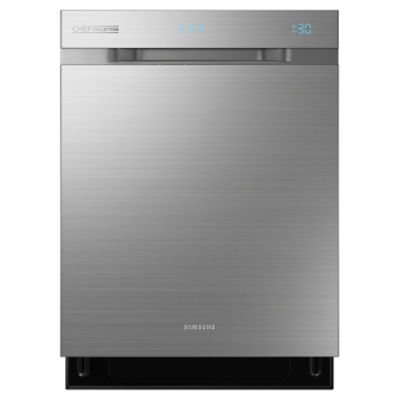 Features:
3rd Rack with FlexTray™
WaterWall™ System
Zone Booster
Digital Leak Sensor
Hidden Heat Element
15-Place Setting Capacity
6 Cycles
6 Options
40 dBA Quiet Sound
ENERGY STAR® Rated
The hidden heat element is unique to ensure better drying but it's not as efficient. The WaterWall system is designed for maximum water exposure to ensure dishes get cleaned.
Samsung WaterWall
Features:
44 dba
3rd Rack
StormWash™ System
FlexLoad™ Racking System
Autorelease™ door
This has a sleek neutral design that can blend with other brands in your kitchen. The flex tray is awesome, allowing you to carry over utensils in the 3rd rack to and from the sink.
Samsung FlexTray
Samsung DW80M2020US - $449
Features:
Stainless Steel Interior Door
The interior door is covered with stainless steel that's more durable, hygienic, and quieter.
Height-Adjustable Upper Rack
Digital Water Leakage Sensor
Identifies leaks as small as 2.4 ounces and shuts itself off before water can escape
55dBA
Some Pros of the Samsung:
It's an attractive budget-friendly option for someone looking to be frugal.
The Storm Wash is a series of concentrated sprays to target stubbornly baked-on stains.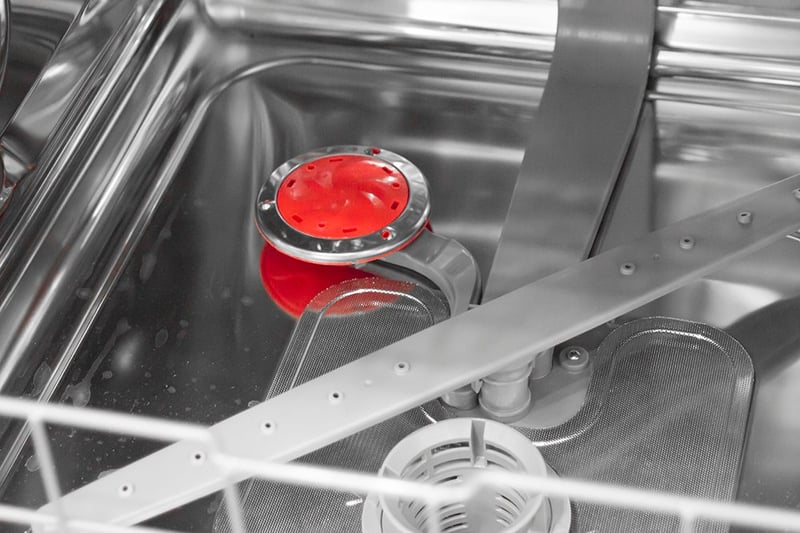 Samsung StormWash
Some cons:
At 55 dBA, this puts it as the loudest model of the bunch. Typically you want to be below 44-46db.
Most of Samsung's models do not offer the 3rd rack, but they do have a clever design to move your cutlery around the kitchen.
The Final Faceoff
Both brands are comparable to their sound deadening and leak sensors, but the comparison ends there. Throughout the year, pricing on these are within a few bucks, but Samsung does tend to dip down in pricing near the holidays as we are currently seeing some deep discounts.
Don't let price influence your decision here unless you're on a strict budget. The DW80M2020US will be a go-to for anyone looking to just throw a dishwasher in, you can't deny its value.
Samsung's newer wash systems are certainly cutting edge in looks and efficiency, but Bosch's proven simple design needs no changing.
Unlike refrigerators and laundry, dishwashers did not need the systematic change like the others.
Bosch is the quieter dishwasher, but Samsung has a couple of models lower than 44 DB, which is the measure for a very quiet dishwasher.
Taking a page from Miele, the better Samsung's pop open automatically at the end of the wash to speed drying.
Which do I buy?
You do not need the WaterWall as dishwashers do a good job of washing dishes. Bosch is a proven, reliable and quiet dishwasher.
However, Samsung is a better dishwasher under $600 where Bosch starts with their Ascenta brand.
Depending on your budget, Samsung for an affordable dishwasher and buy the Bosch over $699.
Additional Resources
Want to learn about the different dishwashers and brands? Download the Yale Dishwasher Buying Guide packed with tips, features, and brands of every major dishwasher. Over 240,000 people have read a Yale Guide.

Related Articles:
Steve Sheinkopf
My goal has always been simple: I want Yale to be the best retail experience anywhere. I have tried to create a compelling environment for customers and employees alike.
A Note About Pricing
Pricing on this blog is for reference only and may include time sensitive rebates. We make every attempt to provide accurate pricing at time of publishing. Please call the stores for most accurate price.