Bosch Benchmark vs. Samsung Dishwashers (Reviews / Ratings / Prices)
Dishwashers have changed since your last purchase. Both the Benchmark and Samsung were not even around. Yet both have become popular.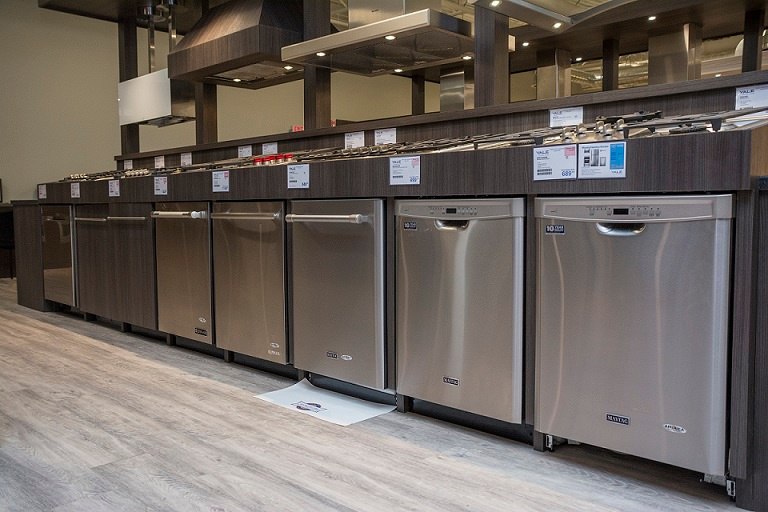 Bosch is number one in dishwashers. Samsung is now the best selling single brand in the US.
Both are very different products. We will look at both brands, their reliability, features, and then compare them.
Bosch
Bosch home appliances is a division of BSH, Bosch and Siemens Home Appliance Group, based in Munich, Germany.
Even though Bosch is a German company, most Bosch dishwashers are manufactured in the United States. Bosch has been selling high-performance German-engineered appliances in the US since 1991.
Over the years, Bosch earned high marks for producing a quiet, reliable, and reputable dishwasher. It is also one of the most reliable brands.
Their Benchmark series is their high-end dishwasher for features and quietness. For quietness, look for a dishwasher that has a silence rating of 44 decibels (dBA) or less.
However, you do not to want pay more just for quietness.
Features:
The MyWay™ Rack: Easily fits larger & deeper items like cereal bowls, freeing up extra space for pots & pans in the bottom rack.
39 dBA: Quietest Dishwasher Brand in the U.S.
The MyWay™ Rack gives you the industry's largest 3rd rack loading capacity.
A clean white light illuminates the interior when the door is open.
The 3 level EasyGlide™ rack system provides a smooth glide for easier loading & unloading on all 3 loading levels.
Water softener ensures optimally spot-free and shiny dishes.
24-hour Delay Start Timer
AquaStop® Leak Protection Works 24/7
Self-Latching Door
This model features integrated controls for a clean and hidden look. Plenty of flexibility for anyone who has a larger family or needs space for cooking utensils.
Short on time? Get our free Dishwasher Buying Guide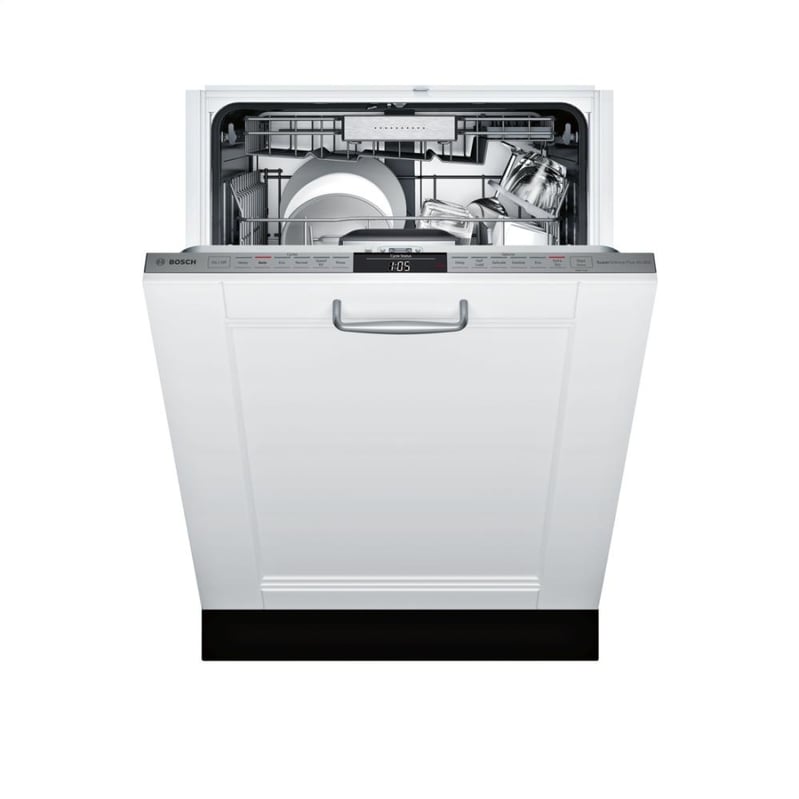 Features:
40 dBA: Quietest Dishwasher Brand in the U.S.
The MyWay™ Rack gives you the industry's largest 3rd rack loading capacity.
FlexSpace™ Plus Tines fold back to fit items such as casserole dishes.
The 2 level EasyGlide™ rack system provides a smooth glide for easier loading & unloading on the upper and lower racks.
Water softener ensures optimally spot-free and shiny dishes.
The MyWay rack easily fits larger & deeper items like cereal bowls, freeing up extra space for pots & pans in the bottom rack. This model is also designed to take a custom panel for a fully custom and hidden look.
You want to buy a European dishwasher because it does not protrude outside the cabinet. It looks like this: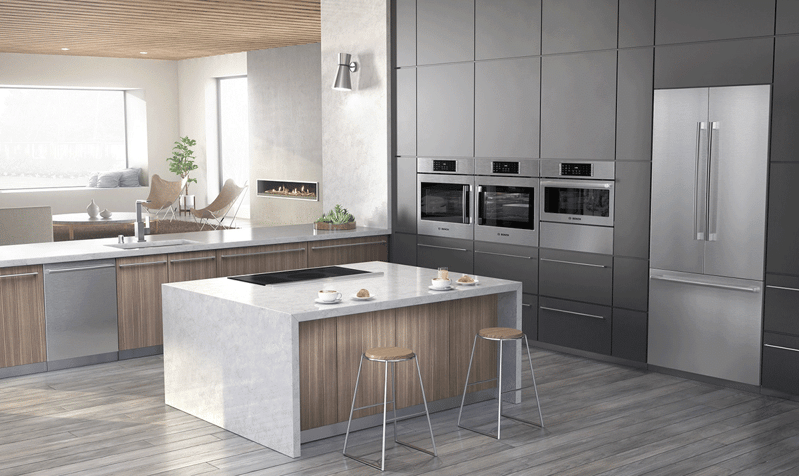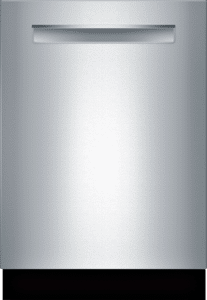 Features:
MyWay™ 3rd Rack
RackMatic®
AquaStop® Leak Protection
Speed60®
EasyGlide™
TimeLight®
Extra Dry
NSF® Sanitize
16 Place Setting Capacity
Silence Rating of 42 dBA
Some Pros of the Bosch:
If you're doing a high-end kitchen, you'll be able to beautifully integrate the dishwasher with a custom panel for a hidden look. It does not protrude like most American brands.
It's extremely quiet and energy efficient.
The Benchmark has a been a hit with our customers here at Yale. Rather than the red dot Bosch typically has a status light, you get a full display projected on the floor.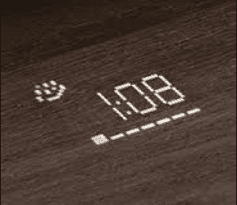 Time and status are projected right on your floor.
Cons:
It has a dated utensil basket design. While the my-way rack certainly is a cut above the rest, the utensil basket is dated and could use a fresh facelift like some of their newer features.
Some 3rd Rack Differences Across This Brand:
All of these Benchmark models, as well as the "premium" 800 Series, feature the My-Way 3rd rack system, but it should be noted this isn't the norm for Bosch. Entry-level models like the Ascentas have no 3rd rack of any type.
The 300 series will have a standard 3rd rack: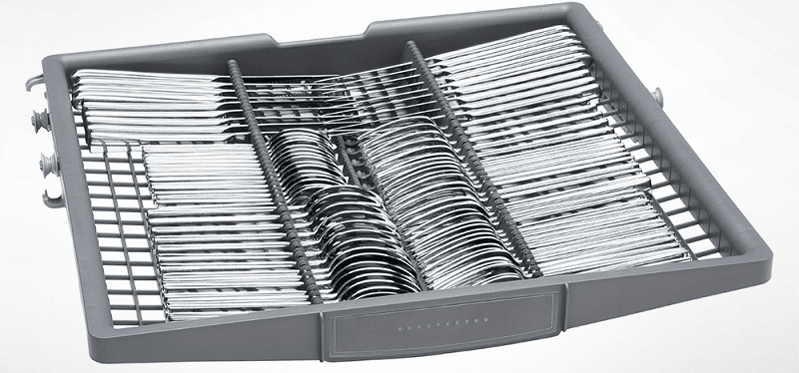 While the mid-price 500 & 800 series are more flexible with collapsible sides: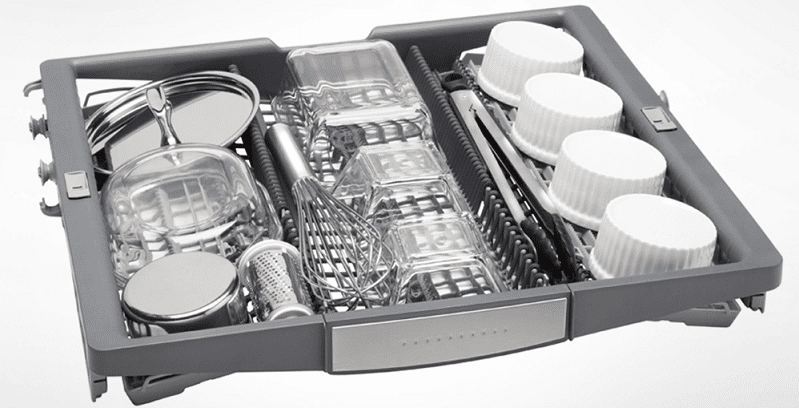 Versus the My Way Rack in the 800 Premium and Benchmark models offering the most utility: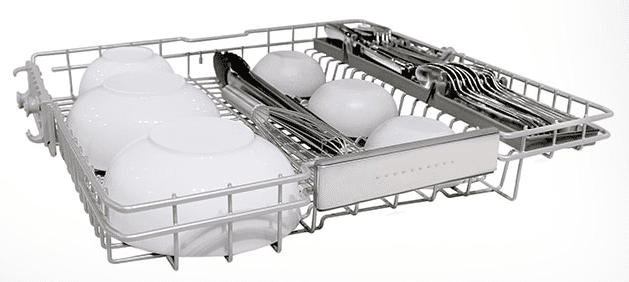 As a general rule of thumb for Bosch, the higher the model the more flexibility it offers.
Samsung
You know Samsung from TVs and phones, but it is the number one brand for appliances.
Samsung began as a small trading company with forty employees located in Su-dong, South Korea in 1938. Their smallest division is appliances, and they are most known for refrigerators and laundry.
Two trademarks of Samsung are beautiful design and the infusion of technology. Even in dishwashers, Samsung has recreated how a dishwasher washes dishes.
Features:
3rd Rack with FlexTray™
WaterWall™ System
Zone Booster
Digital Leak Sensor
Hidden Heat Element
15-Place Setting Capacity
6 Cycles
6 Options
40 dBA Quiet Sound
ENERGY STAR® Rated
The Hidden heat element is unique here to ensure better, although not more efficient drying. The WaterWall system is designed for maximum water exposure to ensure dishes get cleaned.
Zone booster means you can control different sections of the dishwasher for a more intense or more delicate wash.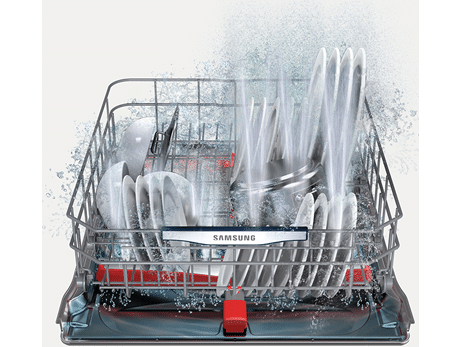 Dishwasher pops open at the end of the cycle to release steam and moisture to aid the drying process.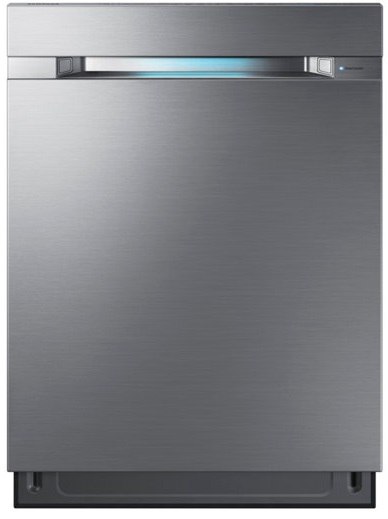 Features:
FlexTray™
WaterWall™
AutoRelease™ Door
Zone Booster™
Adjustable Racks
Sanitize
Silence Rating of 38 dBA
15 Place Settings Capacity
Child Lock
WiFi
ENERGY STAR®
Super quiet at 38 dBAs making this among the quietest of dishwashers on paper. Sleek neutral design can blend with other brands in your kitchen.
The WaterWall is a new mechanism designed to apply more water to your dishes.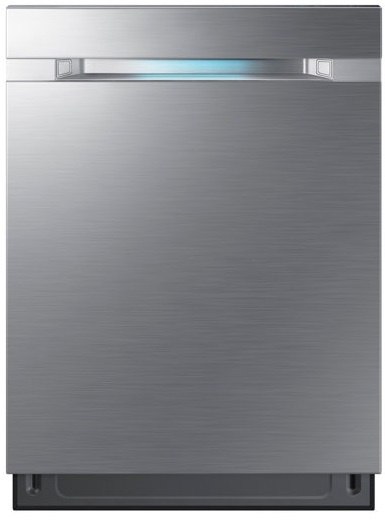 Features:
3rd Rack
StormWash™ System
FlexLoad™ Racking System
Autorelease™ Door
15 Place Setting Capacity
Digital Leak Sensor
44 dBA Sound Level
ENERGY STAR® Rated
The Stormwash system is concentrated sprays designed for baked on dishes.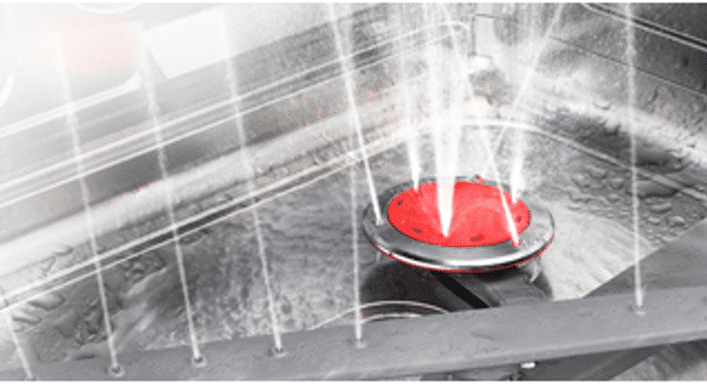 Pros:
Having a futuristic design and removable cutlery tray is unique and cool. Making it a little easier to bring your sink, if you will, to the dishwasher.
Some cons:
The WaterWall wash seems to be leaving some undesired results on some of the heavier washers, according to reports by some users. Consumer Reports have faulted them for poor overall performance.
3rd rack options: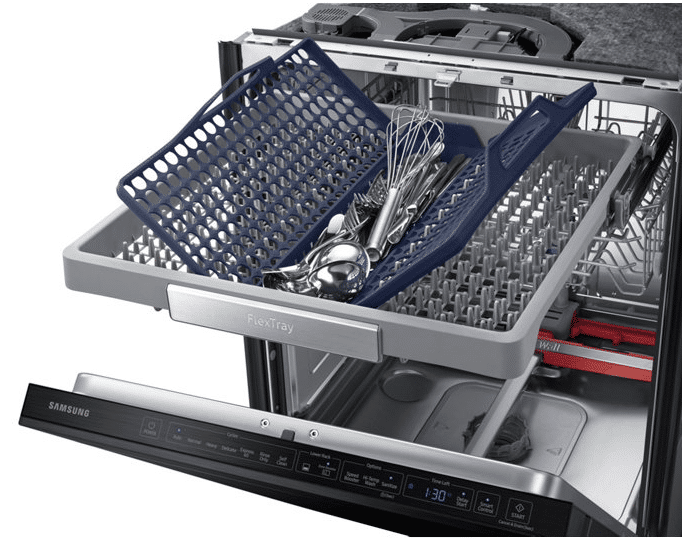 Most of Samsung's models do not offer the 3rd rack, but they do have a clever design to move your cutlery around the kitchen.
Which do I buy?
Both are quiet and equipped with leak sensors, but the comparison ends there. Typically, the pricing on these are a little more comparable, but Samsung does tend to dip down in pricing near the holidays. You can buy Samsung up to 30% cheaper around any holiday, especially Black Friday.
Samsung has once again redefined technology in a dishwasher with the WaterWall and Zone Boost. You can even control their best dishwashers remotely with an app.
In terms of service, both companies have higher service rates. This is a bigger problem for Samsung because most technicians are unfamiliar with some of their newer systems.
With any purchase, you need to know who would be servicing that product. This is crucial with brands like Samsung and LG.
Overall, both are great dishwashers on paper. Samsung will be cheaper around the holidays. It is worth a consideration, but Bosch is the safer decision.
Additional Resources
Get the Yale Dishwasher Buying Guide with features, specs, and inside tips to all the brands. Over 240,000 people have read and trusted a Yale Guide.

Related Articles
Rick Medeiros
Rick Medeiros has over 10 years of appliances sales experience and is in the appliance sales department at Yale Appliance + Lighting. He enjoys travelling, live music and learning to play the guitar.

Schedule a showroom visit with me
A Note About Pricing
Pricing on this blog is for reference only and may include time sensitive rebates. We make every attempt to provide accurate pricing at time of publishing. Please call the stores for most accurate price.