7 Best Dishwashers Under $699 (Reviews / Ratings / Prices)
You can buy a great dishwasher for well under $699 and with great brands like KitchenAid, Bosch, Asko, and Samsung.
This article is written in November during a Black Friday promotional period. Many of these prices are 20-30% off. The best time to buy an appliance is during one of these promotional periods like President's Day, Memorial Day, Labor Day, and of course, Black Friday.
Here is another tip for you: Black Friday prices start November 1st and will continue until the end of the month.
You no longer have to wait in line on Black Friday. You can have the same prices now.
Appliances have become more promotional like electronics in that regard.
First, I will show you the differences between American and European dishwashers. Then I will show you a few incredibly discounted dishwashers.
American vs. European Dishwashers
American dishwashers have a large capacity. The door will protrude 2-3 inches from a 24-inch deep cabinet to accommodate a greater capacity than many American-style models.
European dishwashers will sit flush in a 24-inch deep cabinet. This is an attractive feature because the door will not protrude from the cabinets. If you are placing a panel on the front of your dishwasher in a 24-inch deep cabinet, I would strongly advise you to choose a European model. With a European dishwasher model, your cabinet door will line up with your remaining cabinetry.
American dishwashers usually use a heated dry cycle. The heated dry cycle is a coil at the bottom of the dishwasher designed to heat the air inside the dishwasher to dry the dishes.
Short on time? Get our free Dishwasher Buying Guide
European dishwashers use less energy and water than American dishwashers. On average, the European dishwasher will use 3.5 gallons of water per cycle, European dishwashers use condensation to dry the dishes. Hot water from the cycle will stick to the stainless steel sides of the dishwasher. The dishwasher does not use any energy to heat the air in the dishwasher to dry dishes.
European dishwashers are known for being very quiet. They are quiet because they have a filter at the bottom of the dishwasher designed to catch food particles instead of a hard food disposer like some American models. Note: More and more American models are moving away from having a disposer on the bottom and using a filter like the European dishwasher.
How to Buy a Dishwasher
Short on time? Get our free Dishwasher Buying Guide
Best Dishwashers Under $699
Honorable Mention
OK, this $719.....just over $699, but usually a strong consideration. KitchenAid, however, is $549 for the same feature package
Bosch is a dishwasher company and operates the largest dishwasher manufacturing facility in the world in North Carolina. They have a stainless tank and are amongst the quietest dishwashers produced at 44 DBs.
Features:
44 dBA- Quietest Dishwasher Brand.
3rd Rack for cutlery
Saves up to 280 gallons of water each year
Stainless Steel Tub installs perfectly flush
Silver Colored Fascia in Stainless Steel
Red Remaining Time Display
5Wash Cycles and 5 Options
Variable Spray Pressure
Bosch Exclusive 24/7 Overflow Leak Protection
Delay Start Timer
16 Place Setting Capacity
This dishwasher is still slightly more than $699 with $50 in rebates, however, we wanted to include it because it's an awesome dishwasher to consider.
Features:
6 Cycle, 5 options
46 dBA
Stainless interior
Heated dry
14 Place settings
Pro wash cycle
Satin Glide Max top rack
It has similar features as the model previous but adds a third rack for silverware. You have a dedicated space for silverware and more room in the dishwasher without the basket.
Samsung has been around for over 70 years as a company. They are always trying to infuse their appliances with the top of the line tech to improve the quality.
This model has all the major cycles and features "Storm Wash" or a series of highly concentrated jets for baked on dishes.
Features:
44 dBA
Ice Blue Indicator Light
6 Cycles 4 Options
15 Place Setting
Integrated Controls
3rd Rack
Stainless Interior
Flex Load Racking
Storm Wash System
Heated dry
Asko is quiet but is known for their all stainless dishwasher including all stainless arms and solid rust resistant graphite racks.
Features:
ADA Compliant
46 dBA
6 cycles 3 options
3rd rack
Turbo drying plus
Stainless interior
16 place setting
Time remaining indicator
End of cycle voice signal
This is the lowest price for a KitchenAid dishwasher since they started making KitchenAid dishwashers. It has all the major cycles: Pro Wash or an extended wash with soil sensing, china cycle at a low temperature to not harm your fine china and three different rinse/dry options.
This dishwasher is loaded at $549.
Features:
Hard food disposer
Adjustable rack
Stainless steel tub
15 place settings
Hidden heating element
50 dBA
Digital water leakage sensor
This could be the lowest price for a stainless tub dishwasher.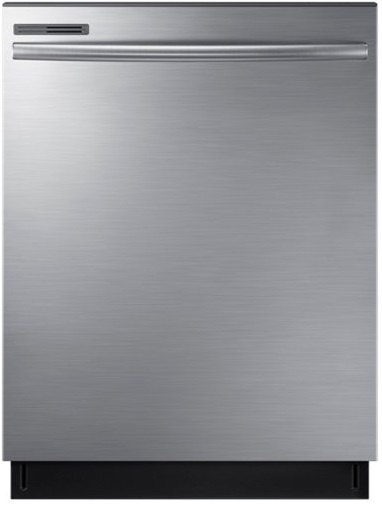 Features:
Stainless Steel Door
Adjustable Rack
Digital Leak Sensor
Advanced Wash System
Touch Control
14 Place Settings
It is the only dishwasher with a plastic tub plastic tub on this list, but it has all your major cycles for only $319.
Conclusion
What dishwasher would I advise a client to go with? It depends on what features you like.
Are you looking for a flush look and a stainless interior? I would suggest the Bosch or Asko. Aesthetically the dishwasher will not stick out from the cabinetry and fit flush in a 24-inch deep cabinet.
Is drying a major factor in your dishwasher purchase? I would suggest the KitchenAid or Samsung. All have an exposed heating element on the bottom of the dishwasher which aids in the drying process. Bosch and Asko use steam from the washing along with Jet Dry.
That KitchenAid at $549 has all the features you need. A third rack is a good option at $599 for either the KitchenAid or Bosch at $669.
Samsung does not have a pedigree in dishwashers like they do in refrigeration. Still, $319 is a decent price, especially in a rental.
There are plenty of good dishwashers under $699. Just be mindful of rebates as most of these dishwashers will be over $699 after November.
Additional Resources
Get our free Dishwasher Buying Guide with tips, trends, and reviews of all the major brands. Over 220,000 people have already found answers in a Yale guide.
Related Articles
Why Should You Trust Us?
It seems that every appliance review has nothing but glowing comments about almost every product, yet you read customer reviews and they are almost universally bad.
We are here to fill in the disconnect. We'll give you the best features, and the drawbacks as well, including reliability based on over 37,000 calls performed by our service team just last year. Our goal is to give you ALL the information so you know what's right for you.
Please consider subscribing or adding to the conversation in the comments below. We appreciate you stopping by.
Eric Trexler
Eric is an Appliance Sales Consultant at Yale Appliance. Eric came to sales from the custom installation department and has expert insight on what happens behind the scenes. He is devoted to making sure every customer has the best experience that Yale has to offer. Eric grew up in Maine and loves the outdoors, from fishing to dirt biking.
A Note About Pricing
Pricing on this blog is for reference only and may include time sensitive rebates. We make every attempt to provide accurate pricing at time of publishing. Please call the stores for most accurate price.