Confused about the different types of washers out there? Don't be. We'll explain the three most popular styles of washers in this article so at the end you can decide which one would be right for your home.
Let's start at the very beginning before we compare the two most efficient washing machines.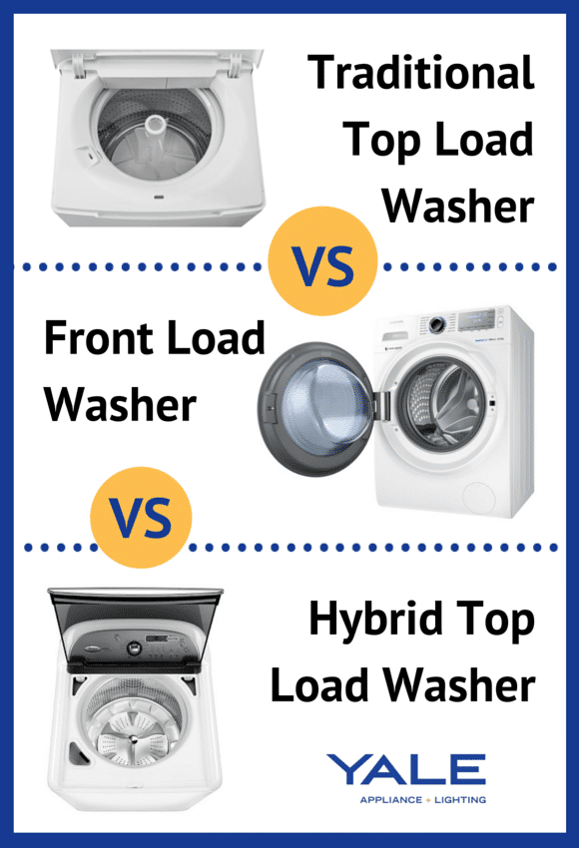 Traditional Top Load Washer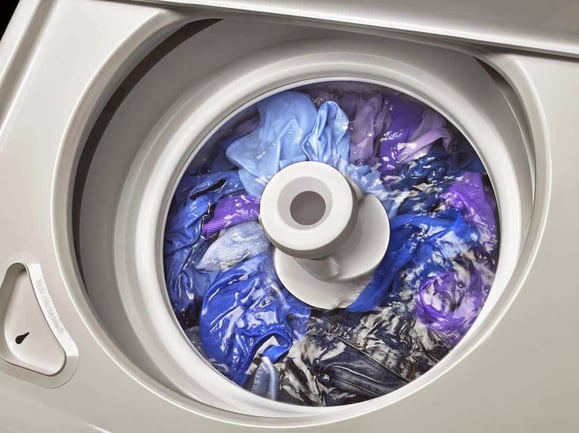 Traditional Top Load Washer with Agitator
For many years, the top load washing machine was the dominant style of washers since its inception in the 1920's. The drum of top load washer is filled with water and the agitator moves the clothes around, cleaning the entire load of wash.
Although this style has not really been improved since the 1940's, the top load machine has been extremely reliable. In fact, older top load machines are the most reliable machines ever sold.
Short on time?
Get our free Washer Buying Guide »
However, top load machines are smaller in capacity at 2.5 cubic feet, use 40 gallons of water, more than twice the electricity, and spins slowly for more drying time.
Front Load Washer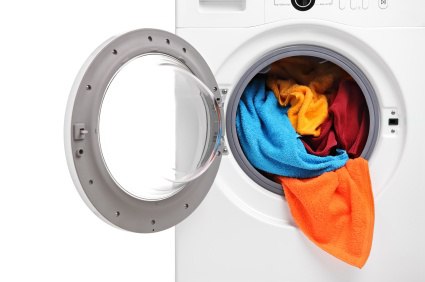 The front load washer was introduced to address these issues. A front load washer assesses the size of the load and adds the necessary amount of water. The load of wash tumbles, much like a dryer, washing the entire load evenly without an agitator.
Thus, the front load washer has a greater capacity at 3.5 to 4.5 cubic feet (or larger), uses less water at 11-17 gallons, and spins out at a much higher rate so the drying time is less. You can also have better controls and new features like steam.
(Read the Best Front Load Washers and Pairs for 2015)
Many consumers, however, still prefer the ease of the top load washer (less stooping). Additionally, front loaders were expensive and less reliable when introduced in 1997.
This preference led to the introduction of the so called hybrid (convenience of top load and efficiency of a front load) washing machines to offer the best of both worlds.
Hybrid Top Load Washers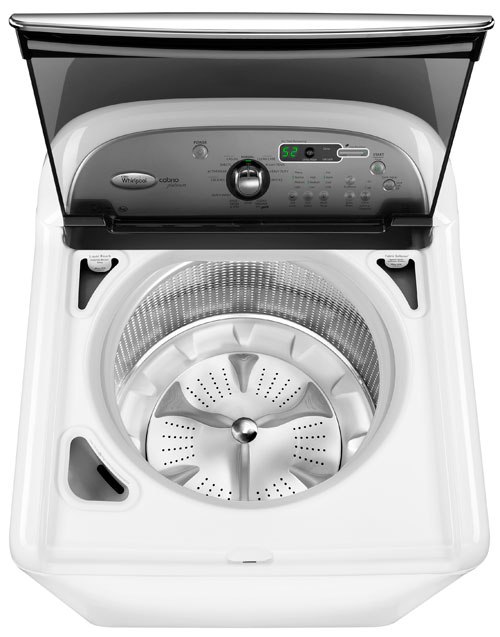 Hybrid Top Load Washer with no Agitator
The hybrid washers are really very similar to a top load machine except with a very small agitator or none at all. Unfortunately, there is not as much movement of the load as in either a top load or a front model.
The results are inconsistent with the clothes on the outside of the drum becoming wet while the clothes in the middle of the drum remain drier.
The hybrid washer needs to be overhauled. Manufacturers have to resdesign to compensate for the lack of the agitator.
Additional Resources
For more information about laundry, read our frequently updated Yale Washer Buying Guide for brands, terms and features. Related guides: