The 48 inch professional is the glamor piece of the kitchen. It is also the premier piece for Viking, Thermador and Wolf. All three are great ranges, now lets see how they compare
Thermador PRD48JDSGU: Thermador's newest range is the most innovative with a 22,000 BTU burner, great simmer burners down to 100 BTU and new clock and timer. The most interesting feature is the side steam oven and warming drawer. Steam is a great cooking option, as it adds moisture and does not bake out nutrients. The oven can also be used as a convection oven or convection, steam combination. The warming drawer is great for refreshing leftovers or maintaining food without dehydration for up to three hours.
Thermador has a rebate program with a free dishwasher and hood with purchase of a qualifying range and refrigerator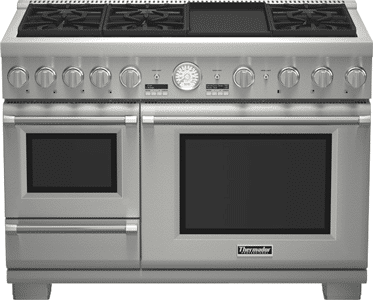 Wolf DF486G: Wolf has different top configurations, like french tops, but the burners are standard at 15,000 BTU. The simmer, however, is really good at 500 BTU. Wolf has a three stage burner so the simmer is consistent whereas the Thermador turns on and off for a lower mean temperature. Ignition is independent in the Wolf rather than one master ignition leading to less service related isuues
The oven is excellent in a Wolf with two convection fans (most have one) for different modes of cooking. The side oven is also convection and self-cleaning.
Wolf promotes this range with Sub-Zero. Buy a Sub-Zero and a Wolf and receive $2500 off your purchase.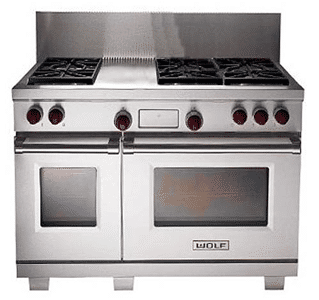 Viking VDSC548T6QSS: The Viking upgraded their range to a 18,000 BTU burner and their display with really innovative digital controls. The Viking warranty is excellent at 3 years. Knock on Viking has been their simmer and their recent repair issues. Viking was just acquired by Middleby of Ohio, so we will see what happens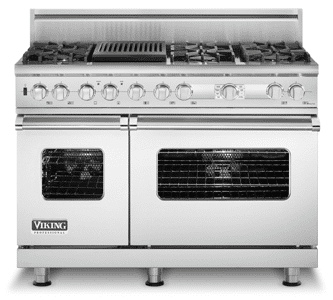 Three great ranges with different area of competency: Viking has controls, Wolf has the oven and Thermador with steam and burners. Which one do you like?
If you want more information about professional ranges, download our Pro Cooking Buyers Guide with features, brands and a direct comparison of brands.