Whirlpool vs. Electrolux Front Load Laundry (Reviews / Ratings / Prices)
There are many different brands of laundry and it is overwhelming trying to figure out what's the best. You can drive yourself crazy listening to different opinions and comparing reviews online.
Both Electrolux and Whirlpool are popular and have new machines with unique cycles as well as different features. We will look at both machines and then compare. But first let's look at the companies.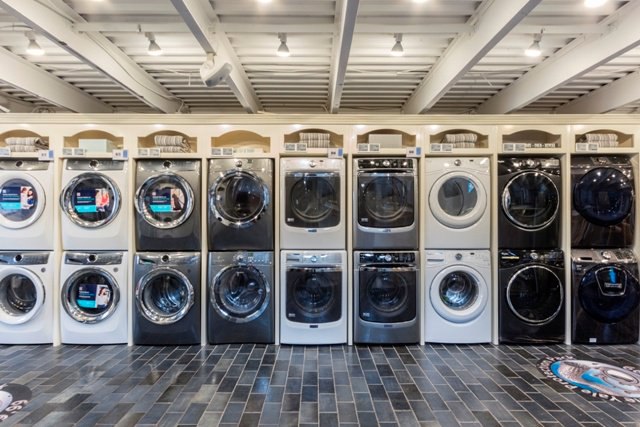 Electrolux
Electrolux Washers + Dryers
Thanks for reporting a problem. We'll attach technical data about this session to help us figure out the issue. Which of these best describes the problem?
Any other details or context?
message
Electrolux has been known in Europen for their appliances for decades. As a matter of fact, Electrolux is the leading manufacturer of premium appliances all across Europe and number 2 overall to Whirlpool.
Electrolux also owns and manufactures the Frigidaire brand. They are a relatively new player in full size laundry, but sell the most compact laundry worldwide.
Short on time? Get our free Washing Machine Buying Guide
Whirlpool
Whirlpool is an American based company right out of Michigan. It is America's largest manufacturer of laundry appliances.
In the past, unlike Electrolux, Whirlpool has acquired innovative brands rather than designing and manufacturing their own. Whirlpool Corporation owns and manufactures for major brands like Maytag, Amana, Kitchenaid, and Jenn-Air.
However, laundry has always been their strong suit through their own labels as well as the Kenmore brand (which they now split with LG). They have been manufacturing laundry since the 1920s.
Features
4.4 cu. Capacity
9 automatic wash cycles
1,300 RPM
European based company
Shortest cycle time (15 minutes)
Smart Boost
Reversible Door
Interior Lighting
Second Floor Guarantee
Whirlpool WFW94HEAW - $1,199
27" Front Load Washer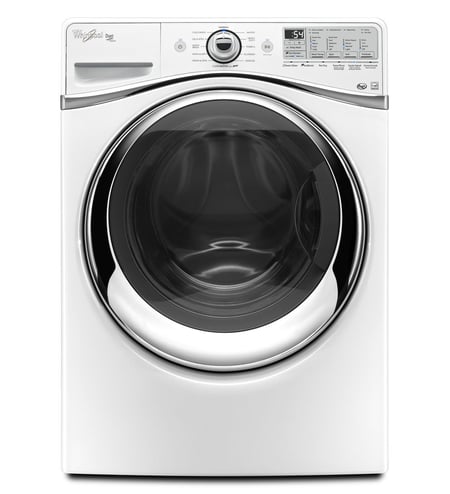 Features
4.5 cu. Capacity
12 Automatic Wash Cycles
1,400 RPM
American Based Company
Adaptive Wash
12 hour Fan Fresh Option
Wash And Dry Cycle
Out Of Balance Sensor
Direct Motor Drive
Whirlpool vs. Electrolux Front Load Washing Machines
Truthfully, these are two excellent washers. They both have 5 speeds, 5 wash/rinse combinations and plenty of cycles.
In terms of vibration, however, Electrolux does offer a second floor guarantee, which Whirlpool does not. They put in writing that the units will not vibrate or shake the floor.
Electrolux is the only brand with reversible washer and dryer doors, so it is not dependent on your plumbing location. Also, no depth is added when side venting as the vent is housed within the machine itself. For closets and tight spaces, this can be crucial.
They also have a faster washer cycle at 15 minutes on a quick wash compared to about 25 minutes with Whirlpool.
Electrolux is the only manufacturer to employ a fresh water rinse. Most front loaders when rinsing through the final cycle rinse through the soap dispenser, leaving residual soap back in the clothes. The Electrolux does not for a cleaner wash. This will also be important if there is someone in your family with sensitive skin.
This new model also has my favorite new feature called SmartBoost. It mixes the water and detergent for 7 minutes before every cycle and pumps it during the cycle for better cleaning.
Whirlpool is the best known laundry brand in the U.S and for good reason. It has a good track record for service at 8.8% (average is 18-24%), and is American made.
Another unique feature is its direct drive system. This uses a simple coupling device to drive the motor instead of a belt and pulley system. This basically helps in energy conservation and noise.
Their Load and Go bulk dispenser holds enough detergent to wash up to 12 loads of laundry before you have to fill it up again! You will also never have to worry about using too much detergent, since the machine dispenses automatically.
The FanFresh option can keep washed clothes fresh up to 12 hours, or it can be used with the wash and dry cycle. You can only use this for a few articles, not a whole wash.
To help keep the clothes looking newer longer, Whirlpool has sensors that adapt time, temperature, and wash action based on the load.
Final Thoughts
So what do you think? You are comparing two similar capacities and only a few different cycles. For better cleaning performance, Electrolux may be the best option with the fresh rinse and separate pump for premixing detergent (that is smart, by the way).
Whirlpool has an impressive service record and some great convenience features with the dispenser and the special wash cycles.
Additional Resources
Download the Yale Appliance Washer Buyers Guide with features, specs and inside tips to every brand. Well over 180,000 people have read a Yale Guide.
Related Articles
John Ramsay V
John Ramsay V has been in major kitchen appliance sales for over 17 years. John enjoys Theology, politics and sometimes gets into trouble because of it!

Read more about John here.
A Note About Pricing
Pricing on this blog is for reference only and may include time sensitive rebates. We make every attempt to provide accurate pricing at time of publishing. Please call the stores for most accurate price.